Hand weaving in Assam

Hand weaving in Assam
The sound of wooden looms, tapping of feet and flying shuttles that create pure magic.
The origin of our brand goes back to the love of our founder Usha, for hand woven fabrics. The textures of each motif, the softness of pure cotton cloth that has been touched and formed by strong women's hands, the flow of a perfect Saree made from ecological eri silk yarn – these are few of the reasons that woven fabrics are our all time favorite.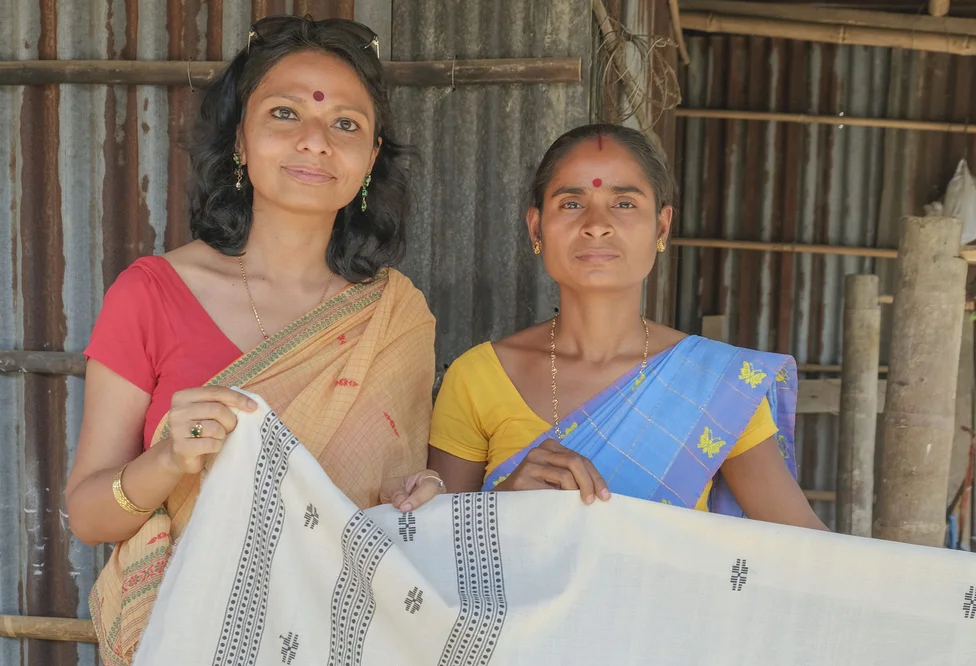 Usha with an Assamese weaver
Assam, a little-known region in the North-Eastern part of India, is a showcase of hand-woven textiles. Usha's love for these comes from the earliest memories of the women in her family wearing stunning woven skirts (mekhelas) and scarves ( chadors ), the tribal women who sashayed down local markets with their skirts in bright shades of fuschia and green , the warm Eri silk shawls worn by her grandfather as he watched his favorite TV show on dark winter nights , and the ever present "gamocha" or hand-towel, an intrinsic symbol of Assamese culture and identity handed as a gift of respect to guests.
The handloom sector plays a very important role in India's culture and heritage and provides employment to millions of people, of whom 60% are women. Handloom weaving has had an overwhelming presence in the socio-economic life of Assamese people since many generations. The art of weaving is known for its incredible simplicity and unequalled charm. The techniques of weaving are handed down over generations, allusions to which are available in Assamese literature and scriptures. Assam has the highest concentration of handlooms and weavers in India. Spinning and weaving activities became an indispensable profession of every Assamese household during the days of the Ahom regime (1228-1826).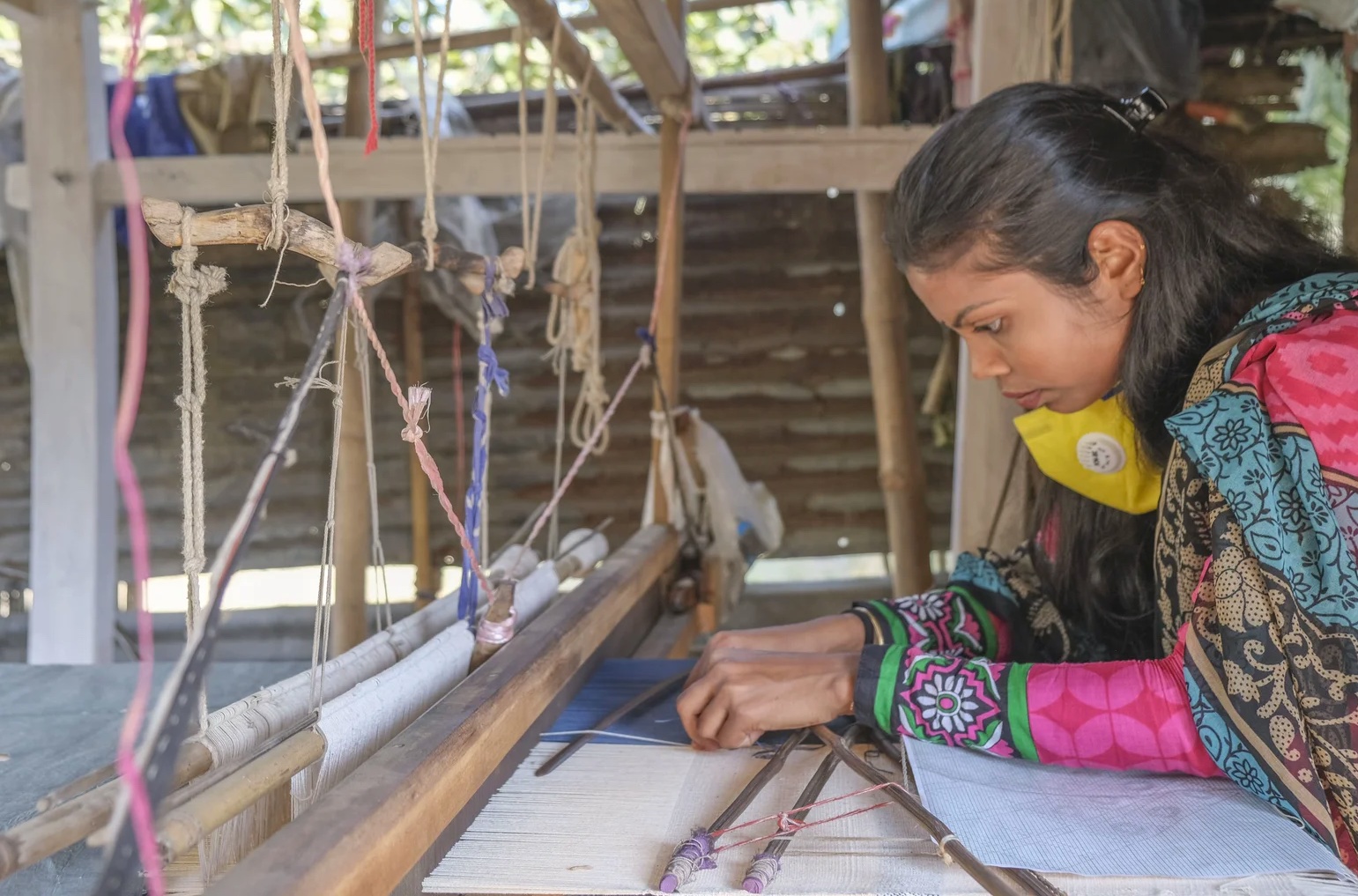 A weaver working on her traditional loom
The weaving of cloth was practiced by the Brahmins and other castes irrespective of their social status. Handloom weaving is a rural activity, where spinning, weaving and other processes are done by hand. Handlooms are environment friendly. No energy is required except for the machinery that spins the yarn used. There are no building or transportation costs involved in this activity because most looms are set up in the homes of the weavers or within the village. The looms are 20 – 100 years old and made from locally sourced wood and bamboo. Weavers use bicycles to transport raw materials from one village to the other. The sector thus lends itself to sustainable development policies aimed at reduction of negative impacts on environment and ecology.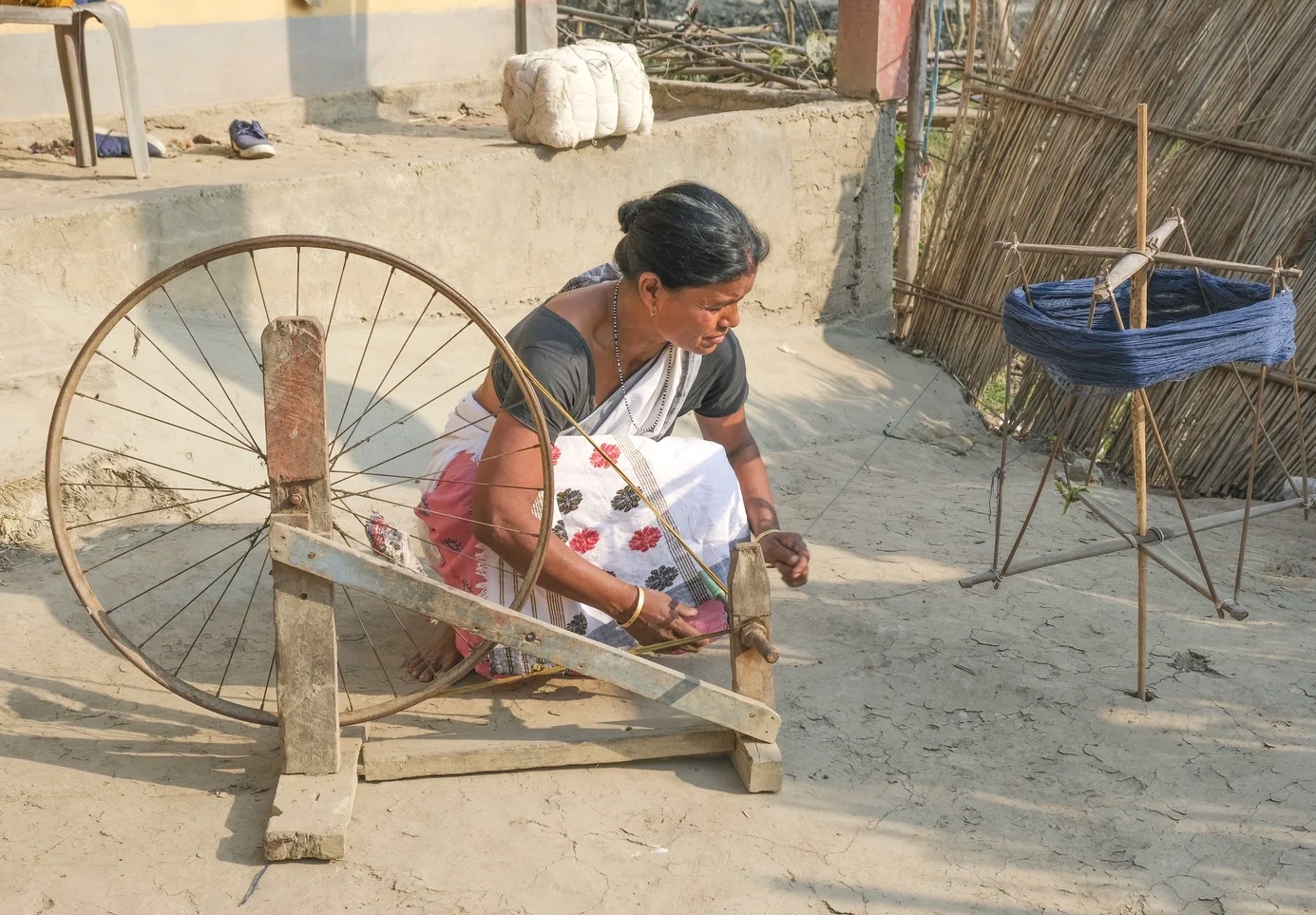 Spinning preparation
The handloom weaving sector plays a vital role, providing sustenance to a large section of people and facilitating economic growth of the region. In the rural areas, weaving activities are considered as an additional household chore to enhance family incomes and raise standards of living.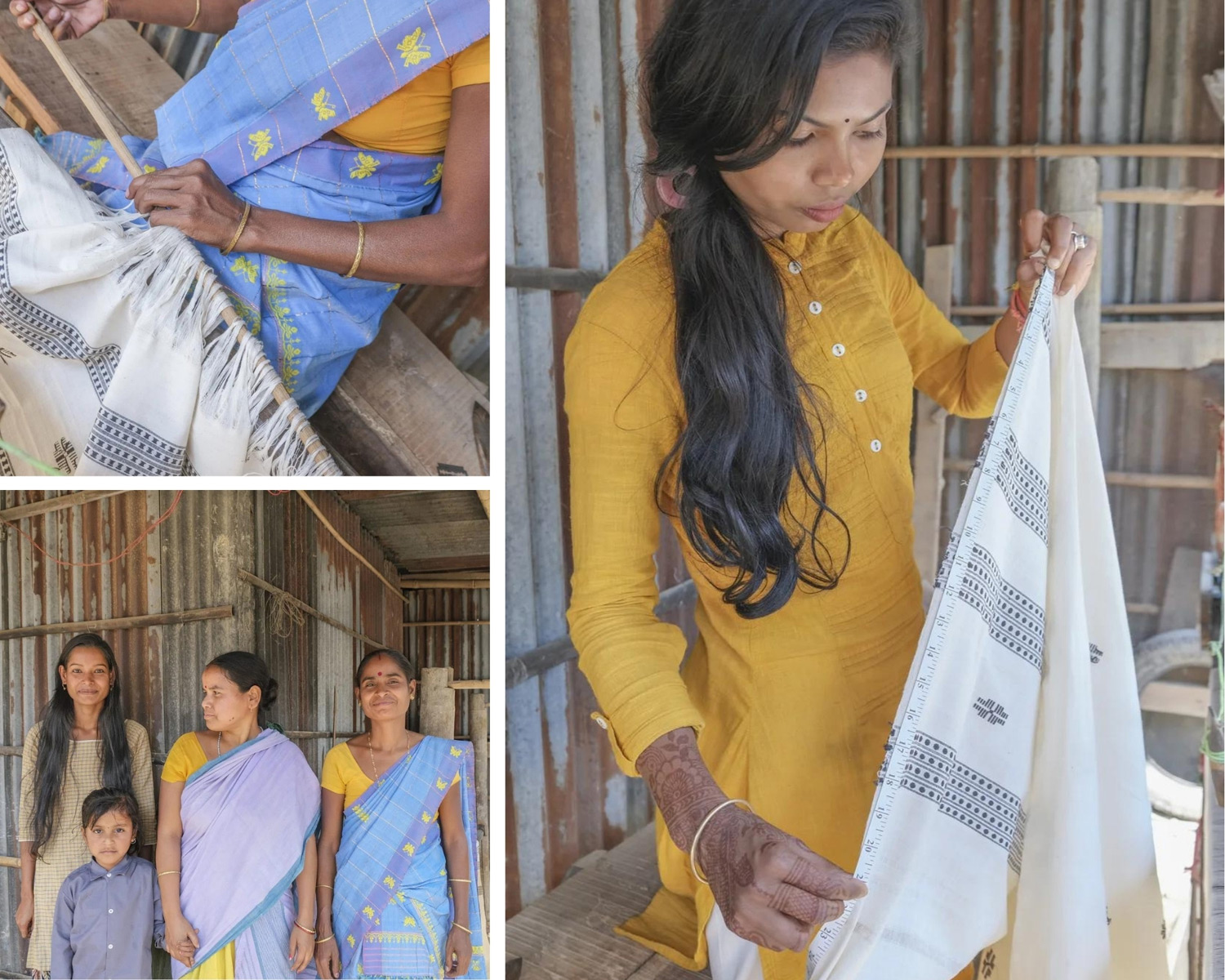 weaver in their village
One of the obstacles to growth and improvement of the skill is the lack of training and design facilities for the weavers. Most women weavers continue to make traditional designs without any change to a limited product range. There are no rewards for innovation and few opportunities to develop entrepreneurship skills.
Our commitment to the industry and the weavers is many-fold. We are working with NGO's on the ground who help the women to understand and implement our designs. We help them create new motifs for cushion covers, follow strict quality specifications and adhere to international standards of fabrication.
These slow and steady methods of training are gradually helping the weavers improve their design aesthetic and productivity.
Design and quality discussion
With the help of NGO's, we are challenging them to enter new product categories, work with a different color palette and pay utmost attention to finishing each piece. We hope that this training will help the weavers attract new international clients and improve their living conditions.
To take our commitment further, we have partnered with Parijat academy in Assam. This institute is run by its very committed founder, Uttam, who has taken the responsibility to provide free education to approximately 400 students in the tribal areas bordering Guwahati, the capital of Assam. We will be sharing training skills and providing a captive market for woven fabrics that are made by the women of these villages, often mothers to students in the Academy.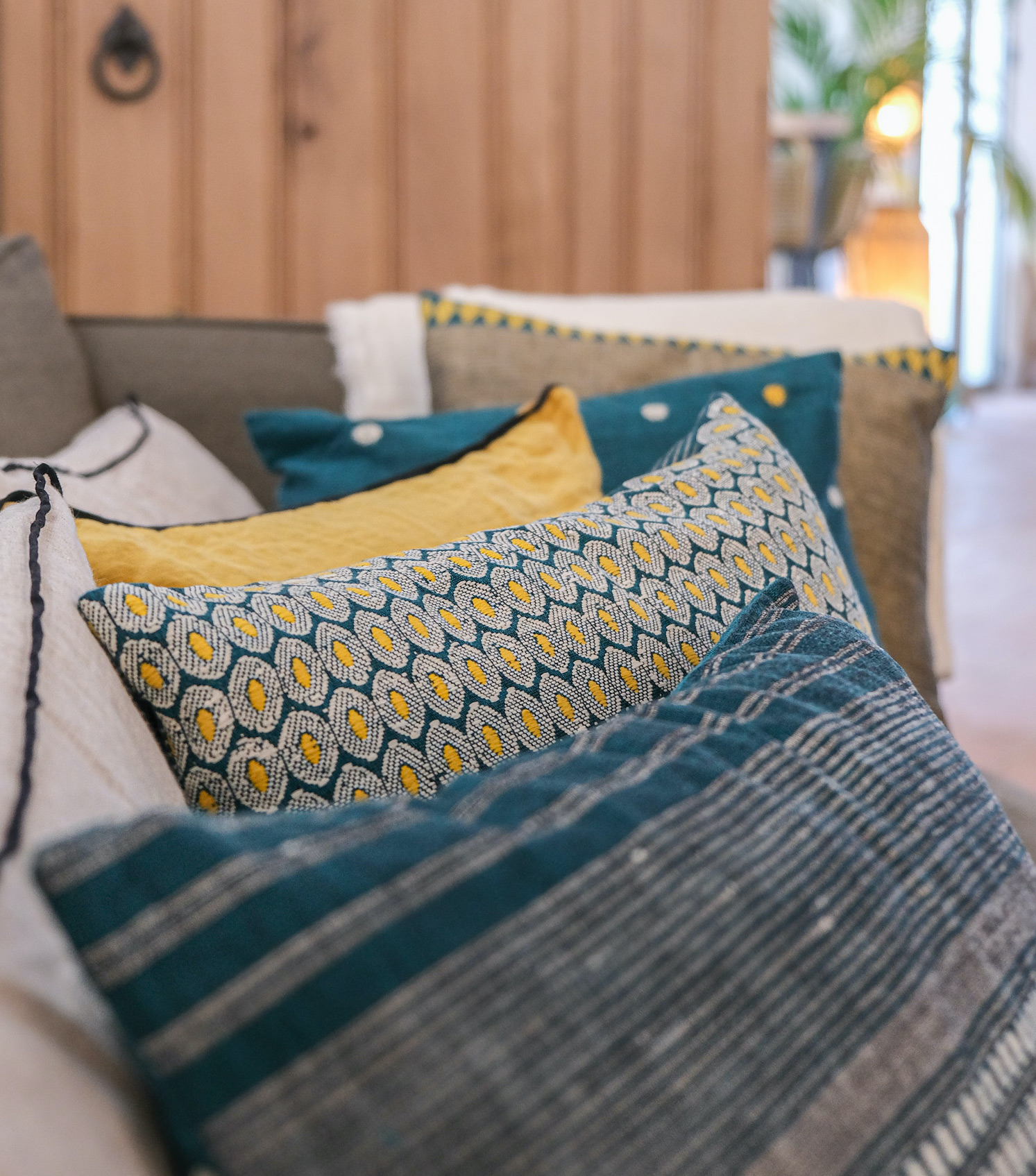 Our new range of woven cushion covers
Our new range of square cushion covers and rectangle cushion covers has been a painstaking exercise in patience and trust – hampered by floods, COVID and enormous difficulties linked to transport and communications. Our resolve is intact and our love for woven fabrics, even stronger! Our adventure in Assam continues, our range promises to grow and become even more stunning with every collection, and we will be sharing more stories of help and training in the months to come.