In the mood for green
Green, the color associated with the magical world of plants, is a major trend in home decor. A soothing green ambiance helps eliminate the stress of everyday life and brings a feeling of well-being to our home.
Nature, in all its Invigorating and refreshing forms, inspires us and brings vitality into our interior decoration. Close your eyes and imagine yourself in the lush tea plantations of Assam or Darjeeling in India, and embark on a green and energy-filled journey.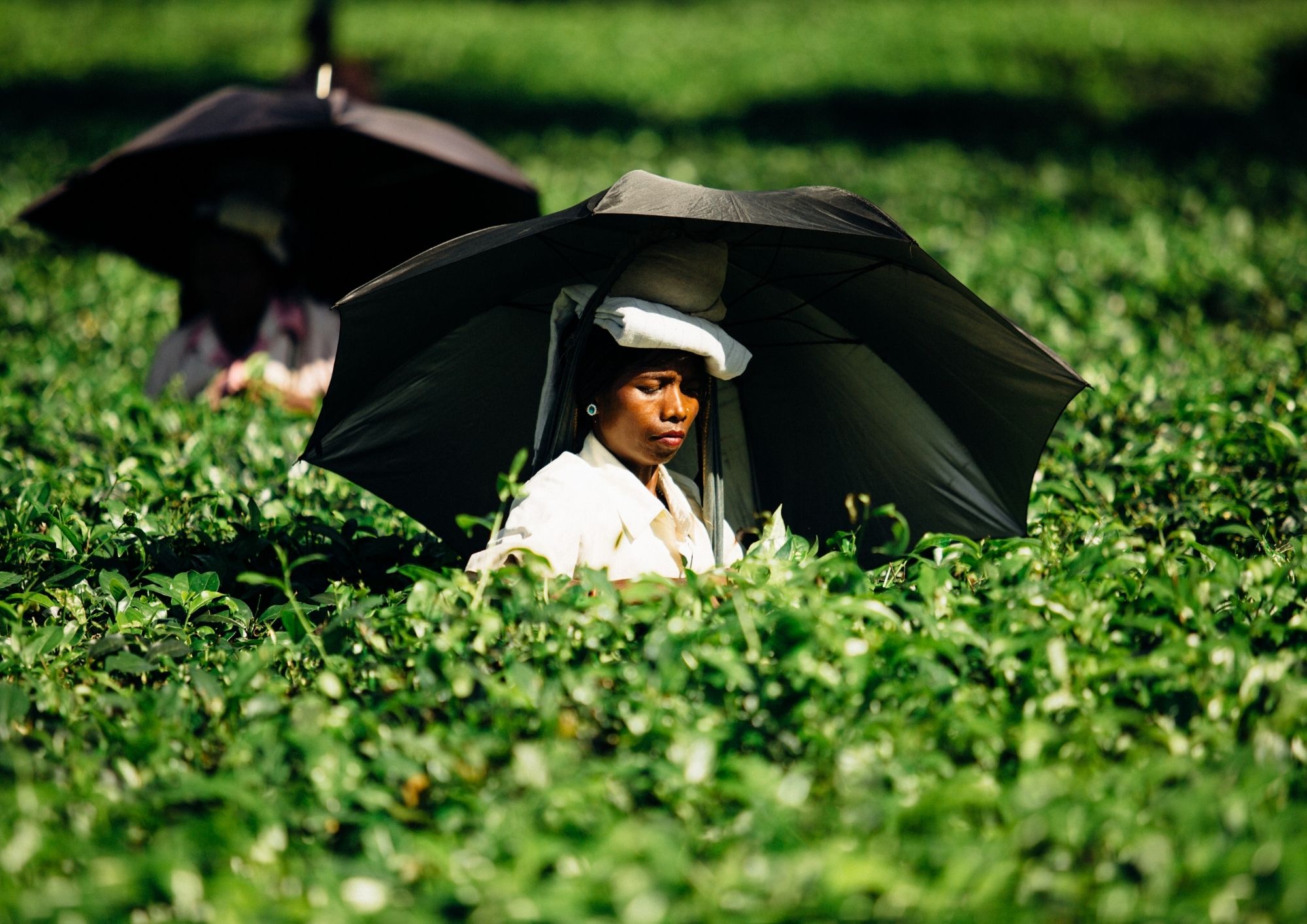 Indian woman in a tea field © Kelly L
A color with a thousand meanings
Green is a color with calming and soothing virtues which brings harmony to our lives and homes. The Egyptians were the first people to make green pigment from Malachite, a mineral. For a long time, this color was associated with negative symbolism, such as poison, greed or envy. Overtime, this color came to be associated with positive feelings and is now considered to bring hope and luck. In India, the color green represents life, hope and evolution. In Feng Shui, green symbolizes renewal, growth, transformation and youth, and is recommended for research and creativity.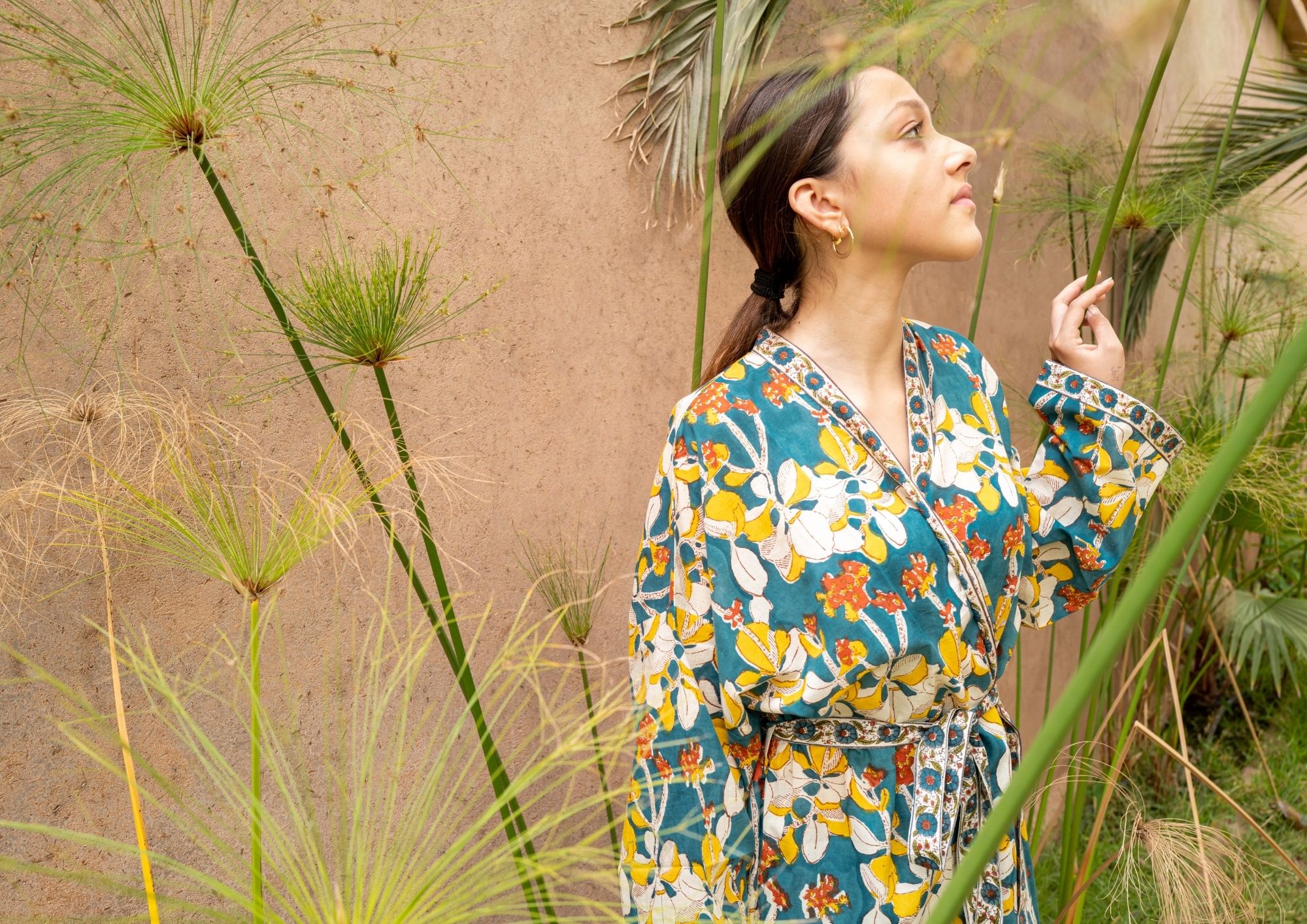 Indian Kimono Iris © Sophie Denux
Mix and match : How to use green in your living room, kitchen or bedroom decor ?
Think of shades such as pale turquoise green, pastel green, fir green, duck green or emerald... Varying shades of this harmonious color work well with different tones to create interesting home decor ideas. Nature inspired shades like ochre, beige, taupe or brown can be used with green in creatively designing your home. A lighter shade of green can be contrasted with red, its complementary color, or even with different hues of yellow, blue, or pink. Adding these interesting contrasts will add a fresh touch to your home design.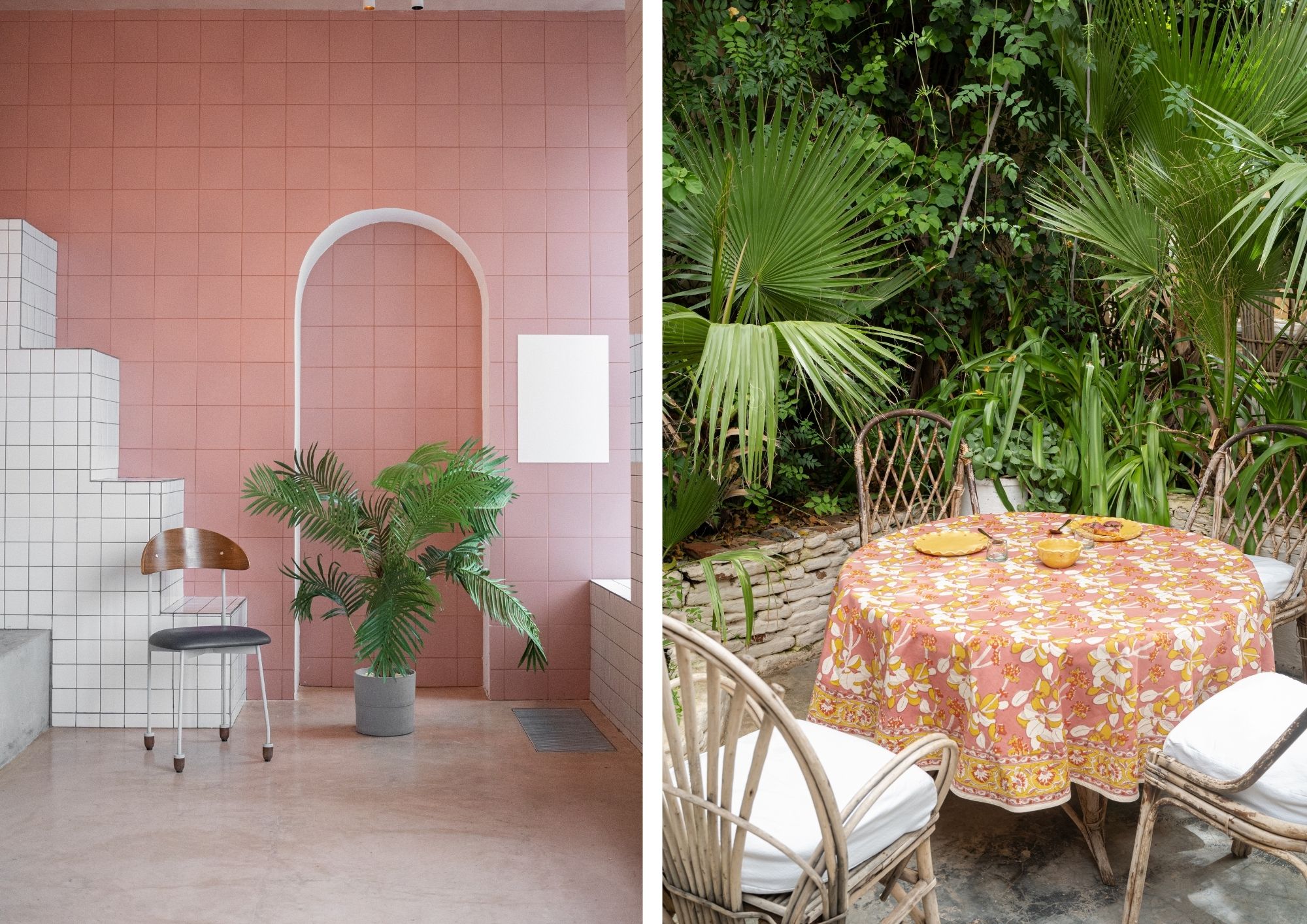 © Monsterra - Round tablecloth Iris dusty pink © Sophie Denux
In the living room
A must-have on the walls of a living room, a Khaki green shade creates a beautiful, cozy and intimate space. Add a green sofa with hand block printed cushions and mix and match patterns to introduce some restorative energy into your living space.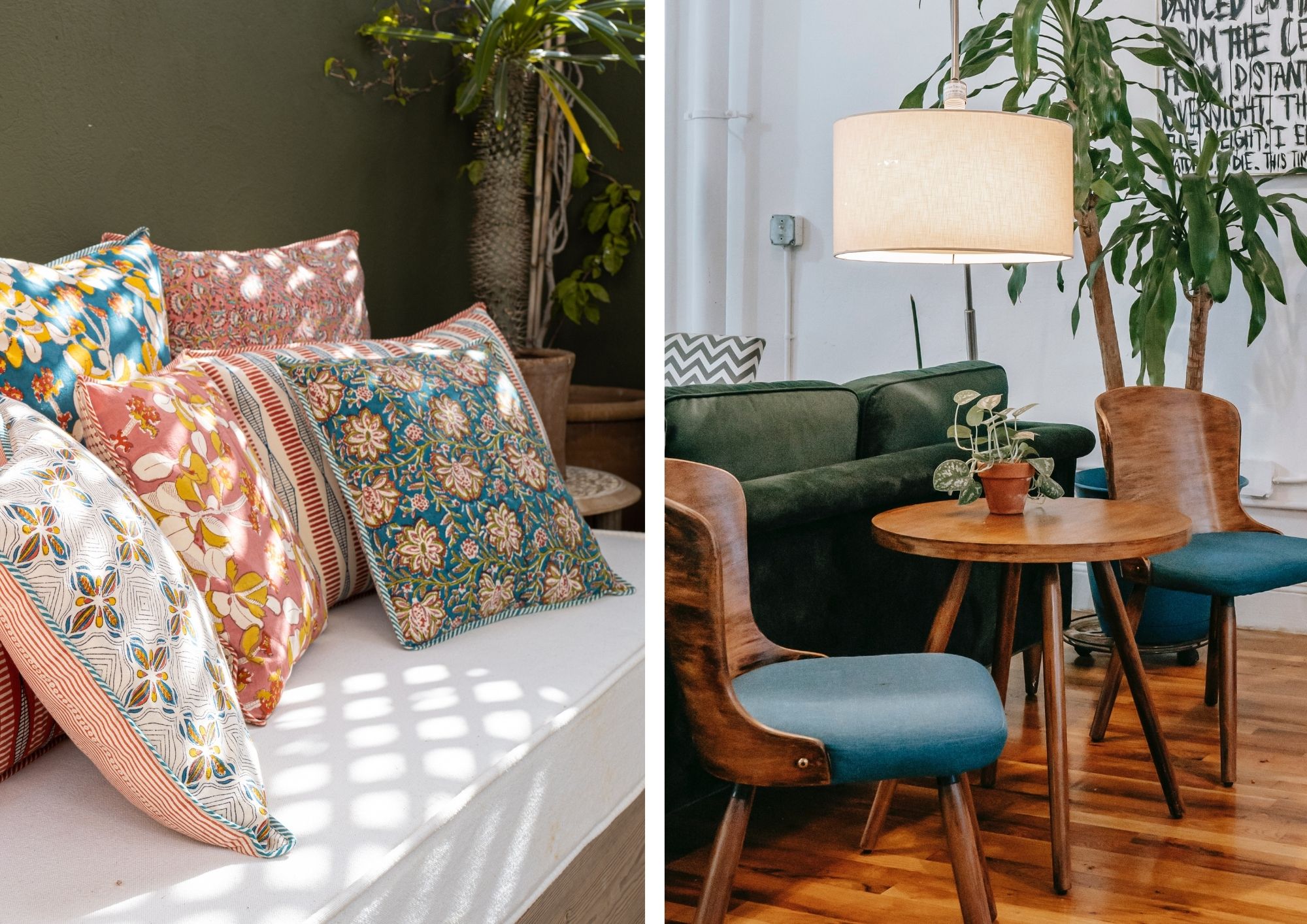 Hand printed pillows © Sophie Denux - © Charlotte May
In the kitchen
In your kitchen space, you could try a dark green for a chic feel. Go for high-end materials by combining a worktop and a matching credenza to bring out this strong shade. For a fresh and bright kitchen, opt for almond green or olive green to highlight these more gourmet shades. Use beautiful hand printed textiles such as kitchen towels and table linen to add interesting and unique touches to this space in your home that celebrates family time !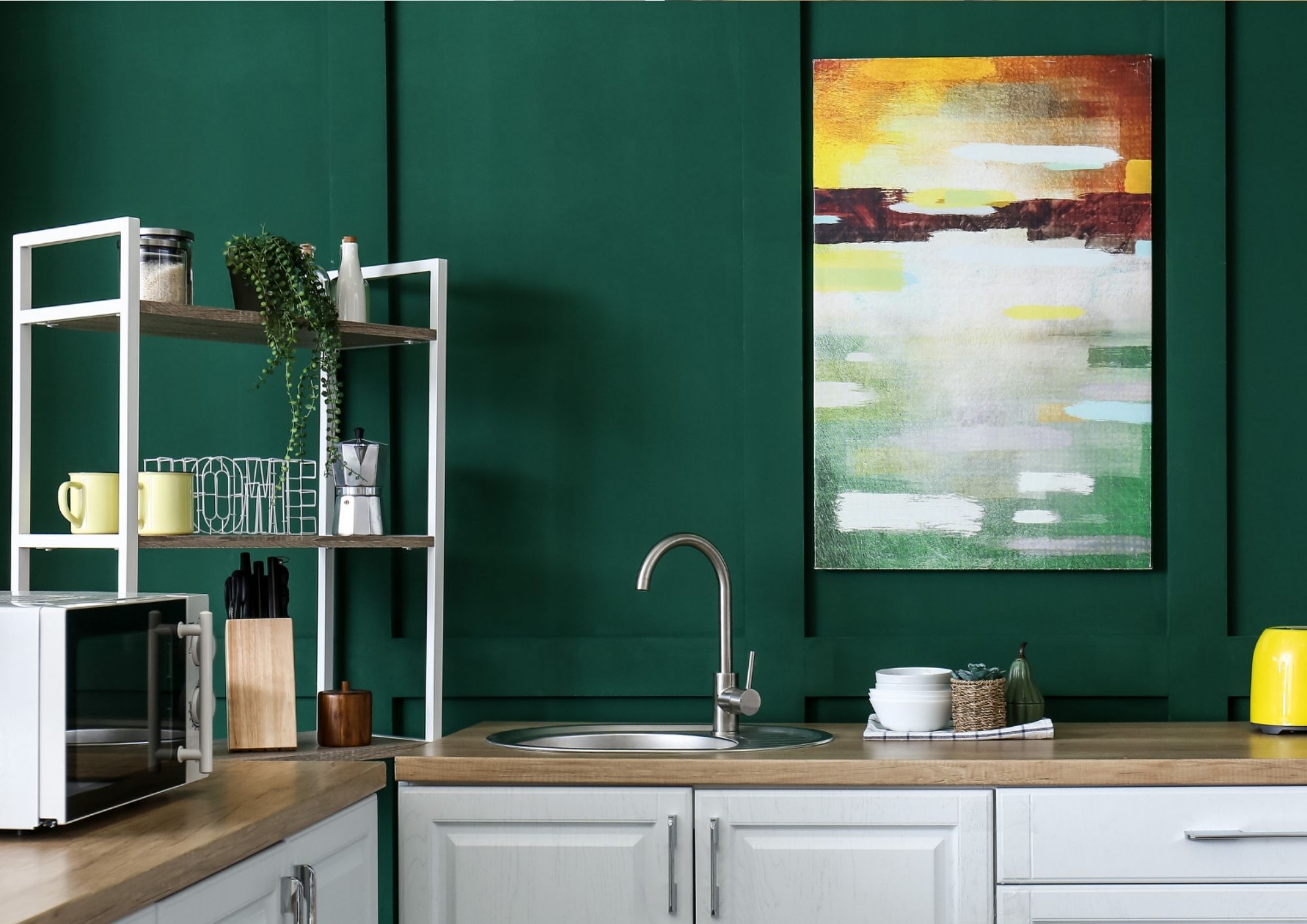 © Canva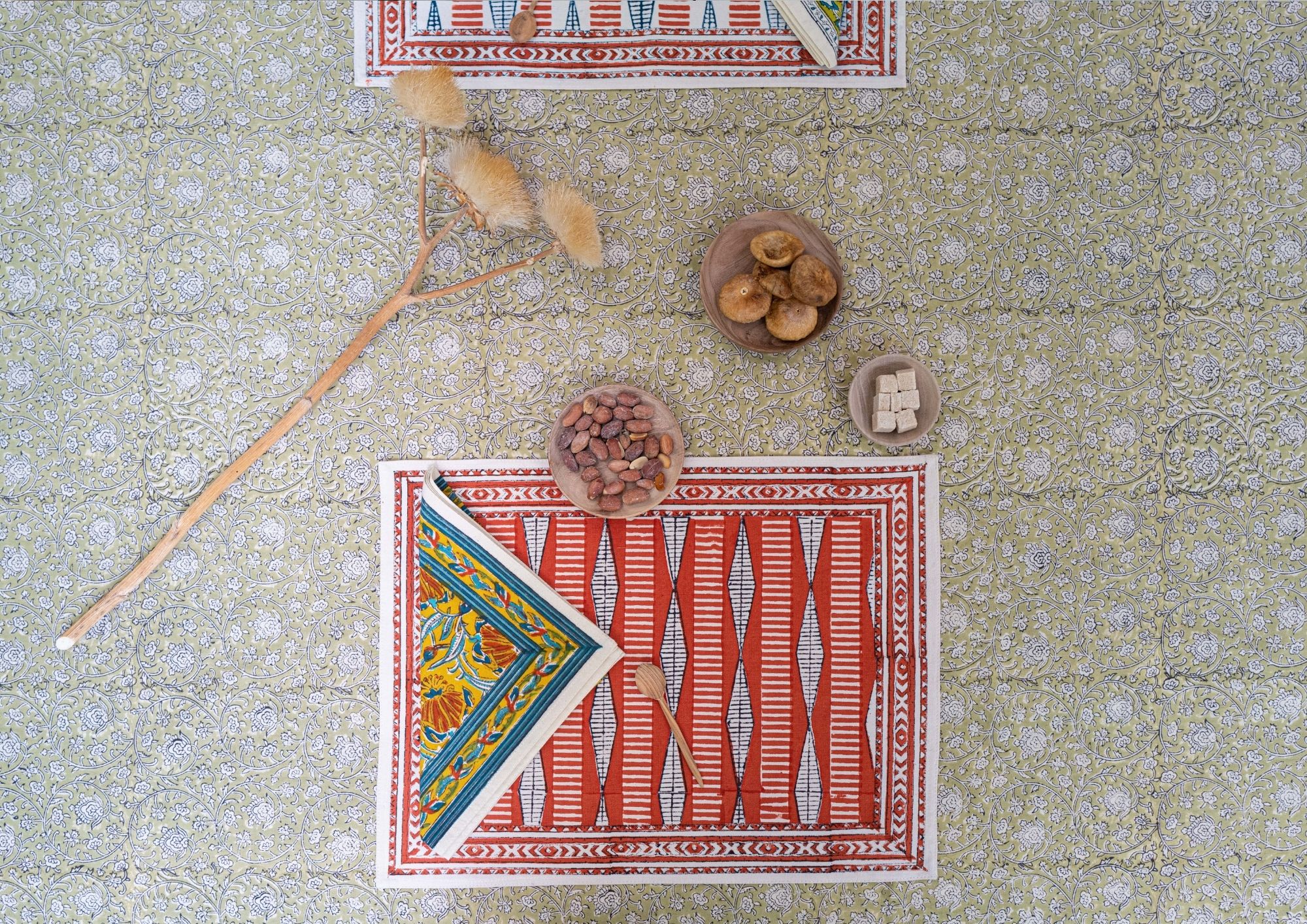 Hand printed rectangle tablecloth Choti © Sophie Denux
In your bedroom decor
For peaceful nights filled with sweet dreams, a soothing shade of sage green will bring in a soft and spring-like atmosphere. This shade brings tranquility and calm to the bedroom. Touches of light greens can be used in contrast with minimalist white to soothe your nerves and introduce a dose of freshness and dynamism from the moment you awake. Combine these tones with soft and cozy hand printed Indian quilts and beautiful floral or graphic prints and don't hesitate to mix and match patterns.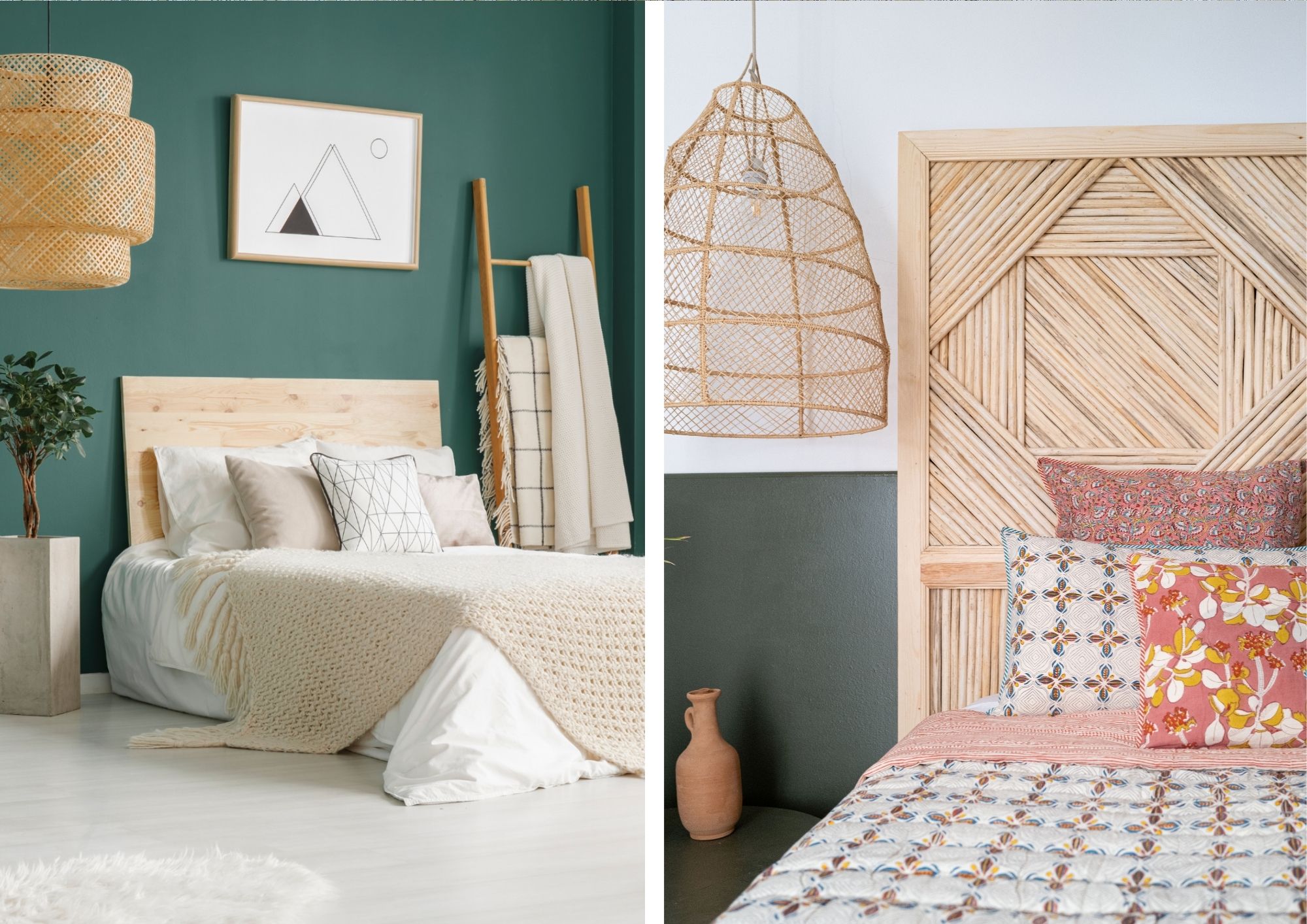 © Canva - Indian quilt Jaal © Sophie Denux
In the bathroom
Play with a range of shades, and use green decor to add a refreshing touch and bring in some natural decoration for your bathroom. Fir green can be used to complement white or other neutral shades commonly used in bathroom decor. Add indoor plants that will draw out the humidity and add a 100% green and decorative touch.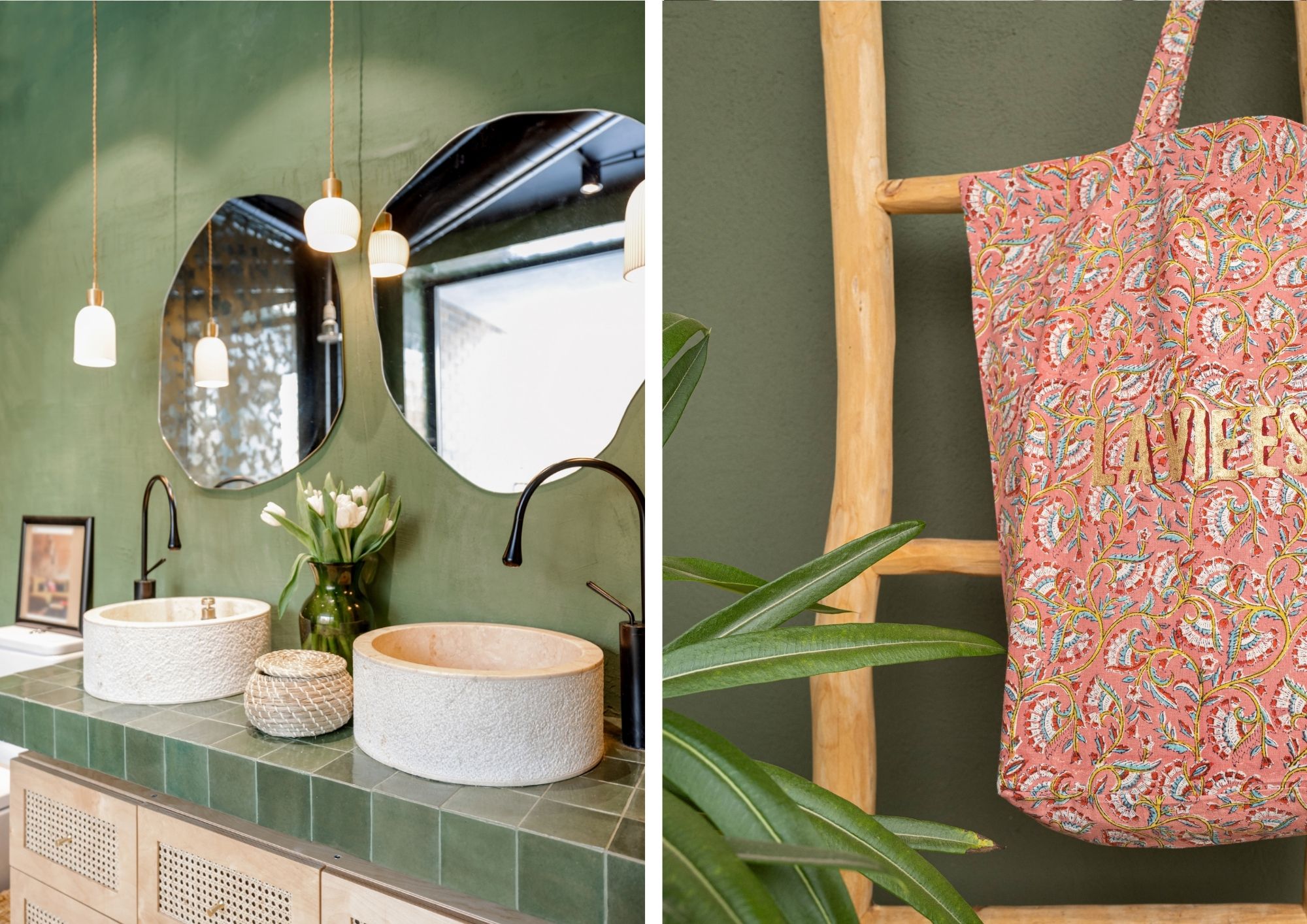 © Canva - Tote bag Lili dusty pink © Sophie Denux