Jamini x Ressource

Jamini x Ressource
At Jamini, color is a real source of inspiration. Always at the heart of our creations, color invites you to travel and dream. Ressource, a brand driven by a deep desire to enhance and transmit its living heritage meets Jamini to create a capsule collection combining French heritage & vibrant Indian aesthetic. United by a passion for handmade and unique pieces, the two brands are proud to launch a range of graphic cushions with striking motifs.
It is with joy that we invite you to meet Pauline Chauvin and Annabelle Vermont from Ressource.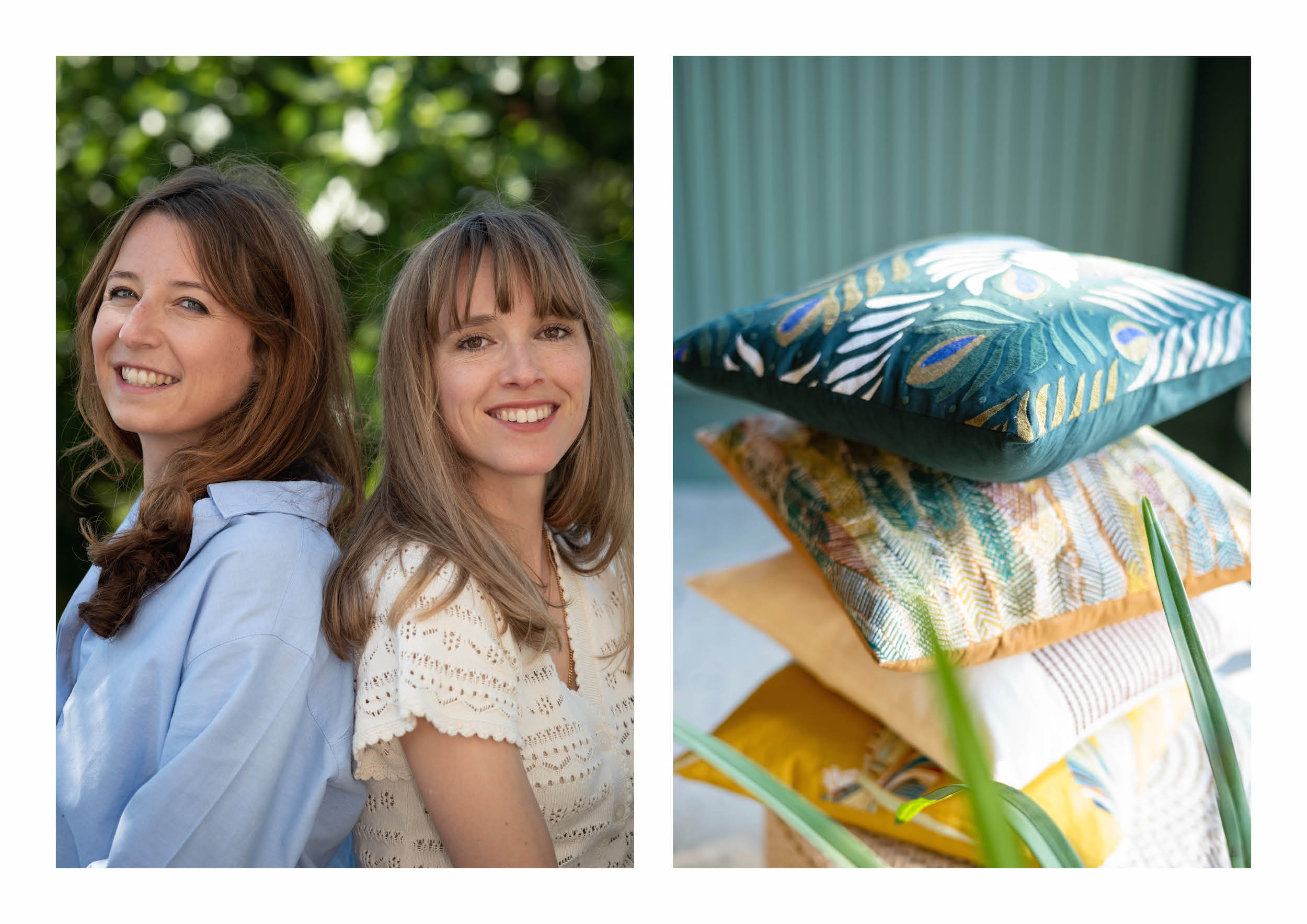 © g.gleize
1. Pauline, how did your great-grandfather create this business?
When it started in 1946, the family business had its origins in the ocher and pigment trade in the Roussillon quarries. Based not far from Provence, our grandfather developed our first paints and built the manufacturing plant. The company evolved into the world of decoration with the creation of Ressource in 1998 by Pauline's father.
2. What were your respective career paths before joining the company?
Annabelle: Curious about art, design and craft skills, I have a fairly varied background. After studying fashion design and interior design, I worked in scenography and screen printing. The creativity of living art along with the manual side of textile printing have always attracted me and I took advantage of an experience in Montreal to learn more about these 2 areas. When I returned to France, I devoted myself for 1 year to creating a collection of patterns. These drawings were a success at Resource and we developed the first Wallpaper Collection together. And that's how I took joined the Resource adventure!
Pauline: Creative at heart but with an entrepreneurial streak, I studied management with a focus on Business Creation and Business Takeover. At the end of my studies I joined the family business when a position had just become available in Paris. So I took responsibility for the avenue du Maine flagship store in the 15th arrondissement. I took great pleasure in discovering and deepening my knowledge of the products, the color, the needs of the client ... what could be better than field experience to understand your job! Step by step, I took over the management of the store network, then the general management , and ended up as the company Director in 2018.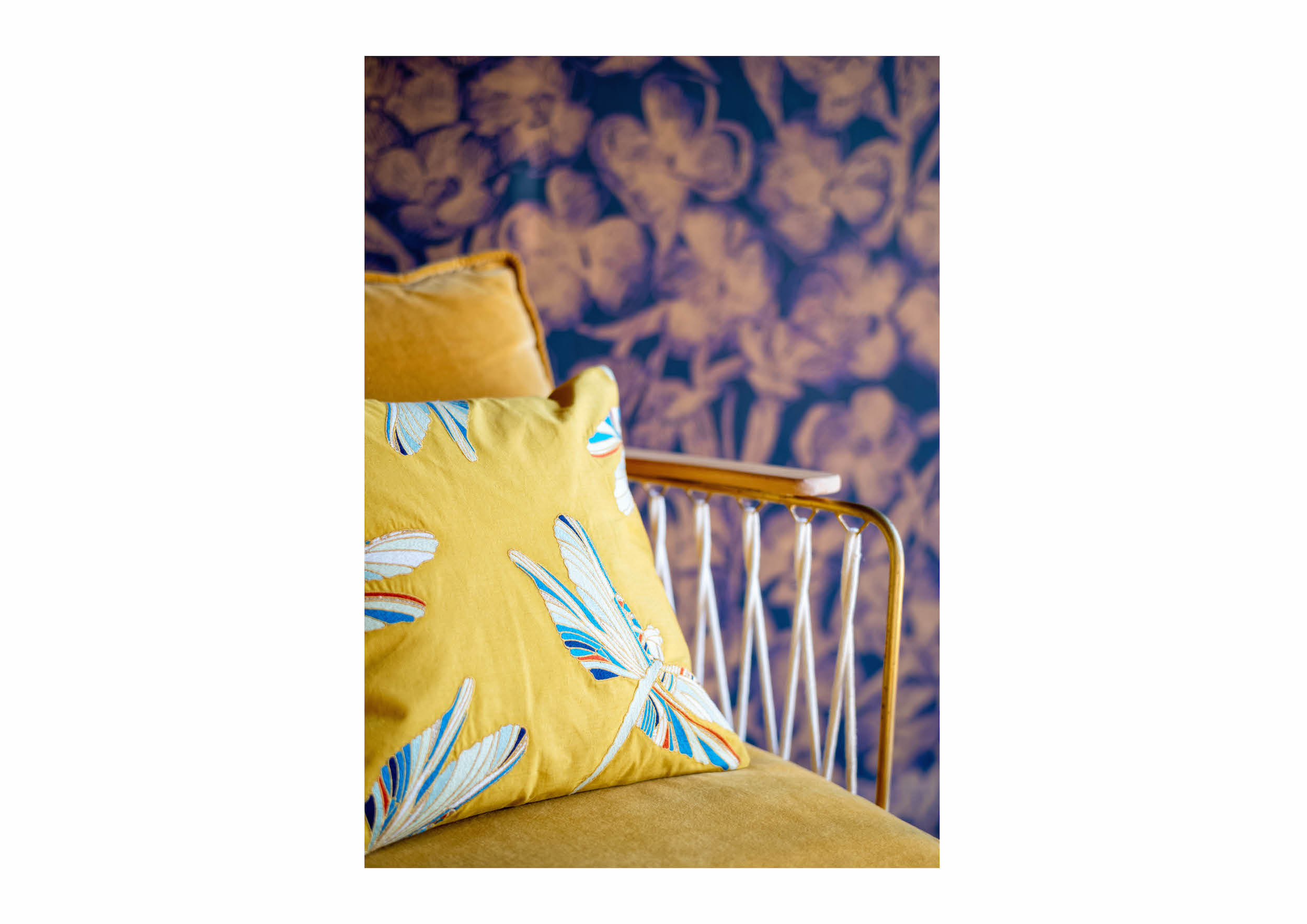 © g.gleize
3. Tell us a family anecdote at work that makes your job even more interesting.
It is not really an anecdote, but rather a work philosophy that allows very open exchanges, easy and direct communication where intuition guides us. And it's great to pass on knowledge over the decades, to take advantage of the experience of previous generations.We have a great deal of respect for everything that has been done before us, and we are inspired by it.
At the moment, certain traditional techniques and products developed by our ancestors are the inspiration for new projects.
4. Pauline, can you describe your managerial style as a business owner?
I believe in a management style built on trust. Family spirit is very important and so is the participation of my team members.
I am the first woman to manage this company but I have the feeling that there is a sense of real continuity. My father set the example and I carry on his legacy with slight touch of feminity.
5. What is your fondest memory as an entrepreneur?
The launch of our first wallpaper collection is one of our fondest memories! Even though there are many more!
The release of the Forestine collection is the culmination of a project that we have been discussing for a long time with my cousin.
The beginning of our professional collaboration is a real pleasure in every sense. Putting together our complementary skills at the service of this family adventure is simply fantastic.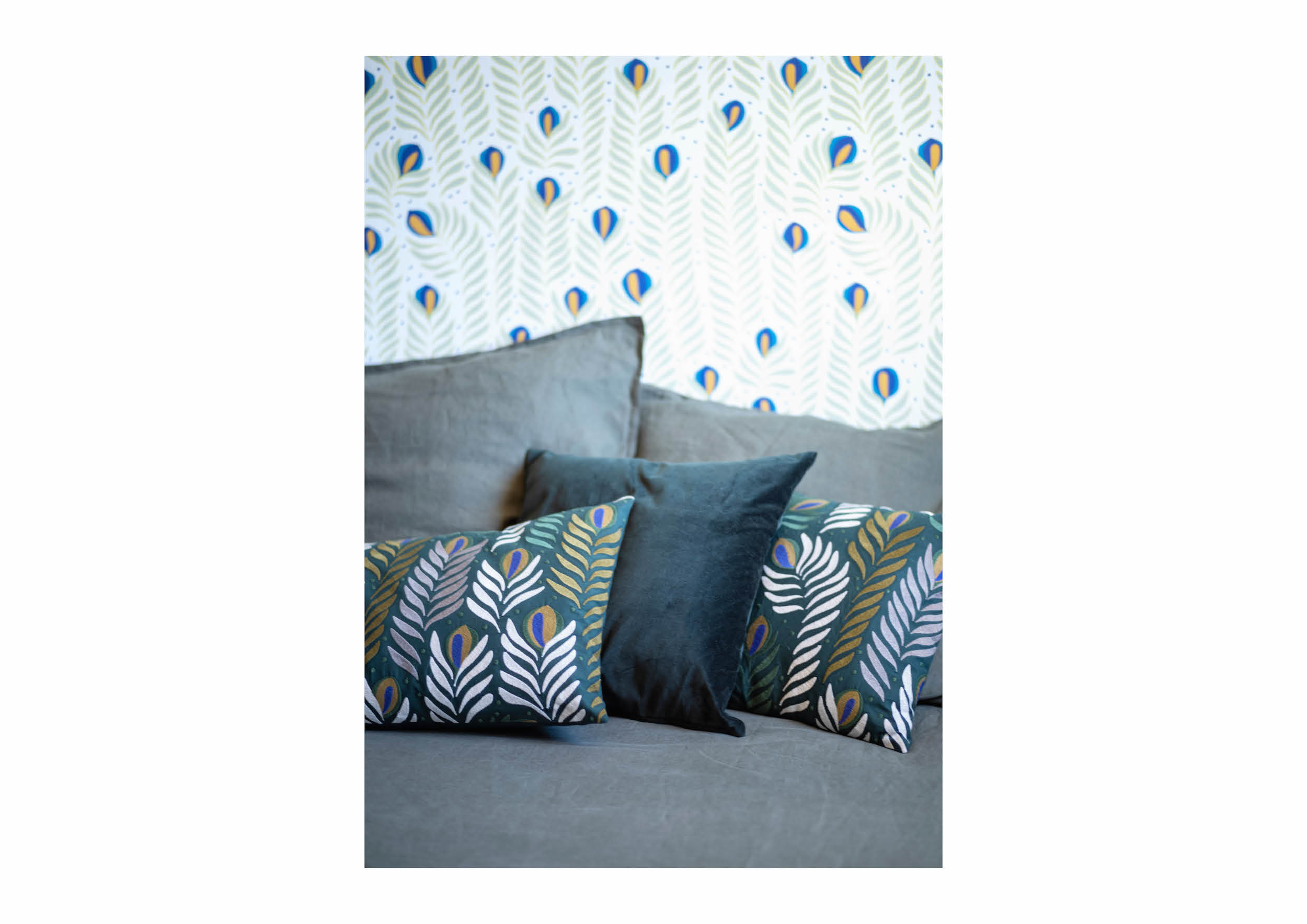 © g.gleize
6. How do you characterize your brand?
Ressource is a colorful and creative brand making paints and wallpaper. Beauty, quality, and the pleasure of the creative process guide our philosophy.
Imagining a pallette of colors, textures and patterns to help our clients create their own special ambiance - minimalist or ornamental, is what we love to do.
7. Where do you get your inspiration for your collections?
It is over the course of many meetings that collections are born. The universe of architects, designers, stylists inspire us a lot and have given life to many collaborations. Our colors reflect the personality of all these creative souls and their inspirations : colors, travel, art and history. The names of our shades bear witness to their stories : Deep Egyptian Green, Aïda, Aubusson Blue, Jodhpur, Persian Yellow…
The wallpaper collections are inspired by nature. Annabelle, who creates them, observes plants, insects and animals by photographing them. She also collects flowers and plants to study details. Hand drawing is at the heart of her work and her graphic sense is nourished by art in general: old engravings, prints, Art Deco style, silky fabrics ...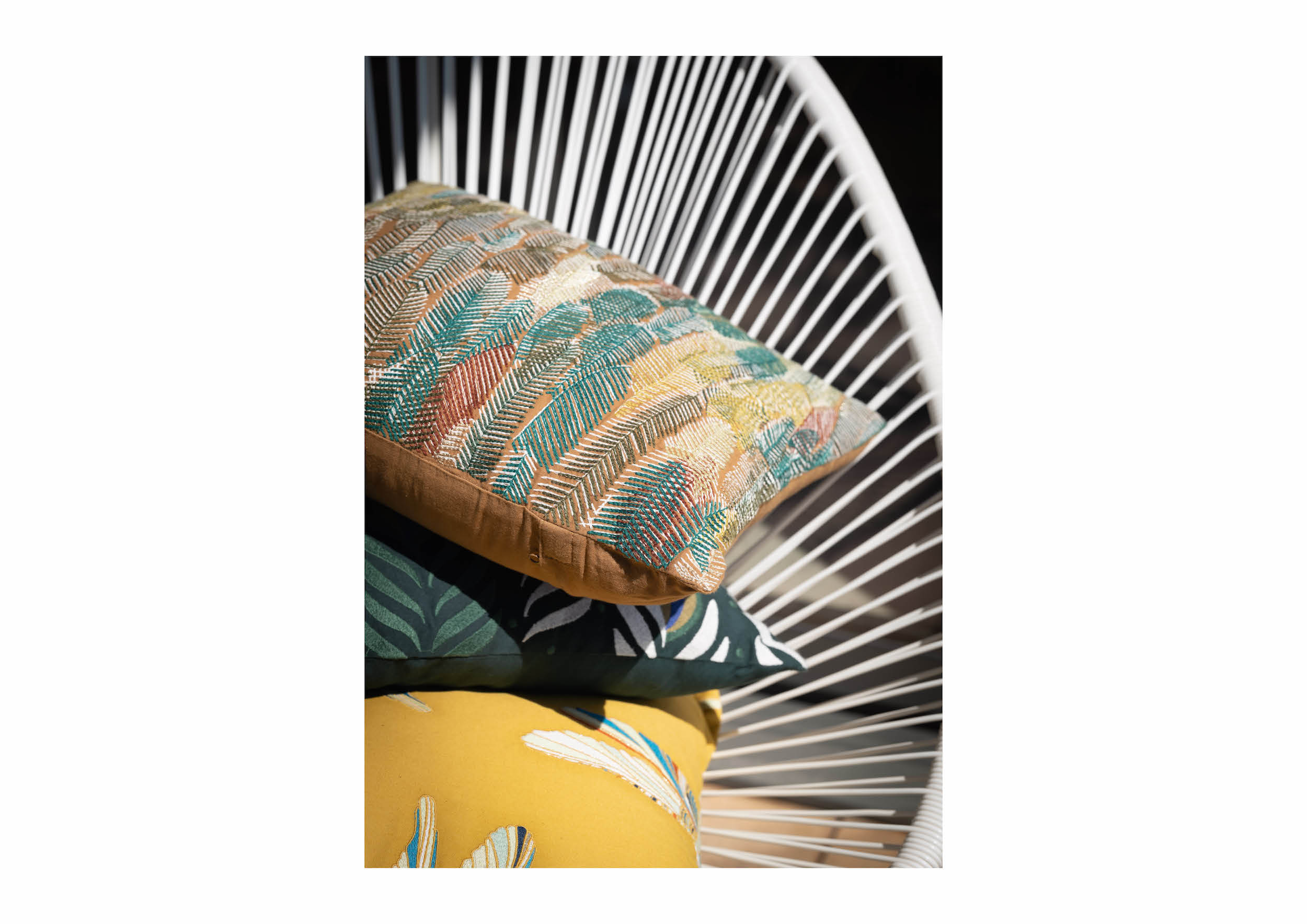 © g.gleize
8. Your tip for choosing a paint color or wallpaper pattern?
It could be a first crush : choose your favorite color as a starting point for decorating your space and then add all the elements to complement it.
Or, it could be the case where color & wallpaper are chosen to fit into an existing decor. We would recommend taking samples of our paints and papers and combining them with the furniture, the floor and other elements of decor. Take the time to observe the effect at different times of the day and see how the shades or patterns react to the environment as a whole.
Choose elements that fit effortlessly into a harmonious decor.
9. What is your favorite color?
We really like shades of green tinted with muted blues. For example, the light toned Beauvaus Gray and a darker toned Garden Grille.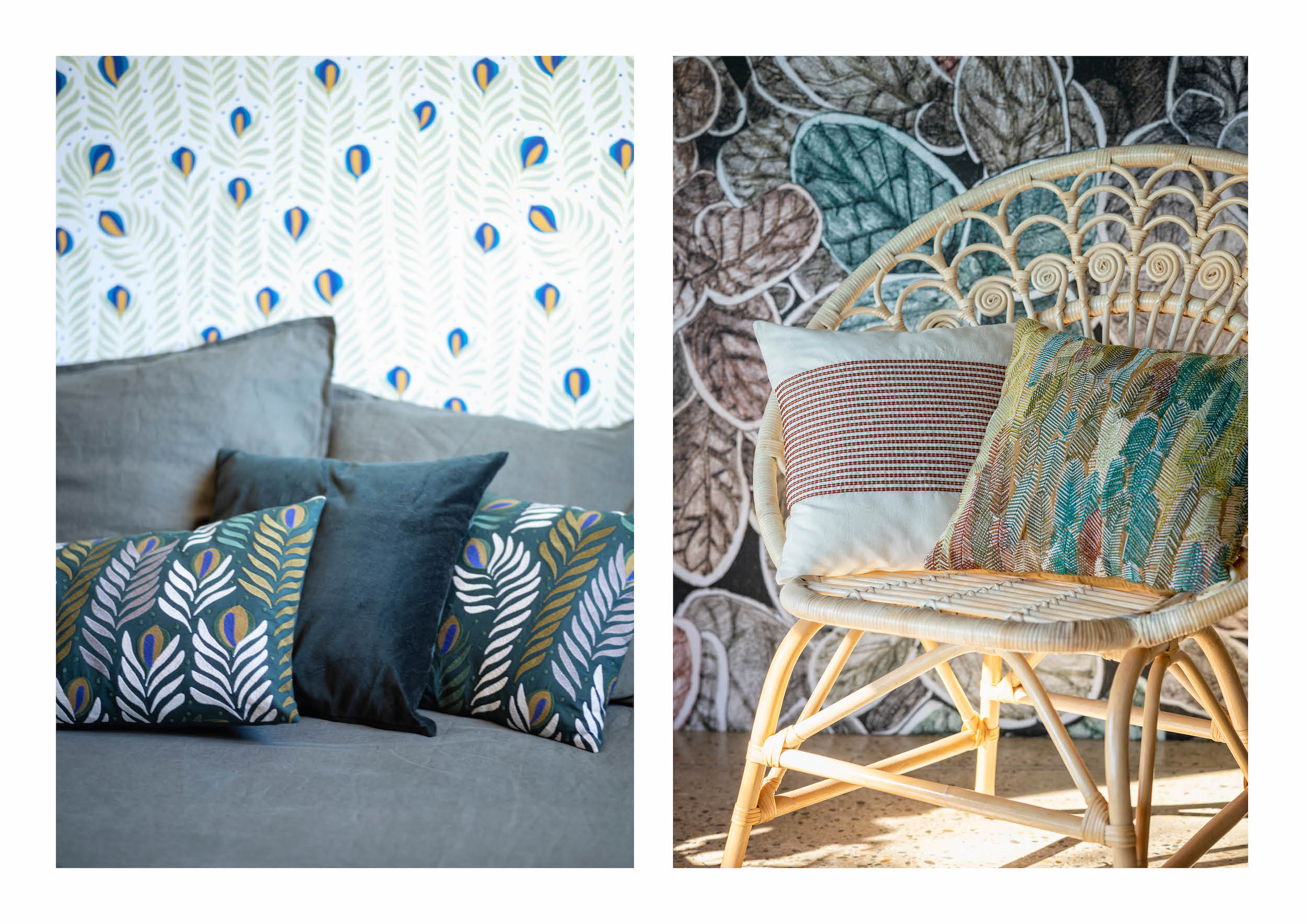 © g.gleize
10. Why did you choose Jamini for your first textile collection?
Jamini has a strong feminine spirit and soul inspired by Usha , the founder, on whom we had a real crush! Art and craft, respect for traditions and the human spirit are at the heart of her creative process and vision. These are precious values to which we are very attached.
We are the fourth generation running our family business. And we are proud to preserve and develop our artisanal know-how and our technical expertise in a humane and family-centric atmosphere.
We always imagined that textiles would find their perfect place in the Ressource range. Since the creation of our first collection of Forestine wallpapers, we had a strong desire to see our patterns on fabric.
We decided to focus on the range of painting and wallpaper, and decided to partner with an expert brand in the textile space. Jamini was an obvious choice, with a solid experience in textiles and a network of craftsmen along with Usha's enthusiasm for collaborationg with Ressource!
11. Your favorite product at Jamini?
We love the Reema printed cushion and the Amélie woven cushion!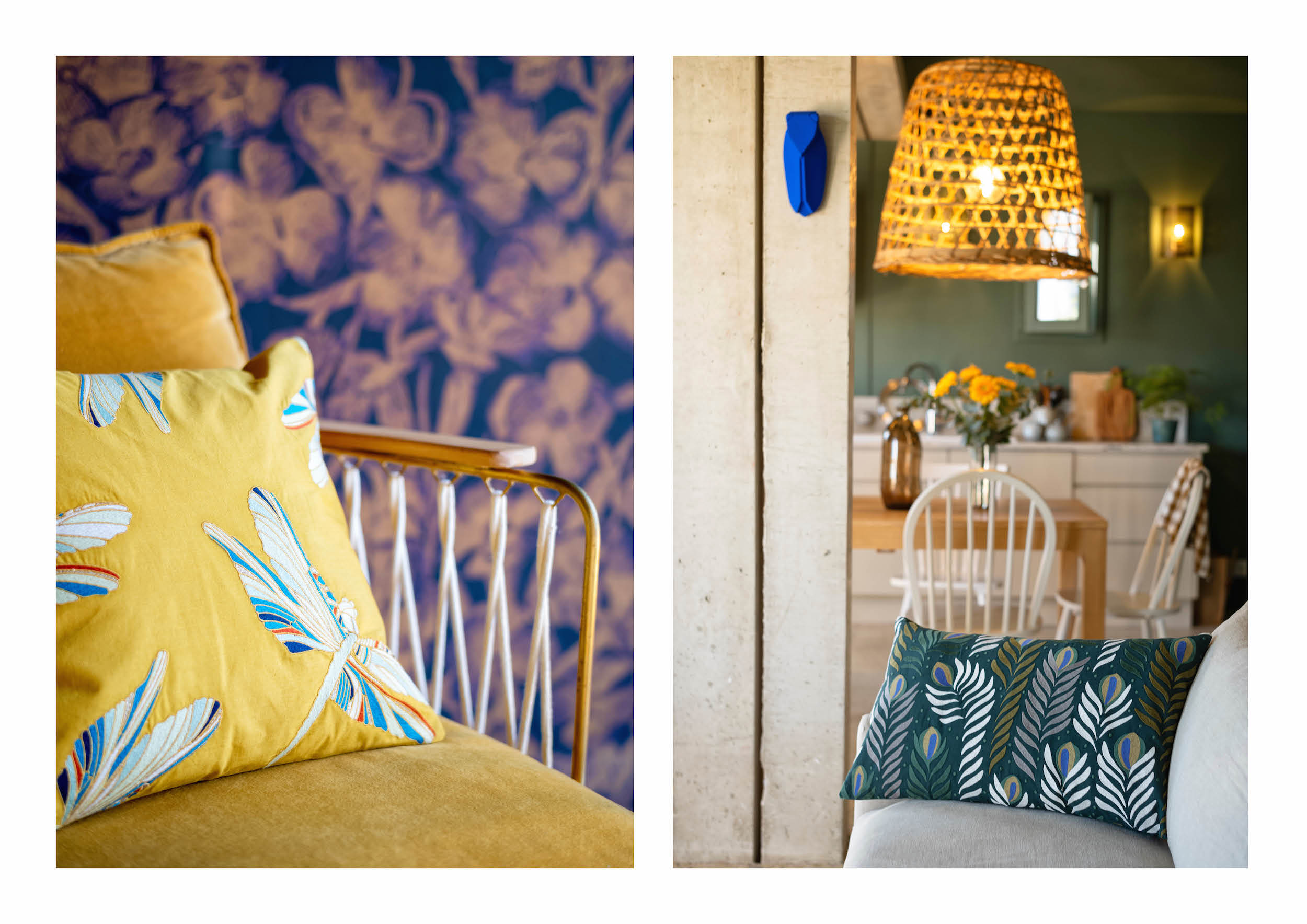 © g.gleize