Sanjee from Bollywood kitchen

Sanjee from Bollywood kitchen
To celebrate International Yoga Day on June 21st, we focus on well-being and feeling good in body and spirit.
As part of this adventure, we decided to ask Sandra Salmandjee, talented chef and author of the famous blog Bollywood Kitchen, a few questions and introduce her latest book AyurvedaFood (Mango editions) to our fans and community. Here is a peek into the life of this young Parisian entrepreneur, mother and health food advocate.
1. Tell us more about your unusual background.
After my Masters degree in Marketing, I spent seven years in fashion working for Agnès b. & Cacharel. During my time at one of these companies 5 years ago, I created my blog called Bollywood Kitchen. The blog slowly grew and I shifted careers to follow my adventure as an entrepreneur. Today, I am a consultant specializing in Indian cuisine, cookbook author and chef. I create made-to-measure events and workshops. I love being independent and making a profession out of my passion !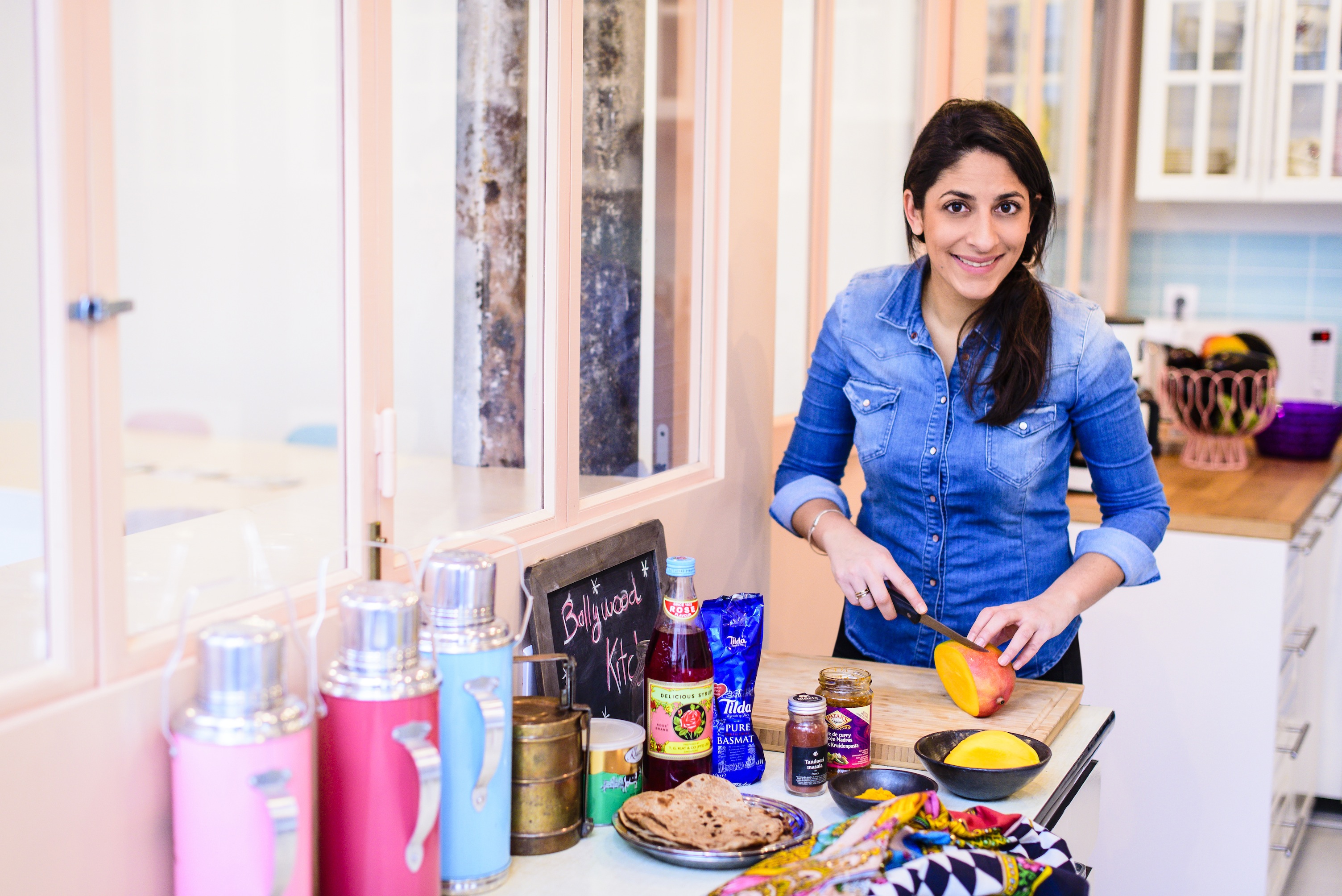 © Aimery Chemin
2. How would you describe your "typical week" ?
I don't have a typical week ! It would be too simple ! It is important for me to balance my time, being present for my family and taking care of myself. I drop my 3 year old son to school almost every day and am lucky to have a very supportive partner. I am early bird and like getting started at the crack of dawn !
3. Tell us about your meeting with Eloise Figgé, the co-author of the book AyurvedaFood ?
When my publisher asked me to work on this project (the book on Ayurveda) I knew very little about the practice. I liked the idea of doing a simple book, accessible, modern and above all, a book that taught one the art of listening to one's body. I met Eloïse through a friend, and we got along immediately ! She is an expert on Ayurveda and we have lots of new ideas... more soon on that later though !
© Sandra Mahut for the book AyurvedaFood (ed. Mango)
4. What are your health secrets ? Do you have a recipe for boosting your energy ?
My beauty secrets ? A balanced life. When I overdo something, I try to calm down with a detox juice the next day for example. Sports help me keep in shape. I never deprive myself of anything, I don't believe in being frustrated. When I am tempted by high calorie goodies, I share, I eat half and there is no guilt involved !
5. Your favorite dish ?
Apart from Indian food, I am a big fan of Thai and Italian cuisine ! Simple pasta al dente, well seasoned, makes me happy !
6. Your little weakness ?
I love good bread, I even know my neighborhood baker's first name.
7. What do you do when you need to disconnect from your routine ?
I like going out with some friends or travelling with family !
8. Your most memorable experience as a chef ?
My meeting with Philippe Conticini - I had the chance to attend one of his Masterclasses, and found him to be really kind - hearted and warm. I was so proud when he told me that he had read my blog. My meeting with the talented Christophe Michalak also was magical ! (Sanjee was the chief guest on his broadcast for France 2 last December.)
9. Your mantra for our readers.
« Build your own dreams, or someone else will hire you to build theirs », Farrah Gray
© Sandra Mahut for the book AyurvedaFood (ed. Mango)
Pour en savoir plus : www.bollywoodkitchen.com