Tie and dye, an ancestral technique
Colorful, graphic patterns, often associated with the hippie world of the 60s, tie and dye is a timeless textile trend. This ancient art creates a striking and completely unique graphic aesthetic. Tie & dye patterns make a statement - in fashion or in interior decoration. Contemporary shades of indigo, pastel tones of beige, and many other natural and comforting colors created using tie & dye patterns can add a stylish touch to your home decor.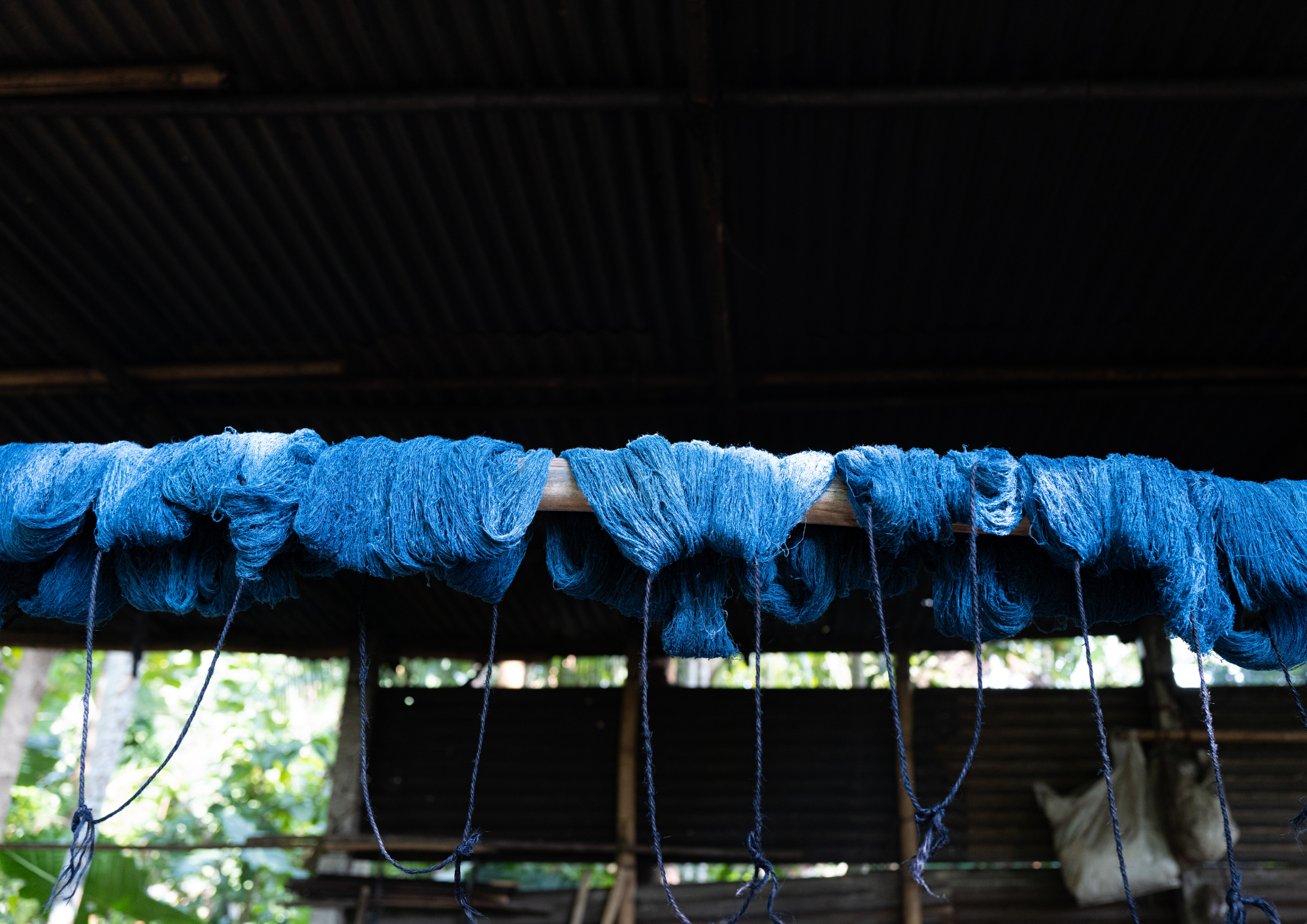 Naturally dyed tissus with indigo © Sophie Denux
The origins of tie and dye
Traditional dyeing techniques, such as Shibori, in Japan or Bandhani (Sanskrit bandhana बांधानी) in India, were the origin of the tie and dye movement. A unique and fascinating ethnic art, beautiful patterns from tie & dye have been a form of cultural expression, made in many different forms and motifs all over the world./p>
The origin of the word is none other than the definition of the process itself, from the English to tie and to dye. This term was born in the 60s, with the arrival of the hippie culture. Adopted by a whole generation of young rebels, this process became a symbolic representation of peace. Used as a form of art in political demonstrations, on the street or in music festivals, tie and dye was adapted & showcased on various objects - fashion items, cars, interior decoration and wall art.
Japanese dyeing technique, Shibori © Canva
Tie and dye at Jamini
We have used the beautiful and lush region of Assam as inspiration for our tie & dye range.
Discover our eco-friendly collection, which is perfect for the bedroom, living room or dining room.
Natural indigo and tea leaves have been used to create natural dyes for the process. Indigo is grown in parts of south India, where farmers have revived this ancient crop. The tea leaves come from tea gardens in Assam, one of the world's foremost producers of tea. Khadi cotton which is hand spun and hand woven is used as the fabric to create this range. Khadi, worn and made popular by Gandhi, is a natural fabric, with all its imperfections and a unique touch that makes it perfect for interior decoration. Cotton yarn is hand woven by our expert weavers. Each piece of hand made fabric is expertly tied to create a unique design and then dipped in indigo solution or tea mixture for dyeing.
The colors and dye patterns are unique on each piece and are created by our talented artisan weavers & dyers.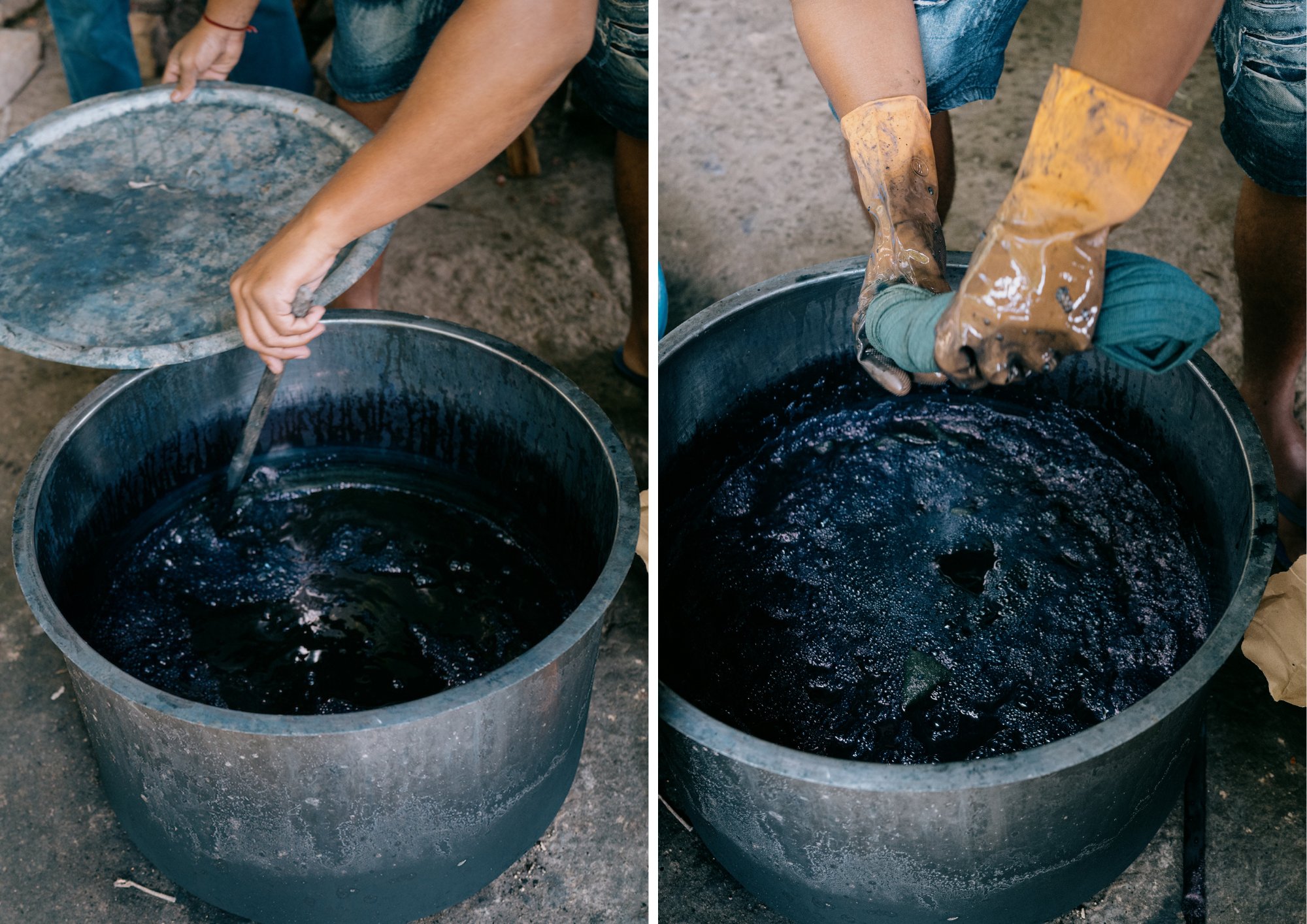 Tie and dye in action, in the Assam region of India © Sophie Denux
Tie and Dye comes to your home
Tie and dye is back with a bang amongst 2022 decorating trends. Use varying shades of deep blue, a symbol of escape and travel, to create a soothing atmosphere.
For a more creative and colorful style, choose pastel shades by mixing colors such as yellow or green.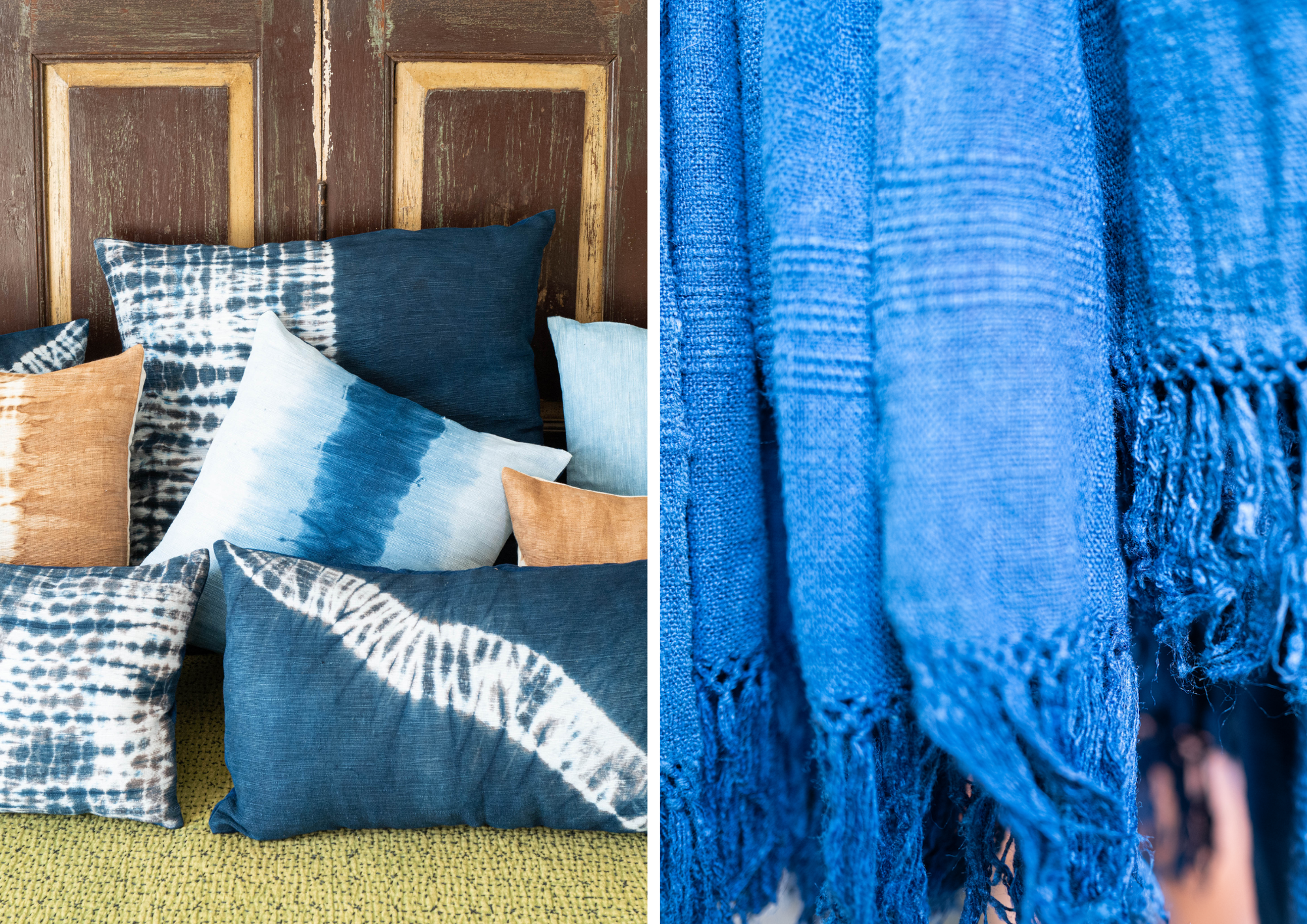 On the right, our cushions from the tie and dye range © Sophie Denux - On the left, our plaids from the tie and dye range © Sophie Denux
Bring your home decor to life with our range of home accessories. Tie and dye has been used to create comfortable throws and bed covers and cushion covers in a range of sizes and motifs. Use them to add a boho chic and modern touch to your sofa or your bedroom.
If you're in mood for some sun and sea, create a zen ambiance with white walls and natural wooden furniture that works really well with tie and dye pillows.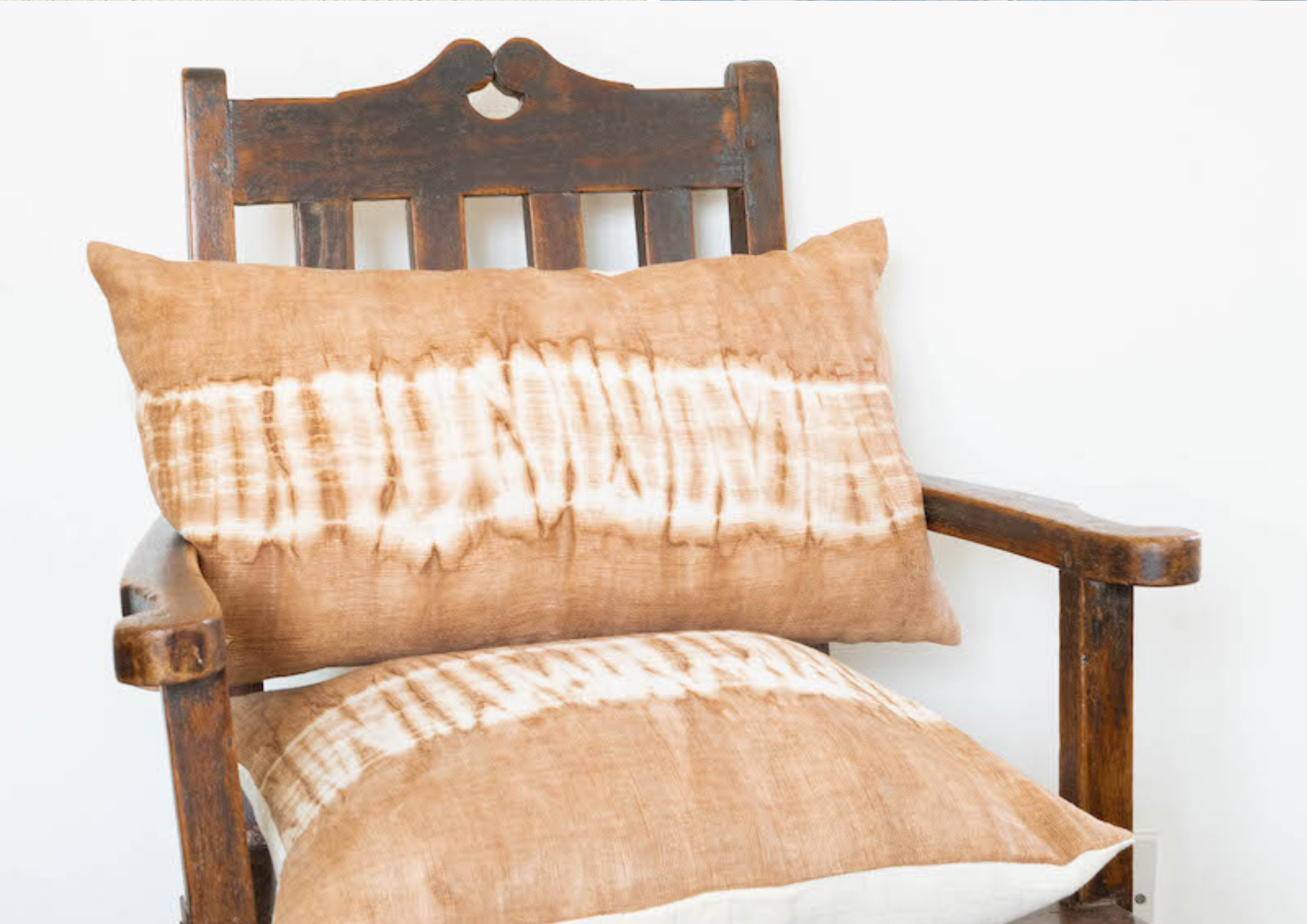 Nude beige tie and dye cushion © Sophie Denux
Enjoy lazy siestas in the sun on our Indian daybed or charpoy - add some comfy mattresses and a few cushions and enjoy !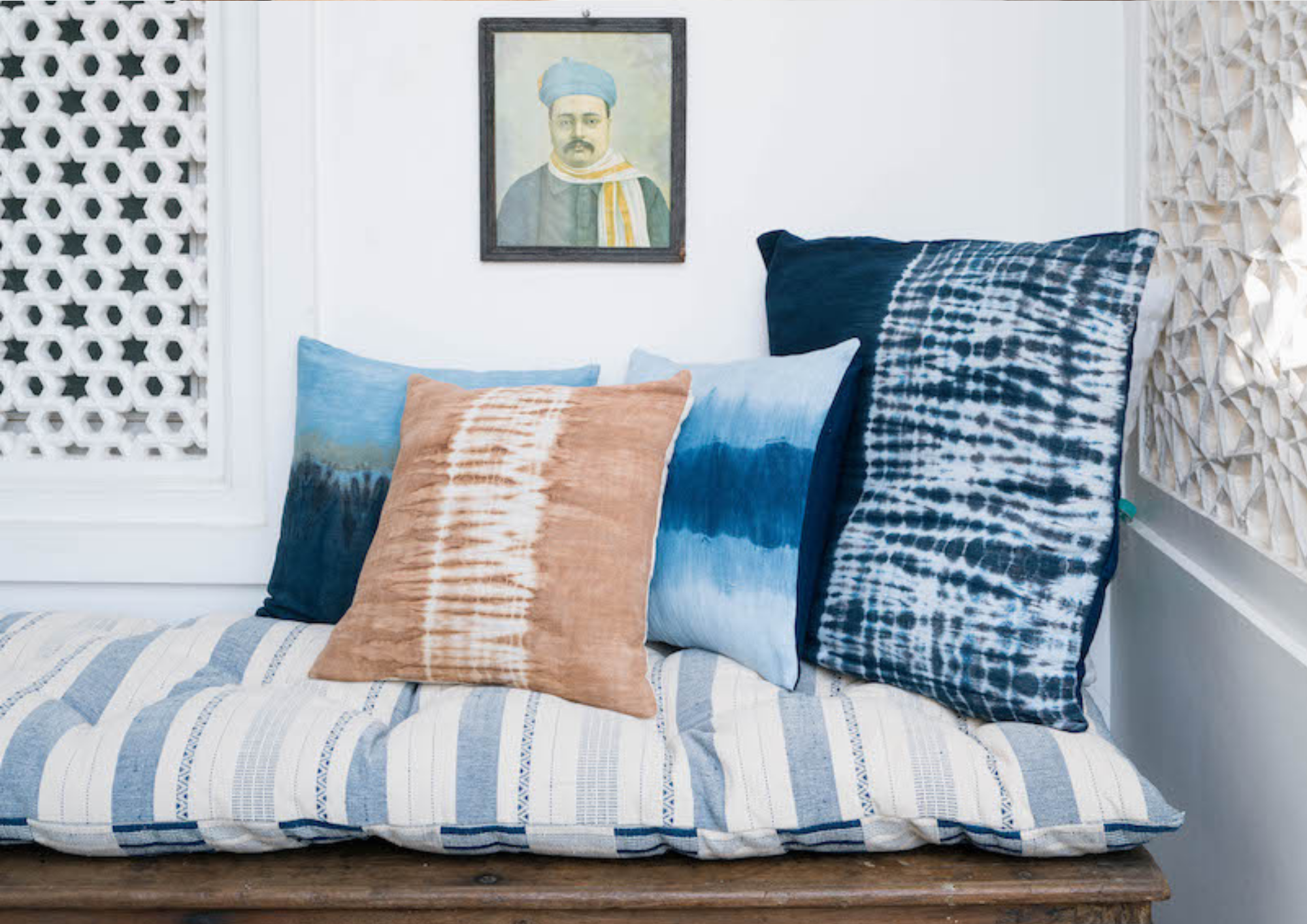 Indigo tie and dye cushions © Sophie Denux