Unique gifts that are made with love

Unique gifts that are made with love
It's that time of the year and you are probably busy choosing gifts for your family and friends. We wanted to show you some special pieces this season - our gift ideas that are quite unique and different from the ordinary.
We believe that gifting is an art - and one that can be used very powerfully to convey positive messages and affirmative action.
Here are a few pieces that we love this season - we've picked each item with a special story behind it to bring a powerful message to the person receiving the gift.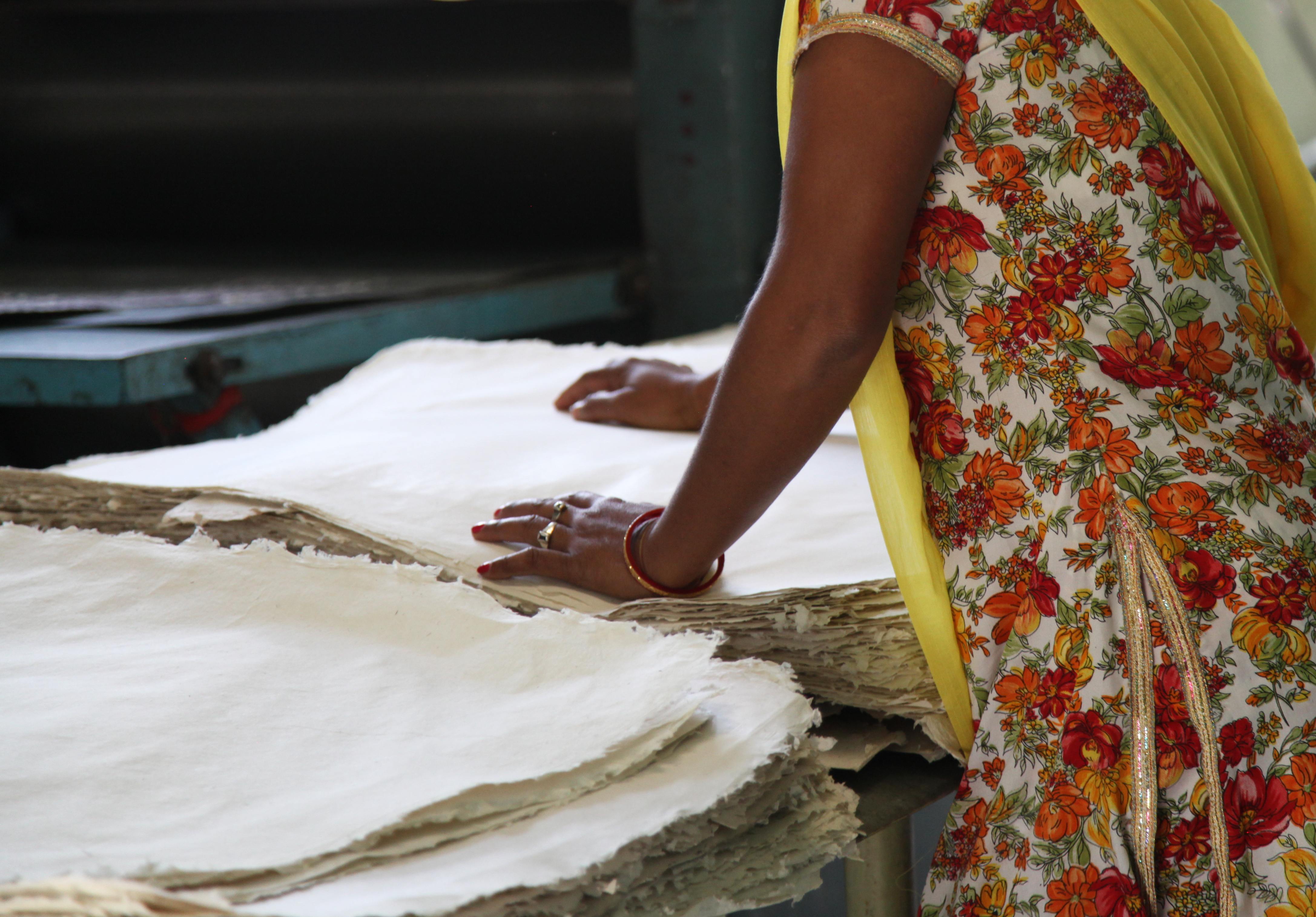 © Sophie Denux
Our eri silk scarves
Eri, or peace silk is a very special quality of silk that is made without killing the silkworm. Also knows as "peace silk" , it was a favorite material used by Mahatma Gandhi because of its eco friendly properties. Eri comes from North East India, and is handwoven by expert artisans who have mastered the art of weaving beautiful ethnic and geometric patterns on this luxurious fabric.
Eri fabric has a very special thermal quality - its adapts itself to outside temperature - it can therefore be worn in winter and is really warm and cozy, or in summer, where it can be used a light summer accessory. A perfect gift that will last generations and become softer and more comfortable with use.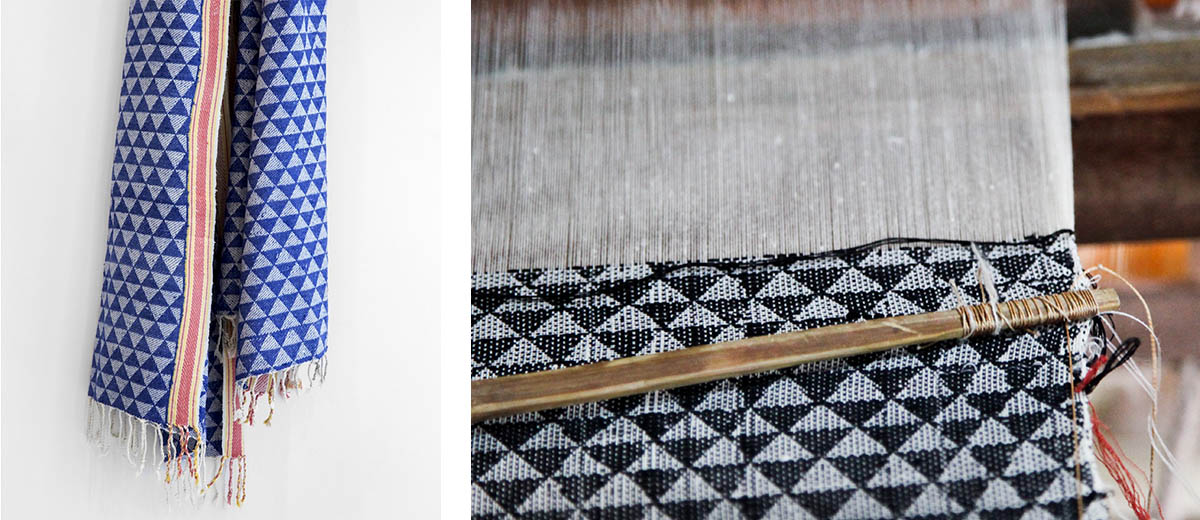 © Sophie Denux
Our hand woven / hand embroidered pillows
Each of our pillows is unique because our fabrics are handwoven and handprinted. Indian artisans in Assam and Bengal weave our patterns using soft cotton yarn, and women earn their living working on handlooms in their homes. Each woman artisan has a unique touch , which means that the tension on the yarn as it is woven if different for every lot of fabric. Our embroidered pillows are unique as well - each piece is hand printed and then embroidered by expert artisans with carefully chosen colour combinations.
Our pillows make beautiful gifts which bring a dash of Parisian chic to any home along with a special touch that is a unique work of art by our women artisans.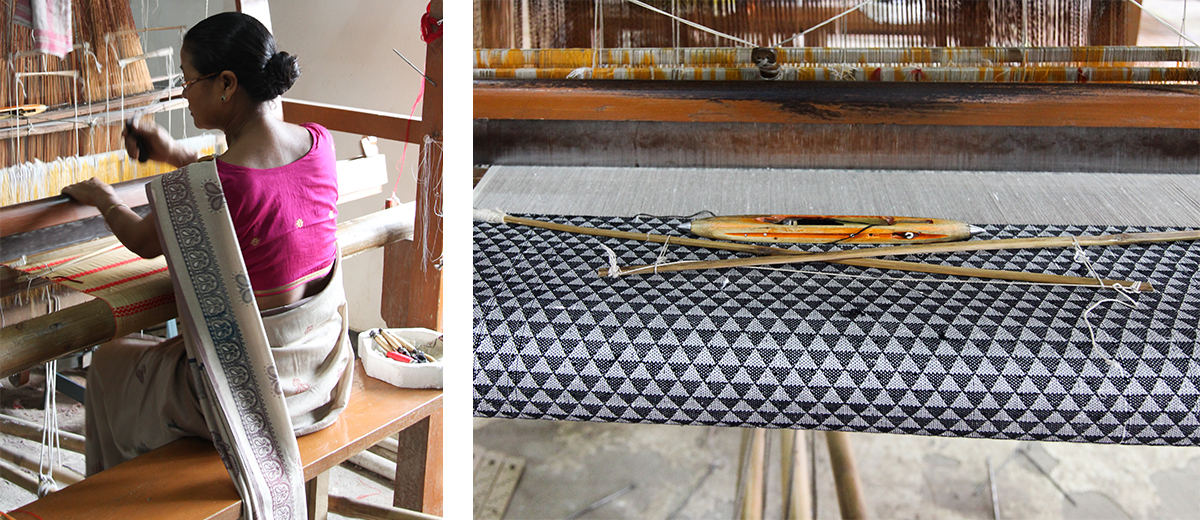 © Sophie Denux
Our hand embroidered bags and pouches
Our beautifully designed beaded pouches are embroidered by hand . We support traditional art and craft and wish to bring you the work of our wonderful embroiderers. We have chosen the colours of each bead and sequin and created beautiful patterns. Each pouch is unique because every embroidery artist has his or her special touch. By gifting a pouch, you will hand over a unique piece of art that will make someone very happy!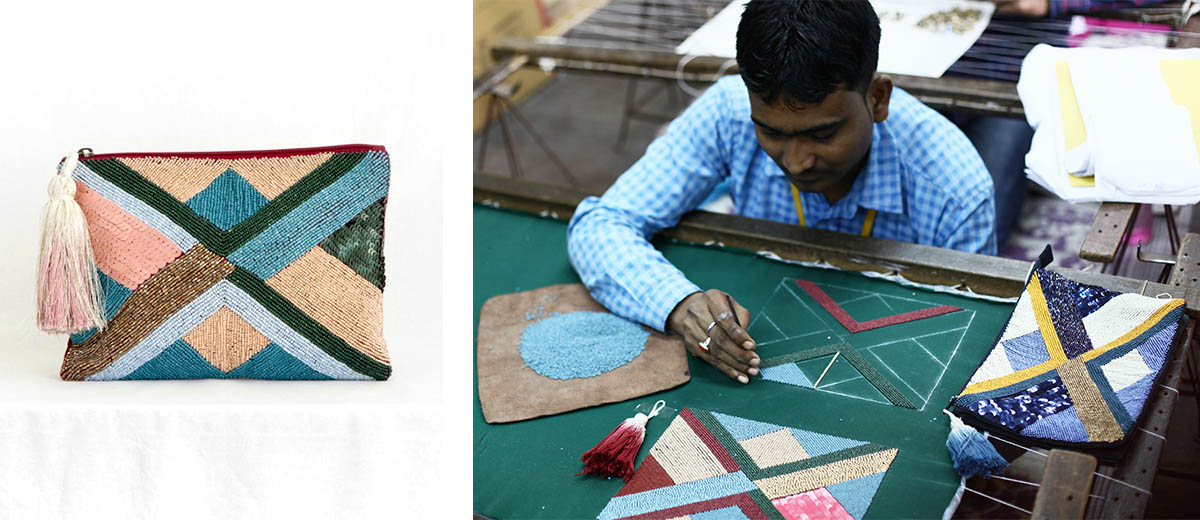 © Sophie Denux
Our notebooks are made from 100% natural and eco friendly paper from the forest of Assam, in North East India. Our partners at El Rhino make this paper with the objective of creating awareness and preventing poaching of elephants and rhinos in this forest. This paper is made from elephant and rhino poo - trees are protected and villagers in the area earn their living from an activity that has a positive impact on the environment. A very unique gift that has an immediate positive impact on nature and our environment! Each notebook comes with a flyer that outlines the conservation project and its impact on the local population.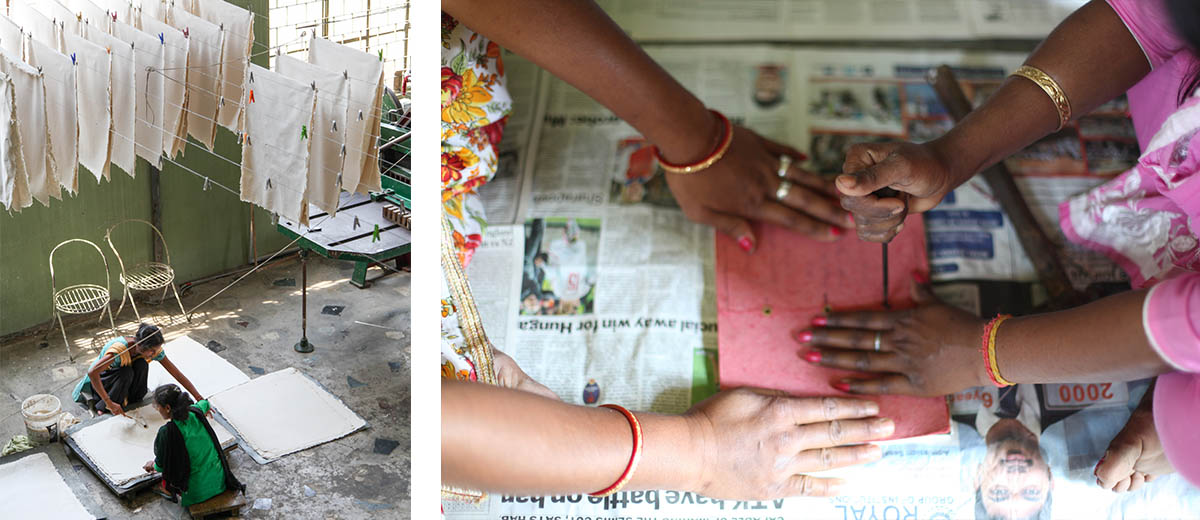 © Sophie Denux