Hand embroidery, an ancestral Indian know-how

La broderie indienne, un savoir-faire ancestral
Embroidery is one of India's most precious and well known textile traditions. Decorating fabric with needles and different threads and elements is a form of artisanal know-how that is a diverse yet distinct evidence of the rich textile heritage of the country. Embroidery styles vary by region and use unique stitches and colors.
The exploration of these techniques is a great way to discover the cultural heritage of India.
Here are our favorite forms of traditional Indian embroidery.
CHIKANKARI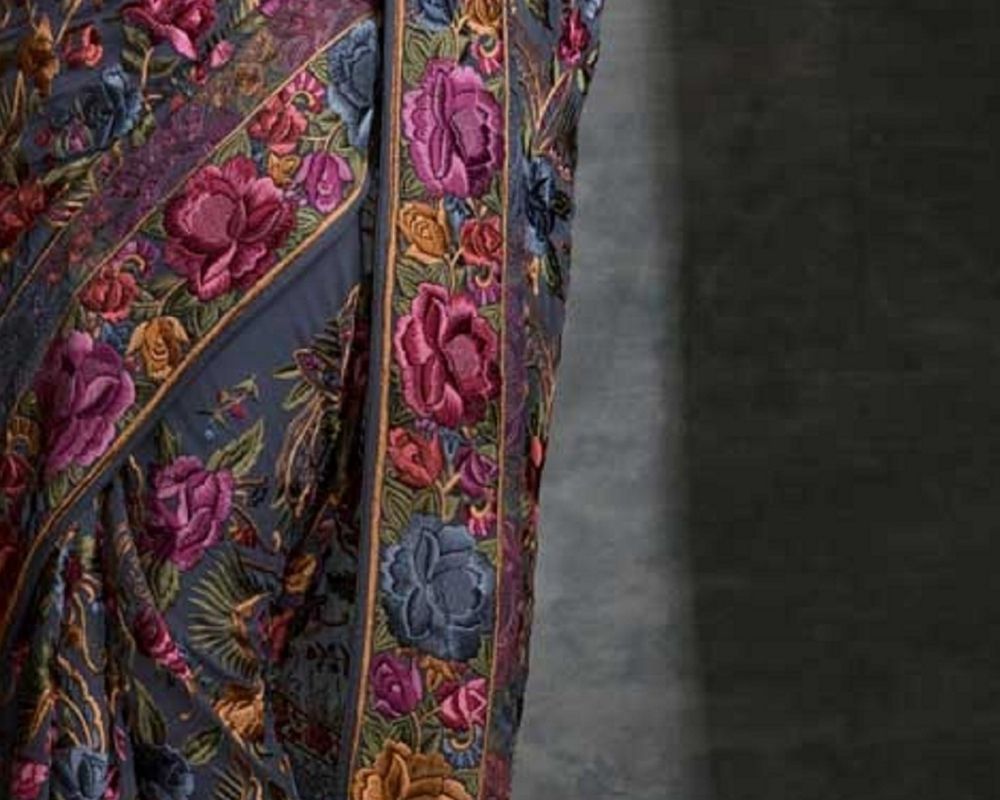 © Canva
This style comes from Lucknow, Uttar Pradesh, in North India. Chikankari, is believed to have been introduced by the empress Nur Jehan and is most famous for it's white-on-white details. It is extremely delicate and artfully done hand embroidery using floral motifs on cotton, silk and organza. Fabric used for this embroidery needs to be soft and delicate. Each chikan hand embroidered piece includes the expert craft of multiple artisans
Specialist embroiderers work on particular stitches and then hand the piece on to the next specialist artisan for the next stage. This technique is very labor intensive and can employ up to 35 different stitches : flat, raised and embossed stitches, and 'jaalis', the open, trellis-like stitches in which tiny holes are opened in the cloth.
KANTHA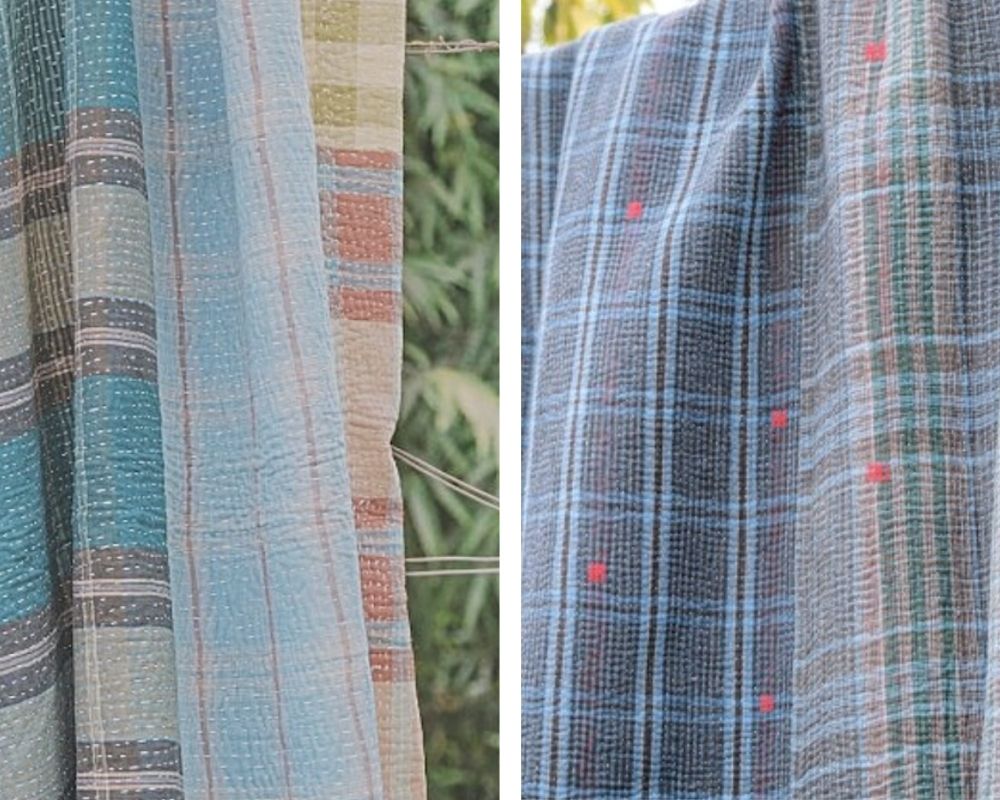 Kantha is a traditional embroidery style from the states of Bengal and Odisha situated in the Eastern part of India. Kantha artwork comes from Bangladesh and is used on textiles such as bedspreads and mats made out of old and worn out fabrics, such as sarees or dhotis (men's skirts made by draping a fabric around the waist ) . Many layers of this soft and vintage recycled fabric are quilted together in simple running stitch, and sometimes, embroidered designs are added using darning stitches, satin stitch and buttonhole stitch.
Traditionally, the embroidery thread used for Kantha embroidery was drawn from the borders of the old garments. Using this kind of embroidery allows us to upcycle and reuse old textiles that would otherwise have been thrown away. Kantha embroidery motifs include birds, animals, flowers and everyday activities from Indian villages and are used to create unique pieces from recycled fabric.
PHULKARI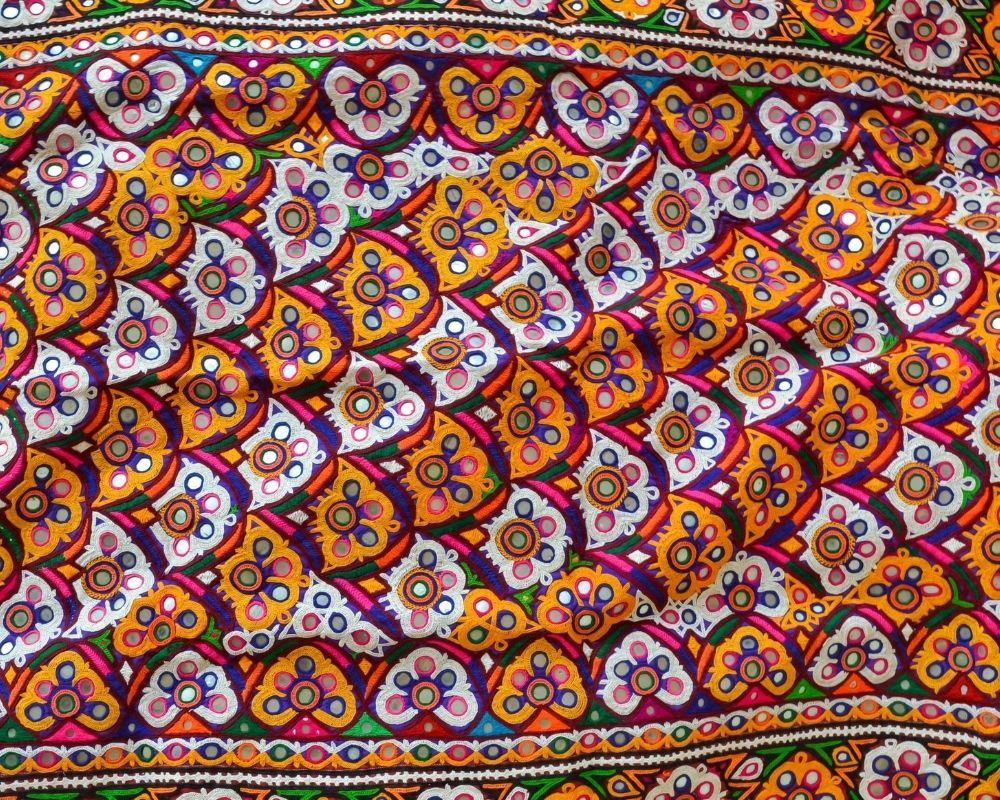 © Canva
Phulkari embroidery from Punjab, in the Western part of India consists of flower work motifs. Stitches in Phulkari are embroidered on the reverse side of the cloth and the handcrafted design takes shape on the front side. This technique uses floss silk threads ( loosely twisted silk threads ) to create a lustrous effect and was traditionally practiced by women in their free time.
Various kinds of phulkari work reflect the rich cultural and religious mix of the Punjab region. The most beautiful pieces are turbans in which the cloth is covered with dense hand embroidery. These are called bagh (garden), and are made in preparation for weddings. A "bagh'' may take more than a year to complete.
ZARDOZI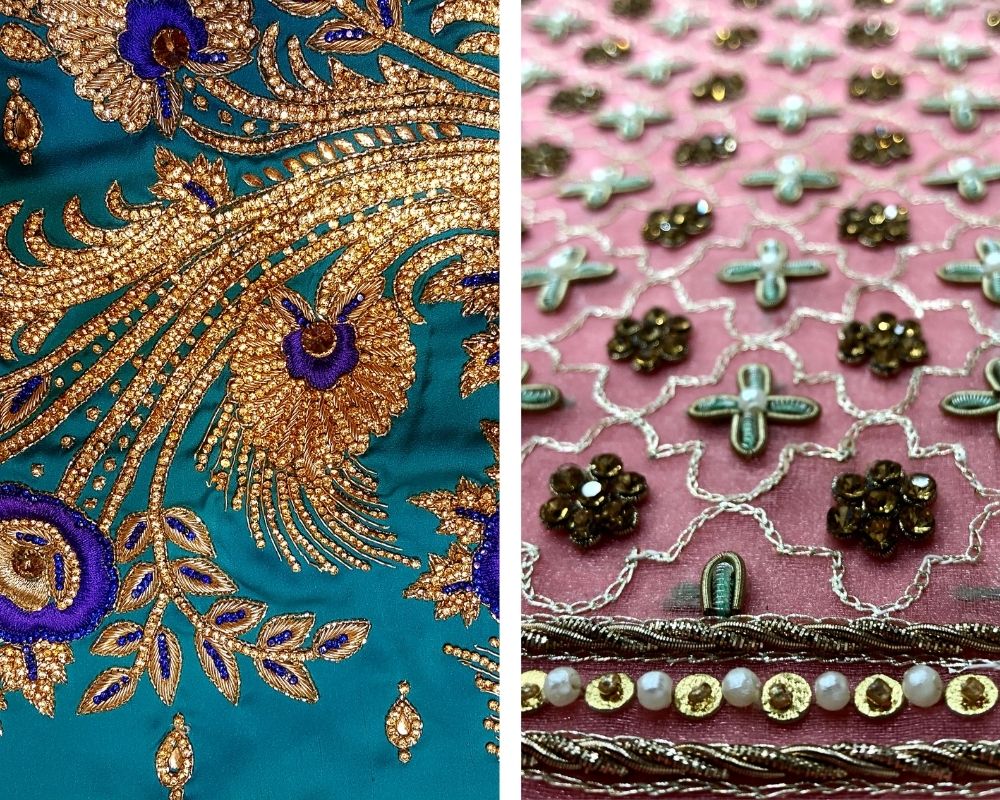 © Canva
Zardozi, from Persia is an ancient craft of sewing gold and silver threads on fabric. The name is derived from two words: zar (gold) and dozi (work) . During the Mughal era, Zardozi was used to embellish luxurious garments by the use of gold or silver wrapped-threads and embellishments.
Pearls and precious stones with real gold and silver threads were used to hand craft textiles for royalty. Velvets and rich silks complemented this detailed and extravagant embroidery. To maintain the shine and protect elements of zardozi embroidered garments they are wrapped and stored in soft cotton or muslin cloth
Mirror embroidery from KUTCH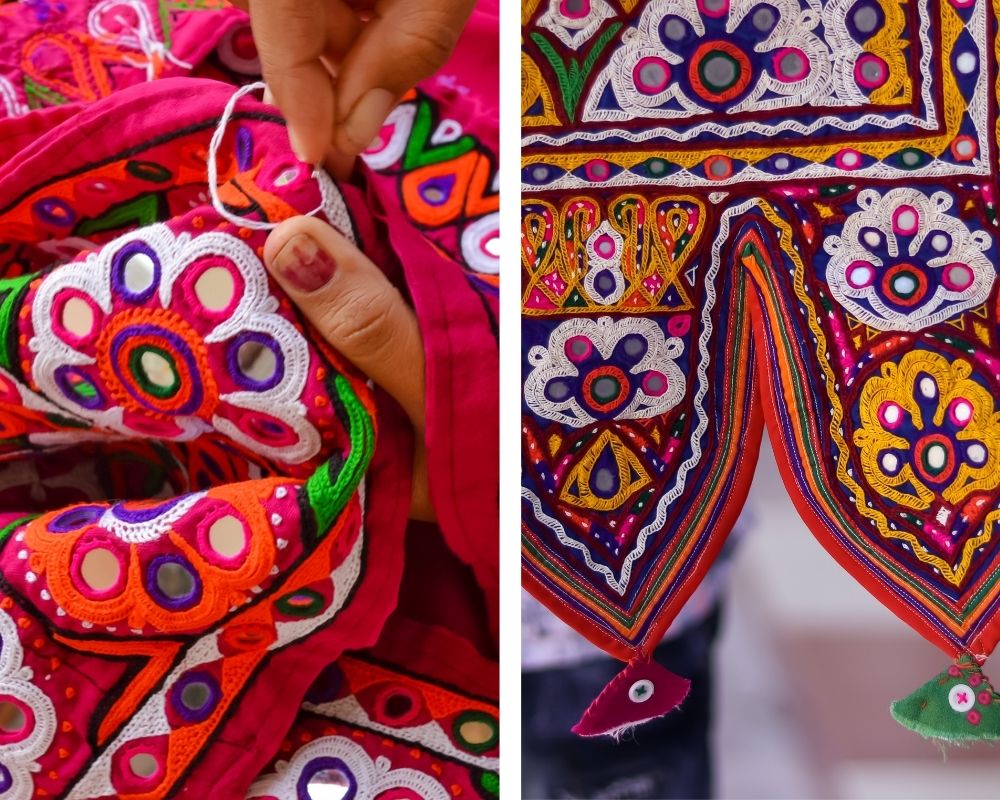 © Canva
Hand embroidery from Kutch, Gujarat in the north west part of India, is a perfect combination of thread craft and mirror work. Kutch embroidery stands out from other embroidery styles because of its use of small mirrors and colorful threads. This type of embroidery is used on tote bags, accessories and home décor. Stitches used are running stitch, double buttonhole, satin and straight stitch.
Some communities in Gujarat believe that mirror work is auspicious as a tool for warding off the evil eye, reflecting bad luck and evil spirits away from the wearer. The reflective elements of mirror work may have originally developed from the use of mica (a mineral with a shiny surface). However, from the 19th century onwards pieces of specially made mirrored glass were widely available.
Traditionally, this kind of glass is hand blown and cut into different shapes, using special scissors.
We hope you get inspired ! Check out our eshop for the perfect Jamini hand embroidery pieces by expert artisans.
Article source : V&A museum