Karishma, an artist with magic fingers

Karishma, an artist with magic fingers
We are delighted to present a very talented artist and a wonderful friend of Usha, Karishma, who has just designed our gorgeous window display at our both stores, in the trendy SoPi and Canal St Martin neighborhoods in Paris.
Usha met Juan, Karishma's husband on a 7am flight from Bombay to Delhi in India 5 years ago. The two families met and they quickly became friends, spending several seasons discovering worlds in common. Born in Morocco with roots in India, Ghana, London and Madrid, Karishma is a widely-travelled artist who shares Jamini's love of ancient techniques and story-telling.
Today, we are very proud and excited to invite you to come and see Karishma's newly installed window-display in our stores.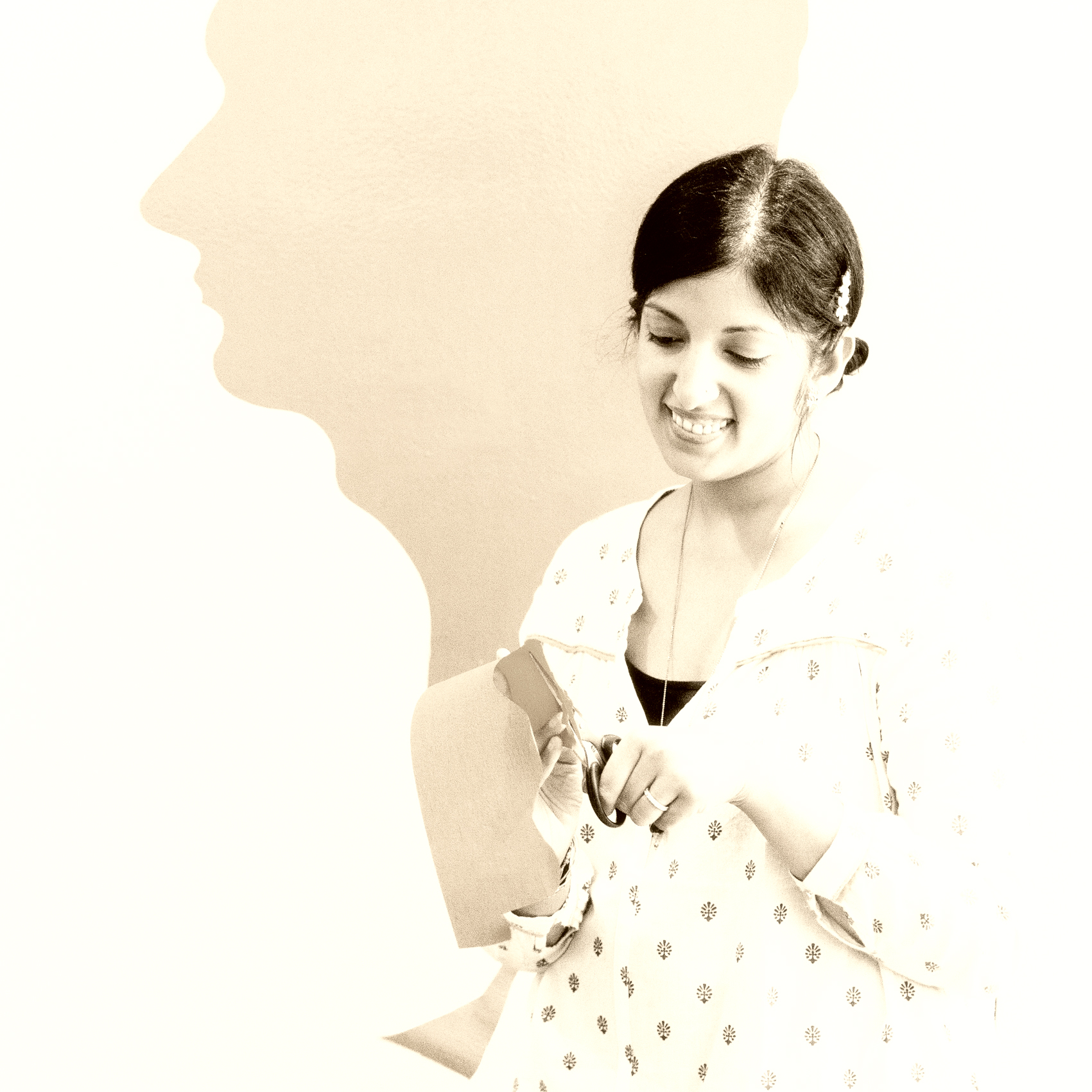 © Eric Mangin
1. You've just moved to Paris from Spain. How does it feel ?
I lived here one cold autumn many years ago, working as a design intern in the Kenzo studios at Place des Victoires. Walking through the avenues, past monuments and in and out of museums and I allowed myself to fall in love with the city. I secretly promised myself that one day, when I was more grown up, I would live in Paris as an artist and here I am, falling in love with the city all over again, as if by magic.
Having said that, I miss my Madrid, with its warm and bubbling street life, but I am lucky enough to travel back very often.
2. Tell us something about the latest exciting projects you have worked on.
It was when I was studying illustration, exploring lots of different techniques, that I began to realise my fascination for paper-cutting. One day I opened a sketchbook, and without really thinking about it, cut a little window in the cover and drew a curtain on the next page. Cutting and drawing obsessively, it was as if I had thrown myself into my own little theatre, surprised by the characters that began appearing. This little sketchbook became To Night and Back / Mece la noche, my first paper-theatre book which tells the story of an imaginary voyage to the land of my ancestors.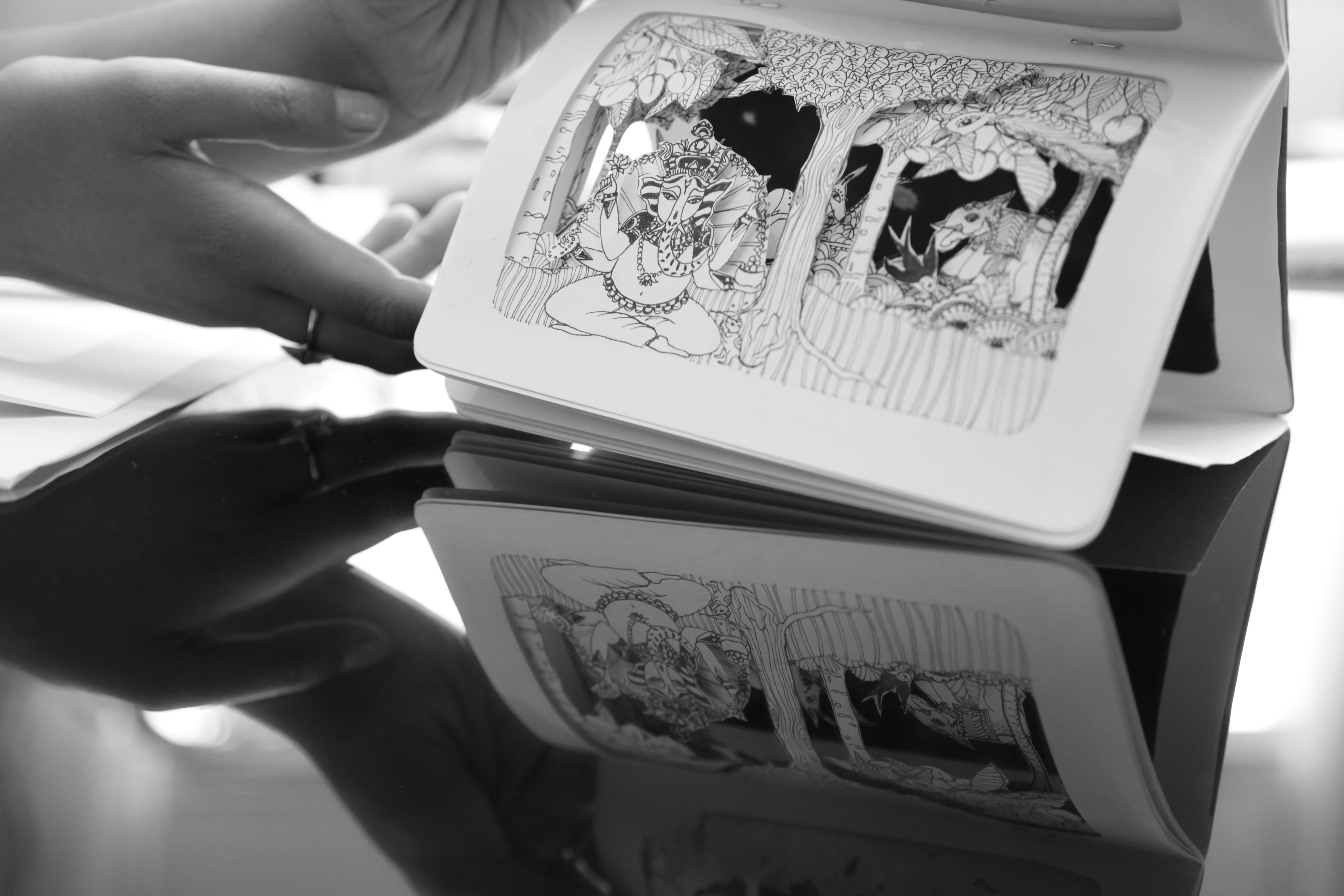 © Kenza Benamour
Thanks to some very dear friends and a successful crowdfunding campaign, I had it published under the name of my school La Escuela de Papel. The school is ephemeral so I love taking it with me on my travels : I've given paper workshops (exploring collage, shadow puppets, paper-theatres), in a music school in the old medina in Casablanca, my old high school, the Institut Francais in Madrid and bookshops here and there. Most of all, I love watching the children I work with reconnect with their need to tell stories by making things with their hands.

© Eric Mangin
3. You share with Jamini a love of embracing ancient techniques to create beautiful personal works that tell stories. How do you make the stories your own ?
My visual imagery is constantly bombarded by different cultural references. I can be equally inspired by a box of matchsticks from South Africa and a miniature painting from Iran. In my work I use the meticulous details of miniature paintings in comic book formats. I use kalamkari in toy theatres that originate from the 19th century in Europe. I have illustrated The Elephant's Child by Rudyard Kipling on a 3D traditional kavaad, a Rajasthani story-teller's box that troubadours carry from village to village to tell their stories. What is interesting to me is digesting it all and using it to enhance something unique to my own life experience.
For now, I have chosen to tell stories through book-making and paper-cutting. One day, I would like to do so by making huge paper sculptures. The medium may change, but to me, the storytelling will hopefully always be there… it is how I make sense of things.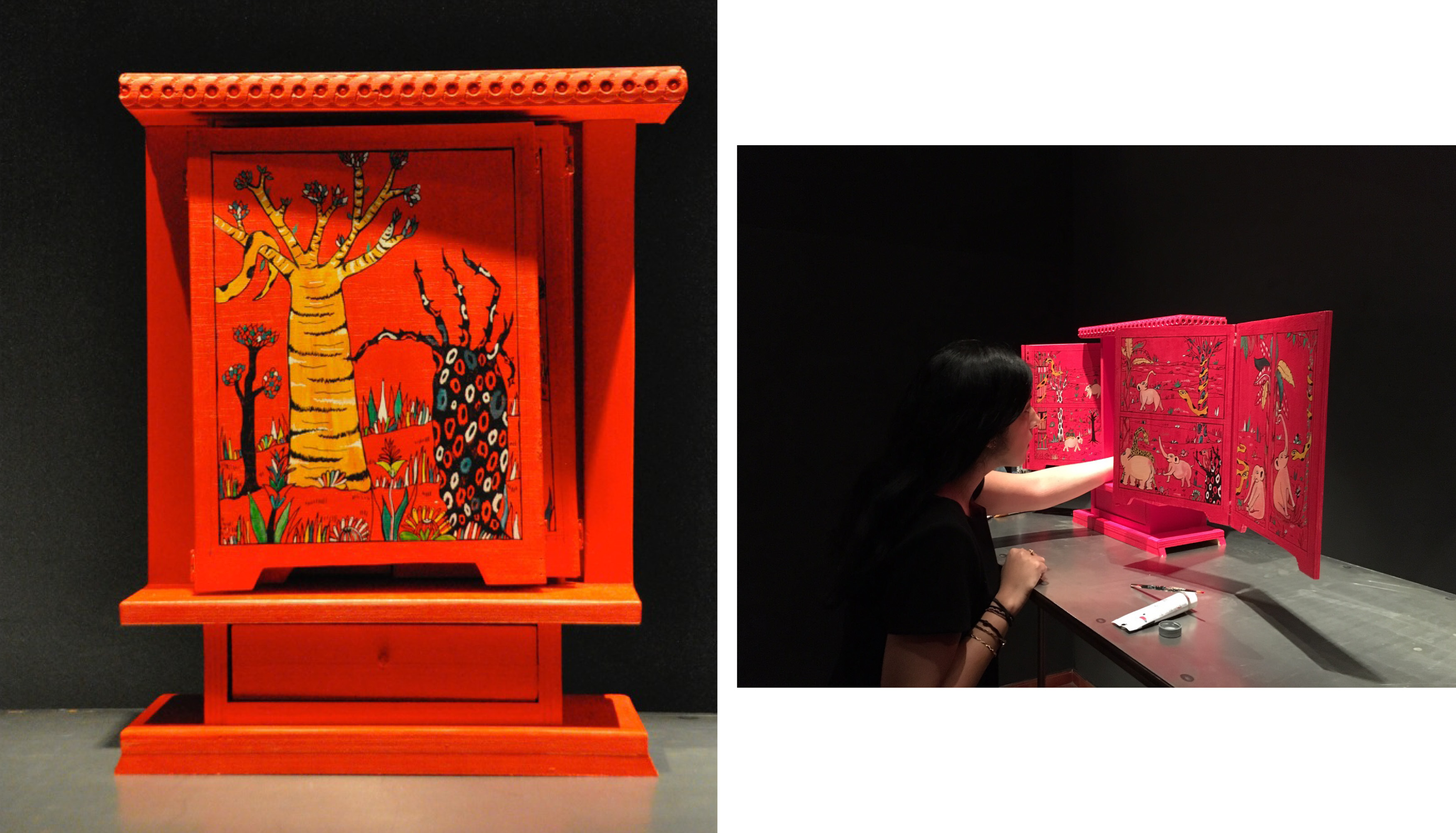 © Rubén Vicente
4. We are thrilled with your window display. How does it reflect your own artistic journey ?
I have been dreaming about doing a window display for some years now and I am so excited to have done my first one with Jamini. While designing the concept I reconnected with imagery from old storybooks about circuses and travelling caravans. The display itself is the journey of a troop of travelling animals from the East. It mixes a nativity scene and the journey of the three Kings, with touches of golden patterns from tribal Gond art and silhouettes inspired by Lotte Reiniger. As usual, I threw lots of different things together and let myself be surprised by the result !
5. How do you feel when you travel to India, a country that is part of your family's history, but one in which you have never lived ?
It is pretty fantastic to have homes in so many different places, although it has been a bit confusing at times. Growing up in an English-speaking Indian home in Casablanca, with a mother from Accra and a father from Mumbai, there were all kinds of fascinating stories.
There were bedtime stories with Adinkra symbols, camel-footed djinns and elephant-gods. There were stories I told myself to explain the rituals I didn't always understand, and stories made from fragments of my grandparents' anecdotes about their exile from India (and about their life in Sind before partition). In my early teens I began to realise that by creating images I could process and make sense of this big beautiful mess of stories.
It was around then that we began traveling to India more regularly. "Going back to the homeland" as my grandfather would say, allowed me to connect with all the rich visual and cultural tradition I only learned about through stories as a child.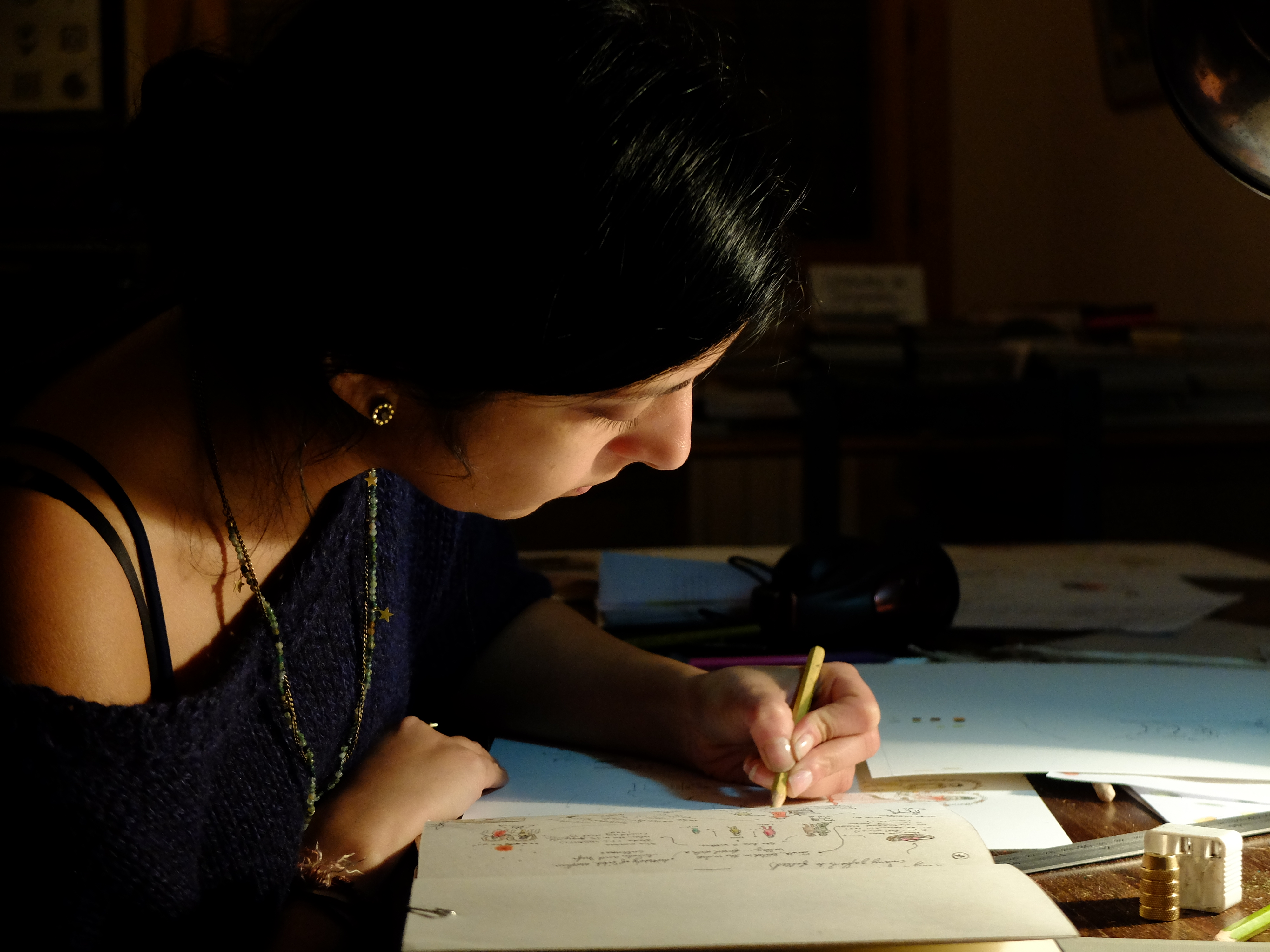 © Grassa Toro
6. Which are your favorite Jamini pieces ?
I love cuddling up on my sofa under my quilt Amit with a hot cup of tea and a good book or film in the evenings. I now have my eye on the Aastha and Anisha cushions as well as the charpoys, and of course all the plant pot-holders. I have a new home to fill up so my list is endless.
7. You have so many exciting projects up your sleeve. Could you give us a clue about what is coming next ?
For the past five years I have been working on a graphic novel for children about my Nani. It is my personal version of our family history condensed in 112 pages of funny anecdotes, fantastical transformations (where my Nani turns into a many armed Goddess with magical powers), memories and recipes. To make it, I interviewed family members, collected photographs and letters, wrote and sketched. Last year, I treated myself to an artistic residence where I made a huge map of all the material I had collected and began to draw the final artwork. This allowed me to really enter the story. The book will be published by Ediciones Ekaré in Spain and South America in 2017.
I am also working on a special range of paper cut story boxes that will be commercialised in my favourite shops (Jamini being on the top of my list of course !) this winter.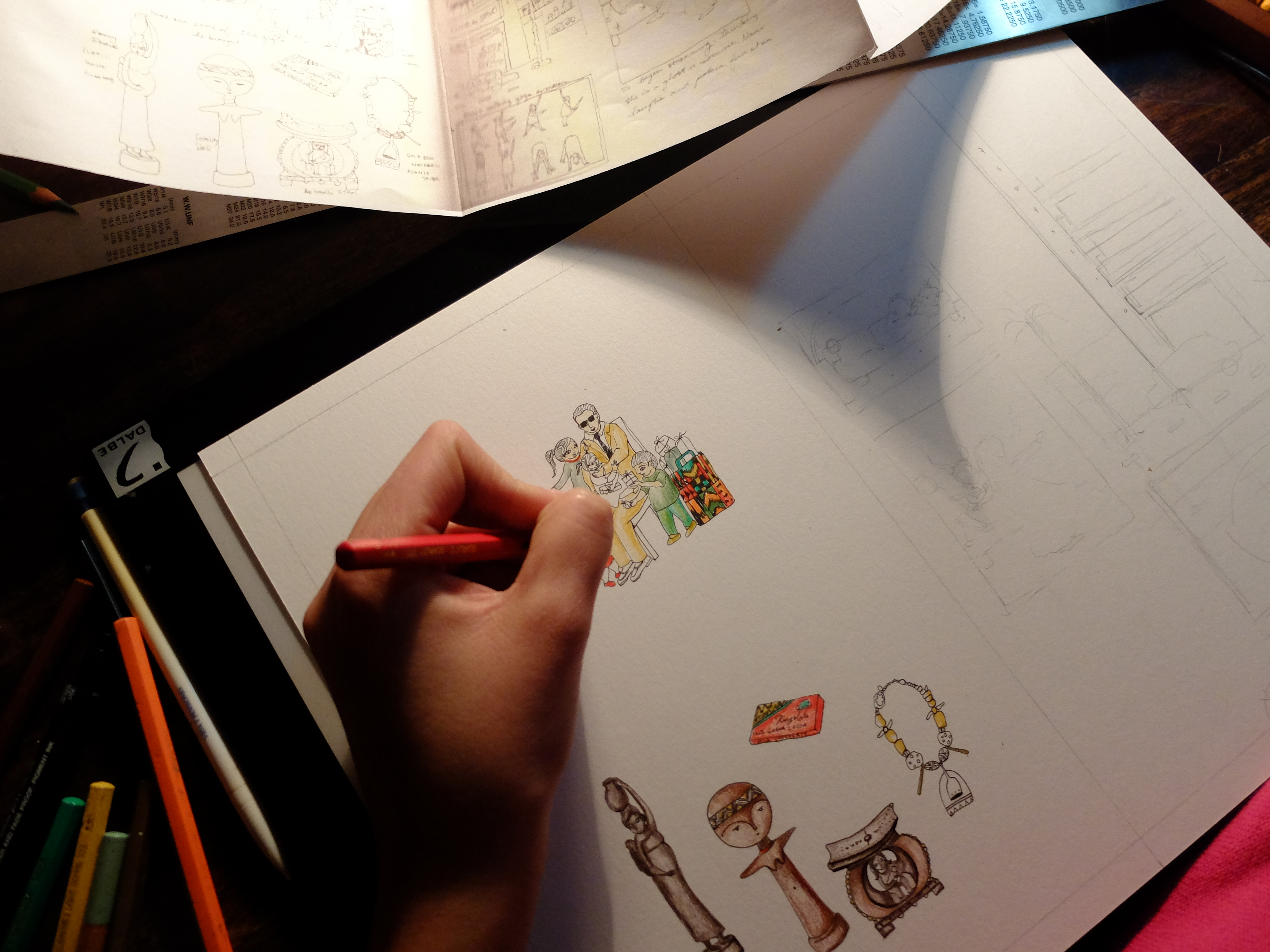 © Grassa Toro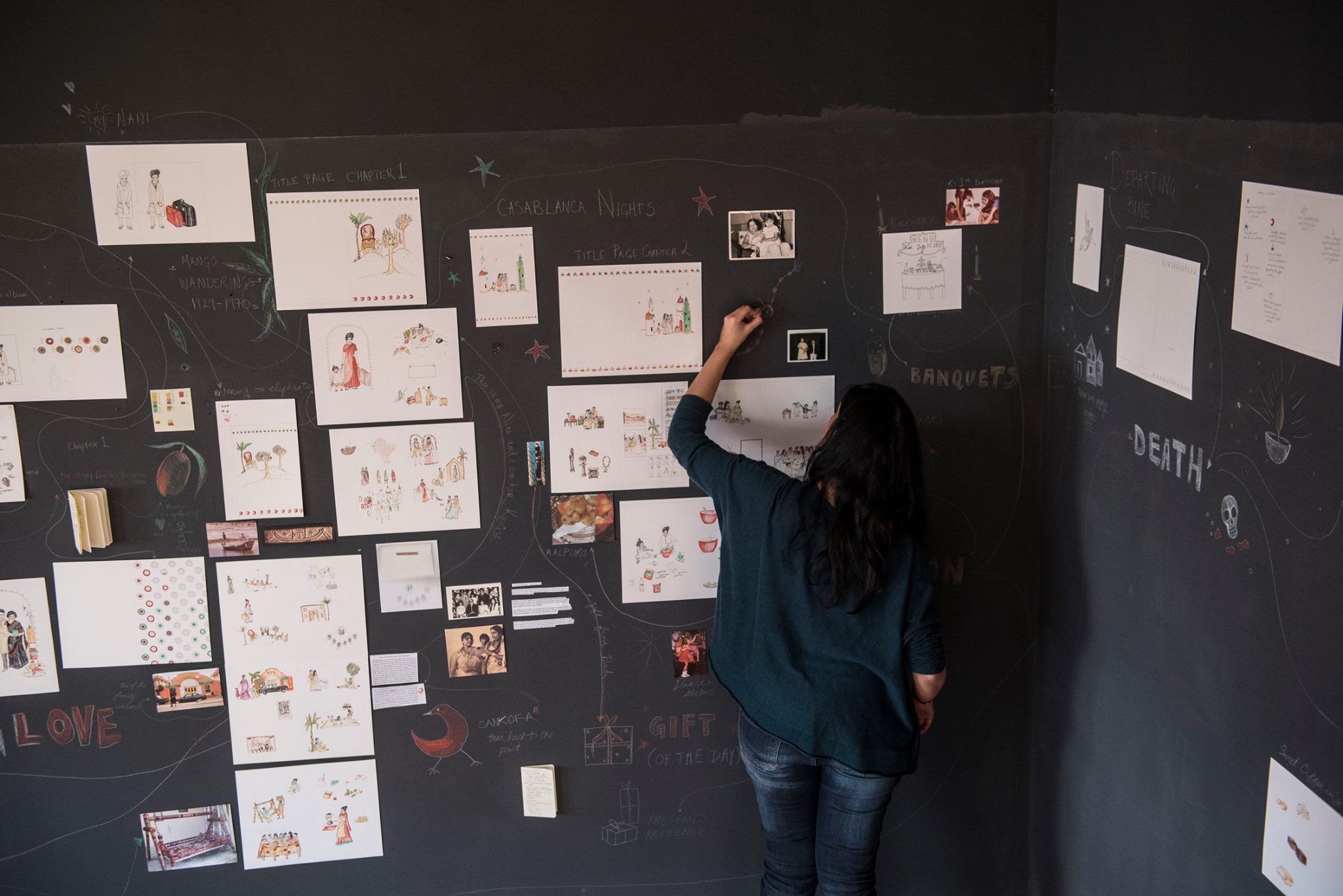 © Grassa Toro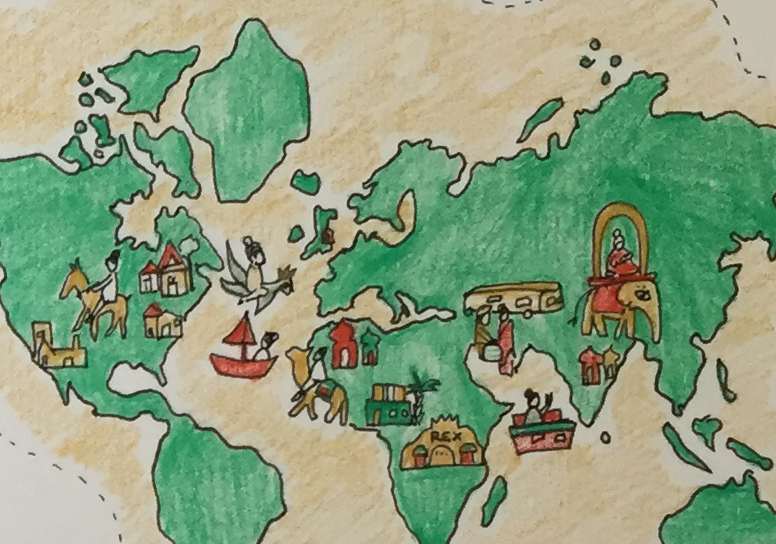 © Grassa Toro