Lise Bienaimé, the lover of sweet jams

Lise Bienaimé, the lover of sweet jams
Usha and Lise, founder of La Chambre aux Confitures, have been friends for 20 years. They are both die hard entrepreneurs dedicated to sharing their passion - Usha's love for traditional Indian textile and Lise's passion for jams.
This fall, these 2 friends come together to create a special moment around their common love that is good food ! They will celebrate Indian summer by bringing you the best of Indian street food to the fabulous La Chambre aux Confitures store on Paris' best known foodie street - La Rue Montorgeuil.
Meet Lise - wonderful friend, successful entrepreneur and a Parisian foodie par excellence.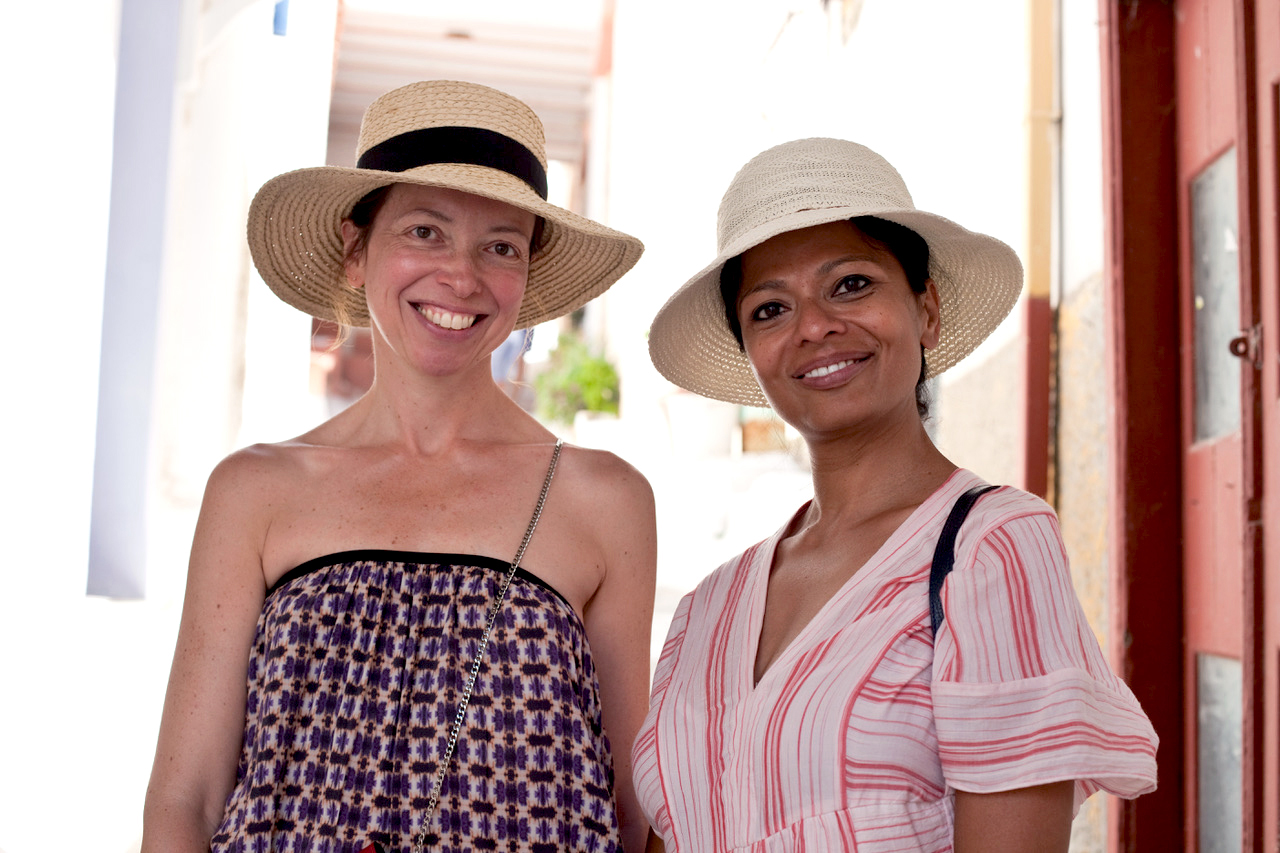 © Claudio Cambon
1. Like Usha, you quit L'Oréal to set up your own company. Why the choice to create jams ?
Like many thirty-year-olds at a certain stage of their career and after a great experience in a corporate environment, I craved the freedom from hierarchy and long winded decision making. I wanted to take risks, face challenges and the only way to learn new things was to create my own company. I have always loved jams and I thought it would be a great idea to revisit this French classic in my own inventive way.
2. You and Usha have been friends for 20 years. Tell us a few things you have in common.
Oh my God, we have so so much in common ! We share so many details in our lives - whether they're small coincidences or major personal and professional moments. The funniest moment came at our office in L'Oréal one day - I was waiting for the elevator and Usha walked up wearing the exact same clothes - right up to the jacket. We both burst out laughing - this was just one of many instances where we realized that our lives were similar in so many ways.
3. Your favorite moment as an entrepreneur.
I will always remember the first Christmas period in our store at Rue des Martyrs. It was full all the time and it so lovely seeing so many clients queuing up to taste our jams and see the joy on their faces as they tried different flavors !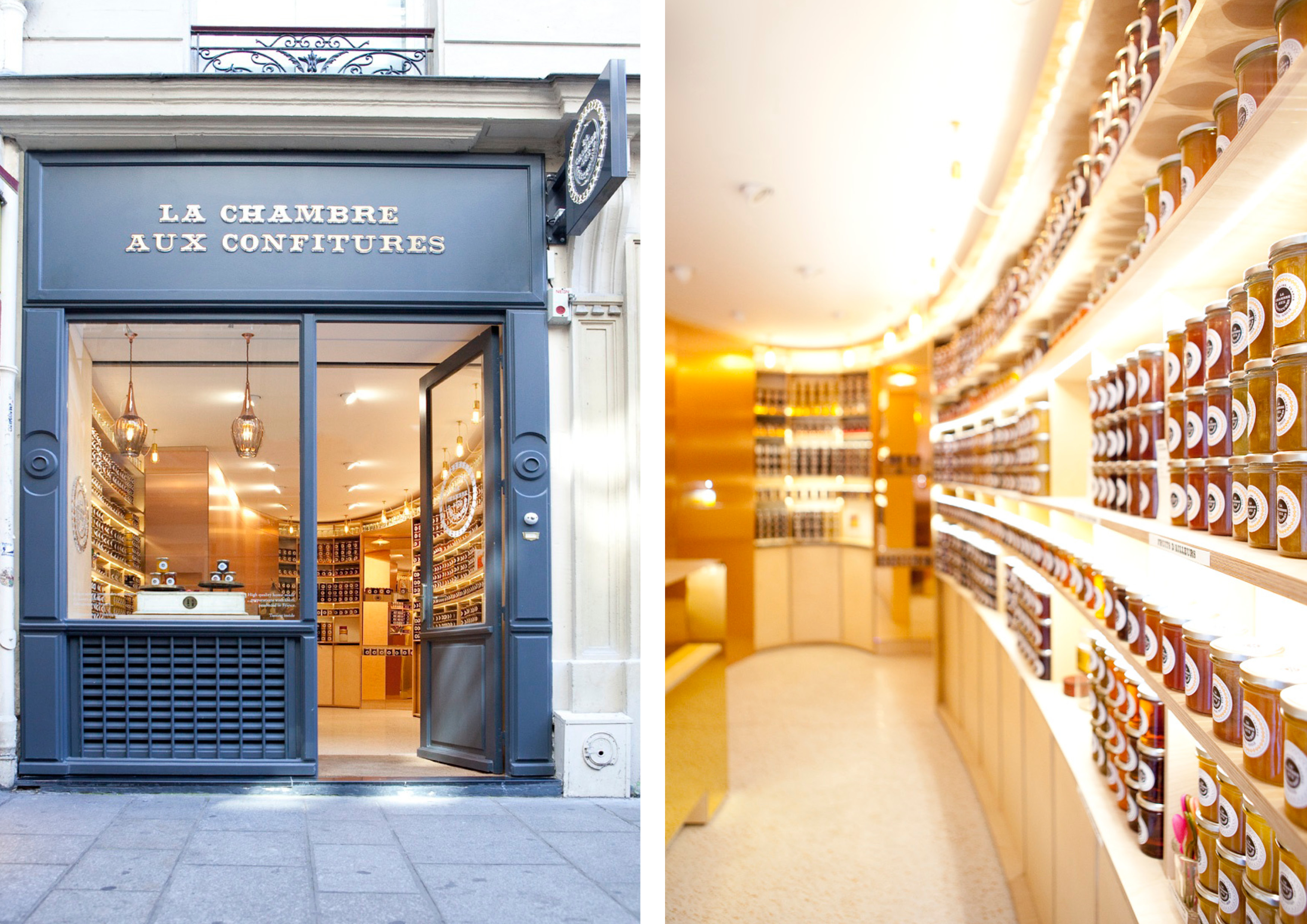 4. You've introduced salty flavors to your range of jams. How do you create your new recipes ? What are your inspirations ?
Most types of fruit can be salted as well as sweetened. We're always full of great ideas ! We have regular brainstorming sessions with our jam maker Sabrina about a new ingredient, new associations of flavors, a pastry or a special dish we tasted in a restaurant. These sessions often result in the creation of prototypes and we zero on our favorite recipes… 2 or 3 trials are needed to finalize the recipe. We organize tastings in our office or in our stores to have people try these out before we actually launch them. A perfect job for food lovers !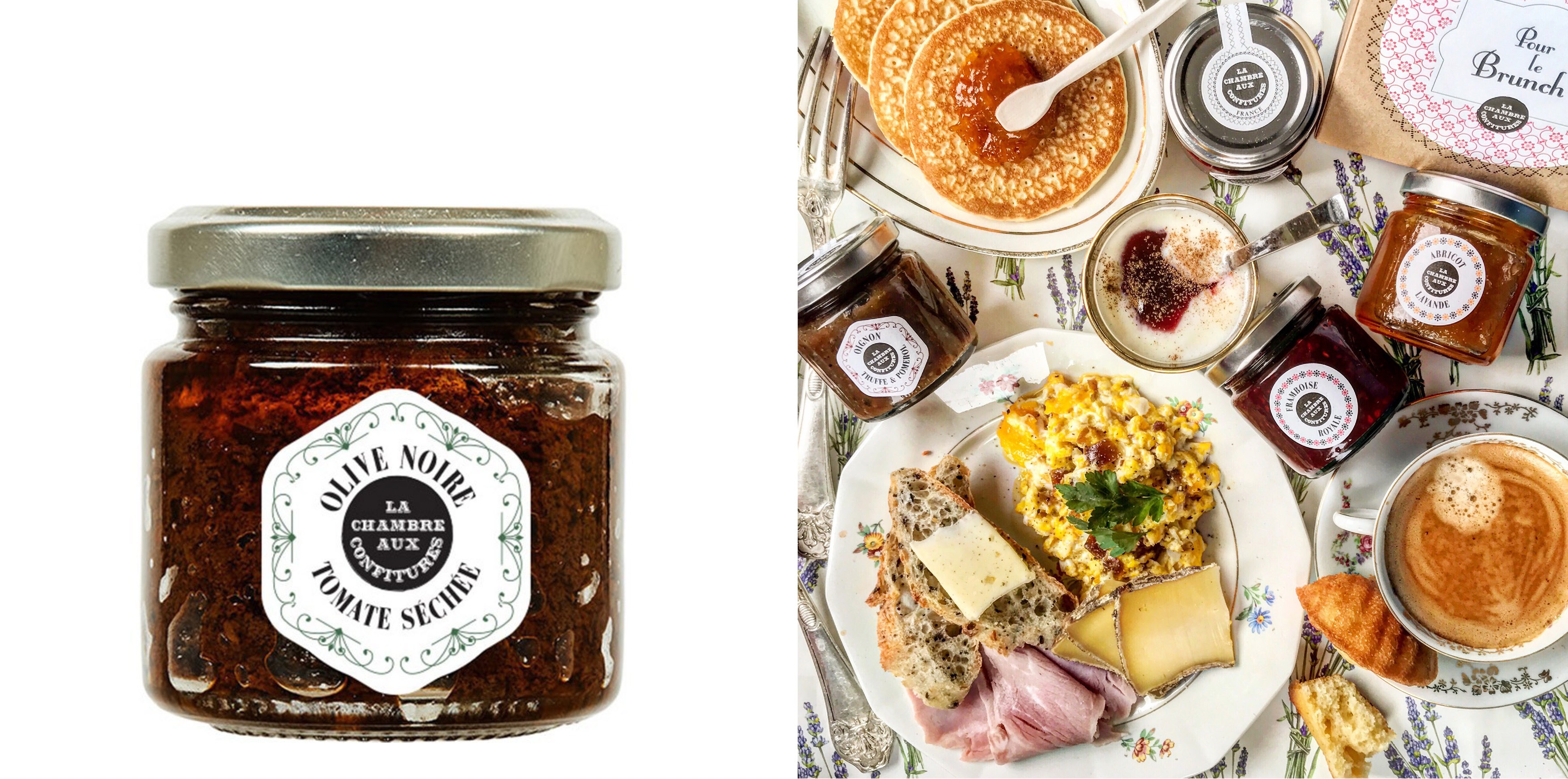 5. Tell us about your new range, Indian Summer, which rings a bell for us !
India summer, at La Chambre aux Confitures, means lots of lovely things. Indian flavors and spices are such in inspiration for us as we create surprising associations in our recipes ! I love Indian cuisine, the color, the delicious chutneys with a hint or spices and vinegar. We launched a range of chutneys mainly based on recipes with onions mixed with grapes and citrus fruits. We've also created chutneys based on mango and fig and these are excellent with different types of grilled and finger foods. These will be the highlights of this range.
Indian summer also evokes the beautiful Fall weather in Paris with shades of ochre and yellow. A perfect moment to bring back memories of summer holidays enjoying sun-drenched seasonal fruit like plums, blackberries, figs, wild rose...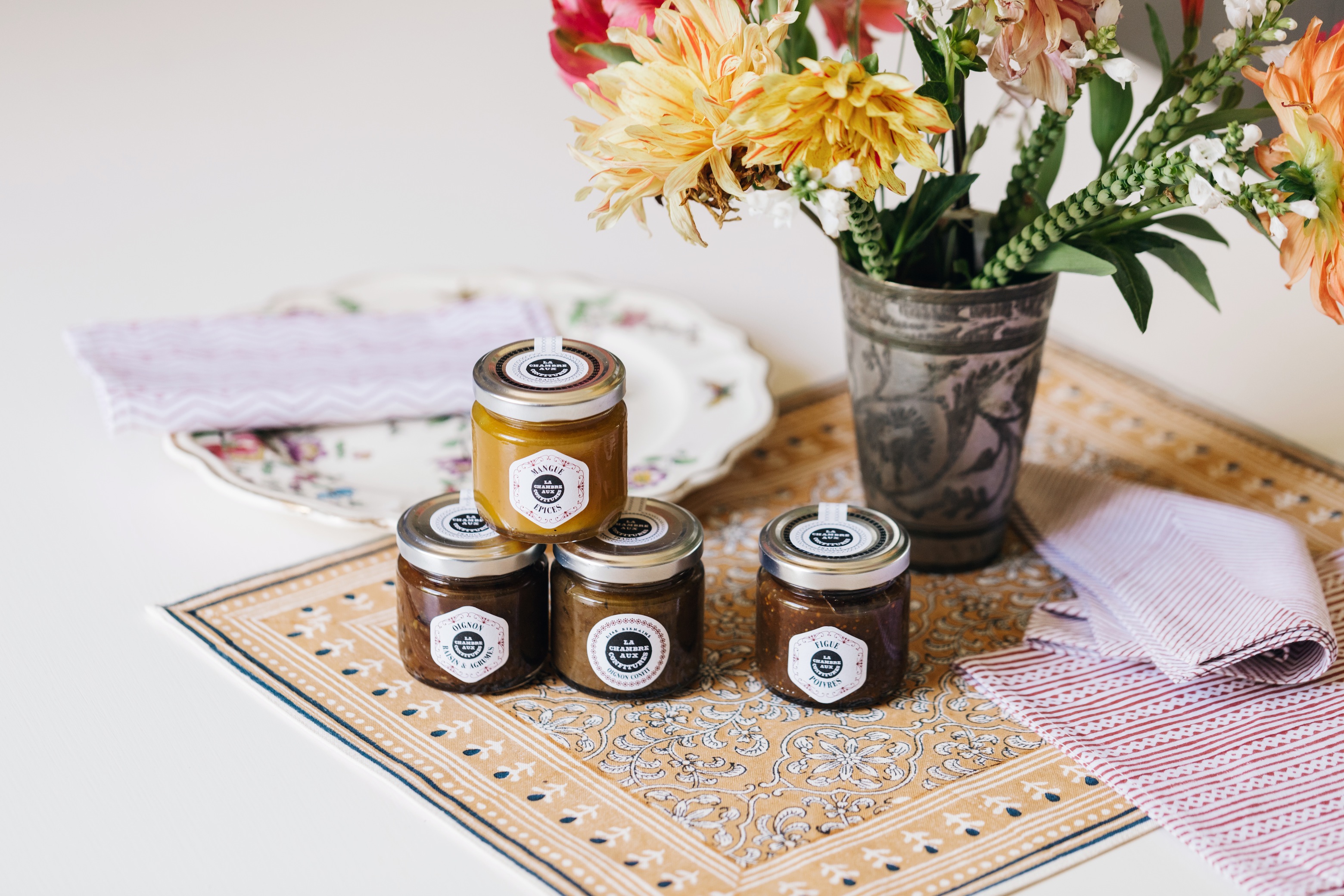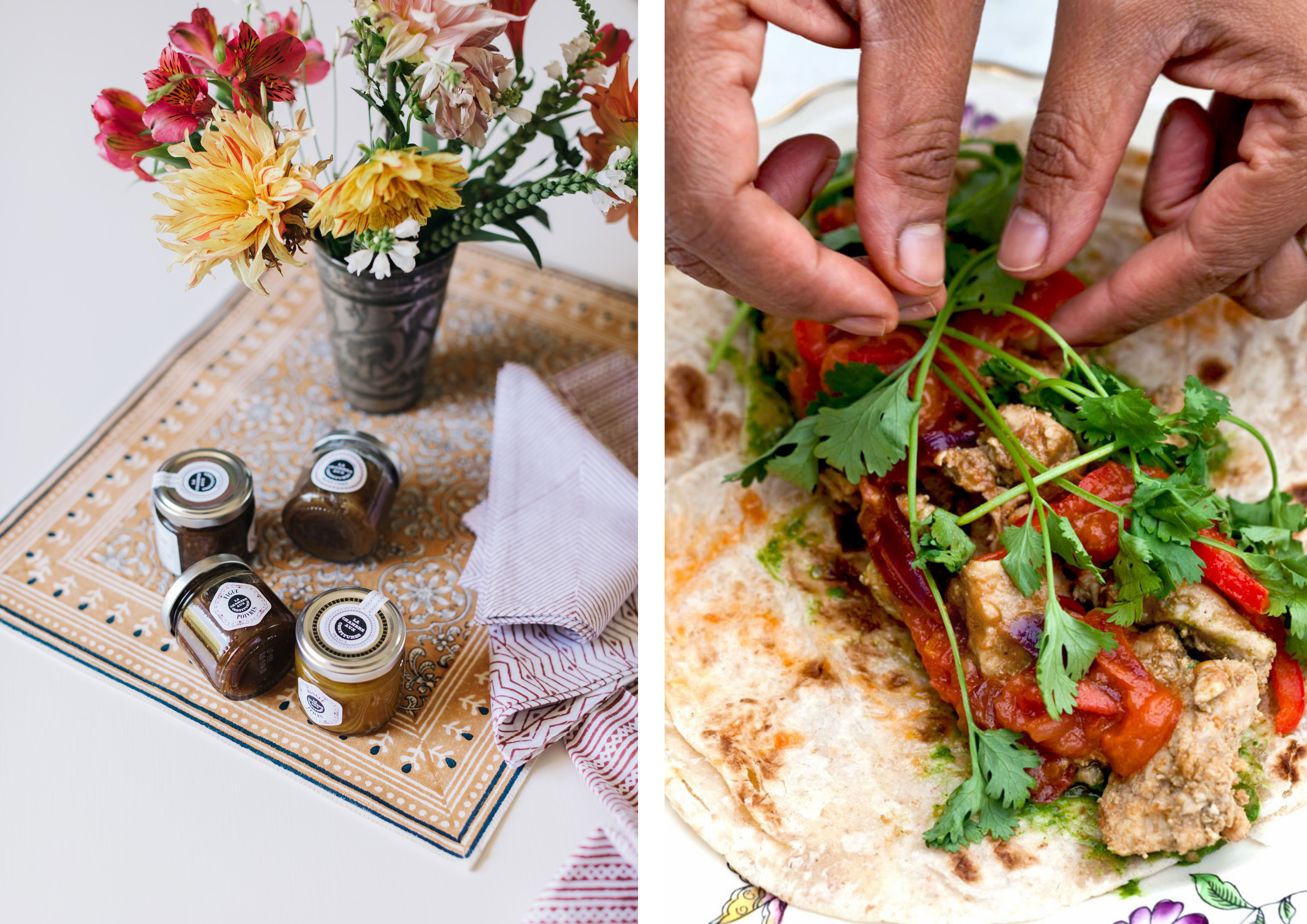 © "L'Été Indien" range of chutneys on Jamini table linen, photos : Lydie Bonhomme / Claudio Cambon
6. Which is your favorite Indian dish ?
I love vegetarian curries with lots of coriander, accompanied by cheese naan and chutney. Usha introduced me to the delicious streetfood - Pani puri at her food event "India mon amour" in June, which I completely fell in love with !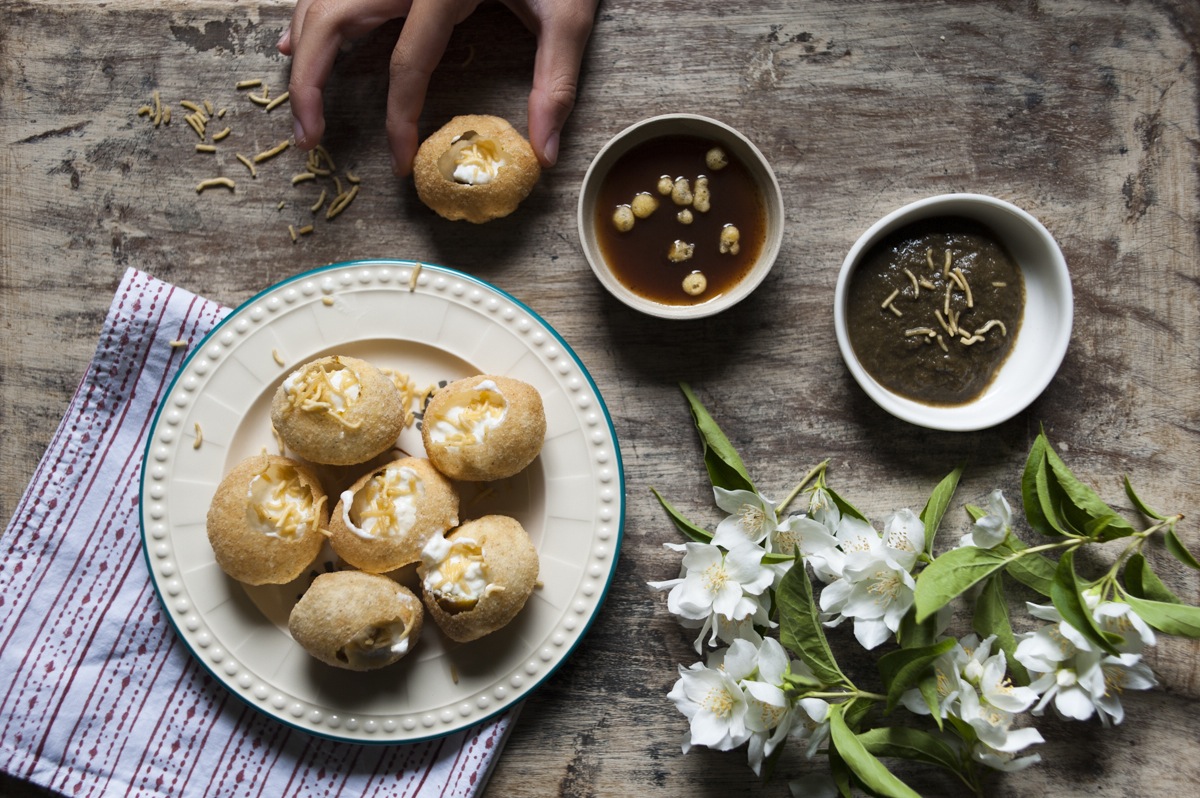 © Pani puri, Sandrine Fauconnet
7. Your favorite Parisian foodie tips ?
We cook frequently at home using ingredients that we find on our travels. We often carry vegetables back from the Peltier garden in Breteuil sur Iton in the Eure. They remind me of childhood flavors from the Corrèze region where I grew up.
As far as pastries go, we are big fans of "Des Gateaux et des pains". The best meat that we regularly buy comes from the Farrant butcher in the 17th. Icing on the cake - a wildly delicious breakfast at the Plaza Athénée. And last but not the least, mesvendanges.com for our favorite wines.
8. Which is your all time favorite jam ?
Without any hesitation, the pear-vanilla flavor with a good country bread.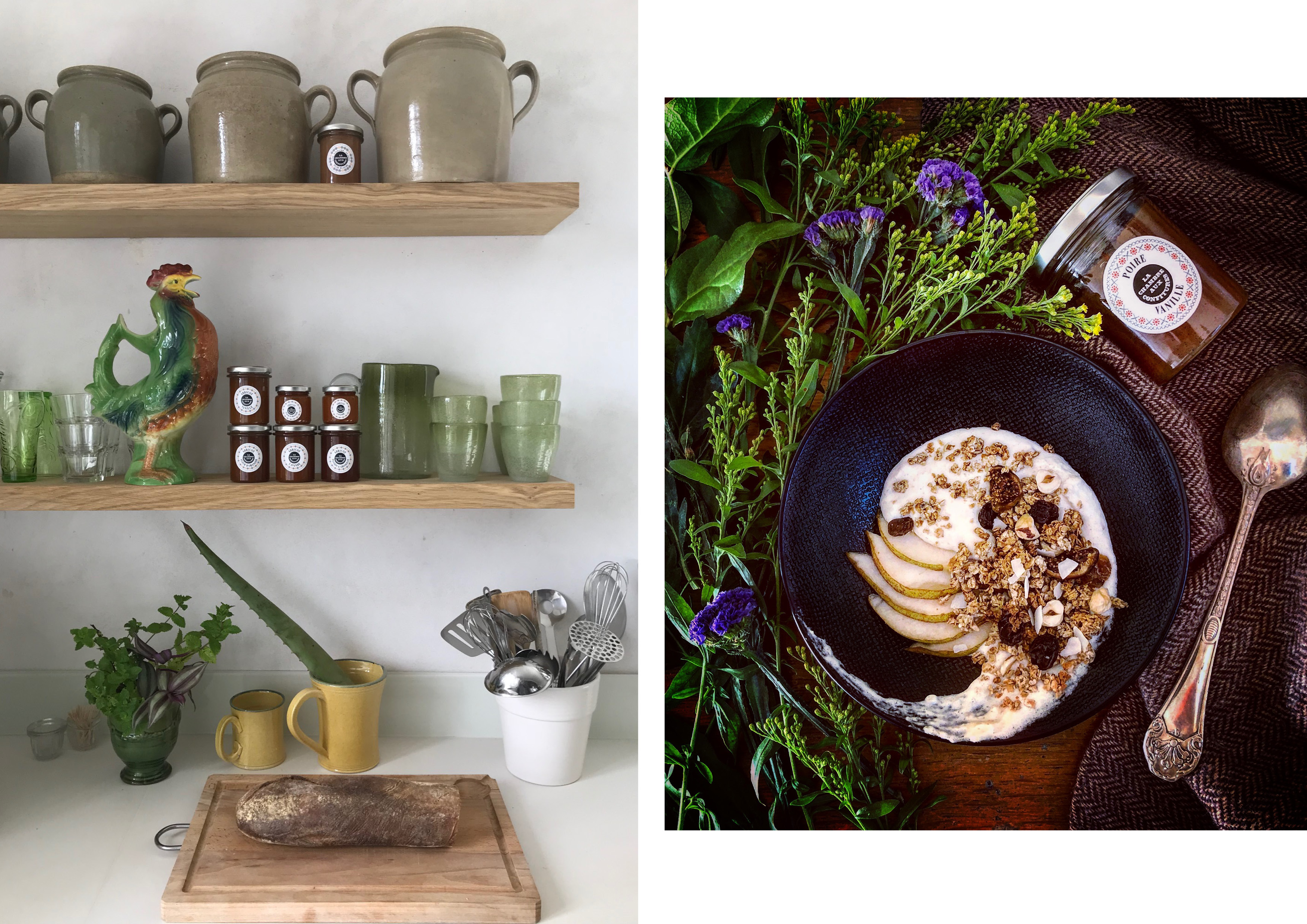 9. What are your future creative projects ?
We are working on new citrus flavors for this winter, including a delicious honey ginger lemon. And packaging projects too...
10. Your favorite Jamini product ?
Tablecloths and totebags ! And a special crush on the mustard yellow Carma tablecloth.