Meet Melissa from MUES Design

Meet Melissa from MUES Design
At Jamini, we value every opportunity to connect with talented entrepreneurs and artists whose work we love and with whom we share common values. This fall, we are bringing you the first Jamini wallpaper created in collaboration with Mues design.
Usha and Melissa, the talented designer behind Mues Design, have known each other for more than 10 years ! Melissa, as a young arts student, was the first babysitter for Usha's daughters Deeya and Elisa. Since then, Melissa has launched Mues Design, a company known for their fun and quirky wallpapers.
The Jamini x Mues Design collaboration project was born when Usha decided to design a wallpaper for her country house in Normandy, in France. She met Melissa on the street outside the store in the Canal Saint Martin store one day and they chatted about the project. Melissa was excited at the thought of being a partner to a creative Franco-Indian interior design adventure and this is how the idea of our first wallpaper was conceived.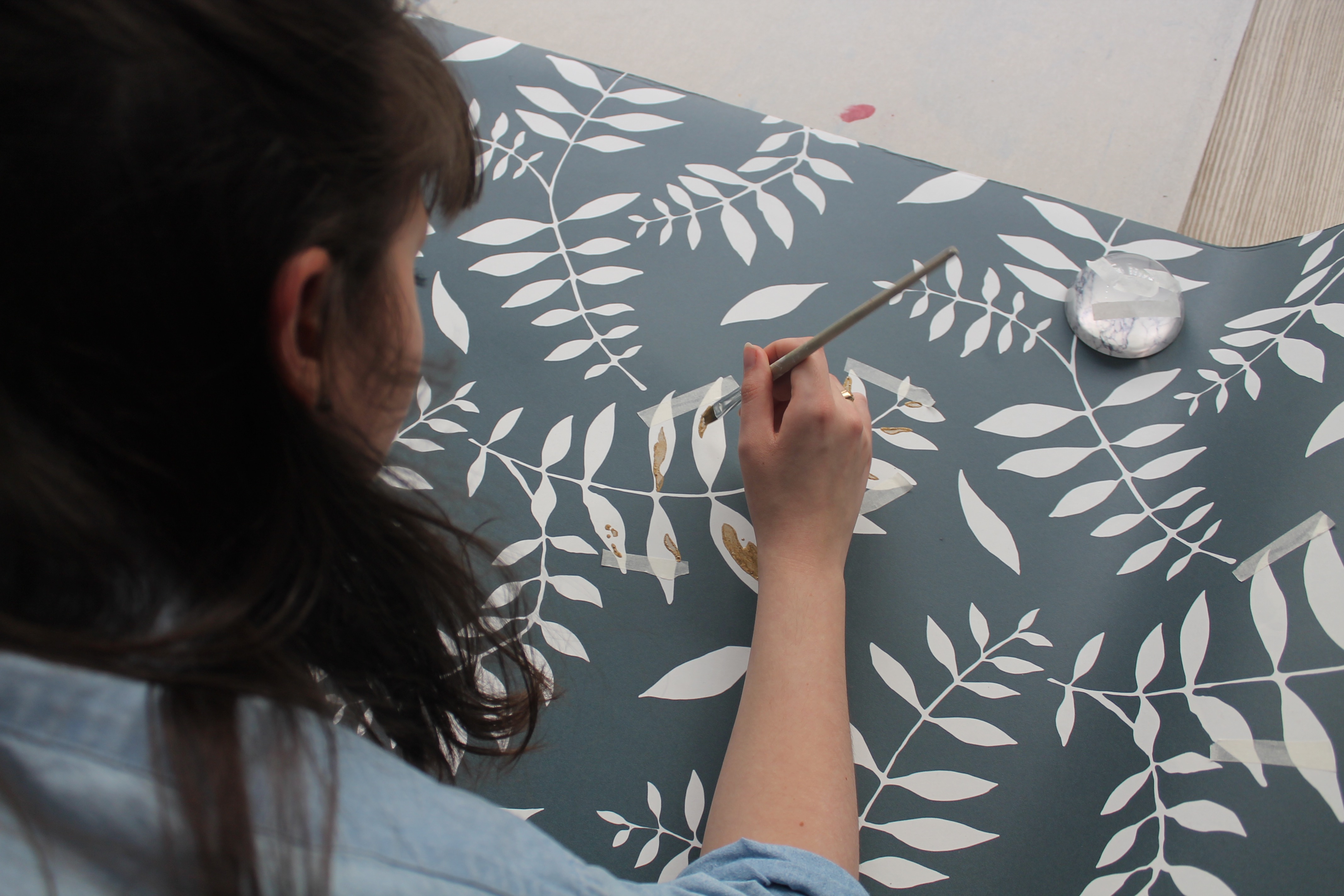 1. Melissa, tell us what you did after school ?
After studying Applied Arts and Visual Communication, I worked as a freelance graphic designer for agencies. I produced graphic charters, editorial documents, posters and flyers .
I also worked as an employee in several agencies such as MUZÉO. And that's where I was able to take my first step in interior decoration. I had the chance to work with great designers on very prestigious projects, for incredible hotels.
2. How did you get the idea of starting your own business ?
When I left MUZEO, I realized that it was impossible for me to return to the classic print. It was no longer exciting for me ! I was ambitious and wanted to scale up, to design creations for large-scale projects, to work on a variety of decorations like lampshades, wallpapers and fabrics.
So the idea of starting my business started to germinate. I talked a lot with Hanna, my childhood friend and it was obvious that I wanted to partner with her. I also travelled alone to Asia for 6 months looking for inspiration and when I returned, we started our company. Since then, Hanna has left the company and my sister has joined me.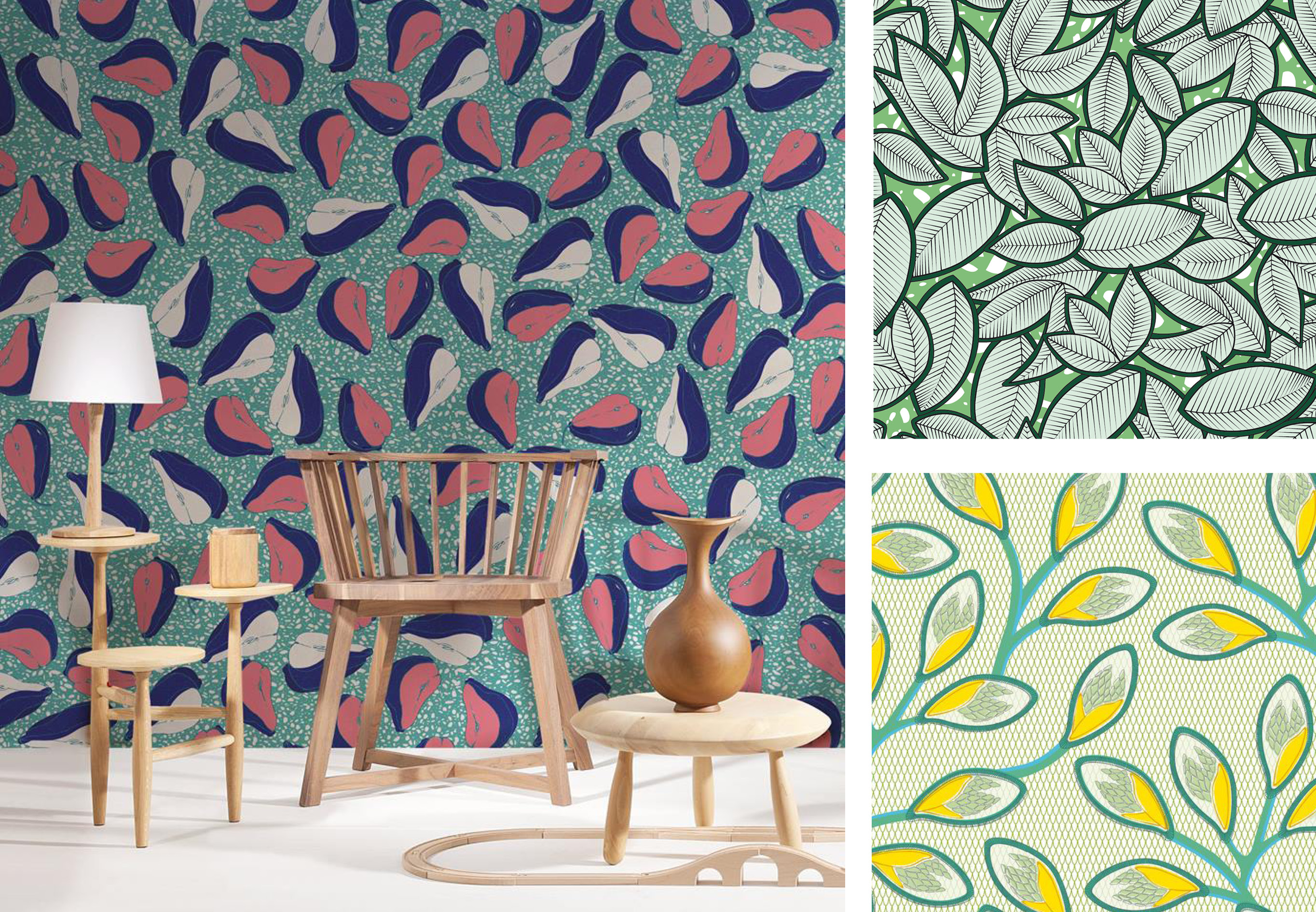 3. Usha knew you when you were a student. How did you meet ?
At 16, I was babysitting at my neighbour's house and it was through her that I met Usha, who was also looking for someone to babysit her daughters, Deeya and Elisa. I looked after them for almost 10 years !
We've been very close ever since. For example, Deeya and Elisa spent a week with me, as interns designing wallpaper and working on my website ! It was so much fun, just like in the good old days. It was really great to see them, sparkling, smart and funny !
4. How did the idea of collaborating with Jamini come about ?
It was very spontaneous and natural. Usha told me about her country house which she was renovating in Normandy. She wanted to design three wallpapers of which one was the motif Deeya (named after her daughter). She wanted a lovely green with gold paint on the leaves. We were unable to place the gold using machines, so we did it the Indian way ! Usha sent me the wooden blocks which were used for printing Jamini pillows in India, and we used these to hand block print the gold inside the leaf motif in Paris.
We printed the background digitally and hand block printed the inside of the leaves. This lasted a week, but the result was worth it. The wallpaper looks stunning and we decided that it would be a great idea to share this with our community.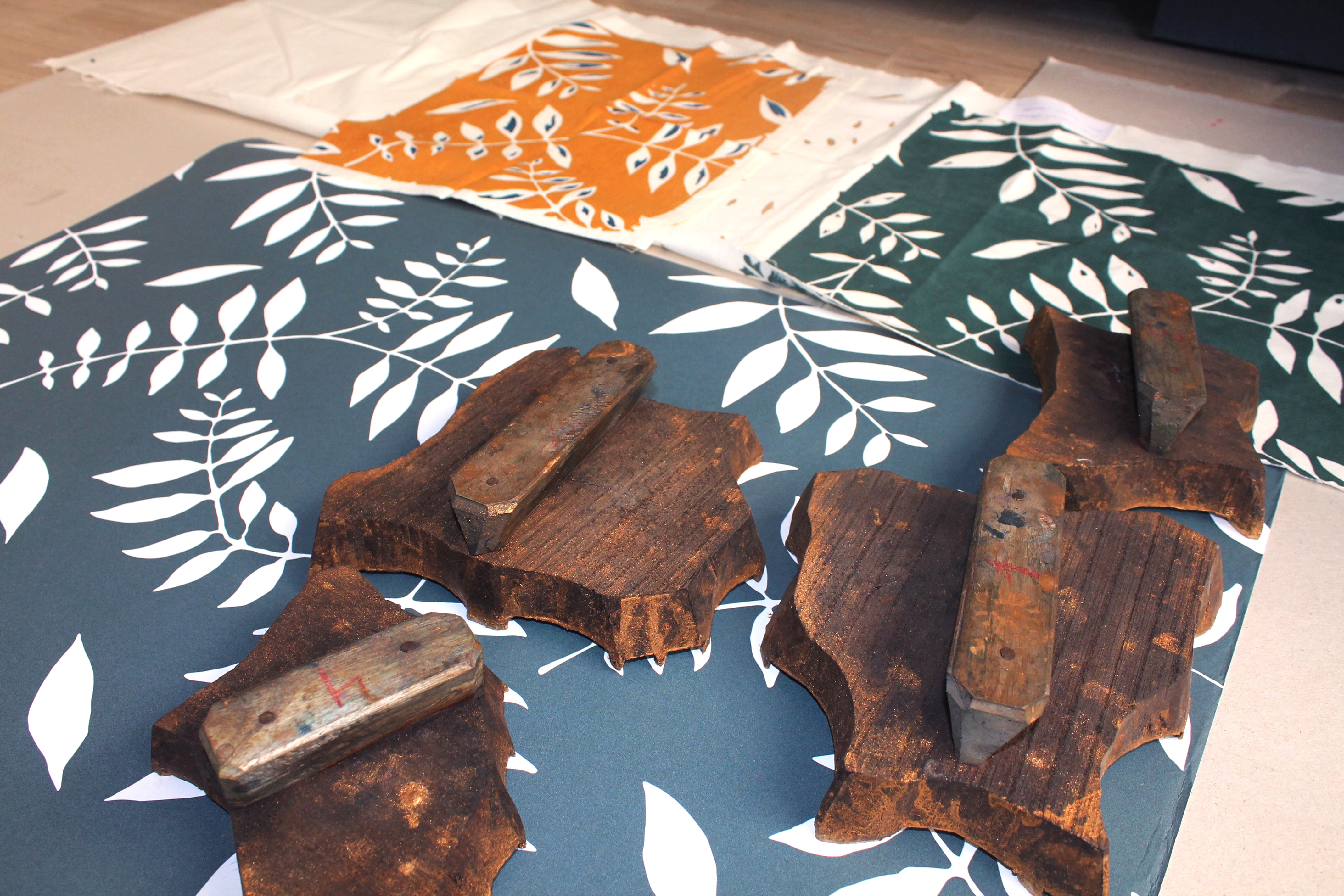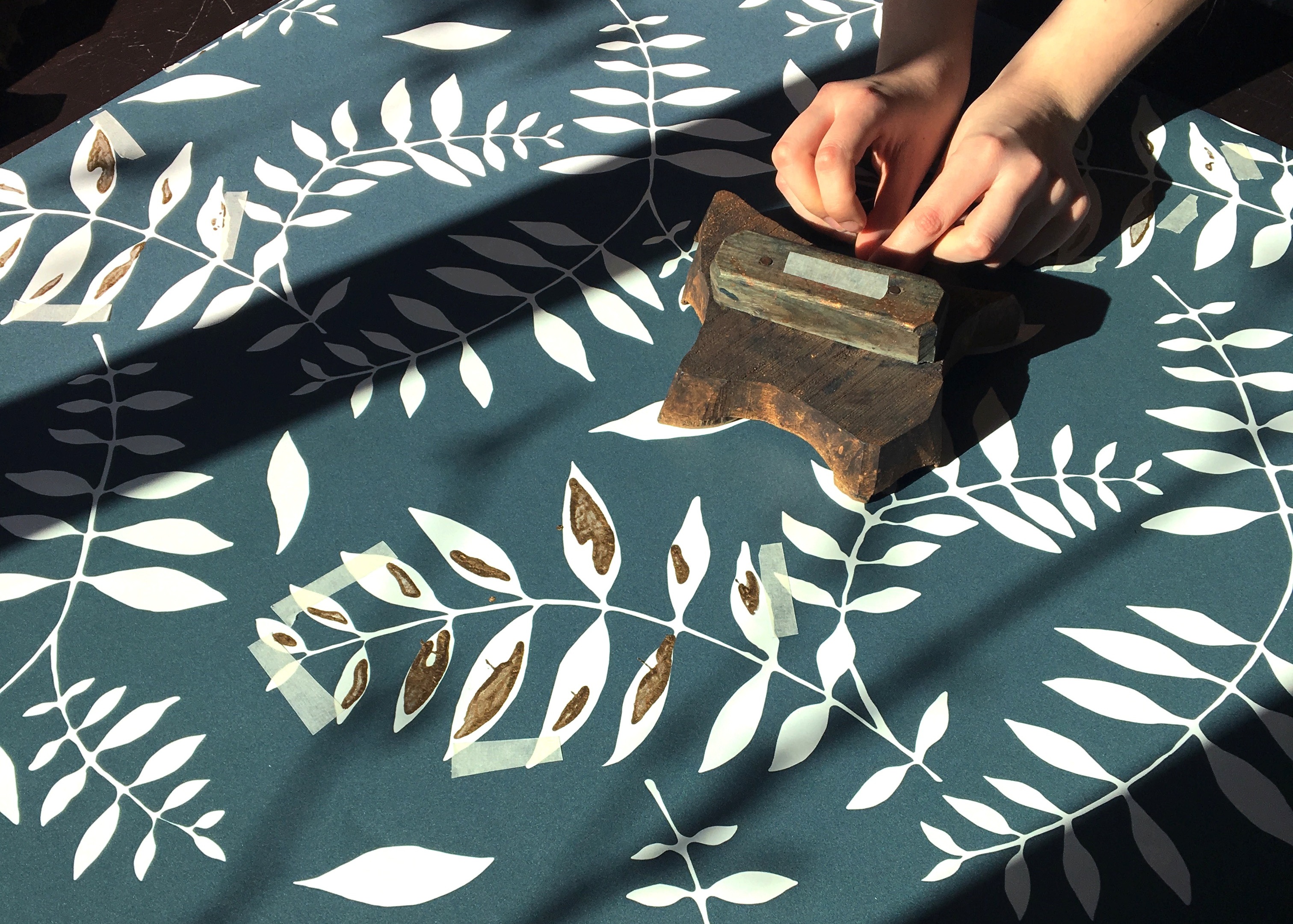 5. Are you proud of the result ?
I am very proud of this collaboration. Usha is very selective and chooses her partners with great care, so it is very flattering for us to work on this project !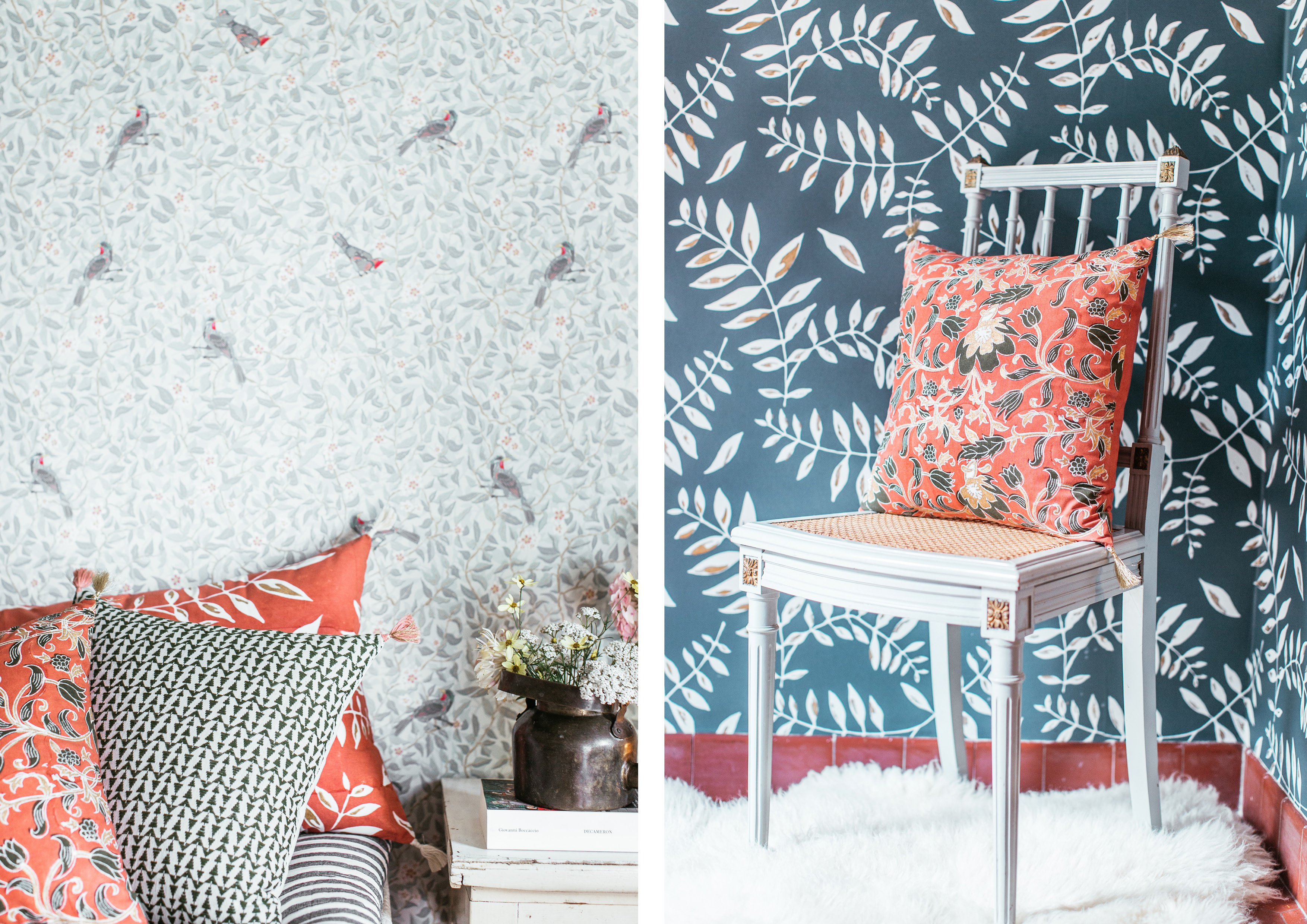 6. What is your source of inspiration ?
I find inspiration absolutely everywhere : Pinterest, deco magazines, blogs... I try to dedicate two Fridays a month to visit exhibits. I share a lot of ideas with my sister and exchange creative ideas.
7. What has moved you the most since you chose to be an entrepreneur ?
The thing that really motivates me is the feedback of my clients and seeing the result of placing wallpaper in a hotel or a private space.
I also enjoy daily meetings with people who are passionate, motivated and truly talented. Many of my clients have now become friends.
I like working with my family, which was not the original plan ! My sister works with me on communication, marketing and content writing. My father, a cabinet-maker, helps me to build frames and other custom-made decorations. My mother helps me regularly in developing products and creating new patterns.
8. Something which you will always remember when you babysat Deeya and Elisa ☺.
I held Elisa for the first time when she was barely 2 months old, I think it was the first time I had such a small baby in my arms. Her sister covered her with kisses. It was really adorable !
9. Your favorite Jamini piece ?
The pillows ! All of them, it's hard to choose one. I love the pink / green mix in the latest collection !