Olivia, founder of Le Secret de Manon

Olivia, founder of Le Secret de Manon
Spring has been a long time coming this year ! It's finally arrived, and this is the perfect moment to introduce our friend Olivia. Olivia is the founder of Le Secret de Manon, a brand of natural cosmetics & candles from Provence in the South of France. Usha met Olivia at the Maison & Objet trade fair and she fell love with her range of natural fragrances and sublime candles.
We've just launched a range of Olivia's candles in our stores and on our e-shop, packaged in beautiful hand blockprinted reusable pouches. So here is Olivia in her own words.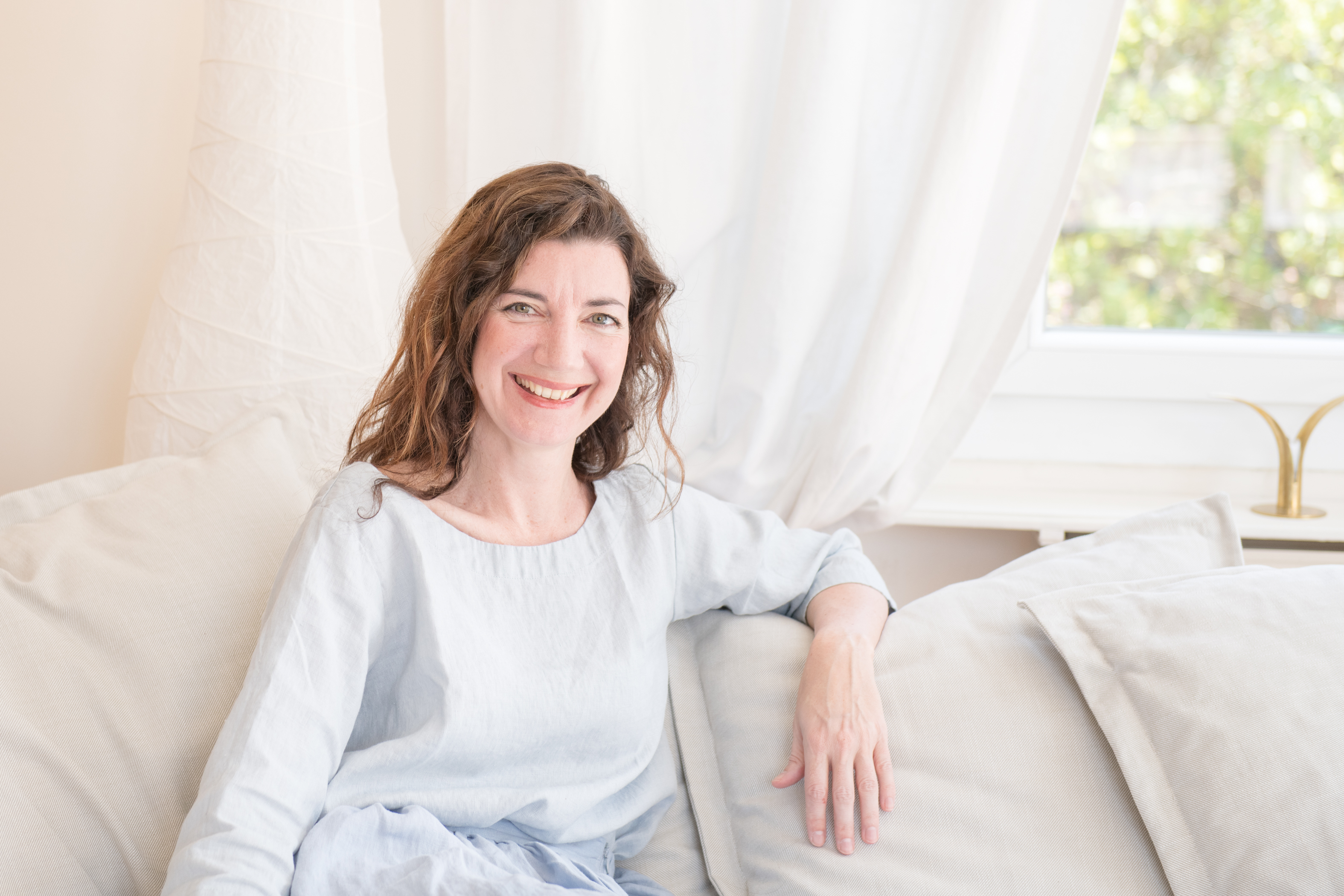 © FJF Photos Lauris
1. Olivia, tell us about yourself !
I am originally from Provence. 17 years ago, I left France to work for a big bank in Germany. I was supposed to be gone for a year. But I stayed longer than planned, and returned to France 17 years later with my German husband and our two sons (5 and 7 years old). When we returned to Provence, my husband and I decided to create Le Secret de Manon.
2. From finance to natural beauty care, why the big move ?
After 17 years of living in big cities, I decided to come back to Provence. I reconnected with the wonderful region of the Luberon, but also noticed the diminishing interest in local crafts and know-how. Provence was losing its authenticity and had become an easy marketing Platform ! I wanted to show a more authentic facet of this region, support local know-how and search for ancestral traditions of well-being and beauty. That's how Le Secret de Manon was born.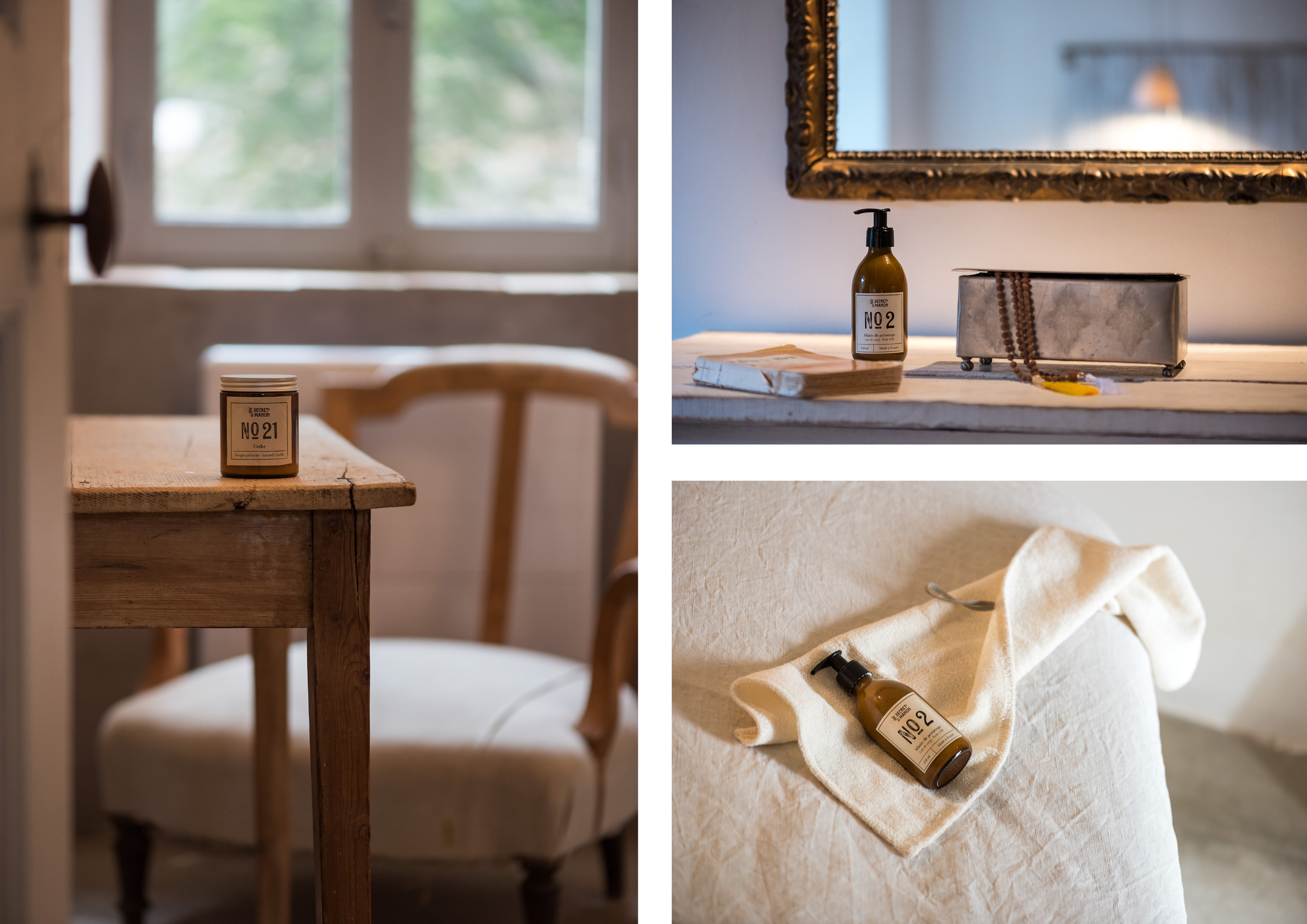 © FJF Photos Lauris
3. Tell us about your creative process. How do you choose the ingrédients and the fragrances ?
I like to create things that can be used everyday, and I always try to make a little dream come true. I am a perfectionist and can be obsessed for months with the shape of a cork ☺.
The fragrances are very important and each one of them corresponds to a childhood memory. Many people mention that the smell of our candles bring back happy memories and I love that !
Our products are completely natural, made from high quality raw materials. The years I spent in Germany and the birth of my children have influenced the way I consume, including my choice of cosmetics. The ingredients in our products are natural, silicones, phthalates, SLS and mineral oils free. A vegetable oil such as olive has amazing properties. Women in the South have known this for centuries. Why choose mineral oil from petrochemicals if we can enjoy the benefits of nature ?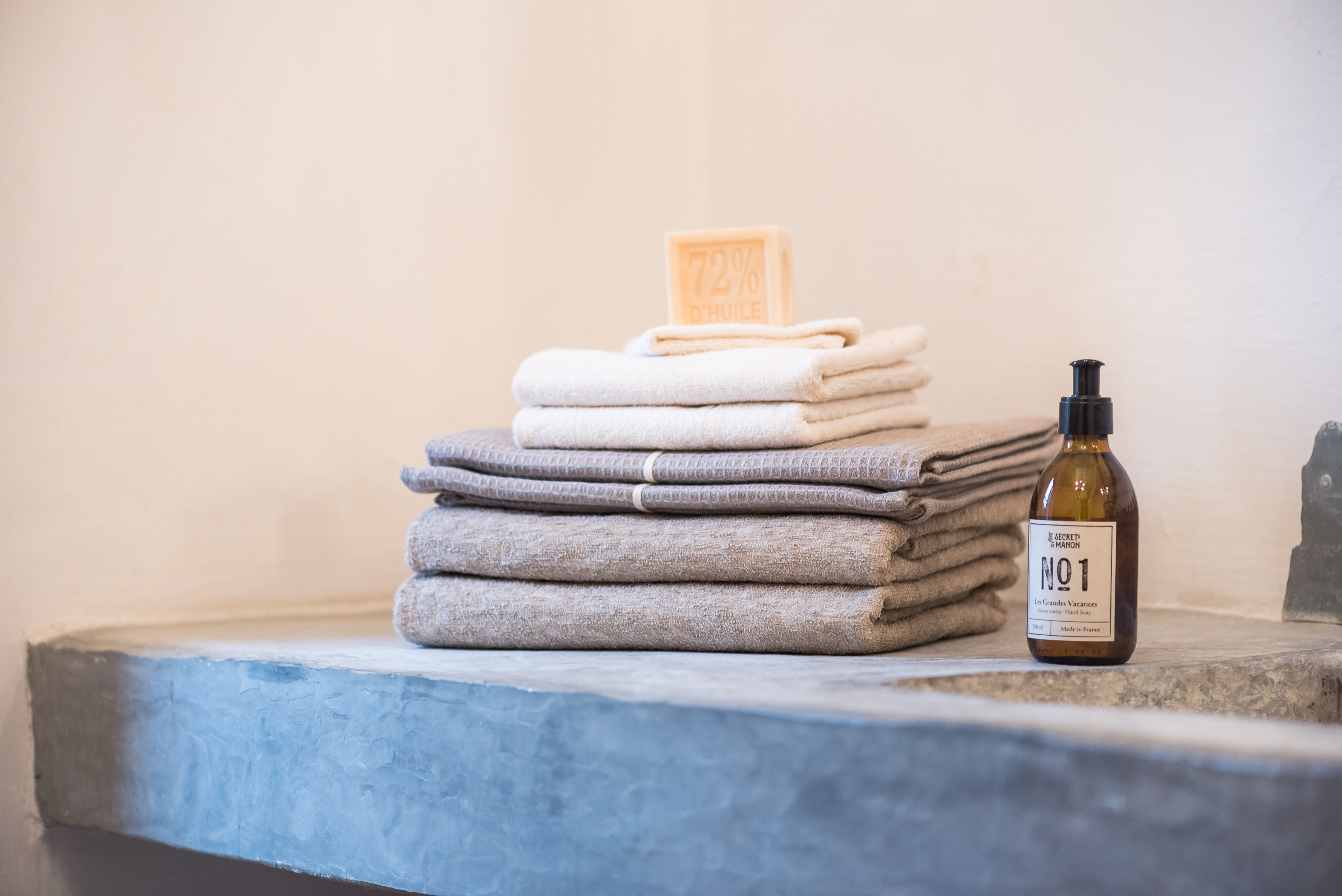 © FJF Photos Lauris
4. You found love in Germany and lived there. What did you miss about France ?
That's easy ! The sun, delicious meals with family and friends, the Mediterranean, goat cheese, the garigue, ripe fruit, the French sense of humor, a certain way of seeing life, the hills, and many other things. France is home and it was good to come back.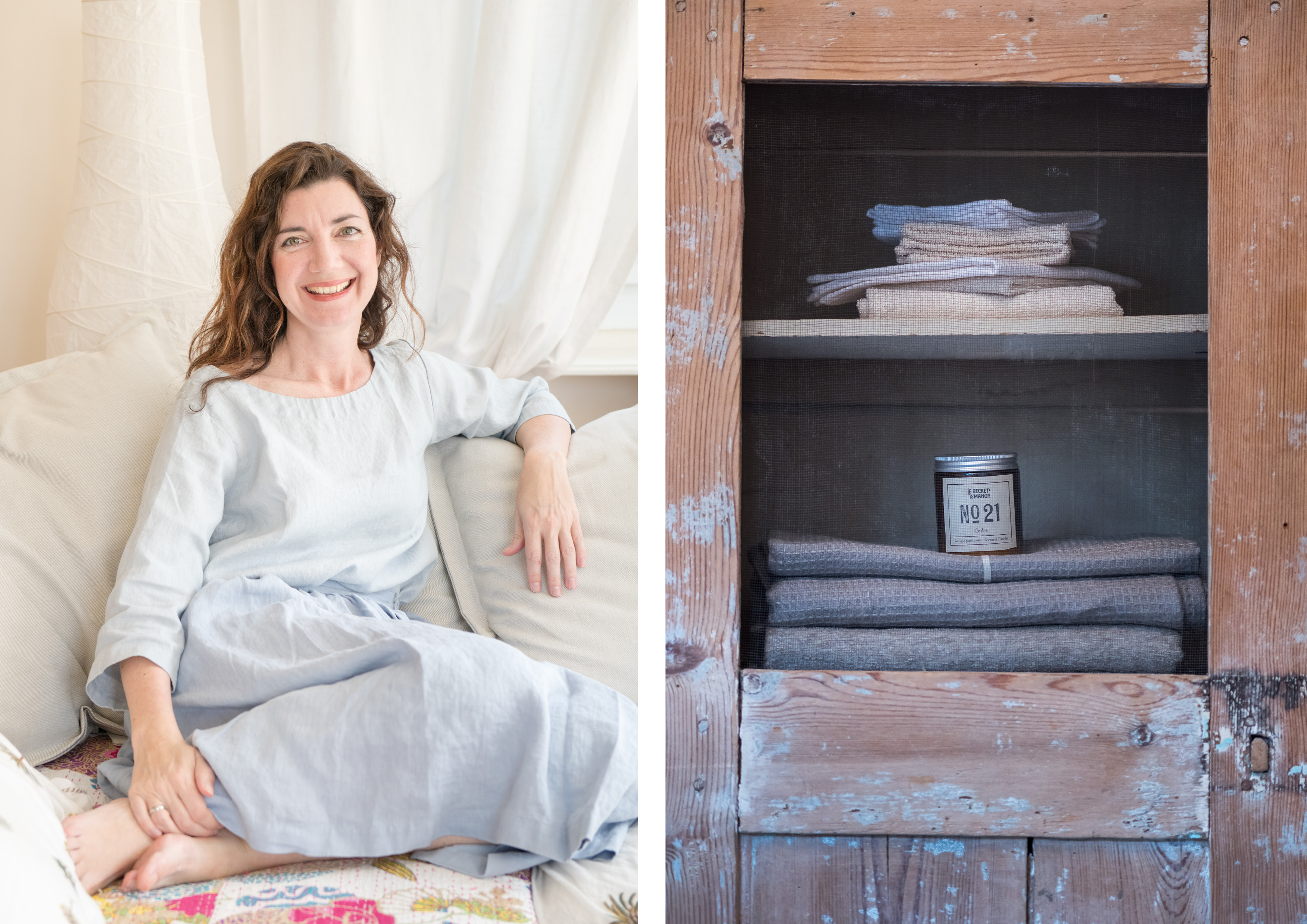 5. Your favorite places in the Luberon ?
I love shopping at the Lourmarin market on Friday mornings. For a good Sunday lunch with the family, the Auberge de la Feniere between Lourmarin and Cadenet, or Le p'tit Resto in Vaugines are perfect. An evening grenadine with the children in Cucuron on the place de L'étang is heavenly, and I love long walks in the forest of the cedars close to Bonnieux and the sunsets on the edge of the Durance river.
6. Your main sources of inspiration ?
My children, nature, the villages and people that surround me here in the Luberon. Sometimes, a weekend in Copenhagen or Paris is always a good idea. Last June, I spent a week in Tokyo (I also distribute the Japanese brand, Fog Linen Work in Europe) and I came back completely inspired !
7. Your favorite mantra ?
Doing things with care and love makes life more beautiful !
8. Your favorite perfume that reminds you something strong ?
Without any hesitation, Amber (I made our first scent "Les Grandes Vacances"), followed by Orange Blossom. These two fragrances represent my childhood memories, evoking summer, the warmth of the South, the Mediterranean, femininity and the family home. I also love the smell of straw hats and leather sandals...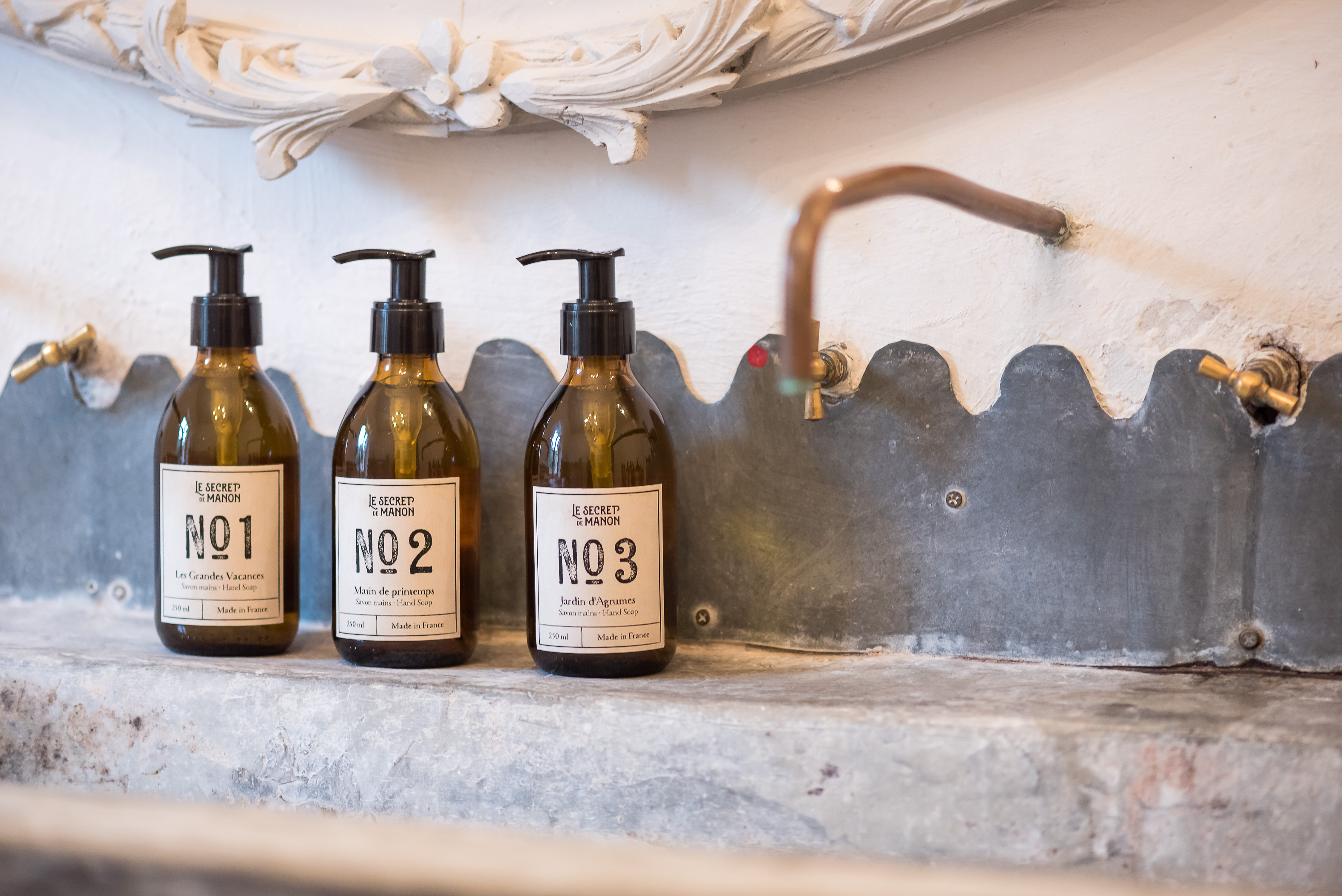 © FJF Photos Lauris
9. What attracts you in Jamini ? Your Jamini favorite pieces ?
For a long time I have been fascinated by Indian know-how and craftsmanship, and I have a passion for craft textiles in general, so Usha's creations touch my heart. I love the whole collection, the choice of colors and motifs are beautiful. The pieces are sophisticated and authentic at the same time. I particularly love the silk scarves from Assam, which are absolutely gorgeous.
10. Tell us about your future projects.
I am working on some new products for Le Secret de Manon ! I am also looking forward to cultivating a little vegetable garden with my sons this spring.