Organic cotton and eco-friendly table decor

Organic cotton and eco-friendly table decor
At Jamini, we are constantly trying to find ideas and creative ways to promote responsible eco friendly consumption . We have always been committed to the vision of making the planet a better place by working tirelessly with our partners and artisans to develop their expertise and encourage their financial independence.
Since the past few years, we have been trying to find ways in which we can introduce an organic and eco-friendly range using our artisanal hand block printing method. The organic range that we are proud to present is the result of a slow and meticulous journey in search of the most planet-friendly cotton fabric and manufacturing techniques, from one end of the chain to the other, without making any compromises.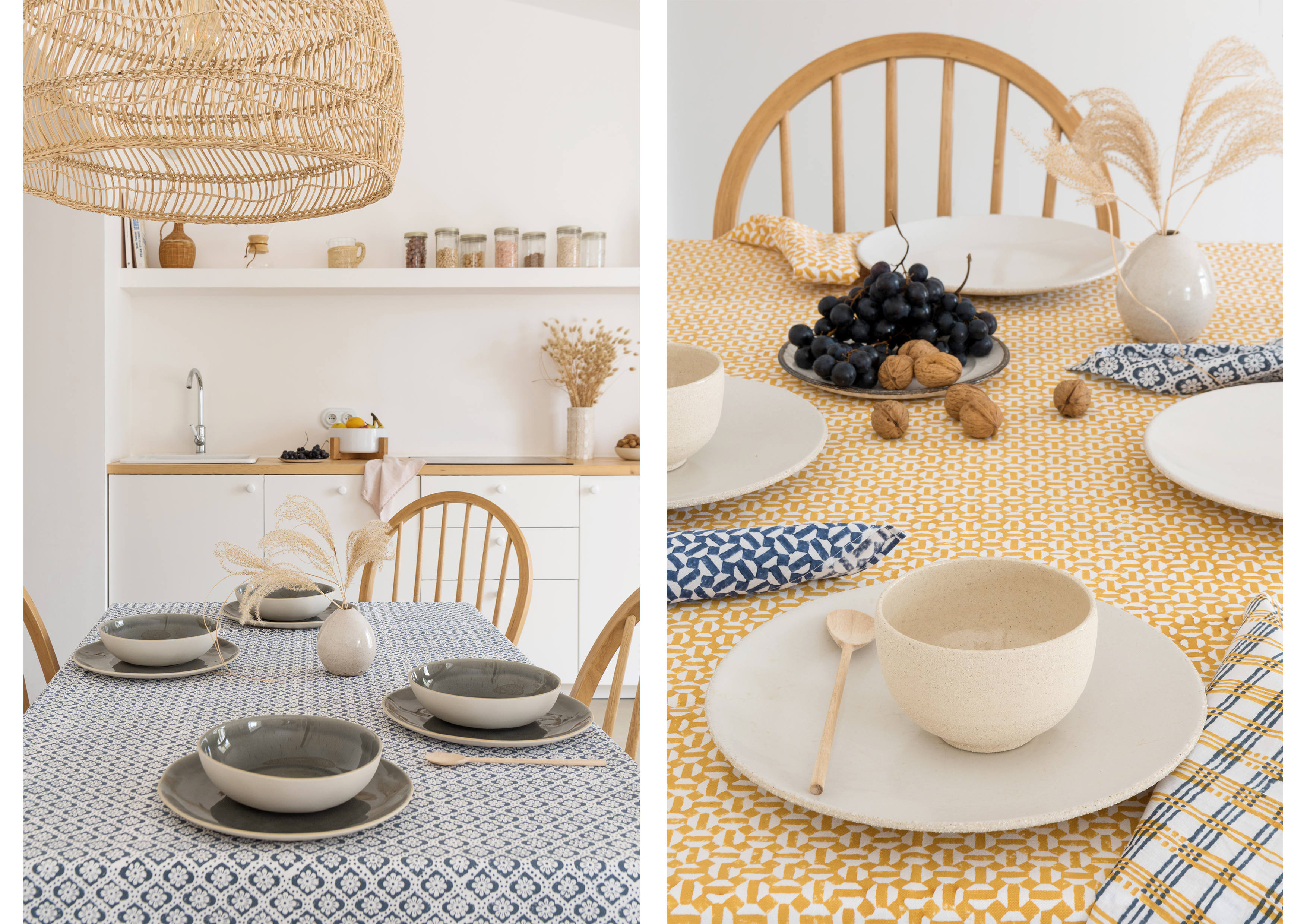 Alpu and Manju organic table cloths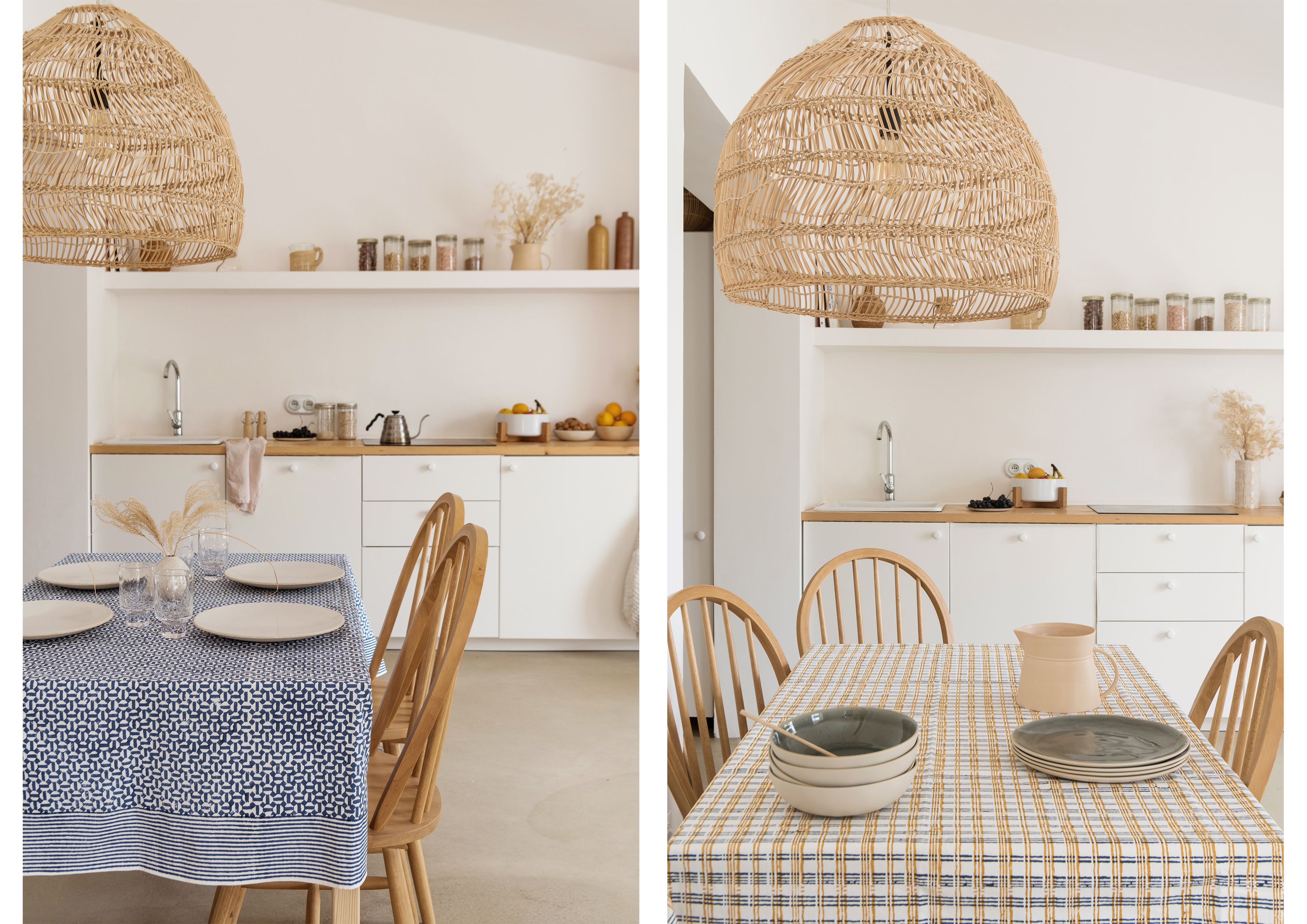 Organic table linen
It took us more than a year of work to develop this 100% organic table decor capsule collection . In India, eco-responsibility issues are more prevalent than before, but only a few workshops are fully equipped to be considered truly eco friendly. Every decision like the choice of dyes, quality of cotton, working conditions of the artisans, had to be analyzed, very strict specifications had to be established. It was not easy to have an overview of the entire production chain right up to getting a qualification certificate from a competent authority that gave us complete proof that each piece of the puzzle was coherent and reliable.
We are very proud to have been able to complete this artisanal project and showcase it here.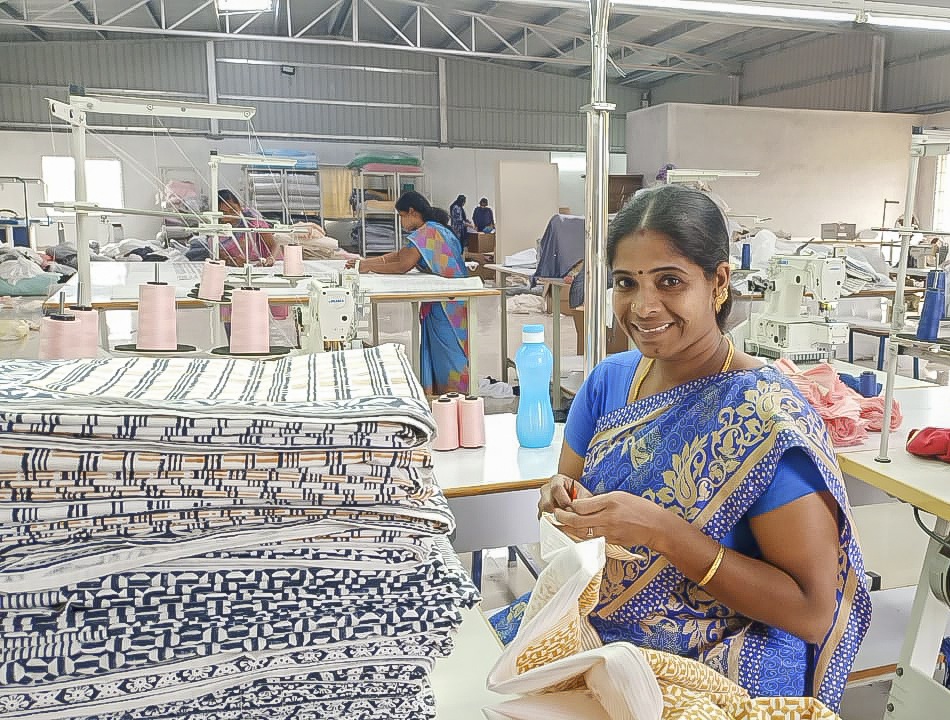 Our artisans at work
This collection of table cloths , table mats and table napkins use organic dyes that are environment friendly. We used lovely indigo blue and mustard yellow shades that create a superb delicate and elegant harmony. The fabric used in our hand printed table covers and table mats is 100% organic cotton - the best quality of cotton you can find in the world. It is GOTS certified : GOTS is an official label that guarantees the organic quality of textiles from the harvesting of raw materials, through socially and environmentally responsible manufacturing to offer a reliable guarantee to the consumer.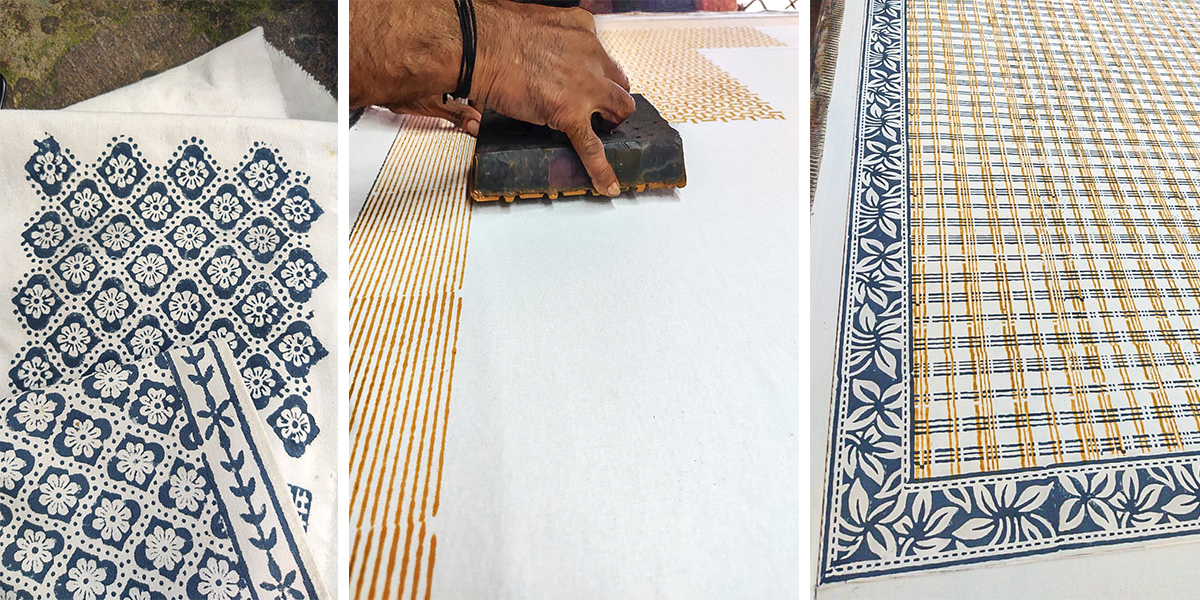 Work in progress
These pieces have been handmade with artisanal wood blocks, a traditional Rajasthani craft technique, in a workshop that has obtained the FAIR TRADE label, guaranteeing a fair and equitable environment and working conditions.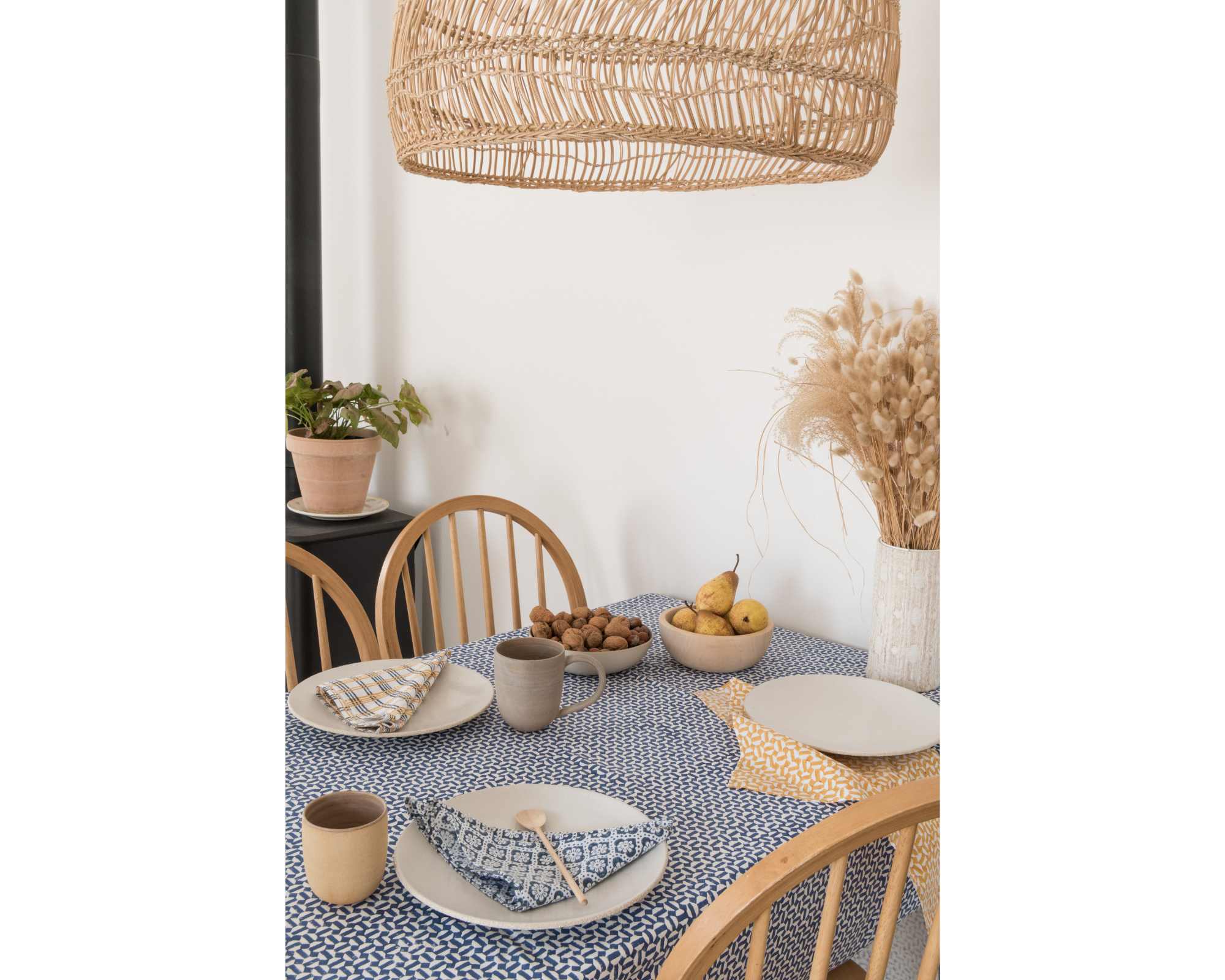 Manju table cloth and organic napkins
Hope this collection brings you joy and that you take as much pleasure in decorating your table as we did in bringing it to life. Elegant, warm and simple, these pieces bring a warm contemporary touch to your interior decoration.
Available in our eshop or in our Parisian store.
Let yourself also be inspired by our ORGANIC range by browsing our Pinterest board.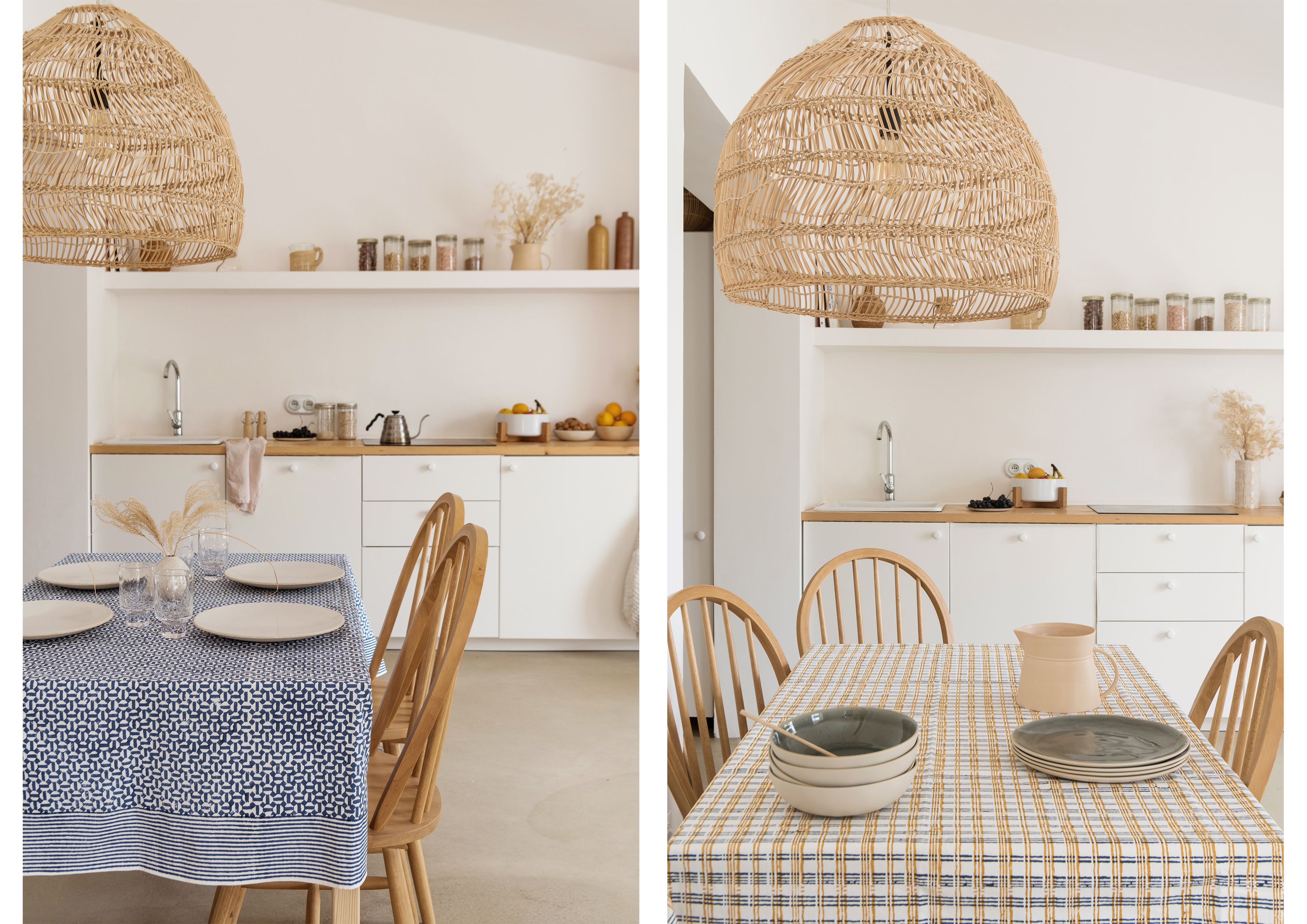 Manju and Koel organic table cloths