The perfect table setting by Cécile

The perfect table by Cécile
At Jamini we love the strong bonds we forge through chance encounters. Each encounter enriches and fills us with joy, and we are excited to share our favorite finds with you.
Cécile Herlet-Molinié's career path and talent inspire us. She followed her heart and her inspirations to build the universe of expression that best suited her, reinventing herself and changing her professional trajectory. She creates poetry regardless of her surroundings : whether it's the simplicity of the countryside or the urban excitement of Parisian life.
We asked Cécile, who loves to entertain, how to set up a perfect table decor and get ready for long summer lunches and dinners with friends and family.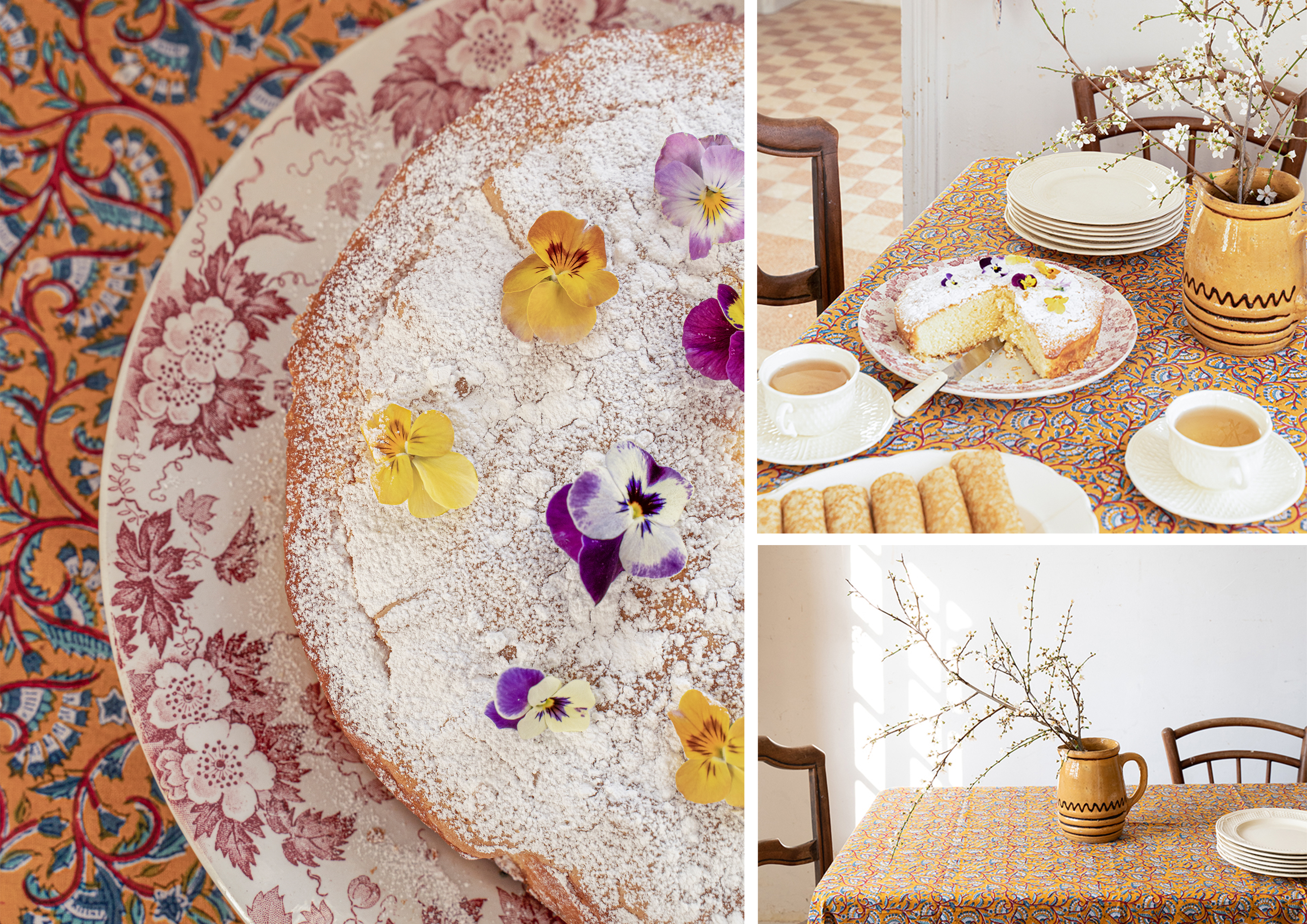 Lili table cloth - © Cécile Molinié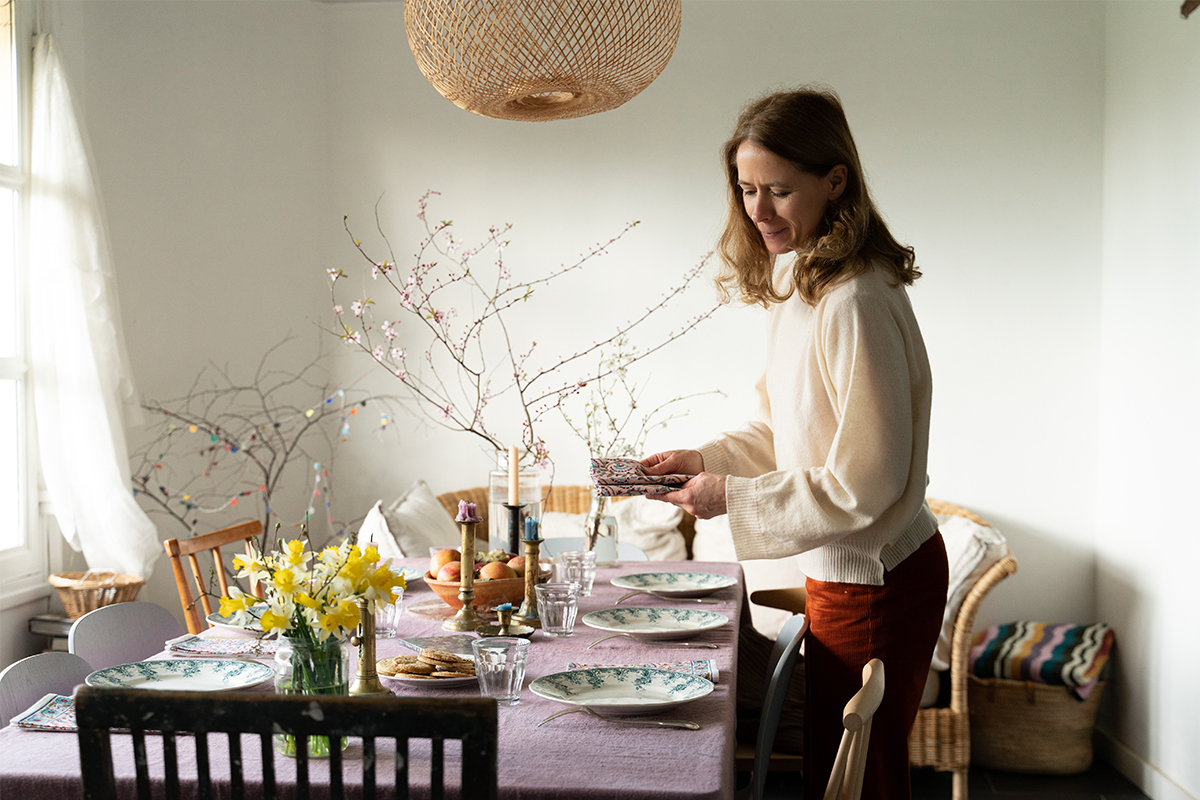 © Cécile Molinié
1. Cécile, you are so inspiring because you have had multiple lives . Tell us more !
Like many women, I had multiple experiences before I got to where I am today. I come from a small village in Lorraine where my parents still live. I've always been a fan of nature and long bike rides . I had plenty of energy, a passion for beautiful fabrics that goes back to my teenage years and the passion to redecorate our home by sewing cushions, quilt covers, tablecloths, table mats, napkins etc ... I loved setting up a perfect table decor for friends of my parents !
I studied law in Paris and continued with a doctorate in American law on "Equality in Employment in the Jurisprudence of the Supreme Court". Early on in my career, I became aware of the damage of prejudice in human relationships. I spent a few years in the Senate, in the department working for French expatriates, but my life as a mother of 4 children with a very busy father, convinced me to take a break.
I sewed my own home decor pieces and redecorated our Parisian apartments with a passion for beautiful textiles. I also made clothes for my children and photographed them often. I branched out into photography in 2013 thanks to Instagram. The country house that I bought for my 40th birthday was a perfect spot to photograph, with a focus on interior decoration.
Talented friends asked me to help them showcase their brands through my photos. Through hard work and chance encounters I started a new career in photography, content creation and consulting advice for young brands.
I am infinitely grateful to all those who trusted me from the beginning!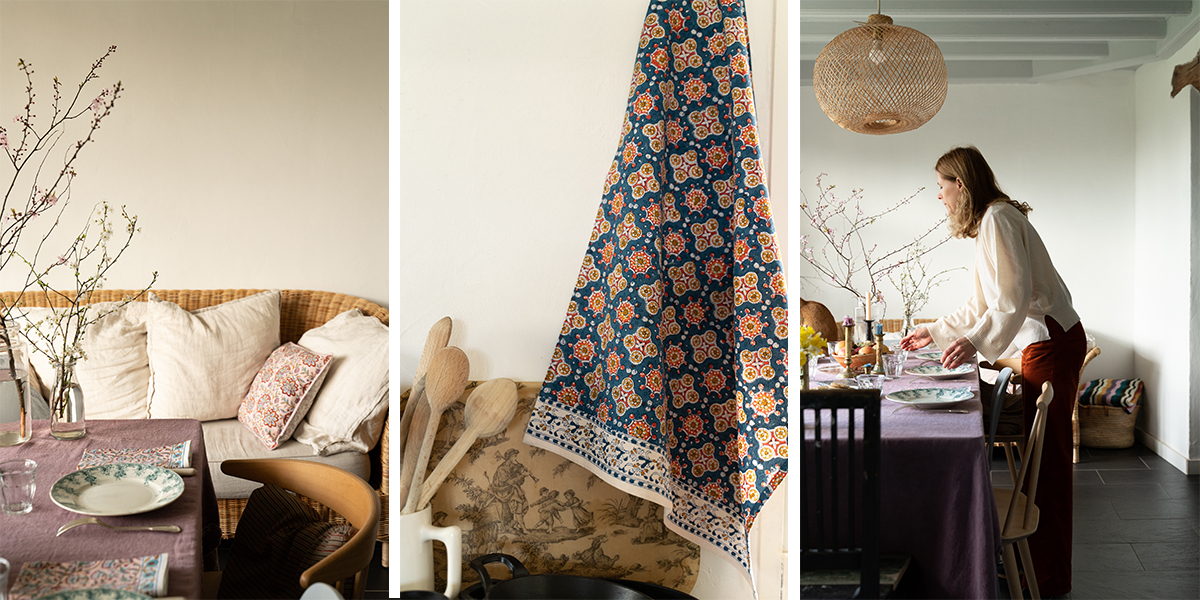 Pillow Louise nude pink and kitchen towel Antara - © Cécile Molinié
2. Your activity is now linked to image and imagination, what are your inspirations?
In my work, inspiration is absolutely key. I find it everywhere. Everything really depends on the state of mind you are in : I try to keep an open mind and continue to marvel at everything. Changing settings regularly is a great source of inspiration. Moving from city life to the slower, more contemplative pace of the countryside has allowed me to see both places with fresh eyes and not to tire of them.
As Henry James says so well in Parisian Sketches, "If one has not travelled for a long time, the simple fact of changing places produces, on a well-disposed mind, a kind of exhilaration (...)".
Living in a city as beautiful as Paris is in itself a source of inspiration. I get a lot of inspiration from museums, books with beautiful descriptions, photo books, the work of so many talented photographers, the work of craftsmen and artists that I discover through my work and on my travels. The change of scenery is essential and I always make the most of it.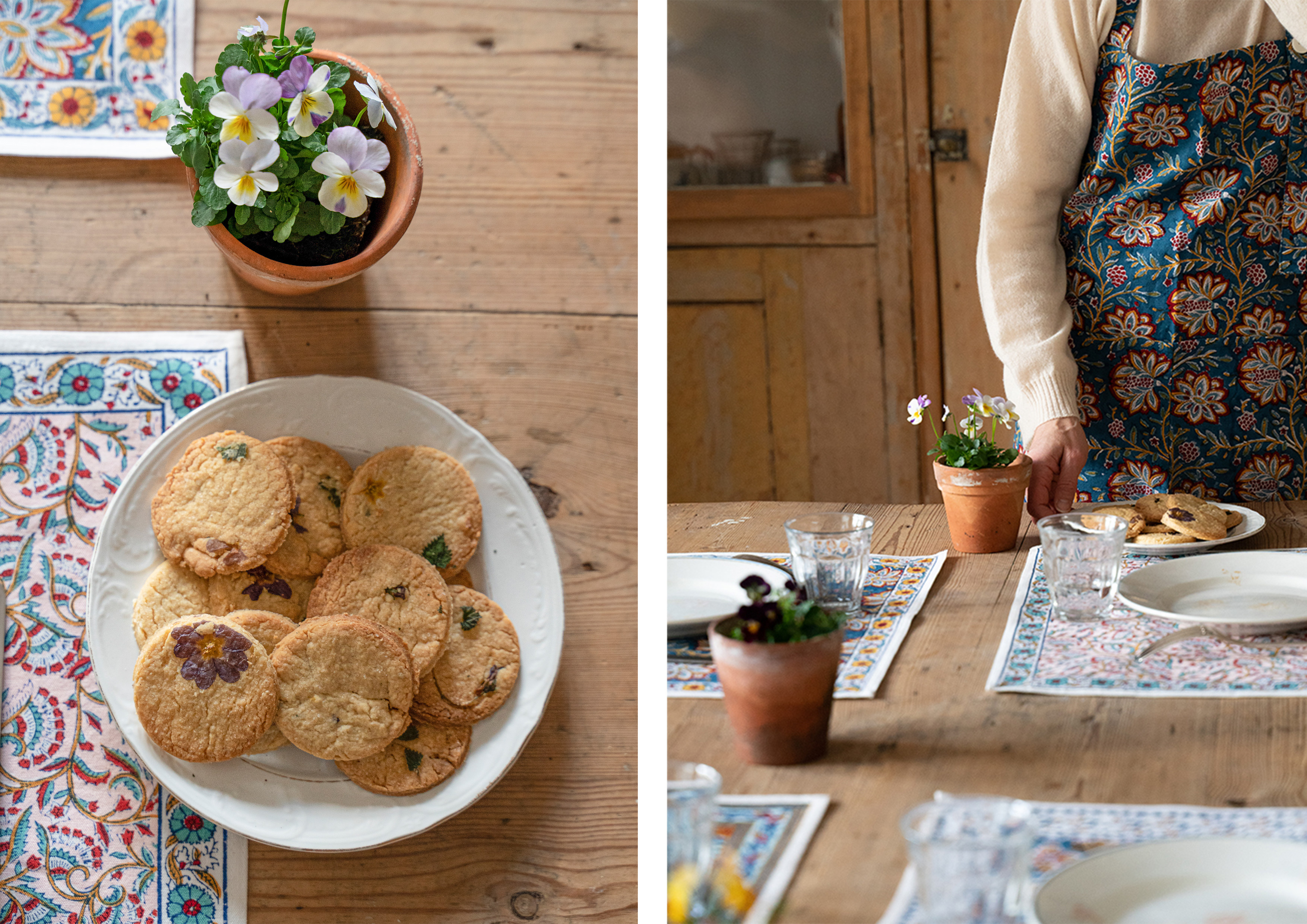 Table mats and apron - © Cécile Molinié
3. You divide your time between Paris and the Normandy countryside, what do each of these places offer you?
Paris is a very beautiful city that I enjoy more since the children have grown. It's full of talented people and is very stimulating. The number of interesting meetings I have had while living here, the varied universes of young designers or places steeped in history, the exhibitions, the museum collections, the parks with their rather varied landscapes, everything is in itself very stimulating.
The countryside allows me to slow down and enter another space-time that is relaxed and inspiring . I'm more creative in the country for sure. That's where I rest my soul.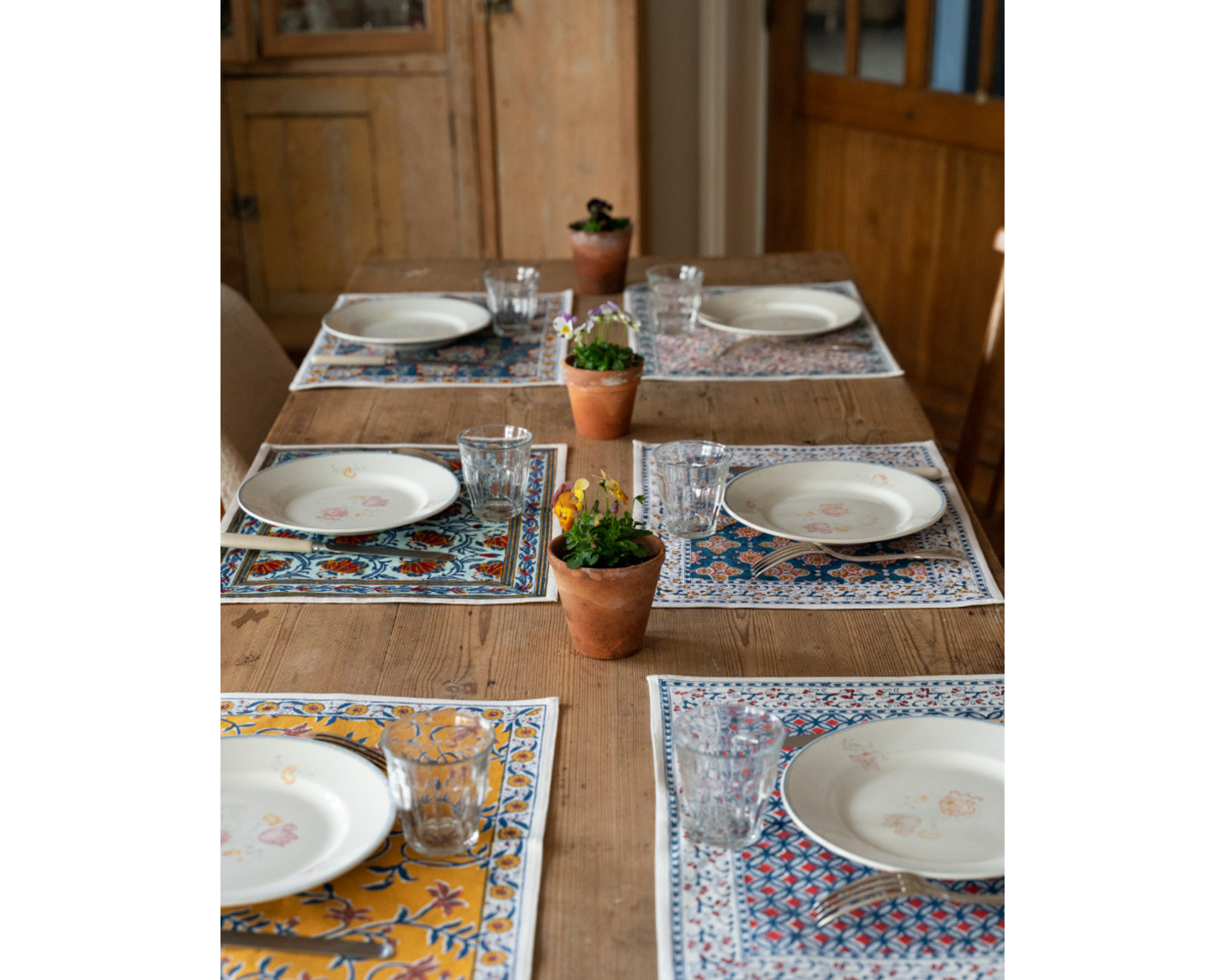 Table mats - © Cécile Molinié
4. Tell us the story that connects you to Jamini. How does it inspire you?
I discovered Jamini through Instagram which is a real treasure trove!
I really like the colorful aspect of the prints and the indian artisan-inspired journey that the brand represents. The brand makes us travel to exotic places and that really makes me feel good. The designs are strong but blend very easily in many different types of interior decoration settings. I love warm colors and there are always touches of yellow and pink in my interiors. India, home of Usha, the founder, is a country that has fascinated me for a long time.
5. We all want to be together again and find joy around big table settings with family and friends. What is your "magic formula" to make these moments a success?
I think that when you invite friends or family, they really must feel that you are happy to see them. This obviously involves a very good meal that will please and relax them, and small details such as THE dessert they like the most or the flowers that touch them. I love to cook and this is my way of showing others that I care for them and want to make them happy.
Hosting friends with generosity and simplicity so that everyone feels at ease, is really my "magic formula". I organized a surprise dinner at the end of November where I had placed a chocolate advent calendar next to each dish... I really like bringing back childhood memories to adults and show children that they are grown-ups!
At the moment I dream of a big lunch on the grass - all-you-can-eat buffet in the garden, using Indian printed tablecloths from Jamini , throw pillows, earthenware plates and vintage glasses and cutlery. A perfect moment of freedom and reunion around a mixture of dishes where everyone would find their happiness!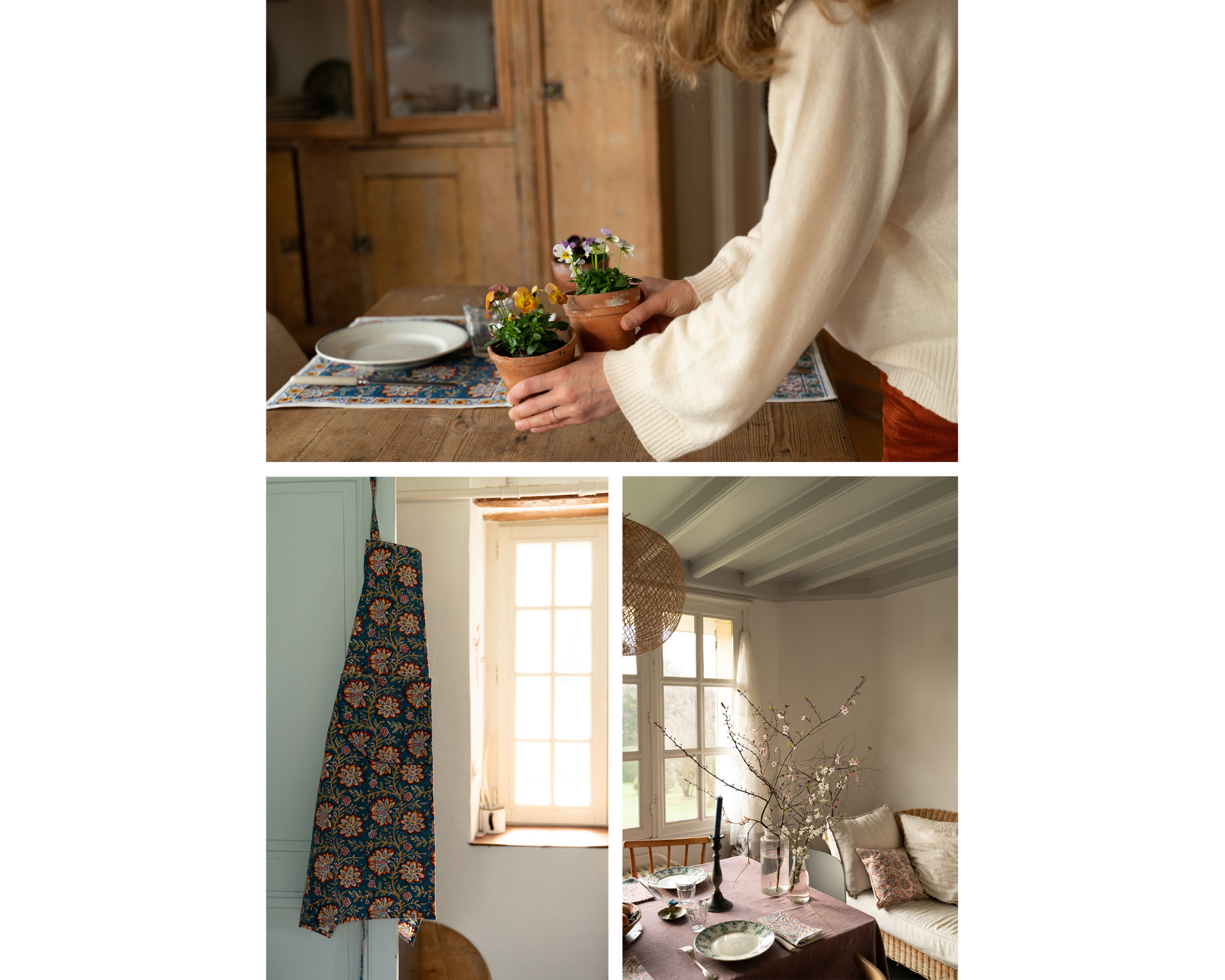 Apron Louise and pillow Louise nude pink - © Cécile Molinié
6. What are your tips for setting a beautiful table for a Parisian dinner?
In Paris I like to organize simple and casual lunches.
I have a whole collection of beautiful antique tablecloths and I choose my table setting according to my mood or the season. I like to take out my porcelain dishes for dinners or special occasions : always with the goal of showing others that we want to spoil them. In the evening I use a lot of candles, a few seasonal flowers in small vases and turn off the bright lights.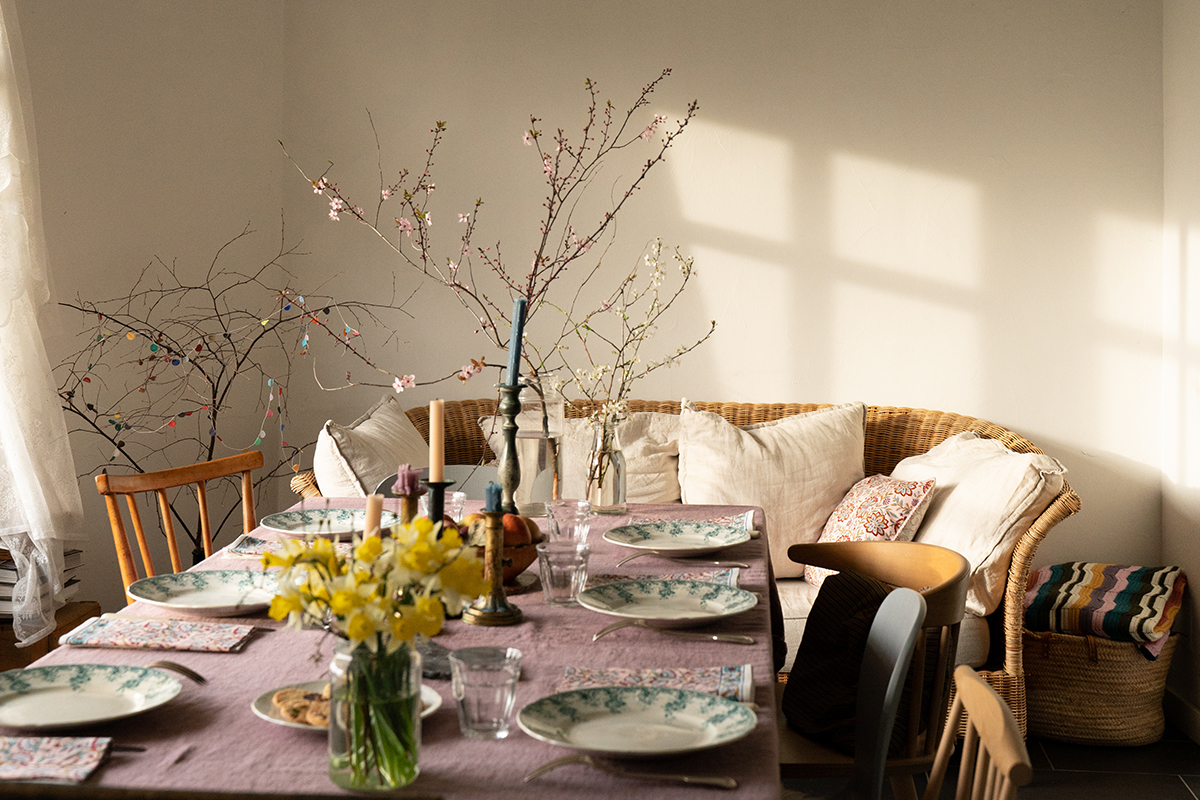 © Cécile Molinié
7. What is your perfect lunch setting in the country?
Things are simpler in the country - with more space and the garden, and no neighbors to worry about ! This less formal side pleases me more. I always put a tablecloth there too. . I most often use cloth napkins and Jamini's napkins are wonderful to bring a bit of color and cheer. Old plates, mismatched , simple glasses and silver cutlery here and there.
In the evening, I always dine by candlelight and I take advantage of nature to bring back large flowered branches , covered with leaves that I place at the end of the table.