Viva Magenta, Color of the Year 2023
"Pantone's color of the year, Viva Magenta 18-1750, vibrates with energy and vigor. It is a shade rooted in nature that descends from the red family and expresses a new signal of strength. Viva Magenta is courageous and fearless, and it's a vibrant color whose exuberance promotes a joyful and optimistic celebration, writing a new narrative." - Pantone
The tone is set for the new year: the trend color for 2023 is Viva Magenta. Stimulating and natural, this powerful shade of red was chosen by the Pantone Institute because it inspires optimism and boldness.
Viva Magenta is a descendant of the red family, inspired by the red of cochineal, one of the strongest and brightest natural dyes in the world. In this highly technological age, it is a return to the inspiration of nature and all that is authentic. This is a bold color that encourages unrestrained experimentation and self-expression.
Discover its significance and different ways to integrate it into your interior decor.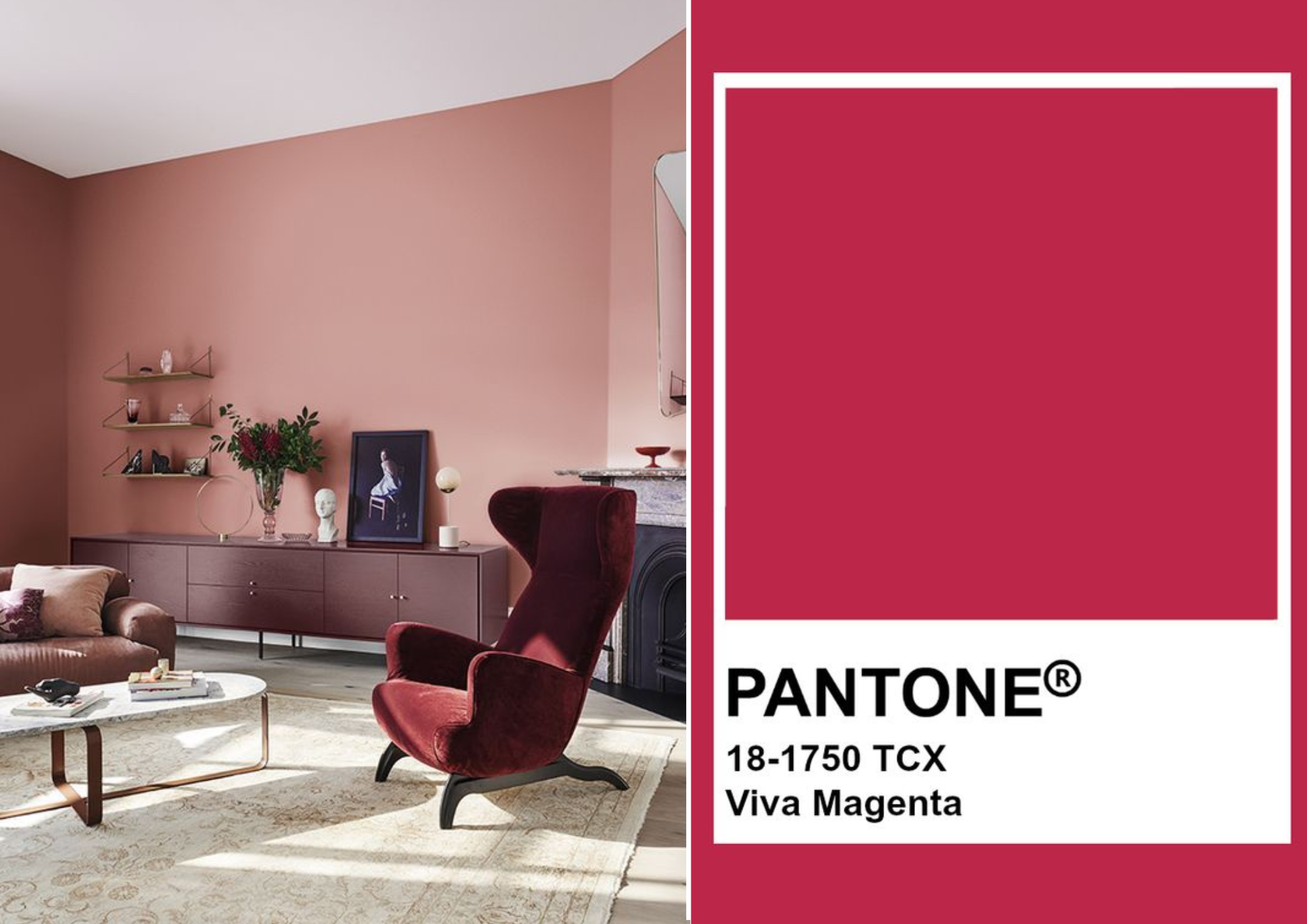 © anjnews - © Pantone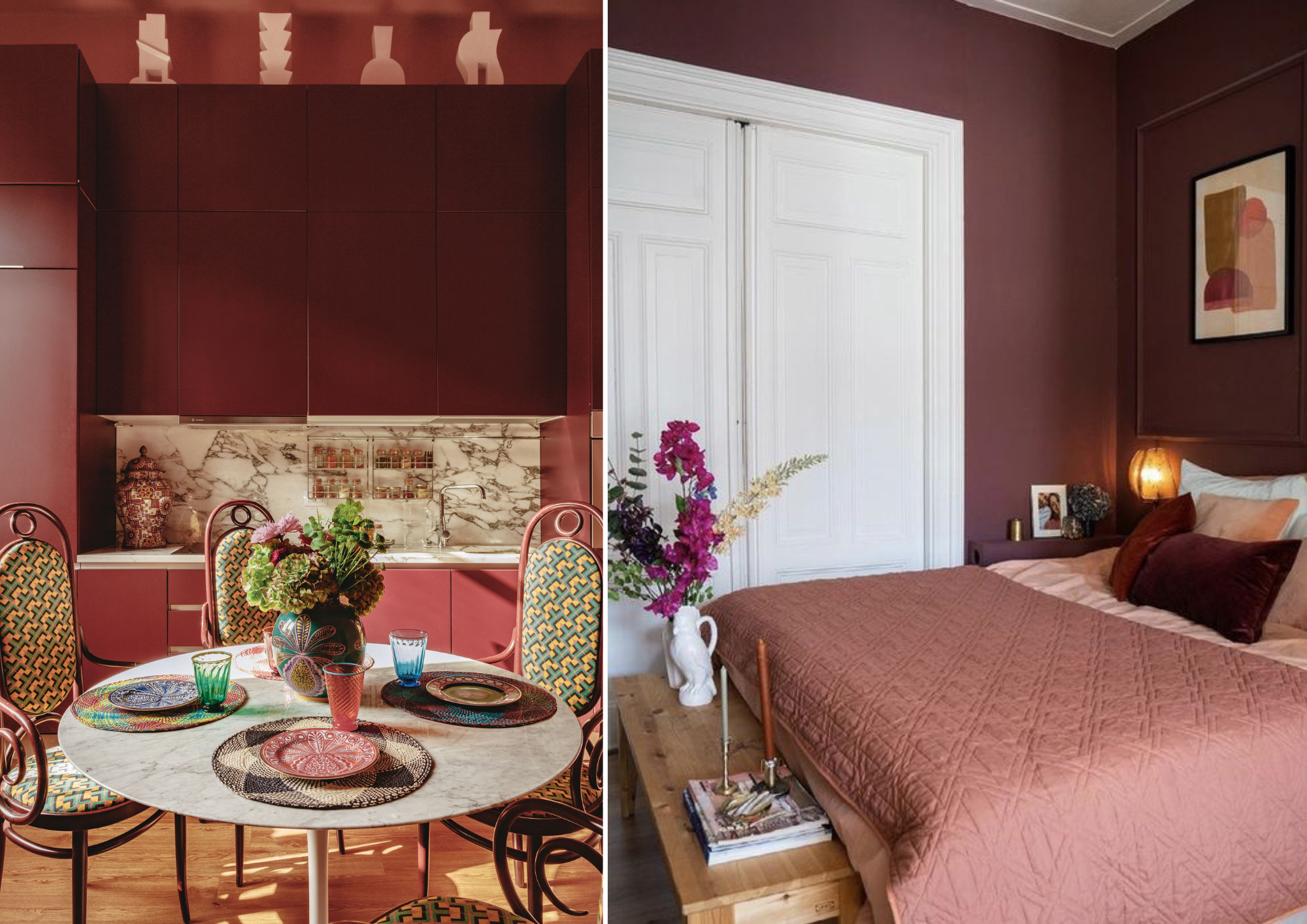 © Apartment of the designer J.J. Martin in Milan by Matthieu Salvaing for AD Magazine - © Pinterest
Indian red
A shade of pink obtained by mixing blue and red, this tone is also called Indian red. It is the color often used to paint the walls of Indian homes, which are then covered with cow dung or gobar-mitti, with a mixture of cinnabar, lead ore, ochre, red earth or crushed tiles.
It is also the color of sarees worn by Indian brides. Red is the color of sindur, a cinnabar powder that colors the hairline of Hindu brides : indura or sindoor means red and symbolizes Shakti, the goddess of strength. Red is also often the color of the bindi, a frontal dot on the forehead of Indian women traditionally made from red kumkum powder.
Indian red brings prosperity to the new house, and a red dot infused with saffron or turmeric in the middle of the forehead confers the role of  guardian of domestic well-being to a new bride. It also symbolizes the menstrual flow of protective deities. Red is a very powerful color in India that signifies fertility and establishes a direct link with Lakshmi - red goddess of fertility.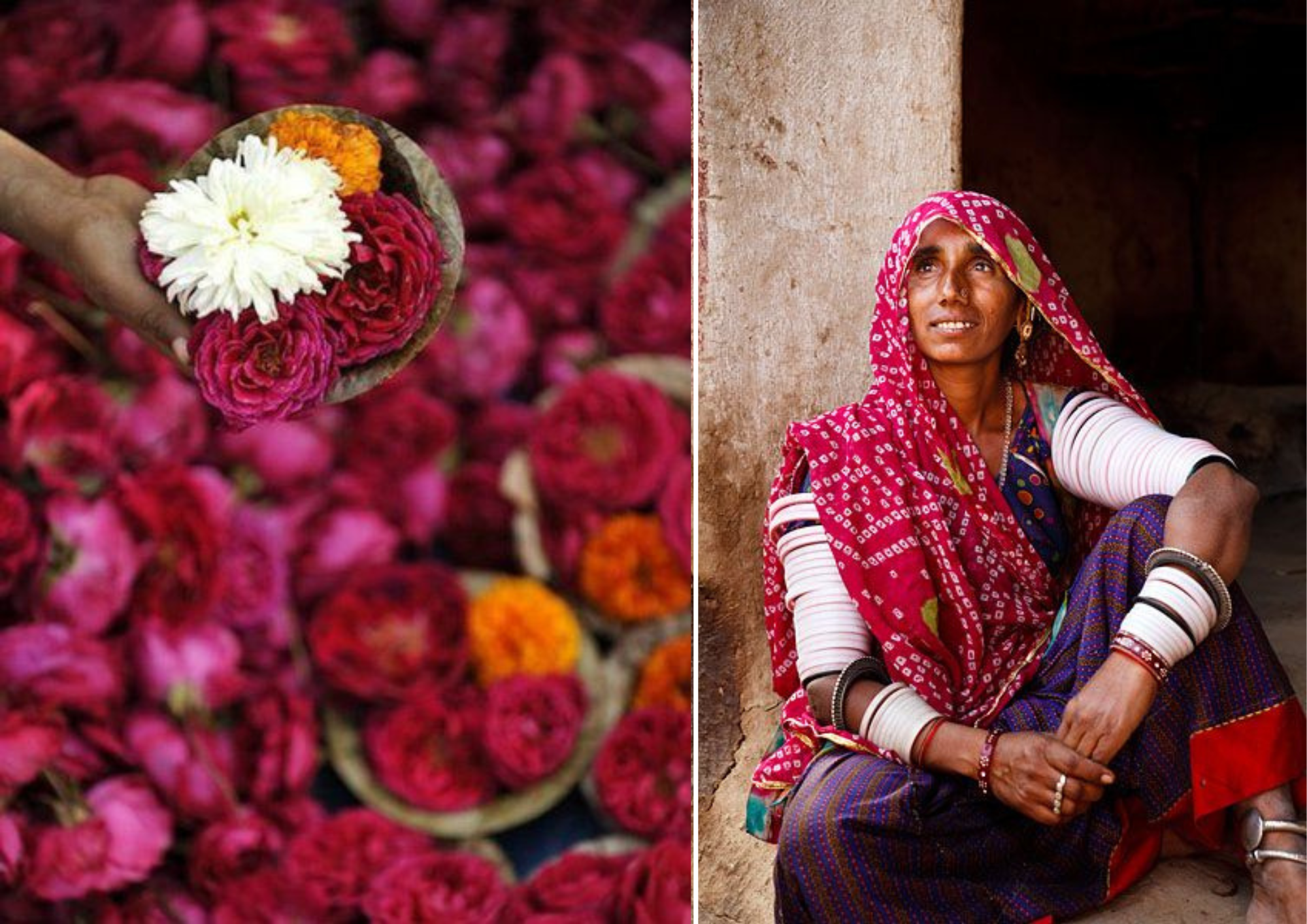 © Pinterest - © coolephotography.co.uk
The Magenta Pink Chakra, fourth Chakra - Anahata
In chromotherapy, a magenta pink chakra is composed of two colors mixed in equal parts. It is made up of 50% red, associated with the first chakra -the root chakra-, and 50% midnight blue, associated with the soma chakra, the chakra located above the third eye.
In theory, the magenta pink chakra should therefore be located halfway between the head and the perineum. In reality, it is located inside the heart chakra, connecting the upper and lower parts of our body from the inside. This color has the power of creating harmonic resonance with all the internal zones of the body.
Balanced Chakra: symbol of love, empathy and compassion, of the inner self, of intimacy and heart, of the soul, of the essence, of youth and creativity.
Increased Chakra: expresses tenderness, attraction, gentleness, sympathy and friendship, pleasure, joy, contentment and well-being.
Decreased Chakra: expresses rejection, harshness, antipathy and enmity, frustration, disappointment, discontent and unhappiness.
Chakra in excess: indicates codependency, emotional toxins, artificiality, cunning and illusion.
Chakra in deficiency: indicates suffering, nightmares, emotional wounds, hatred and conflict.
Which other colors can we associate with magenta for a unique interior decor ?
Depending on whether you want to bring a contemporary or more graphic atmosphere to your interior design, magenta can be associated with different colors. Green - ranging from khaki to sage green, is a complementary color and combined with magenta, has a very soothing effect on your interior. Lovers of warm carmine tones can blend Viva Magenta with a range of pinks and vermilion.
Contrasted with white, magenta brings a breath of fresh air to your decor! For a refined and elegant touch in your room, combine magenta with gray, especially dark gray tones like anthracite.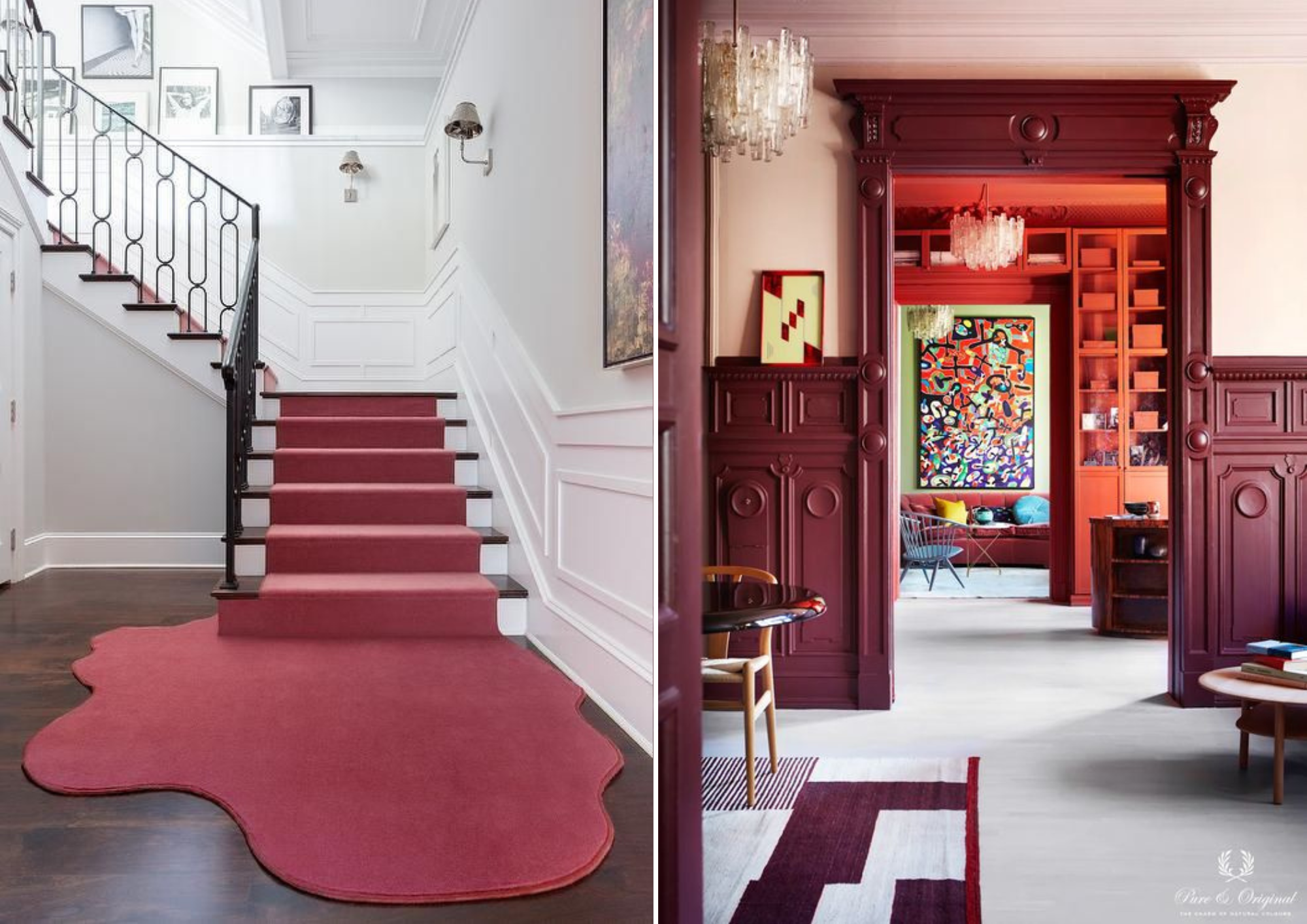 © Pinterest - © Homify
If you're feeling adventurous, you can mix it up with colors just as powerful : with shades of orange - to create a vibe inspired by interior decor vibes of the seventies, or with purple or blue . For a graphic effect, go off the beaten path and try combining magenta with black.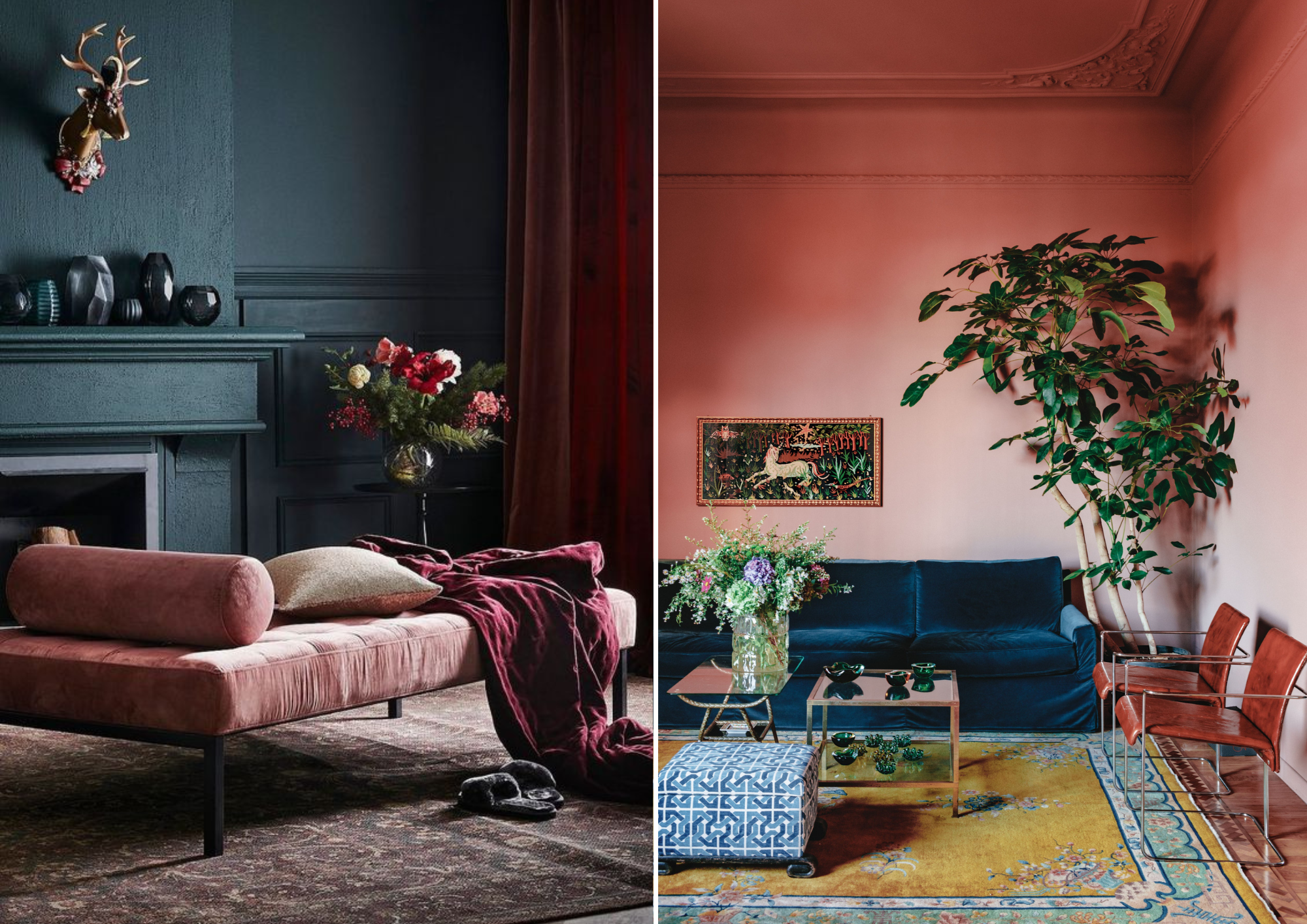 © Pinterest - © Apartment of the designer J.J. Martin in Milan by Matthieu Salvaing for AD Magazine
How to include magenta in your interior design?
Bright, vibrant colors are back in trend in interior design magazines. A far cry from minimalist and Scandinavian decor on white walls, magenta adds character to our interior design.
A powerful and stimulating color, Viva Magenta looks great in small touches in your home or office space.
As the centerpiece of the living room, the sofa is an important element of decoration and a touch of  magenta will give it character and brighten up the room. Bright color is always a great way to add a moody touch to a kitchen.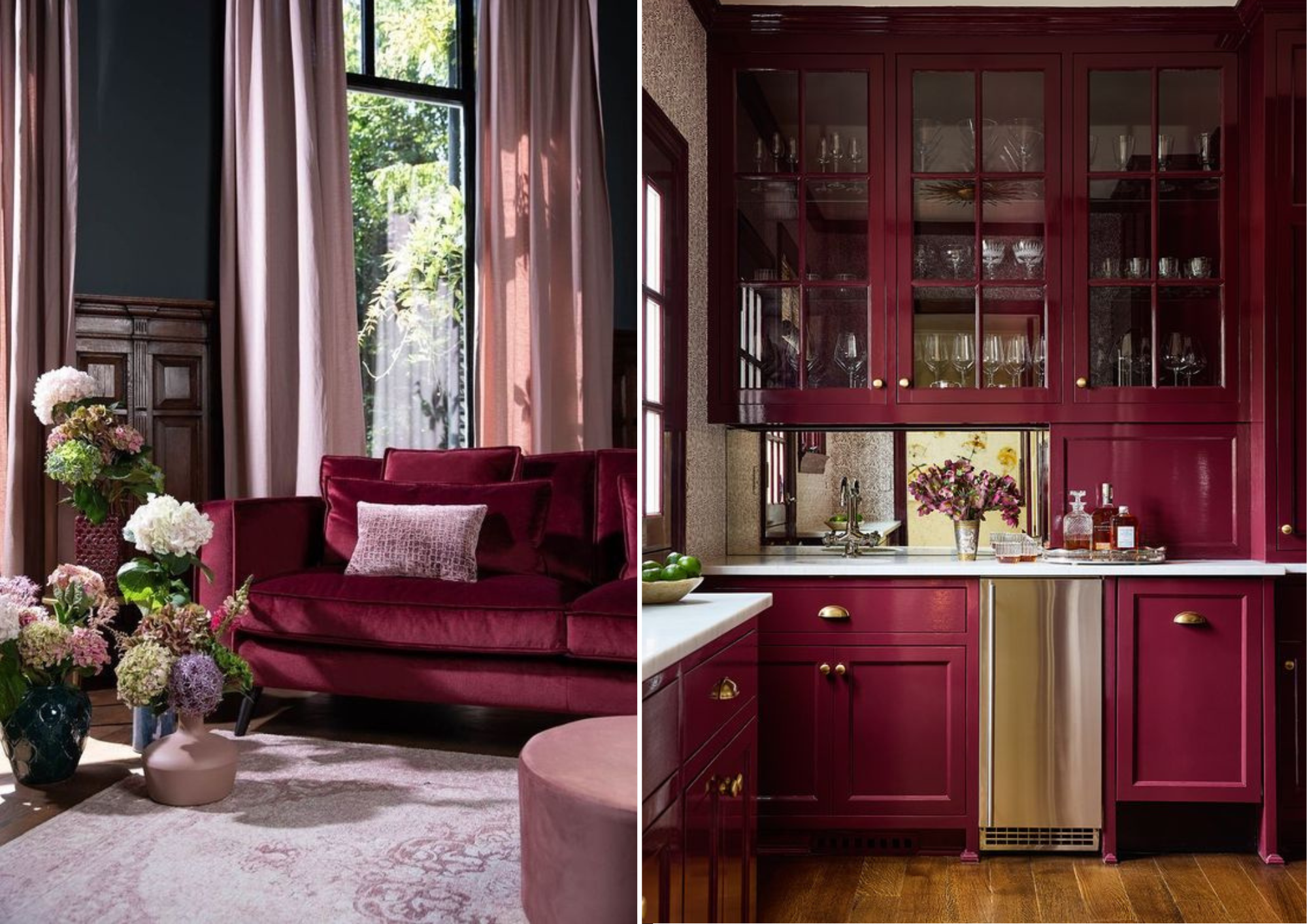 © Pinterest - © Room for Tuesday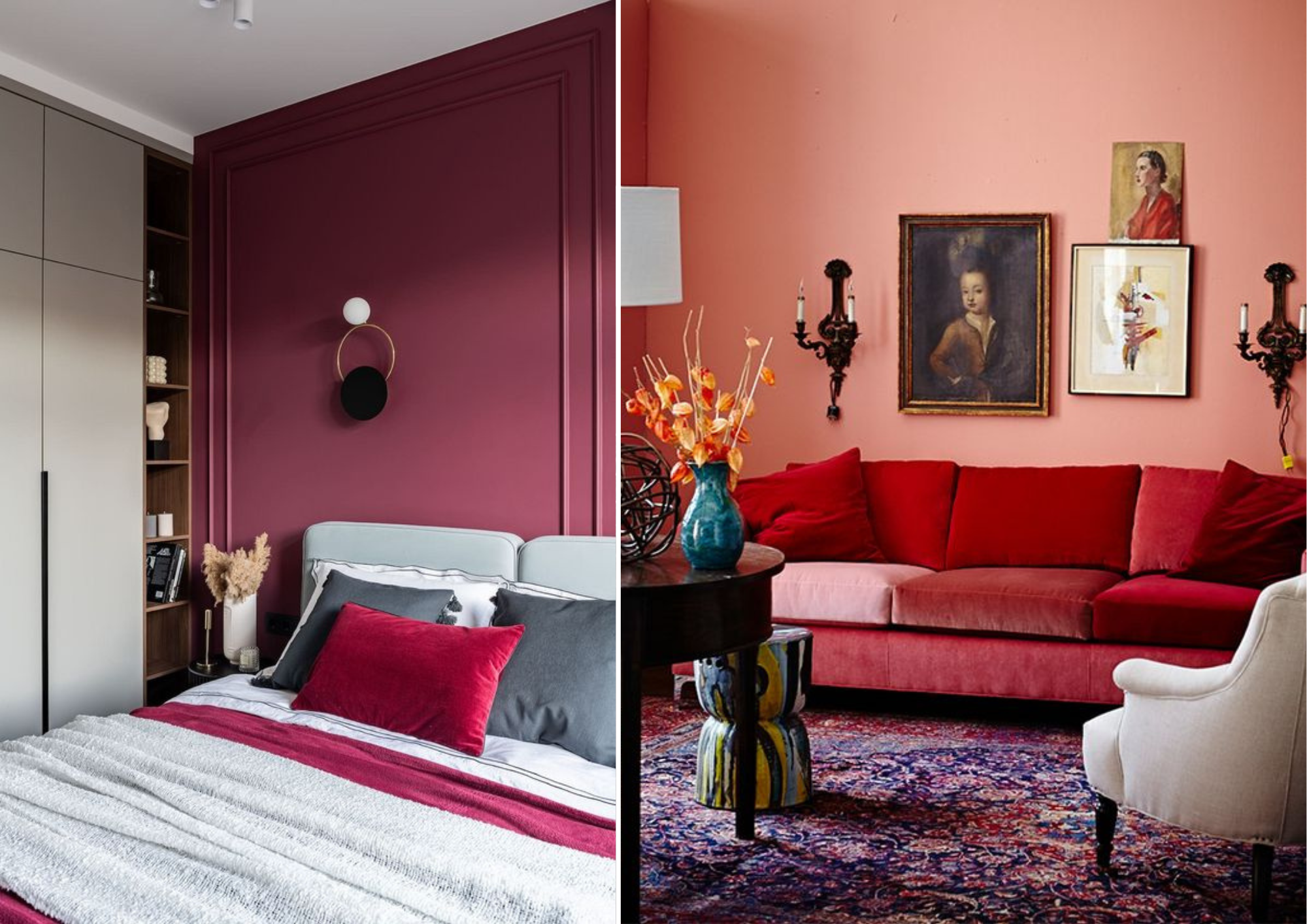 © Pinterest - © House and home
In the bedroom, lay out bed linens, Indian quilts and soft throws in variations of shades of magenta to warm up the atmosphere.
If you prefer small touches of color in your decor, use Viva Magenta to structure the space or draw the eye to a specific element. In a hallway, for example, this color enlarges the space if you use it on a single wall to create an optical effect and deepen the surface. Viva Magenta can also diffuse an invigorating energy inside your home.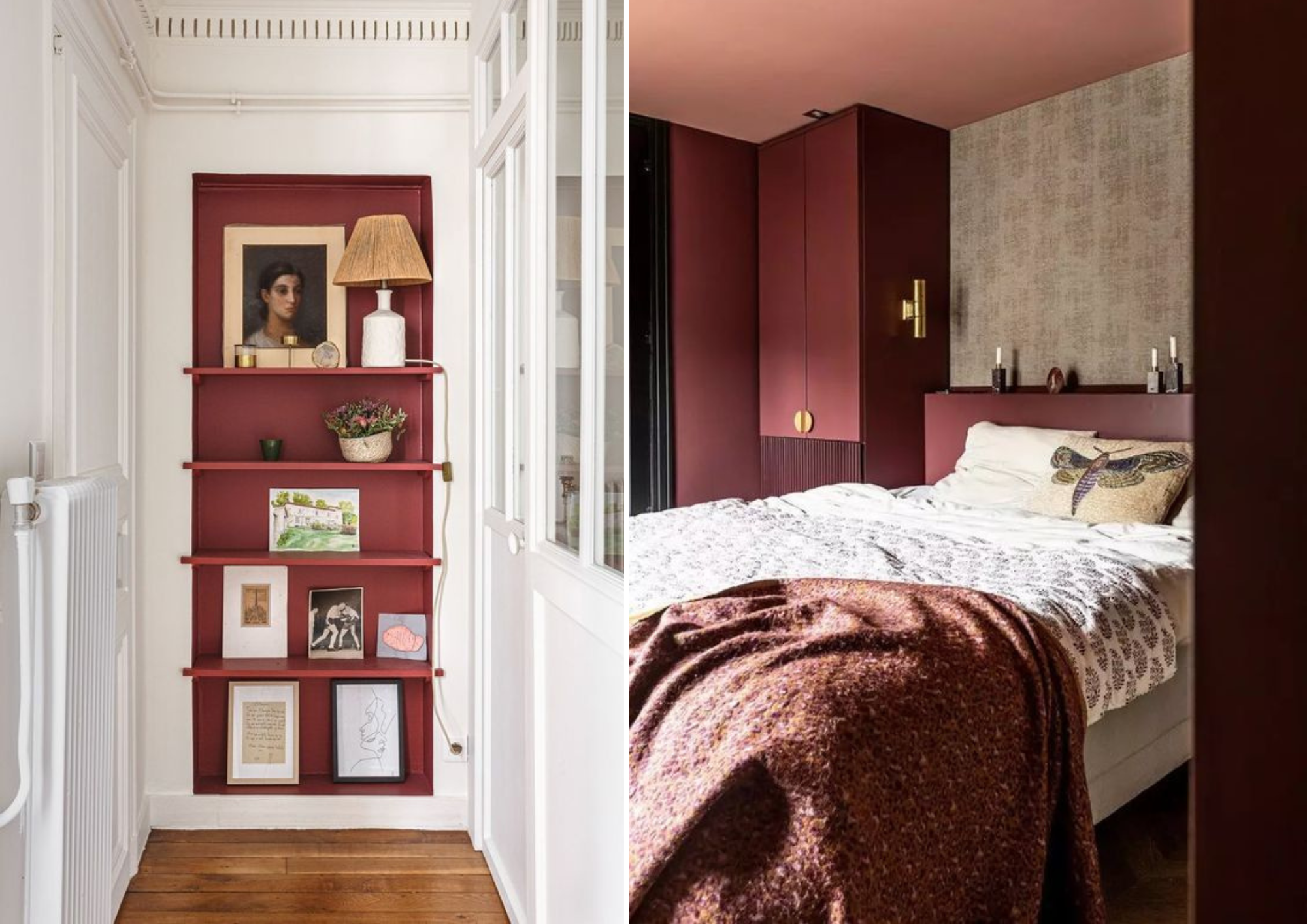 © Côté Maison - © Hackrea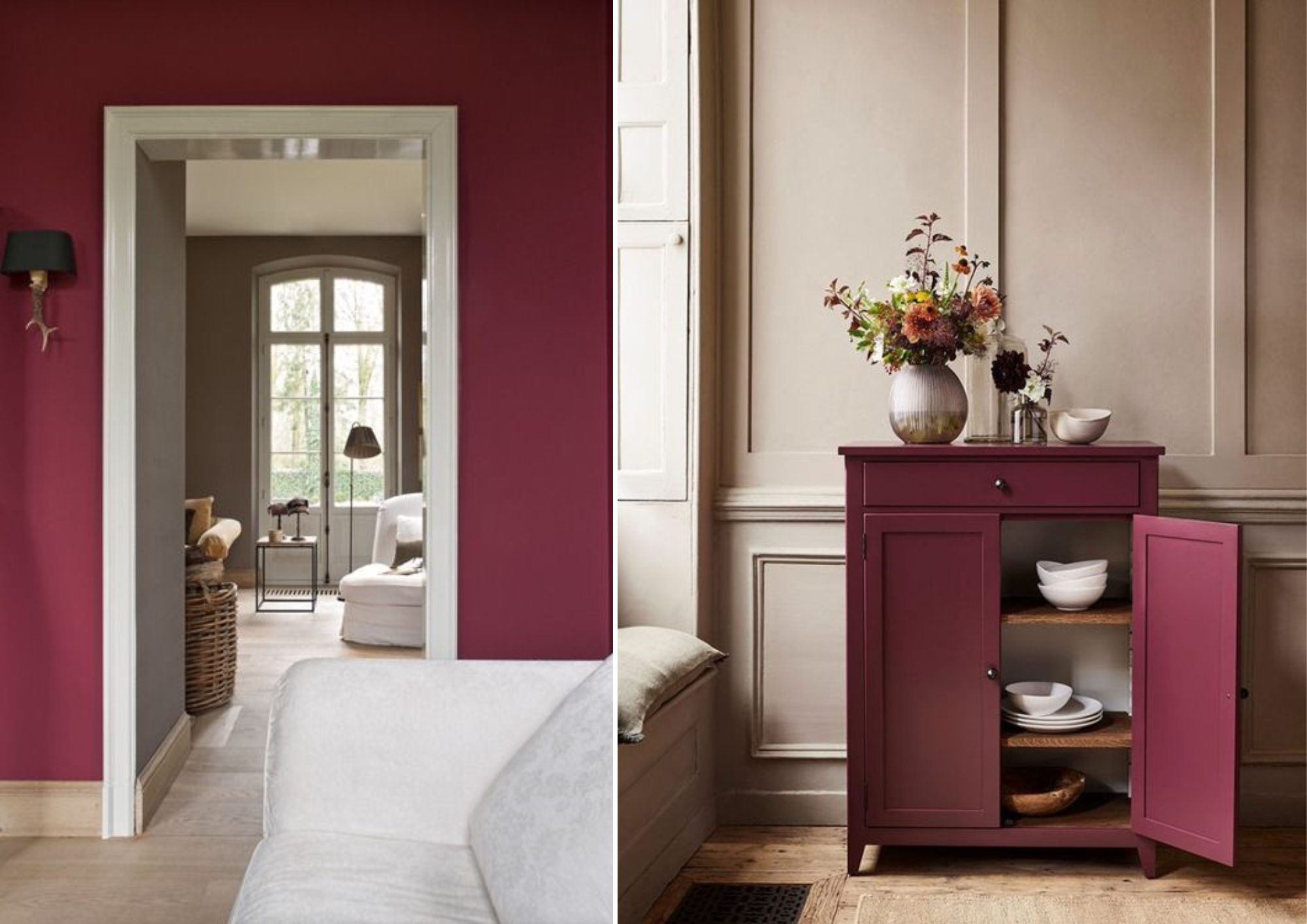 © Pinterest - © Planete deco
You can also go completely maximalist by focusing on strong pieces: sofas, armchairs, lamps or curtains in shades of magenta, yellow , or orange , mixed with small decorative objects such as Indian cushions or candles.
Find more colorful home decor inspirations on our Pinterest account.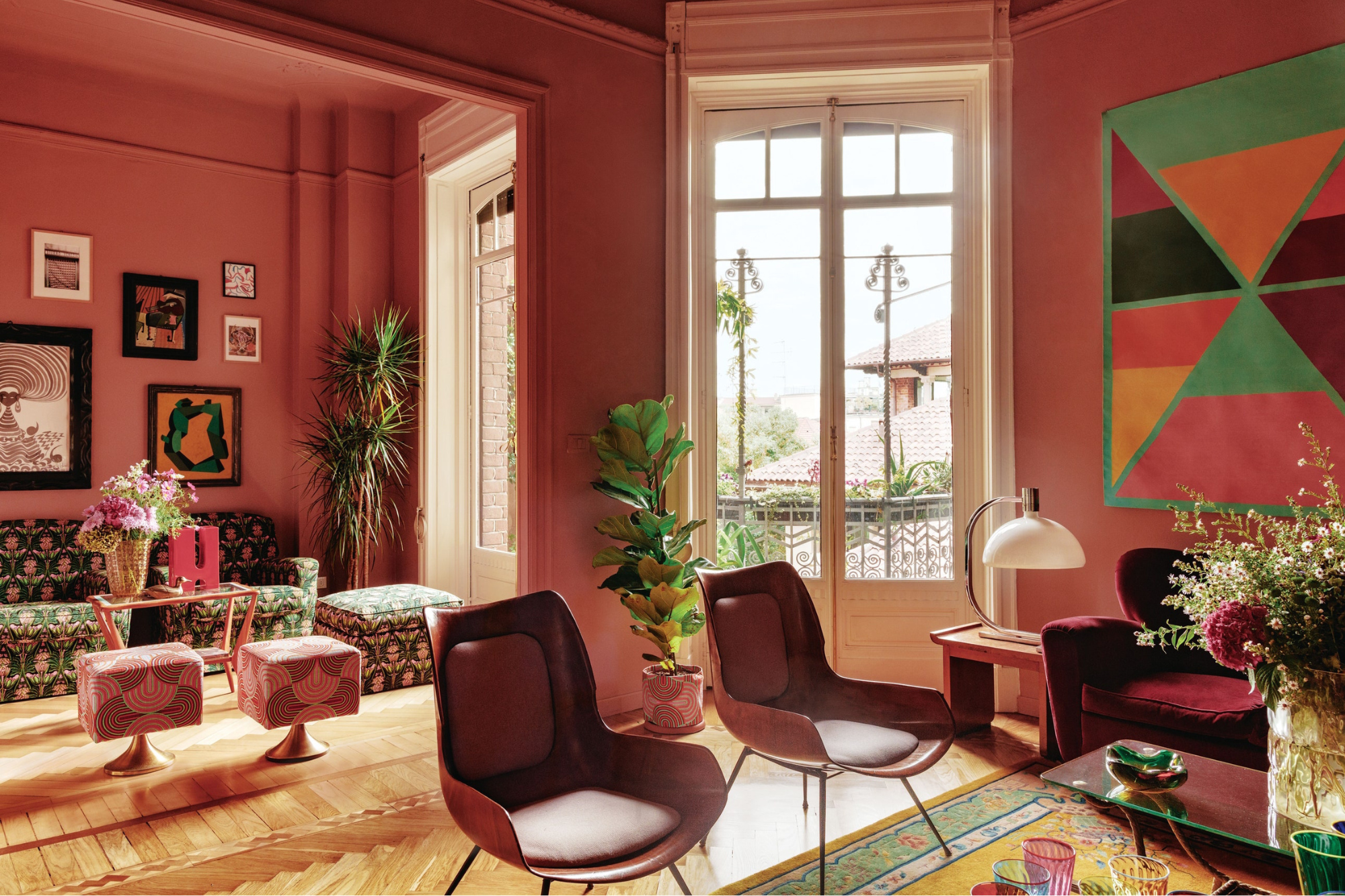 © Apartment of the designer J.J. Martin in Milan by Matthieu Salvaing for AD Magazine
Sources
https://www.en-vols.com/styles/pantone-couleur-2023-viva-magenta/#:~:text=PANTONE%20d%C3%A9signe%20la%20Viva%20Magenta,influencer%20les%20cr%C3%A9ations%20%C3%A0%20venir
https://deco.journaldesfemmes.fr/guide-amenagement-et-travaux/2657329-le-rose-magenta-en-deco-comment-l-utiliser-sans-se-tromper/#:~:text=Parfois%20appel%C3%A9%20fuchsia%2C%20ou%20rose,et%20renvoie%20%C3%A0%20la%20douceur
https://color-institute.com/signification-couleur-rose-magenta/
https://issuu.com/atelier3dcouleur/docs/22.livret_couleurs_d_inde
https://www.elle.fr/Deco/News-tendances/Pantone-2023-comment-adopter-la-couleur-Viva-Magenta-dans-sa-decoration
https://www.maisonapart.com/edito/decorer-s-inspirer-s-equiper/ambiance-et-style/viva-magenta---12-idees-deco-pour-adopter-la-coule-13184.php?page=13