Women's voice
The Jamini story begins with our founder, Usha Bora, who left her native India for France. Her creativity and entrepreneurship spirit accompanied her and helped realize her dream : to create a harmonious alchemy of the 2 cultures she loves - Indian and French.
Usha has surrounded herself with talented, joyous and hardworking women of many origins and ages. She has created a female solidarity that transcends cultures to share a common set of values.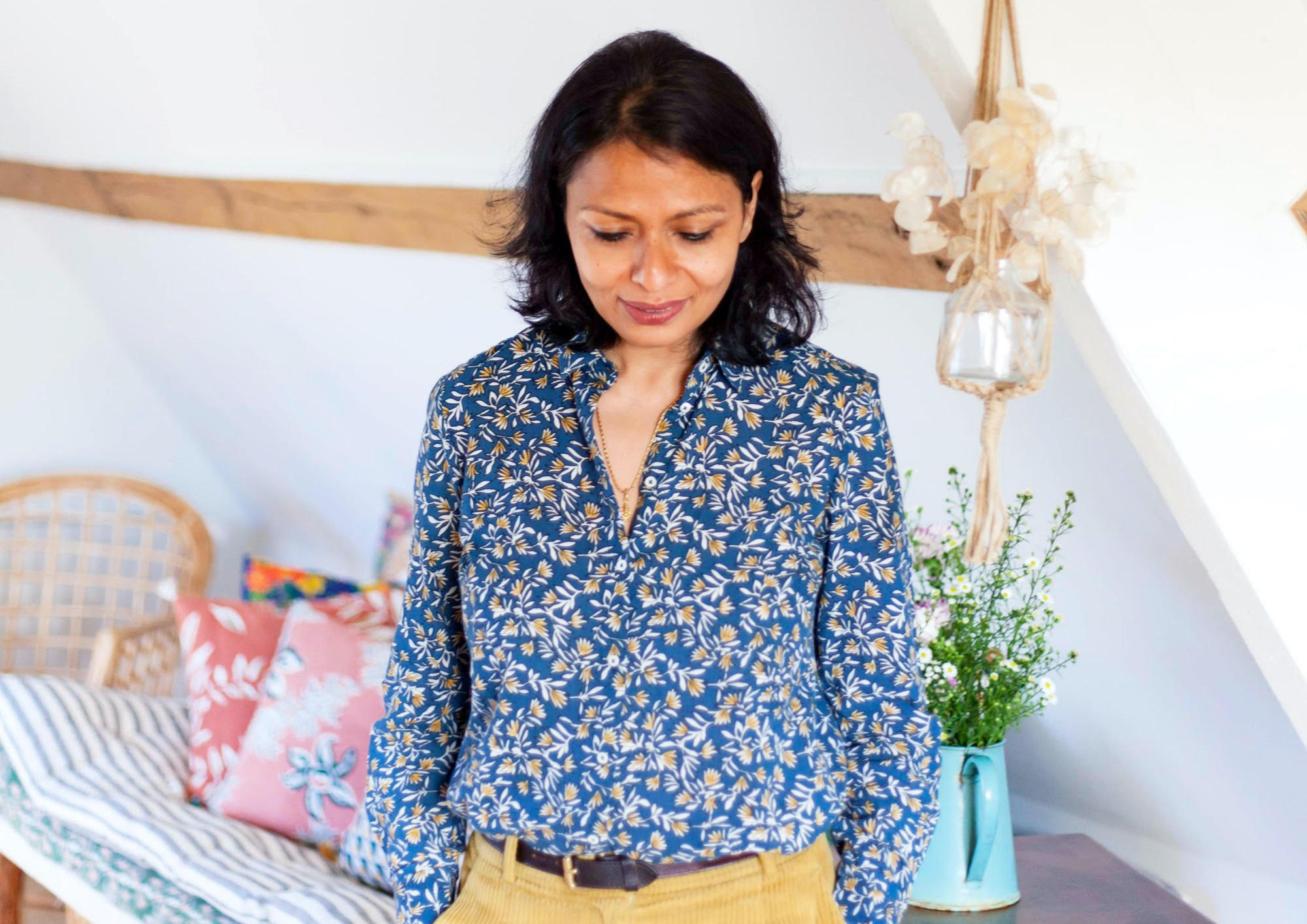 Usha Bora © Mathilde Dartois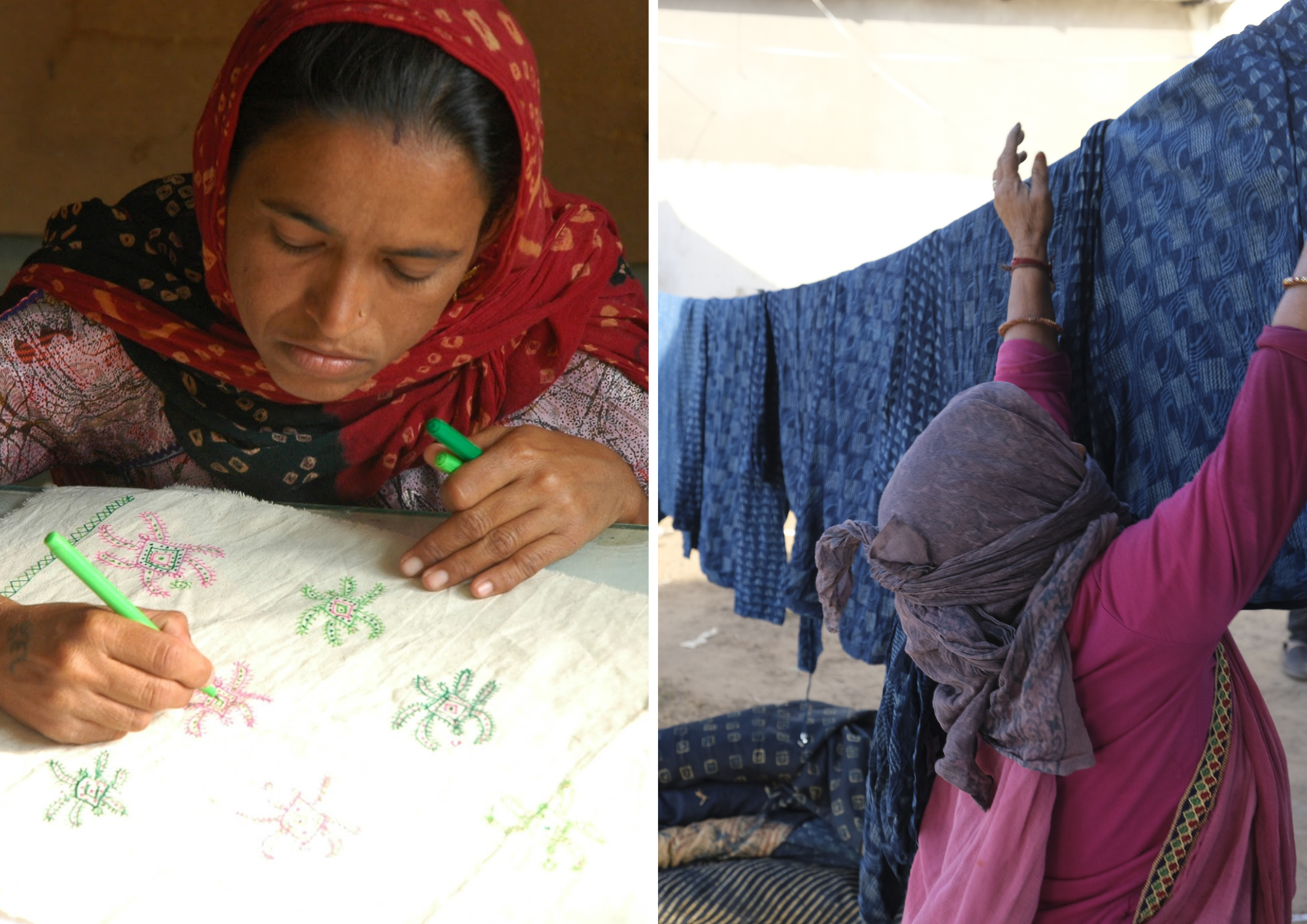 © Sophie Denux
Discover the spirit of the many women to make the Jamini story : the smiles of the weavers in Assam, the embroiderers of the Rabari tribe in the Kutch desert, the expertise of the craftswomen who make our eco-friendly notebooks from recycled paper, and the amazing Jamini team in Paris. Emmanuelle, associate and vice-president, joined Jamini a few weeks ago. She is a strong and talented woman with unparalleled strength of character. Meet her through an inspirational interview.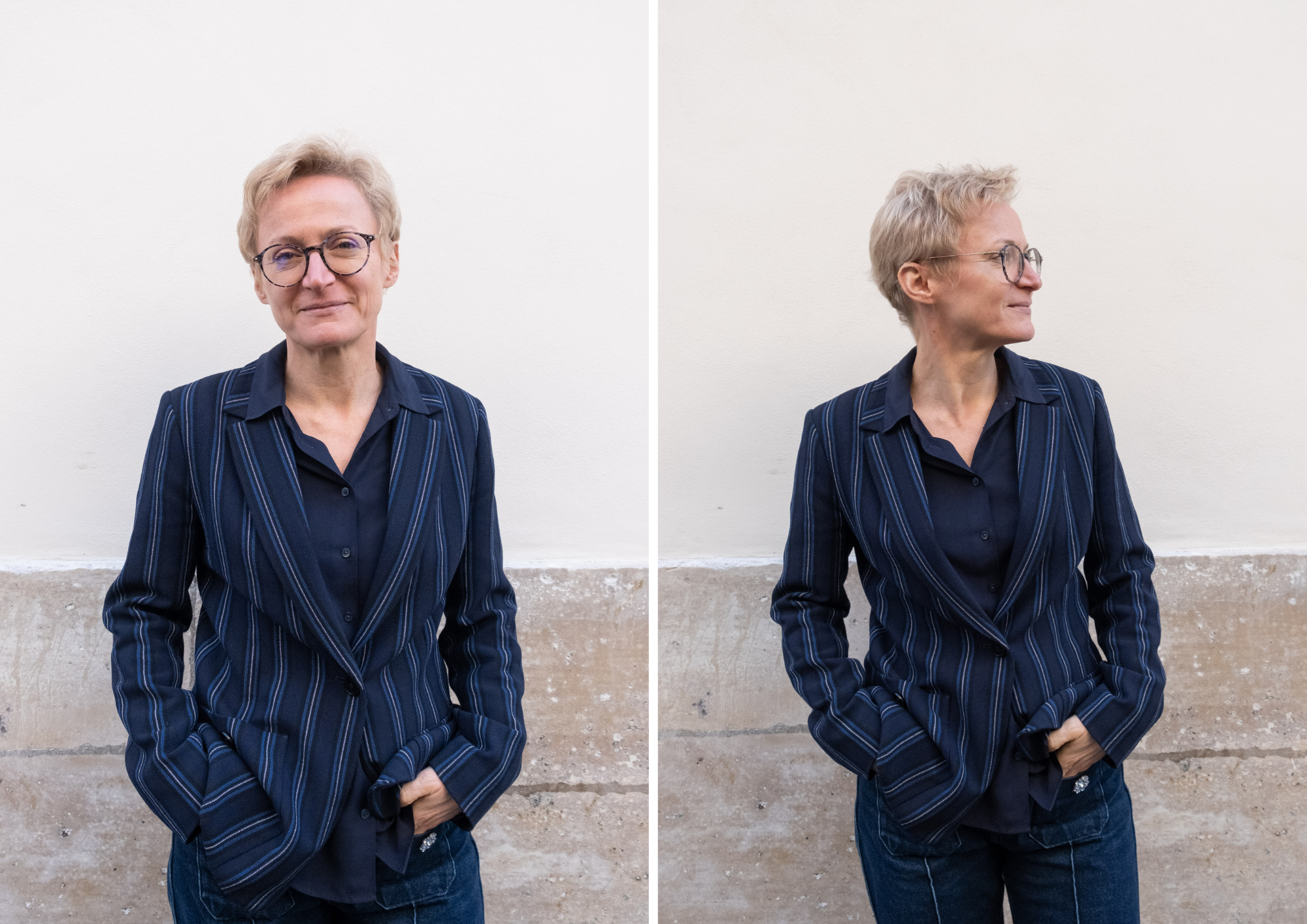 Emmanuelle, associate and vice-president of Jamini © Muna
Emmanuelle, what is your background ?
My journey started last century, in the watch industry, when I joined Tag Heuer, small company, big energy, those of you who were born at that time may remember the fantastic motto of the brand "Don't crack under pressure", which is still, 25 years later, a good advice to follow in today's world ! For this job, the interview with the CEO took place in a small café in Paris on a rainy Saturday morning, and a few days later I announced to my companion "see you soon, I'm leaving for Switzerland, I don't know for how long".
And to be honest, with my engineering background, I had no idea of operational marketing, nor of sales, nor of watchmaking, nor of Swiss German, and I signed up for a position as sales manager for the American continent. I loved it. I came back 4 years later, found my friend in the same apartment where I had left him, and we are now happily married! What I learned from this period is that it is often worth daring, taking personal and professional risks, that can lead to very nice surprises. That 30-minute interview in that café opened to me the magic door to luxury, and set the tone for my professional life path.
Then, from watches to jewelry and high jewelry, I had the chance to contribute to the creation of a brand new International Retail Department at Cartier in Paris. It was my first real experience in retail and merchandising. Among many other things, I learned the importance of building a very strong connection between the field, the operational teams in the markets and the central organization, a win-win connection between complementary expertise, it's incredibly powerful.
My adventure then continued at Louis Vuitton for 15 years, 6 positions and 12 different managers, mainly in Retail Management and Supply Chain ... and some babies to raise. I am still amazed by the ability of a great luxury brand like LV to continuously reinvent itself, exploring new territories and new product categories every year, thanks to the strong convictions of a leader: anything is possible as long as you believe in it and allow yourself to make mistakes.
During my years in Retail Management at Louis Vuitton, I realized the importance of setting an example, especially with large teams, leading by example not only by following the guidelines and processes set, but also by the generosity you show to the team and to the customers, by sharing your convictions, your energy and your ability to admit your mistakes, your doubts.
The journey continued at Parfums Christian Dior where I had the chance to discover the exciting world of perfumes and cosmetics, doing my best to spread a culture of retail and its best practices, in a company focused on products and wholesale.
My greatest pleasure, in my last position at Dior as International Training Director, was to be in the field, with the regional training teams, to feel their passion, their energy, their commitment to the Company. Then Chanel Parfums Beauté to reorganize and take charge of the International Retail and Learning Department.
Very beautiful companies, very beautiful projects, very beautiful encounters, and then the desire to evolve towards a more obvious and immediate positive impact on the business and the teams than can be achieved in large structures, hence my evolution towards the very beautiful Lanvin House as COO, an experience that turned out to be a key intermediary step towards the real entrepreneurial adventure that I am so happy to live today at Jamini.
Has being a woman had an impact on your professional life ? Which one(s) ?
Yes and no. I have been very fortunate in my career, through the encounters I have had and the professional opportunities I have been offered. The fact that I am a woman has never been a hindrance in itself. It has been and still is a strength that is reflected in the solidarity between my female colleagues and my constant desire to make the team succeed as a whole. Moreover, being a mother of 4 children has always given me incredible strength and energy, the ability to challenge myself regularly, and an openness to difference that I would probably not have had without my children. My professional life and my personal life have never ceased to be self-sustaining. And, I must confess, I would never have lived this journey without the complicit contribution and unfailing confidence of my partner
What is your vision of female management ?
I think that there is no such thing as female management per se, but rather multiple ways of making it happen. Without falling into the trap of generalities, I like to think that a female manager has both a strong sense of responsibility and a natural need to share, involve and work as a team. A more obvious understanding of the personal life realities of each member of her team.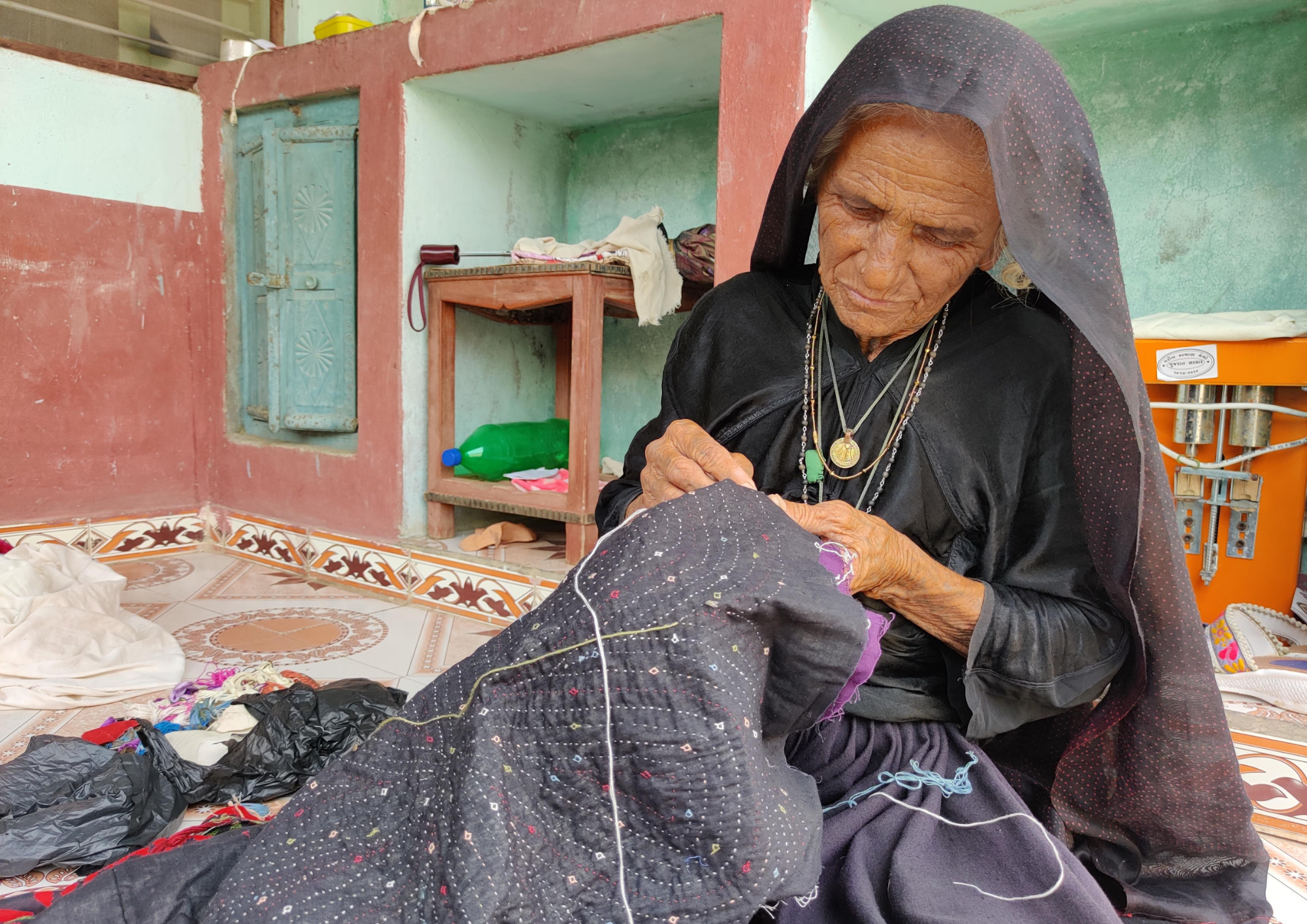 Rabari woman from the Kutch region © Kala Raksha
How and why did you decide to join the Jamini adventure ?
It's again a story of encounter and bet ! A friend told me about Usha and her search for a partner to continue the adventure, we met, got to know each other, and we found eachother. My curiosity pushed me to the first meeting, the following allowed me to realize that Jamini concentrated everything that is important to me: a brand that makes sense, an entrepreneurial adventure, a collection that I am proud of, a great team that works efficiently without politics and false pretenses, a visionary founder with amazing creativity, a huge business potential, in short it was for me! Don't they say that nothing happens completely by chance ?
What is your favorite product ?
Since I have to choose one, I would say the table mat! I love to entertain, to cook, to share. The table mat in its principle allows this conviviality while personalizing the place of each one. Mixing table mats brightens up the table and makes it happy and elegant. It's like a card game that you win every time !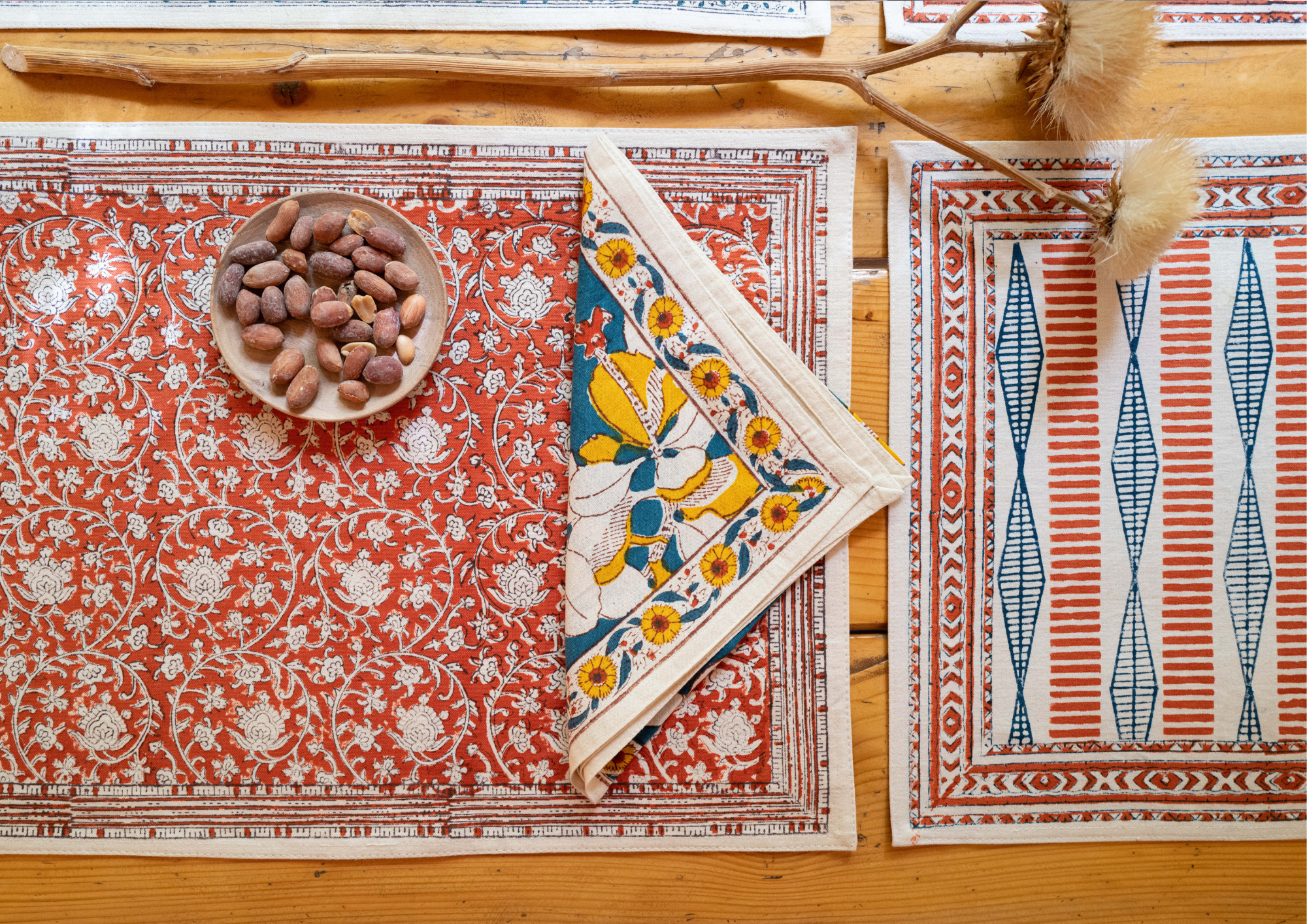 Table mat Choti brick © Sophie Denux
What do you imagine for the future at Jamini ?
Lots of beautiful things ! Jamini's creations can be used in many areas, even beyond decoration, homewear and accessories. We're going to enrich our offer and continue to take our community of customers and partners on a journey. There are many territories to explore. And our approach will always remain anchored on our founding pillars: handmade products, natural materials, support for artisan communities, and India as the main country for the crafts we explore.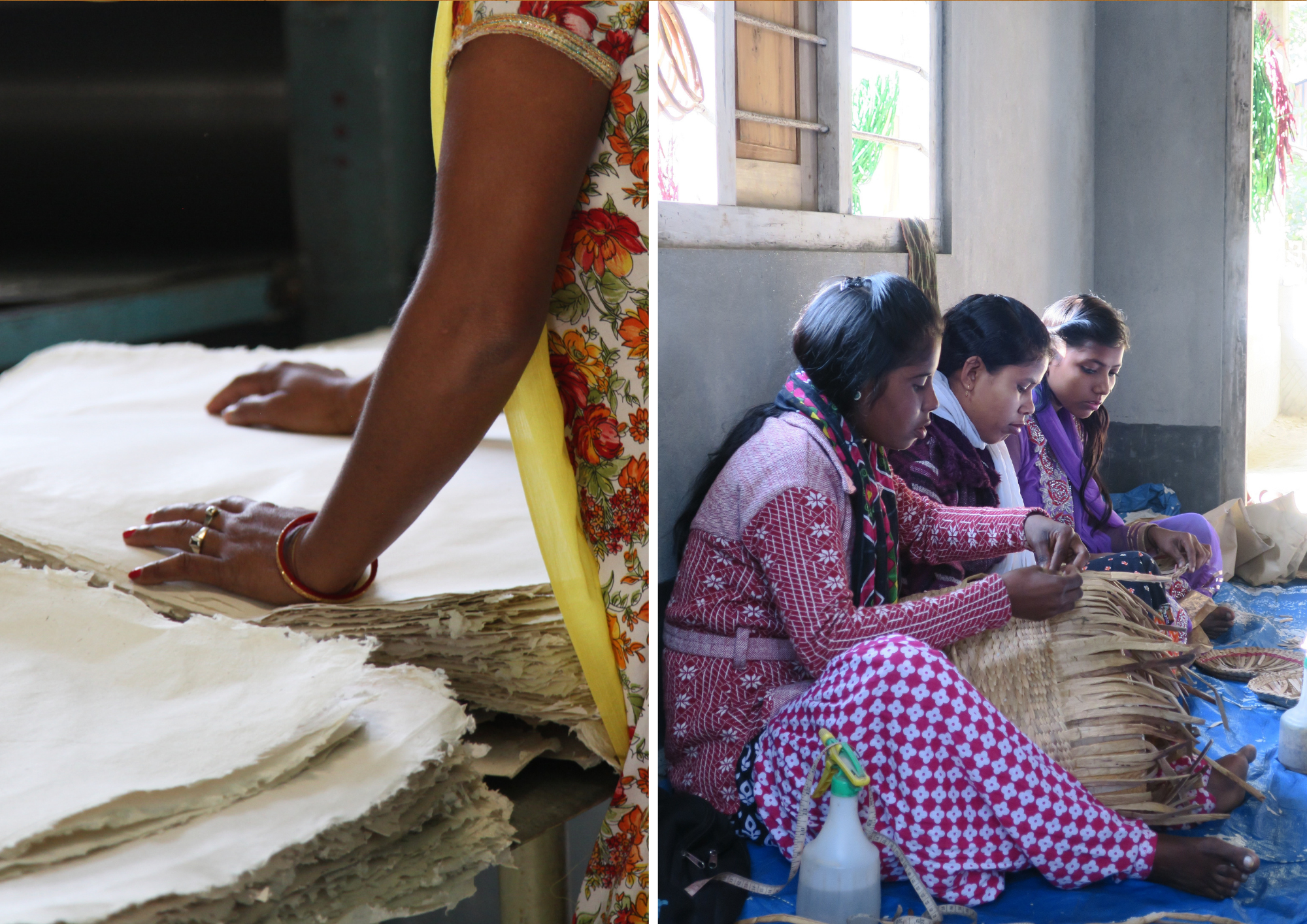 © Sophie Denux