Happiness therapy in the kitchen
The kitchen is the centerpiece of our homes. It is a perfect place to meet for breakfast with family, scour through recipe books in order to prepare good meals or share an aperitif and chat with friends. This season, the kitchen reveals its convivial character and showcases new trends of interior decoration. Colorful and striking kitchens dare to stand out with recycled materials and textures.
Here are a few interesting trends in kitchen decor :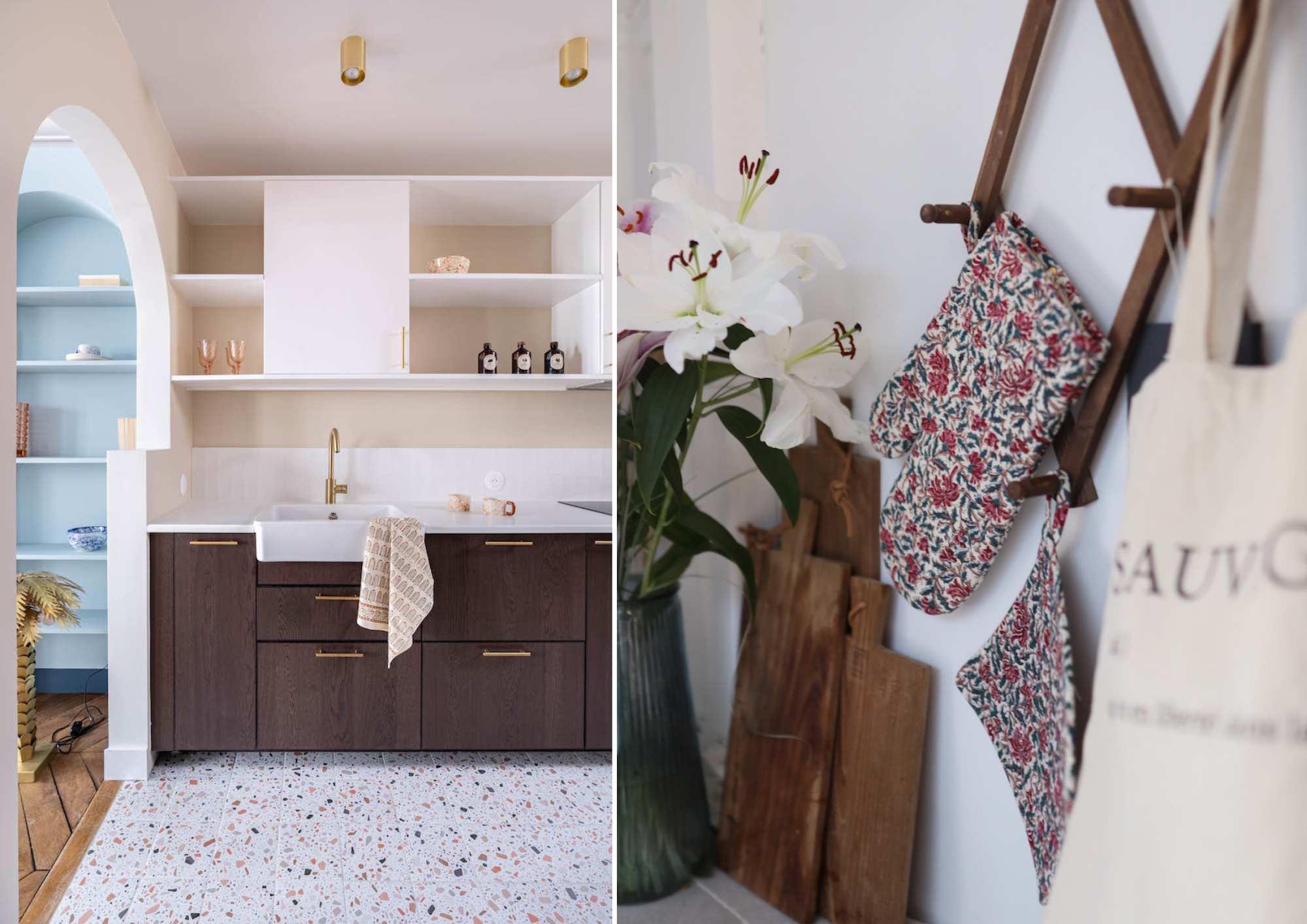 Towel Bootie olive - © l.innocente_laura for Beaurepaire Intérieurs - Kitchen glove and hot plate holder Reema © Aswildchild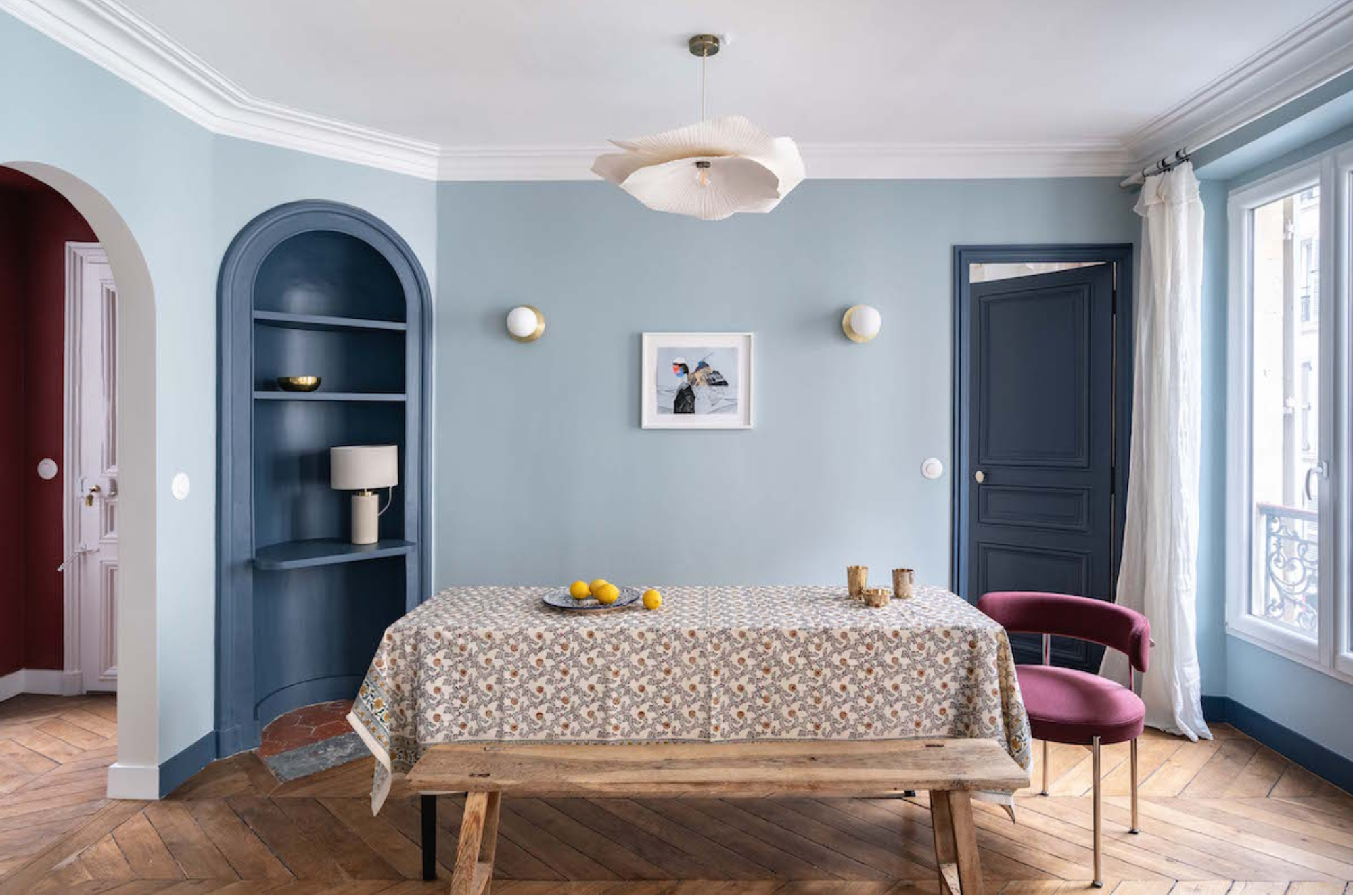 Rectangle tablecloth Anima - © l.innocente_laura for Beaurepaire Intérieurs
The kitchen is often a multifunctional room in the house and must be ergonomic, and cleverly organized, while including personal touches. It is a place where we need to feel good.
Mix & match ambiance in the kitchen
There is a very simple way to bring color to your kitchen : add linens and kitchen accessories ! Trivets, kitchen towels, oven mitts, napkins… These decorative accessories dress up your kitchen. Create a color palette that will highlight and contrast the atmosphere of your kitchen.
Vibrant colors and floral patterns balance the neutral atmosphere of a Scandinavian kitchen. The warm side of a boho chic kitchen with wooden materials works really well with cooler tones such as duck blue combined with graphic motifs.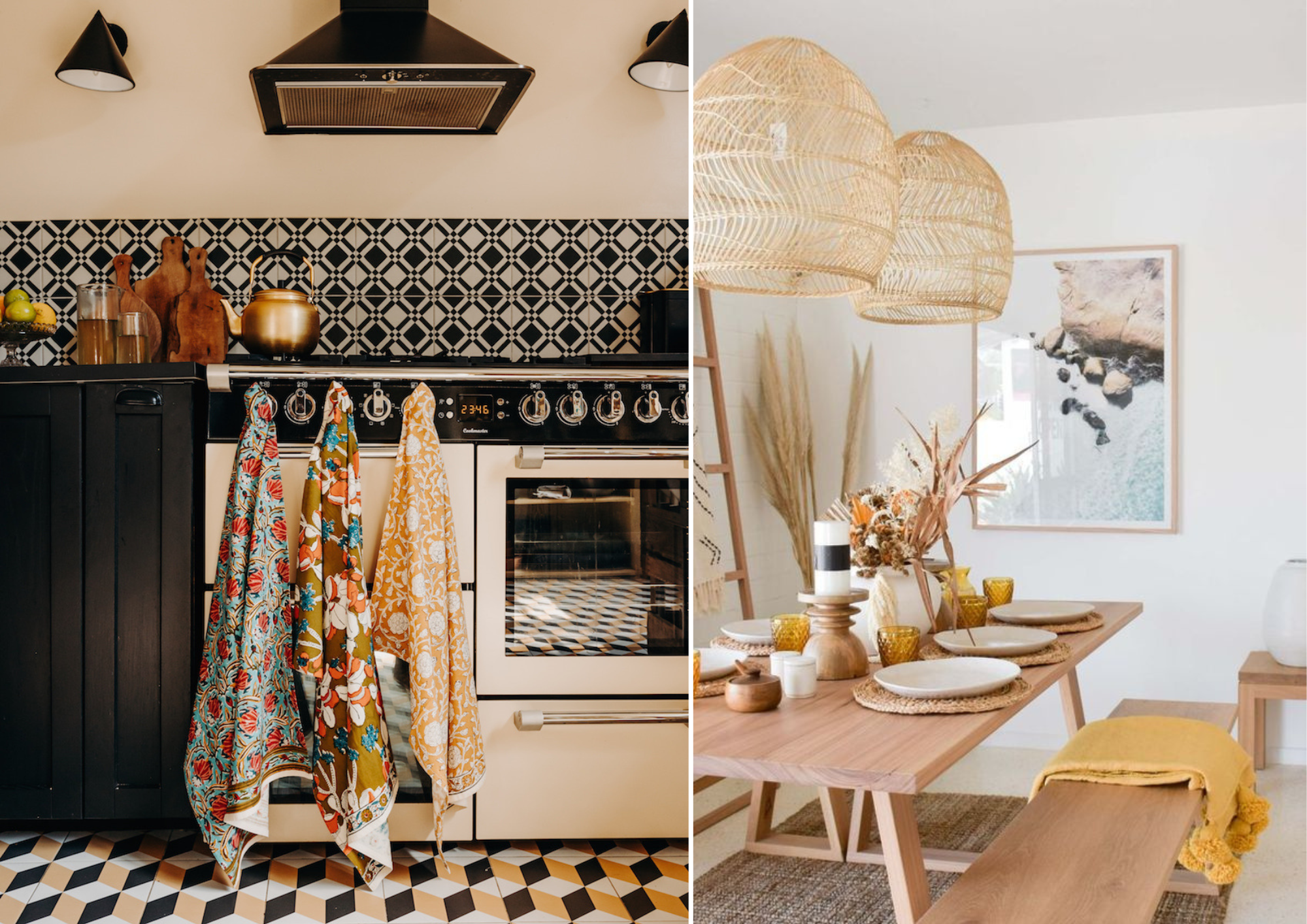 Kitchen towels © Lili in Wonderland - © Yellowgirl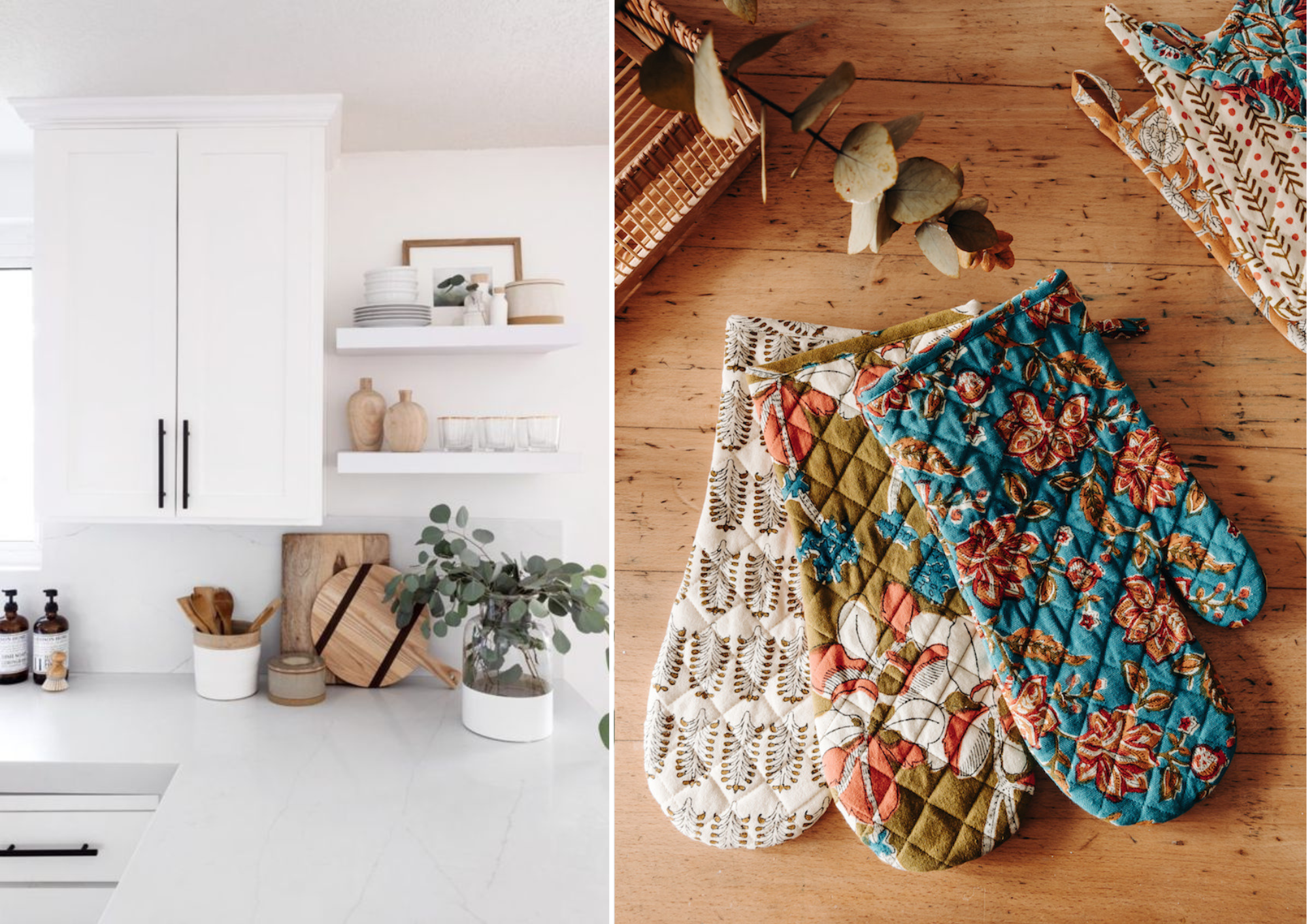 © Halfwaywholeistic - Kitchen glove Rang © Lili in Wonderland
Color asserts itself in the kitchen
Tiles and ceramics help protect kitchen walls and work as major decorative elements in kitchen styling and decor. Terrazzo, a mixture of stone, marble and cement, is making a strong comeback this season !
For a colorful kitchen, create and design color blocks for using furniture and elements in terracotta, bronze, duck blue or olive green. We are inspired by interiors which create a refined decor using interesting shades of color to create a wam and inviting ambiance.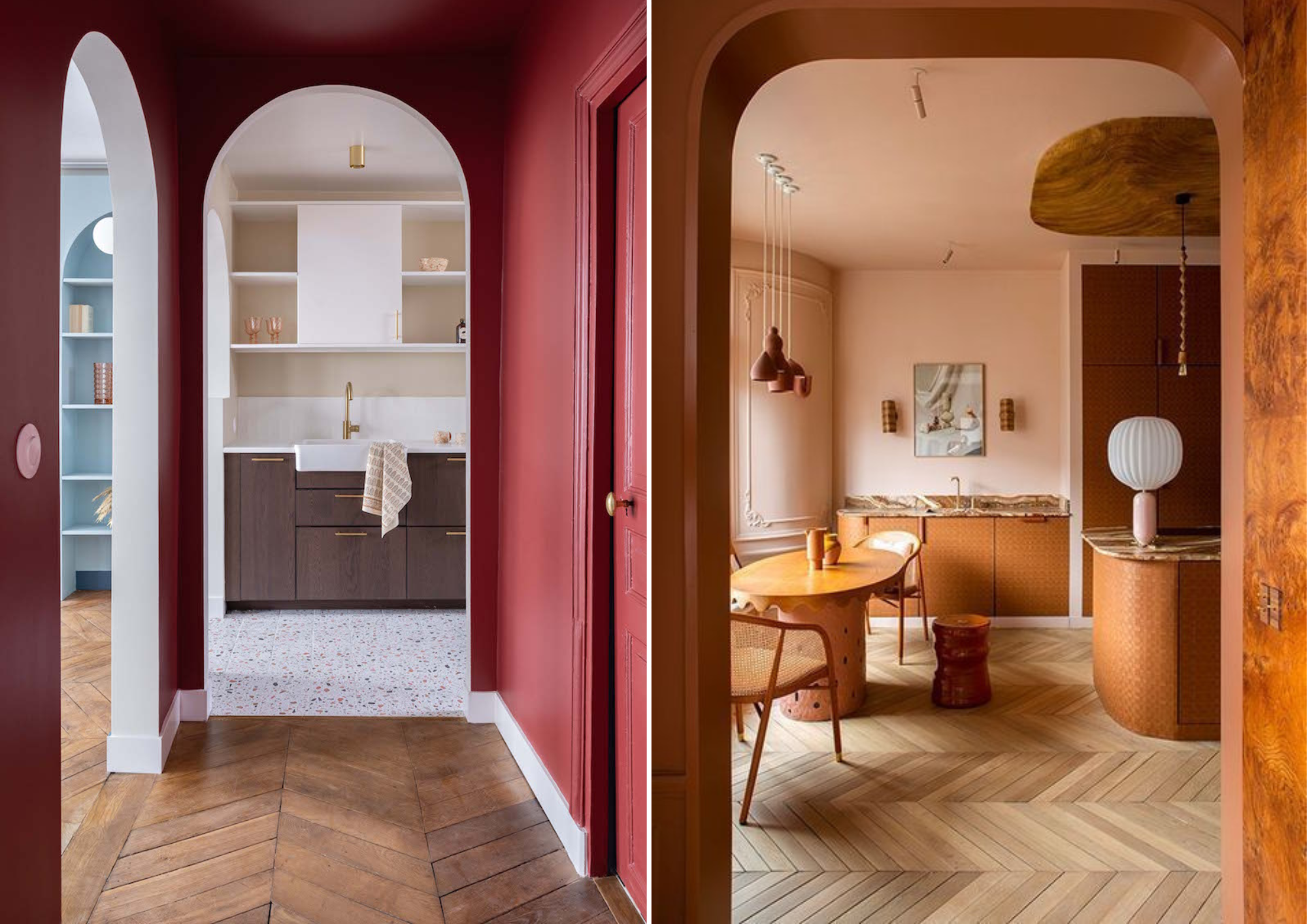 Towel Bootie olive - © l.innocente_laura for Beaurepaire Intérieurs - © Yves Duronsoy for Elle Déco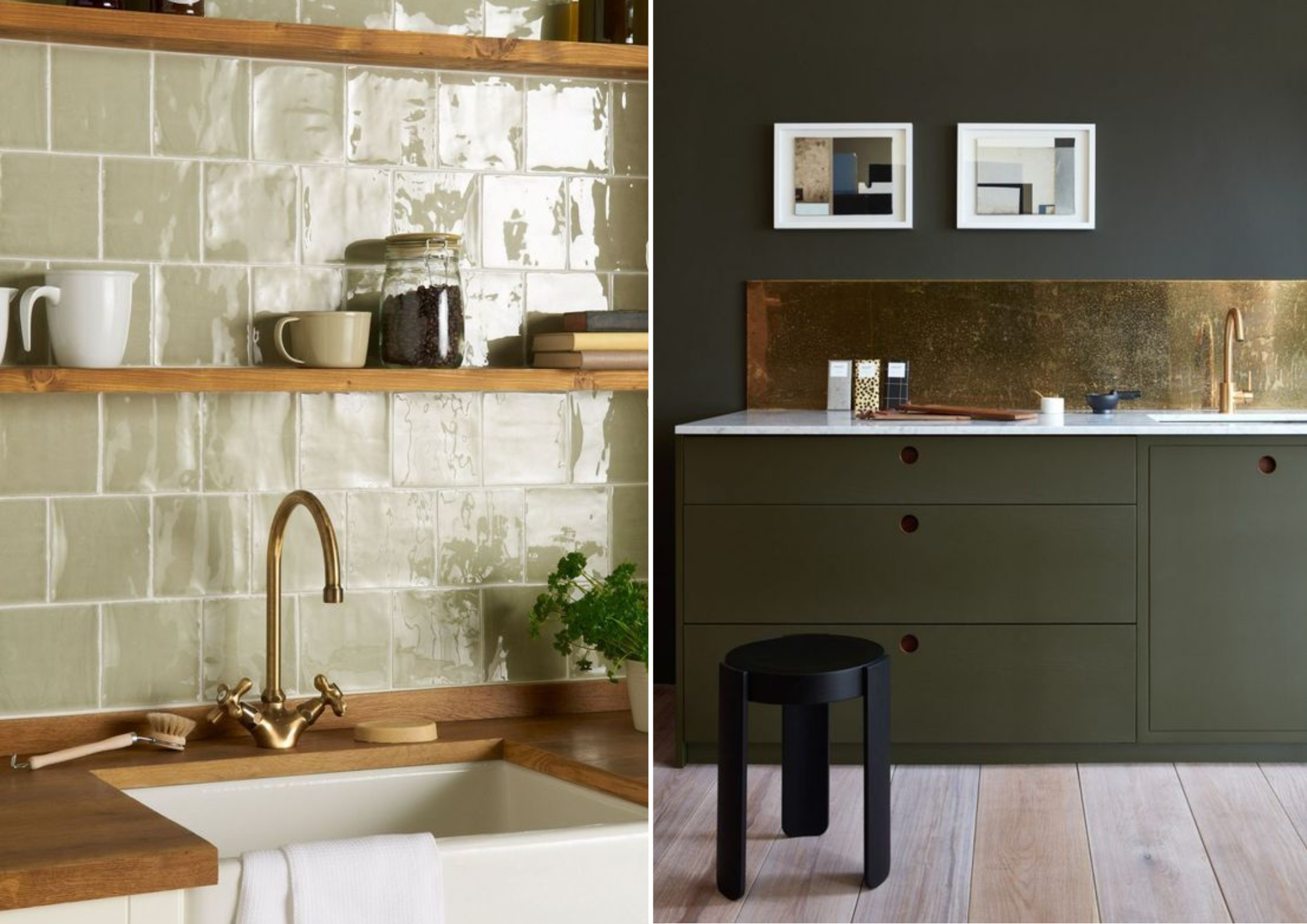 © Côté Maison - © Turbulences déco
Culinary art takes shape
Use napkins or table runners that suit your space, as essential elements to set a beautiful table and create your own special artwork.
Our favorite decoration trend : a bohemian chic table ! Warm, cozy and friendly, this style of kitchen decor uses colorful and flowery table linens for meals that remind us of travels and freedom.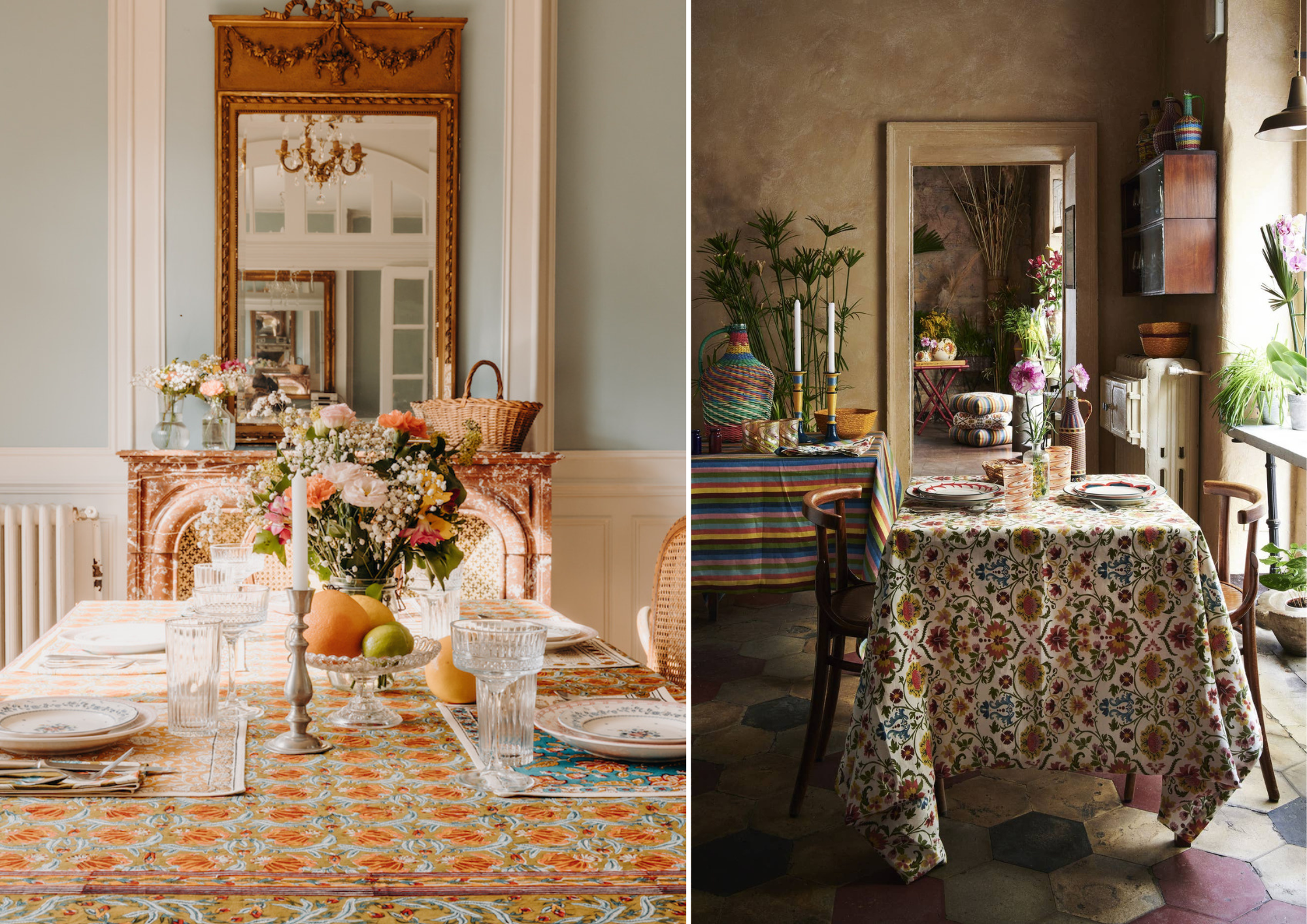 Rectangle tablecloth Jaipur olive © Lili in Wonderland - © Refinery 29
Enhance your table decor ! Don't hesitate to accessorize it with interior decoration elements such as napkins, vintage tableware, candles and pretty flower bouquets.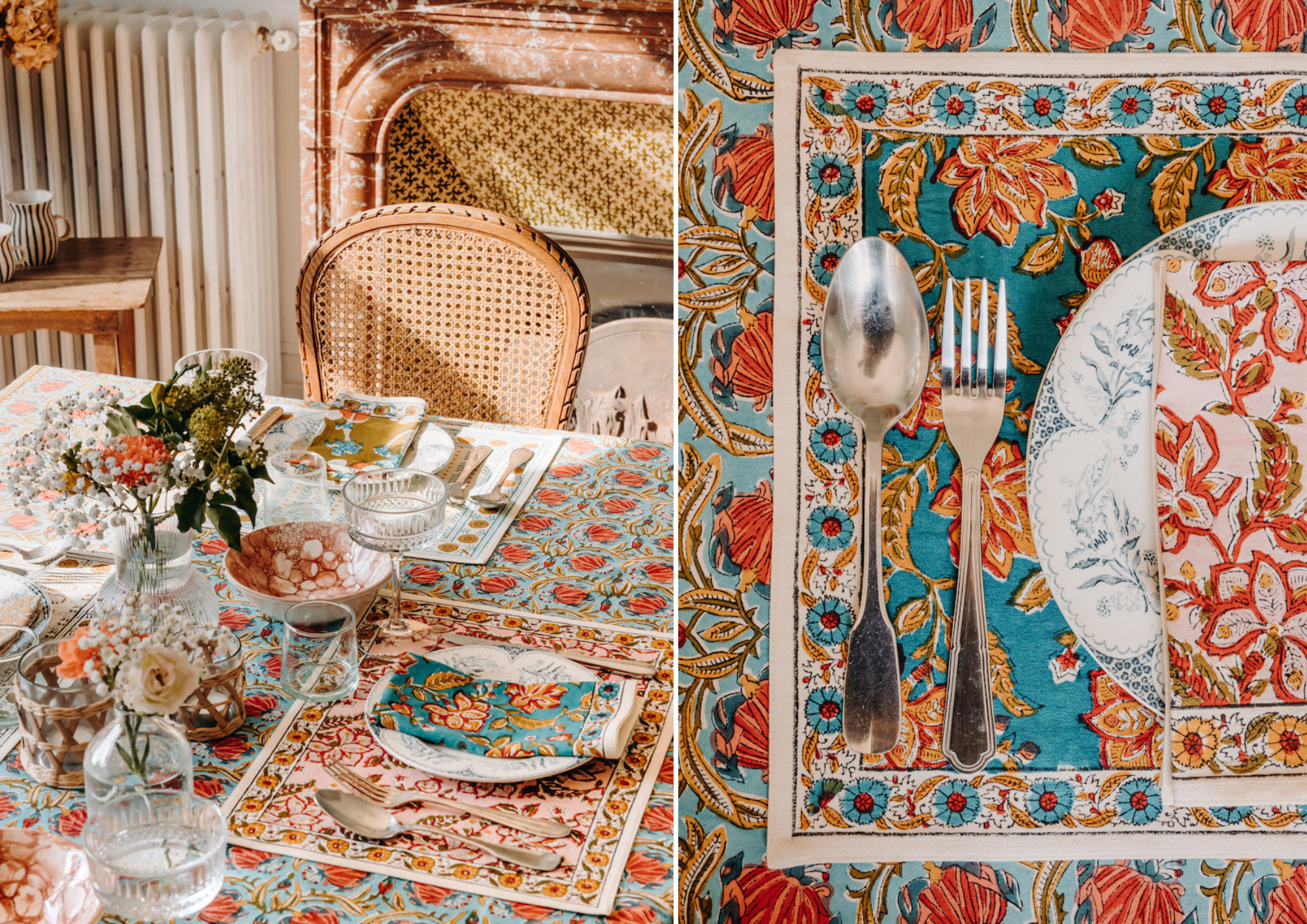 Table mat Rang pale pink, napkin Rang pale pink © Lili in Wonderland
Cottagecore style
Discover the cottagecore trend! This country style with a minimalistic touch is inspired by English interior trends. It is very popular in interiors this year and makes us dream of countryside homes, natural materials, and a cozy, eclectic atmosphere.
At the heart of the cottagecore trend is a palette of soft colors in floral patterns, wooden elements, and upcyled vintage and decorative pieces.
A poetic and dreamy setting, perfect for delightful sunny afternoons. More inspiration on our Pinterest account.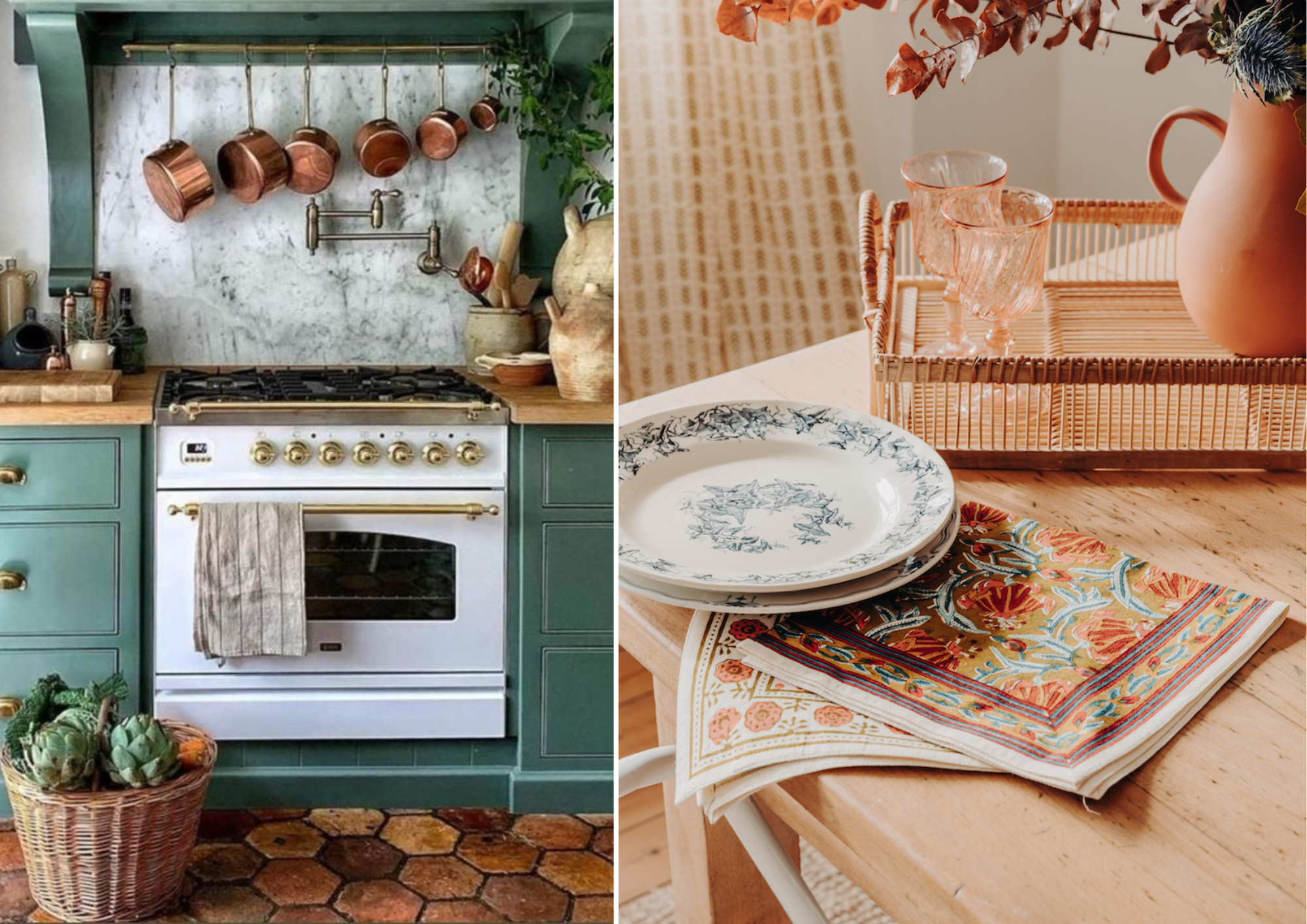 © Pinterest - Napkin Jaipur olive © Lili in Wonderland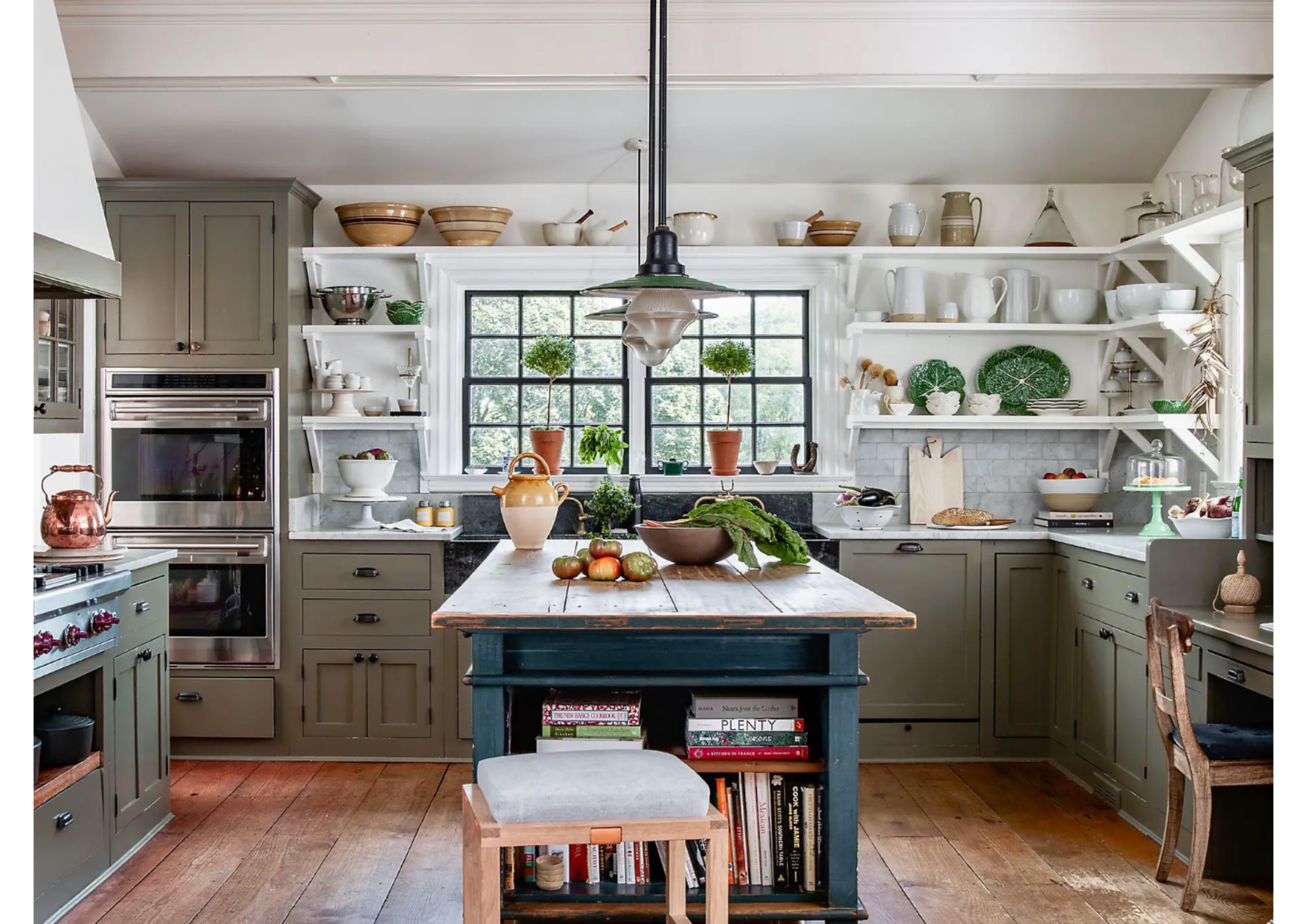 © Planète déco