Inspiration and poetry : flowers in the Mughal Empire
India is a formidable cultural cradle where Hindu, Buddhist, Muslim, Persian and Christian influences have converged for centuries. The state of Rajasthan, for example, has an exceptional heritage that is reflected in the sumptuous buildings that adorn its cities.
The Mughal Empire ruled in India from the 16th to the 18th century, the. To build their mausoleums and mosques, the Mughal rulers needed Indian builders and expert sculptors, who were used to building stone temples. One decorative element in particular linked craftsmen from these two great civilizations: flowers. In India, flowers have always been an inexhaustible source of inspiration for artisans and their crafts, and influenced paintings, weaves, sculptures and engravings.
Here are a few examples of the finest collaborations : result of a formidable fusion between Mughal and Hindu artistic movements, which show us all the beauty created by mutual respect and a common vision.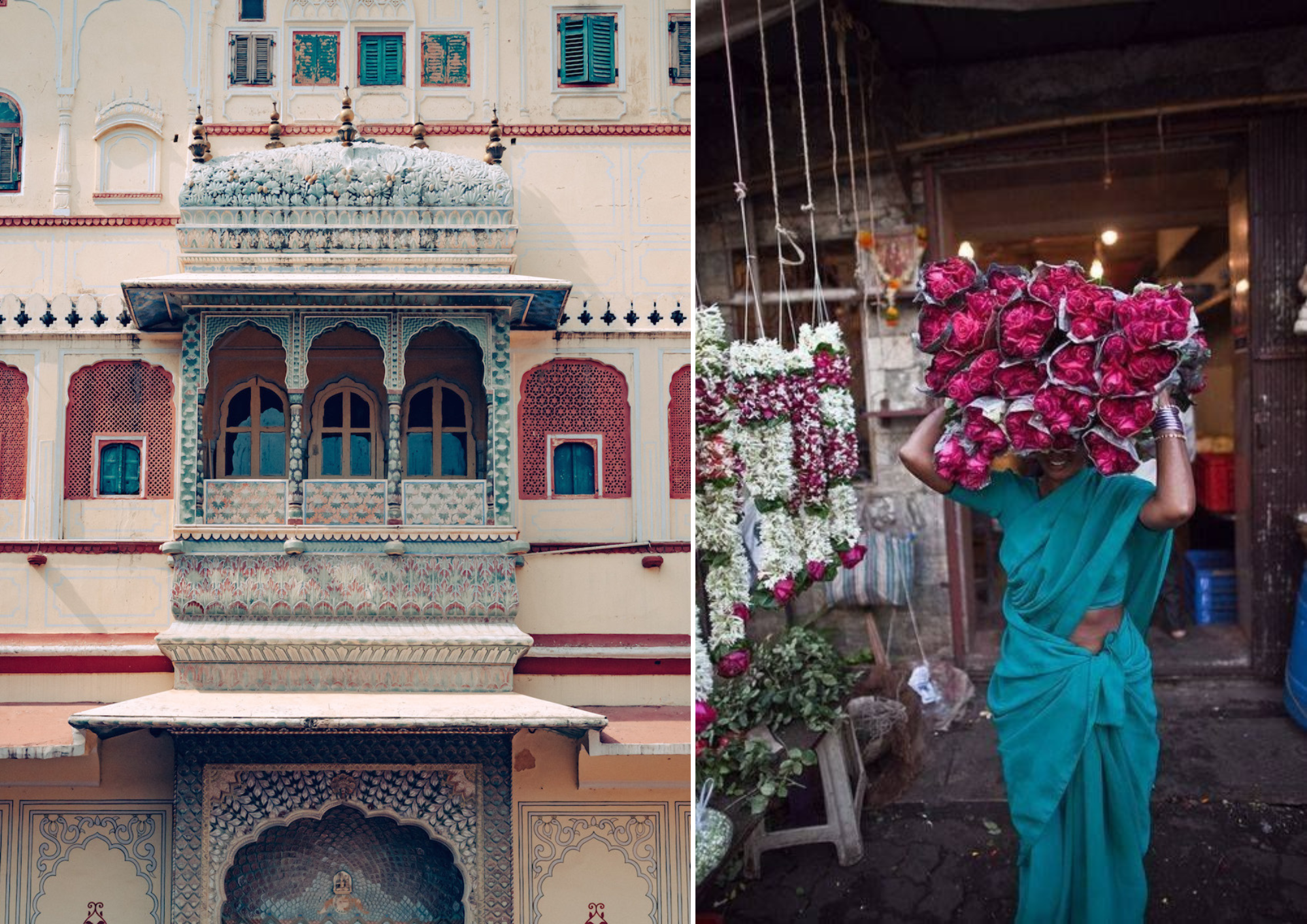 © Jérôme Galland - © Pinterest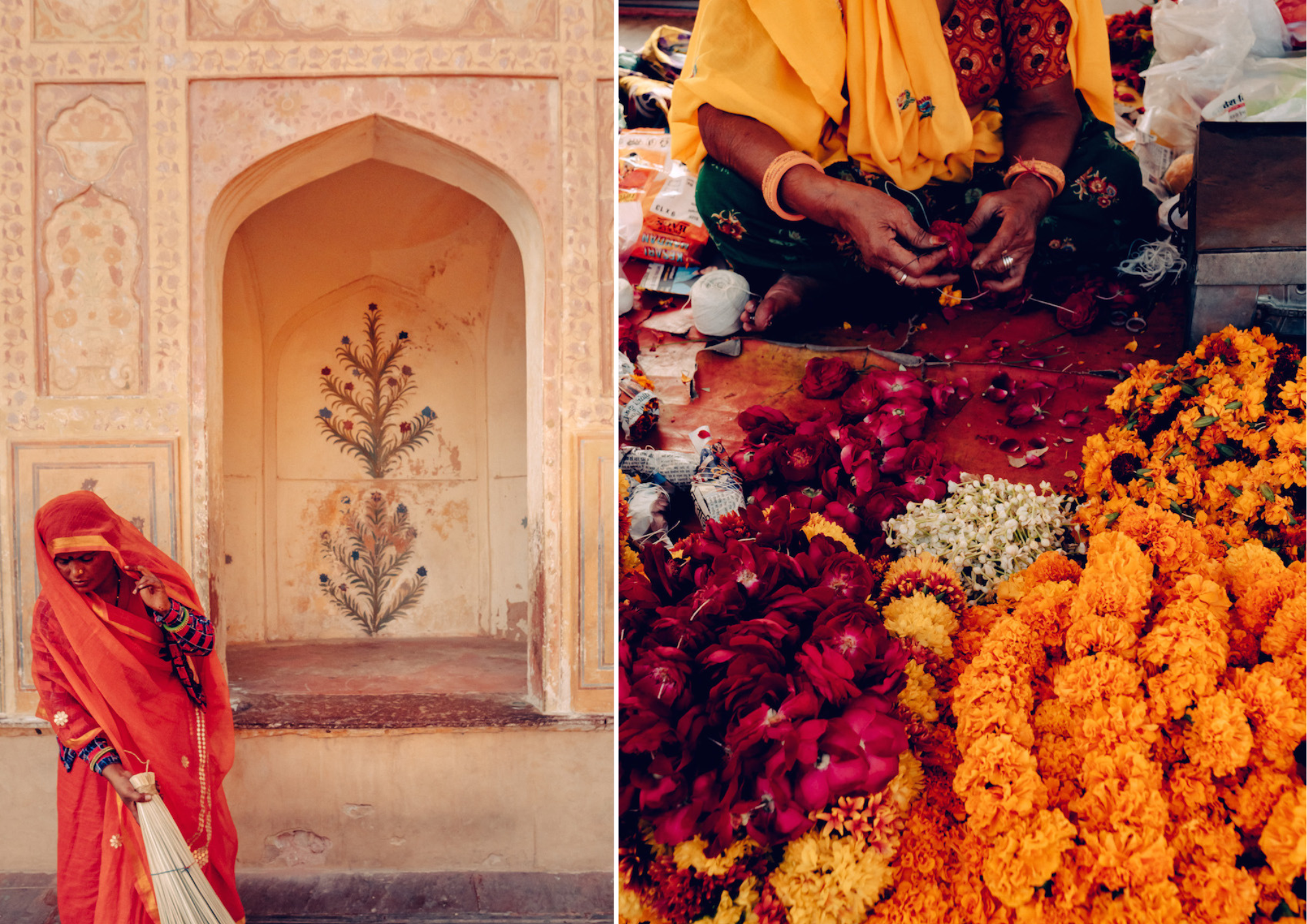 © Jérôme Galland
The technique of Pietra dura
Created by the Florentines at the end of the 16th century, the technique of Pietra dura (literally hard stone in Italian) consists of inlaying semi-precious stones into marble. To do this, the motif must first be drawn; the craftsman must then cut the different stones according to the precise plan of the drawing, and work the depth of the stone so that it fits perfectly into the marble.
Remarkable work of precision and know-how, it is the superposition of the different stones and their colors that give life to the motif.
Initially carved by the Hindus, motifs were inlaid using this technique, brought back from Europe by the Mughal emperor Shah Jahan. Stones such as red sandstone and lapis lazuli were used, giving a unique relief and brilliance to buildings already decorated with sculptures.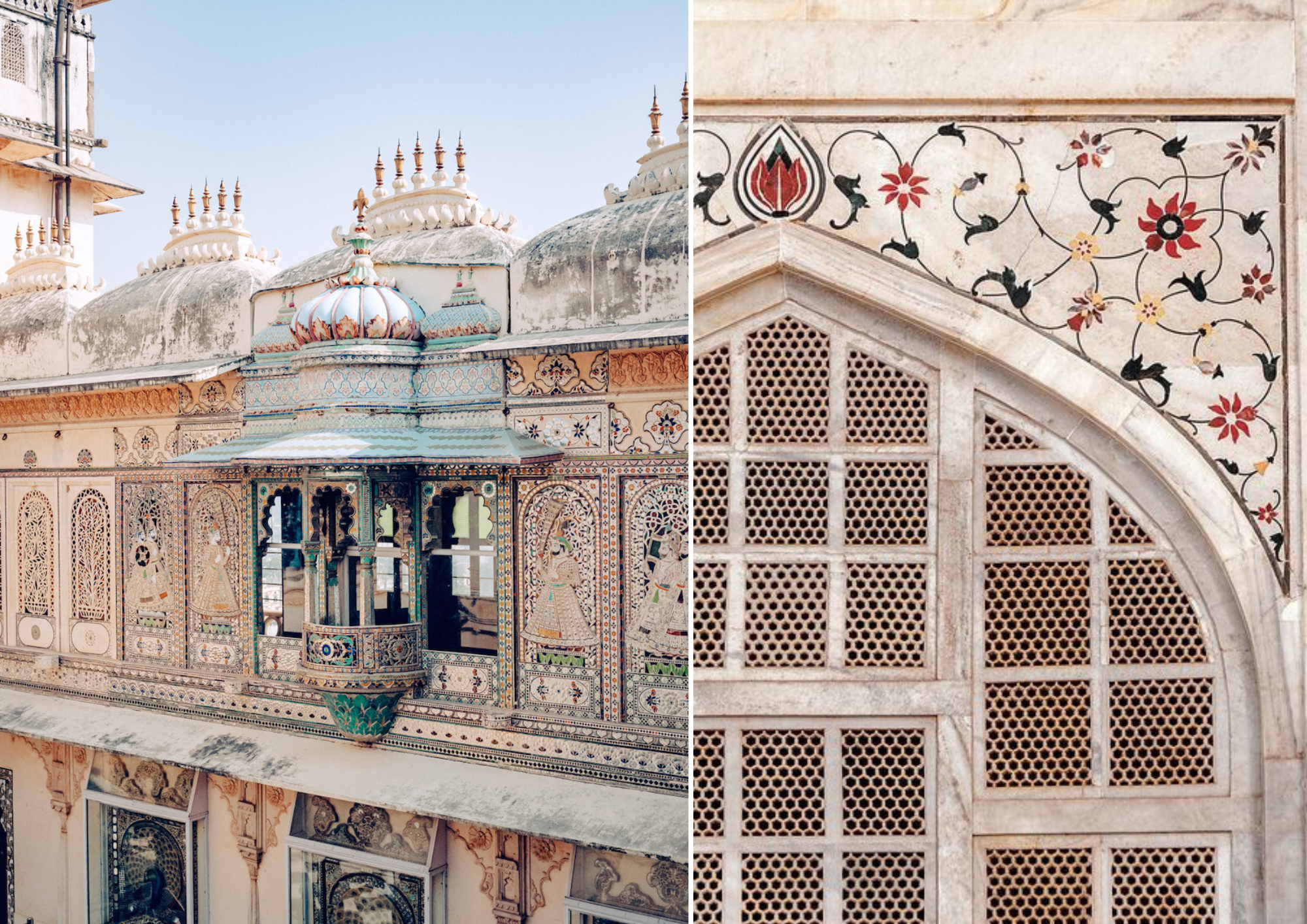 © Jérôme Galland - © Pinterest
Flowers mixed with geometric patterns
Under the influence of the Mughal Empire, the grace of Persian architecture was combined with forms of Hindu architecture. Red sandstone, capitals, cornices and kiosks were tempered by the geometric rigor of Islamic architecture, which avoids monotony through its play of stones of different colors.
The Hindu columns were decorated with geometric patterns of Muslim inspiration, and intermingled with Islamic arches. Symbolizing this cooperation between Hindu and Muslim craftsmen, the floral motifs were mixed with Islamic geometric designs. Hindu artists engraved marble and sandstone with Quranic calligraphy, while sculpting lotus flowers.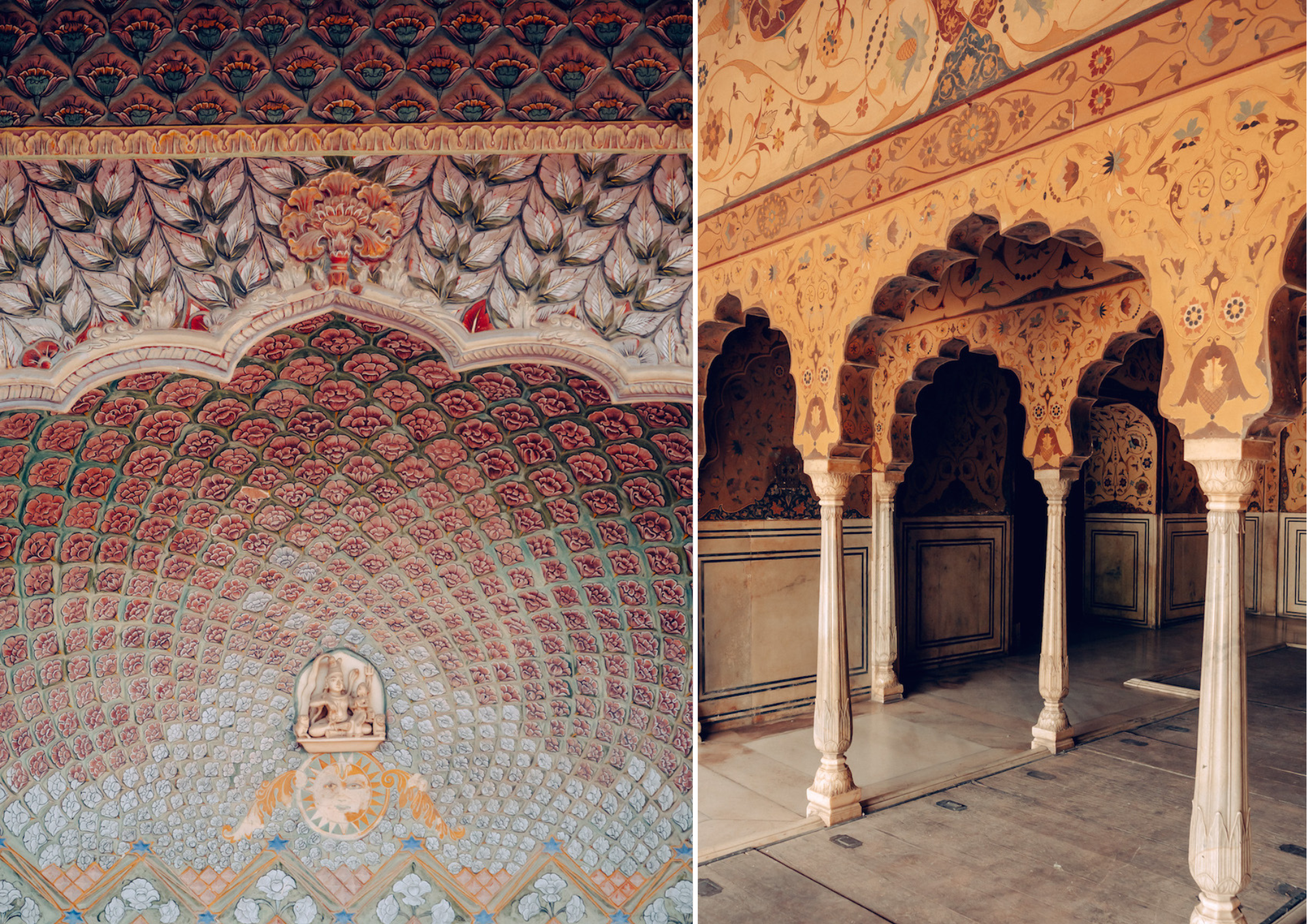 © Jérôme Galland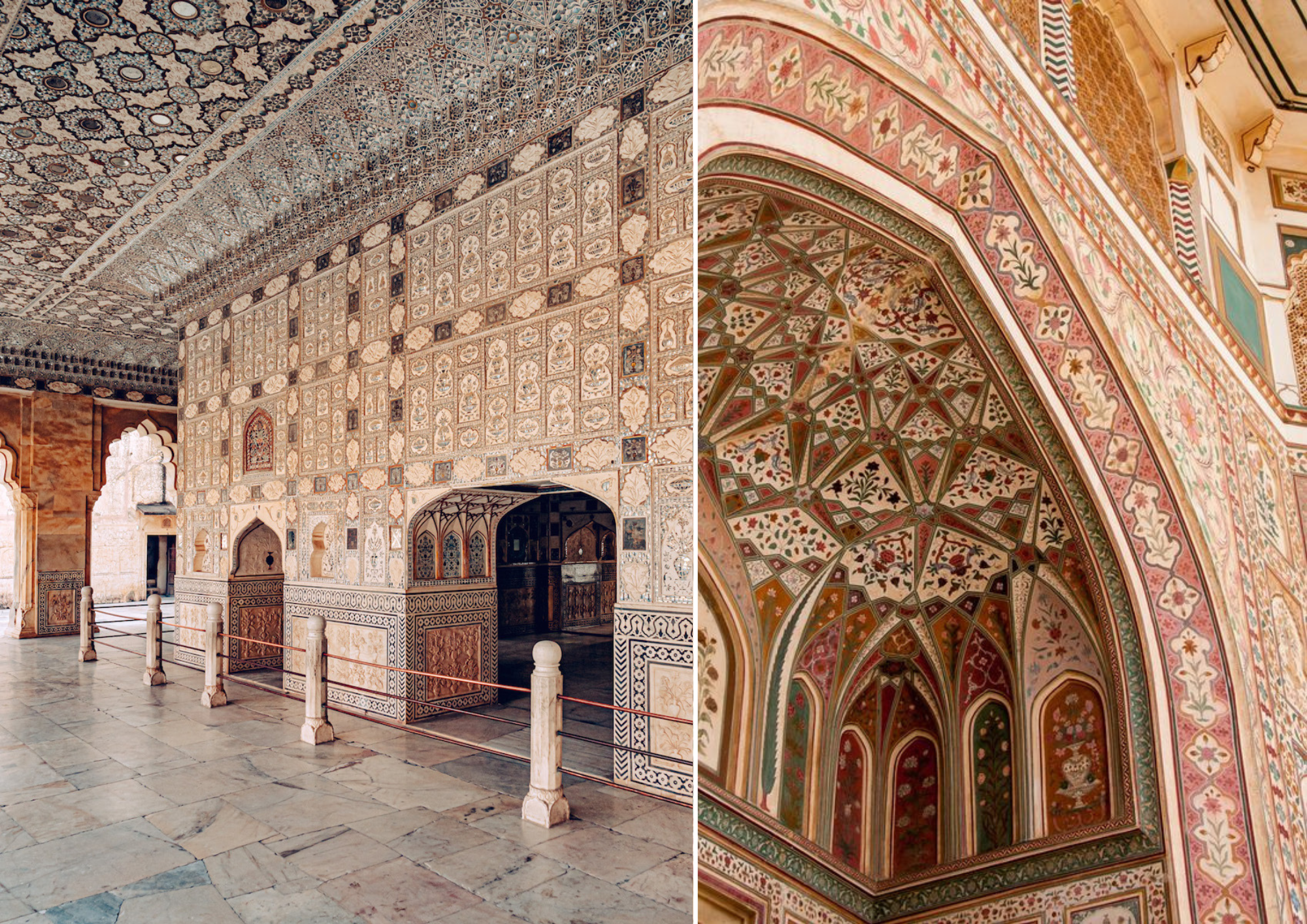 © Jérôme Galland - Pinterest
Mughal miniatures
In 1544, Sher Shah, an Afghan, and then his brother Mirza Kamran, inflicted heavy defeats on the emperor Humâyûn and forced him into exile in Persia (present-day Iran). He then discovered the art of Iranian miniature painting and immediately fell in love with it.
During his reconquest of power, Humâyûn brought back a few Persian artists and painters. His son, the emperor Akbar, having had a Persian tutor, decided to set up a painting workshop in which Persian and Hindu craftsmen worked. From this fusion of Persian and Indian style was born the Mughal school and the art of Mughal miniature. Birds, flowers and other motifs adorned court, hunting and war scenes as well as representations of princes and noblemen. The drawing became very fine, the colors more refined and gold applied with brushes of only a few hairs for maximum precision.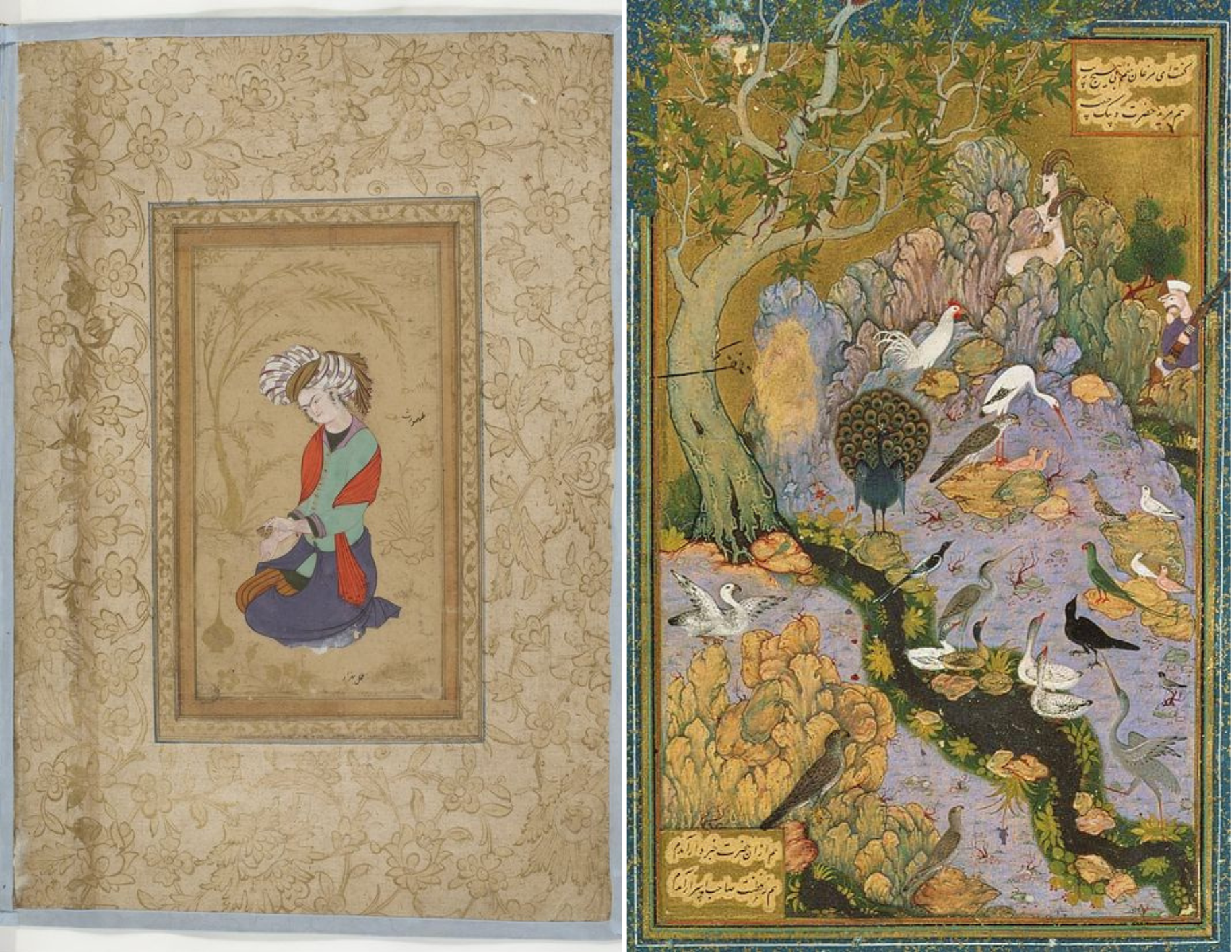 © Pinterest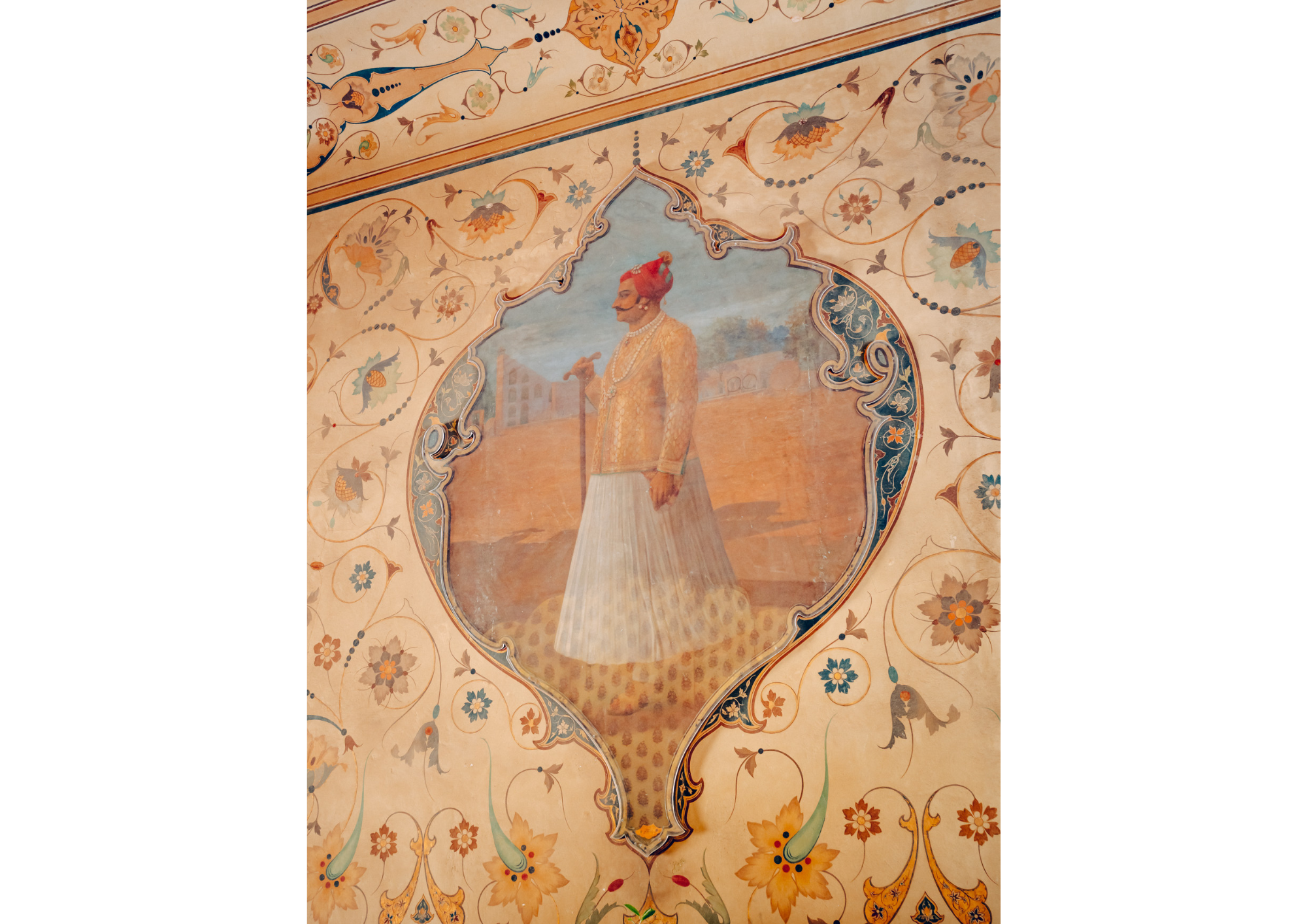 © Jérôme Galland
The Red Fort, the political heart of Delhi
Started in 1526 by the first Mughal emperor and brought to splendid refinement by Shah Jahan, Akbar's grandson, the plan and design of the Red Fort represents the pinnacle of collaboration between the Hindu and Mughal civilizations, with a fusion of Islamic, Persian, Timurid and Hindu traditions.
Also known as the Palace-Fort of Shahjahanabad (we owe the name of the red fort to the British), the architecture of this great building comes from Mughal art. It is a large complex, with surrounding walls covered with towers. Within these towers are mosques, imperial palaces and marble buildings. The fort itself takes the form of an octagon decorated with marble and engravings of floral motifs of Indian origin.
The Red Fort is a very symbolic place for Indians. It is from here that the Prime Minister addresses the people on August 15th, on the occasion of the country's independence day. It is here that thousands of demonstrators marched to obtain the sovereignty of India and the liberation of its people.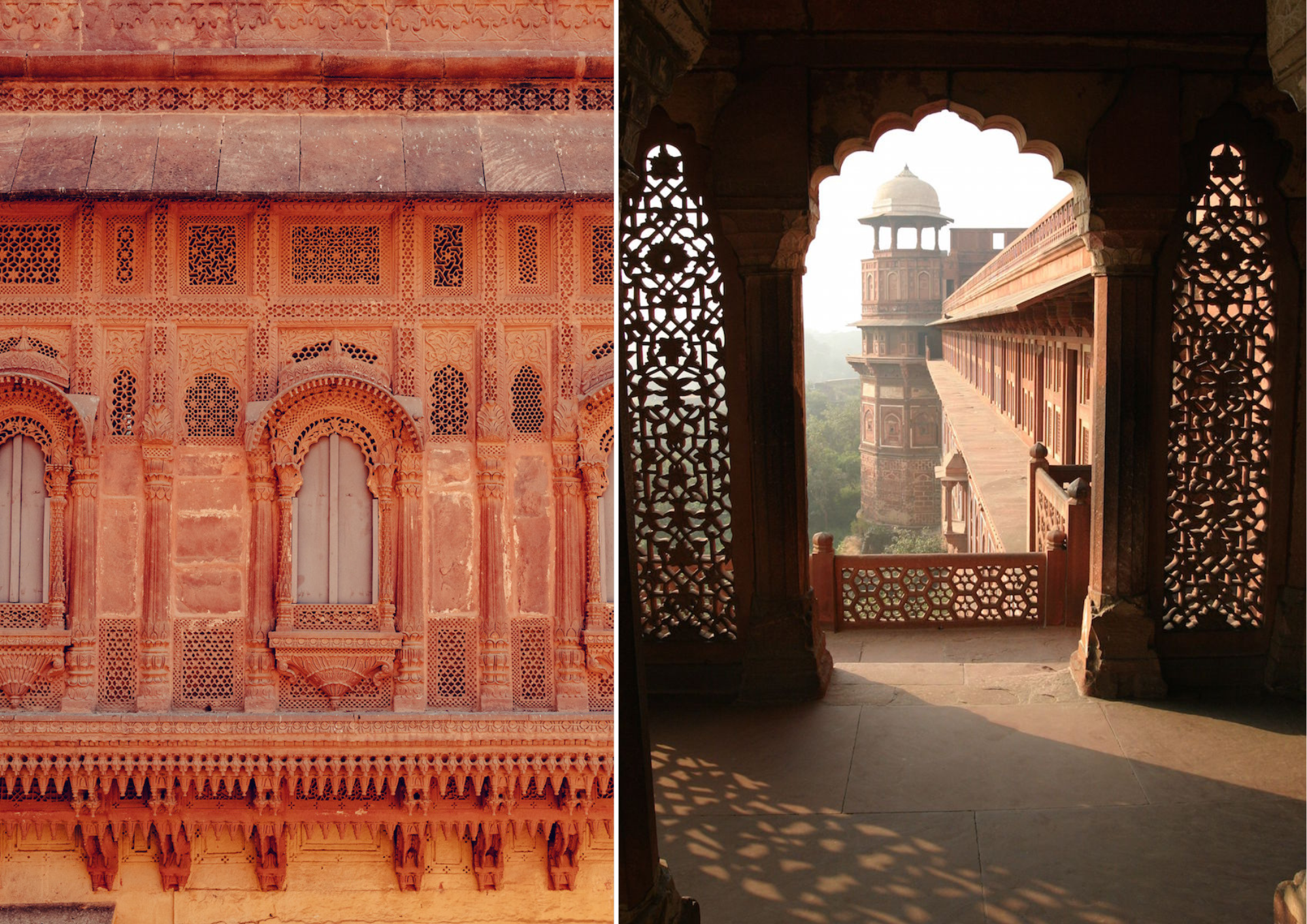 © Jérôme Galland - © Pinterest
The Taj Mahal, a symbiosis of Muslim Hindu art
From 1632 to 1648, Emperor Shah Jahan had the Taj Mahal built as a tribute to his favorite wife who died in childbirth. The mausoleum, a red sandstone building covered with white marble, is decorated with precious stones such as lapis lazuli from Afghanistan, as well as with black calligraphy bands in Pietra dura. This white, changing according to the hours of the day, is the color of mourning, peace and purity in India.
A marvel of harmony whose perfect symmetry is broken only by its water level, the Taj Mahal -Palace of the Crown in Persian- is the symbol of this collaboration between Hindu and Muslim civilizations, which magnify our common heritage.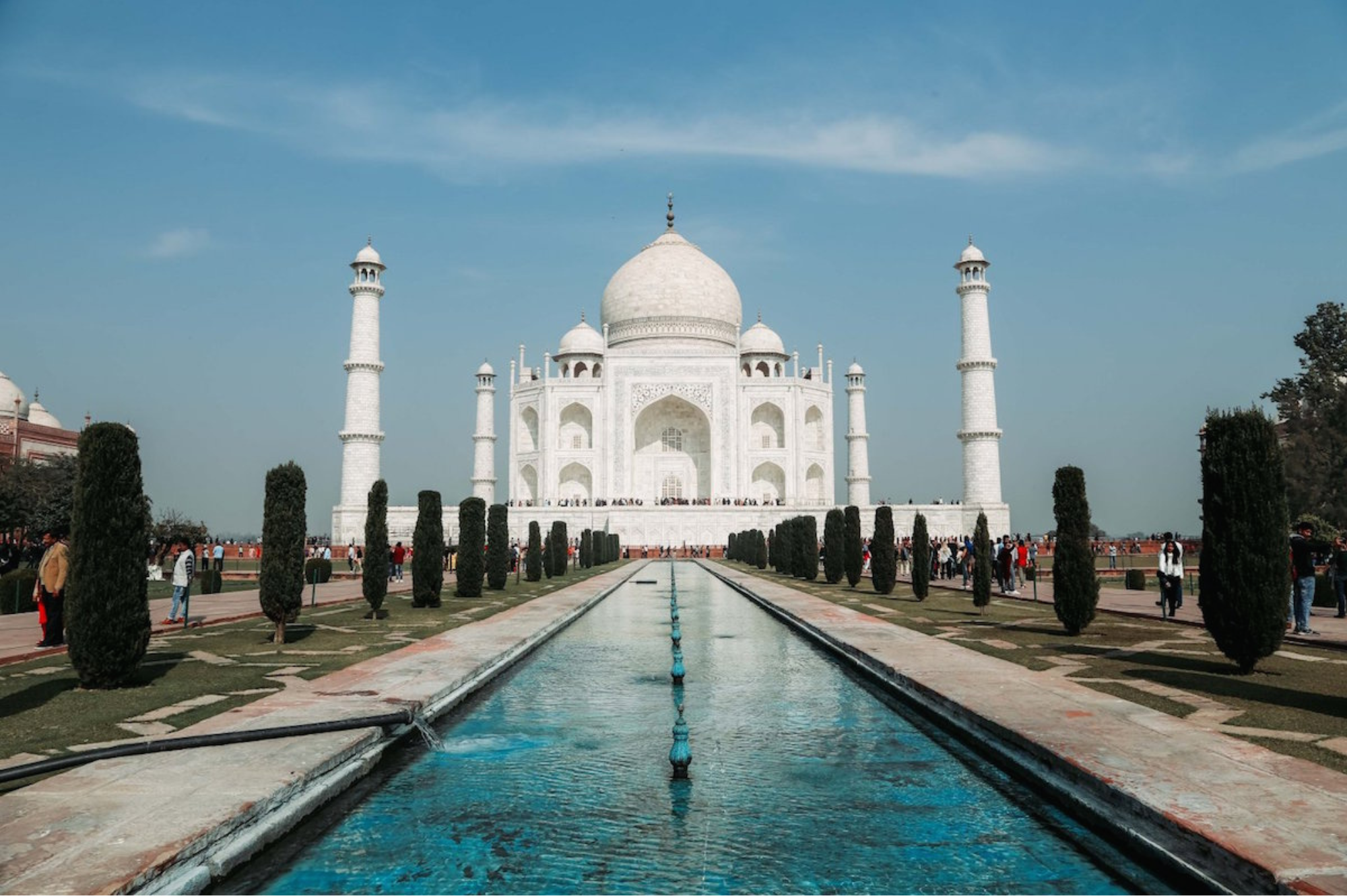 © Pinterest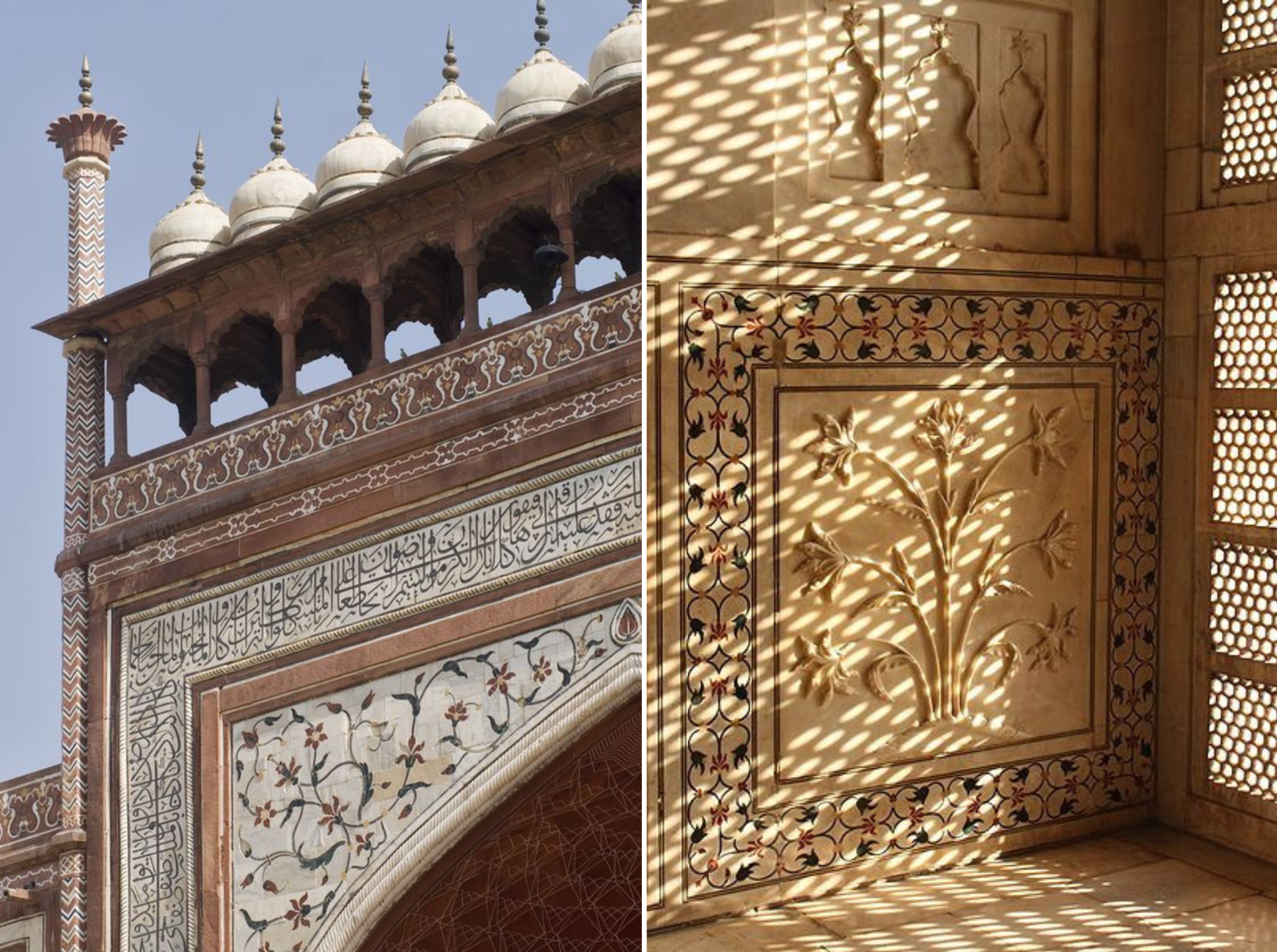 © Pinterest
Each season, we are inspired and nourished by beautiful flower patterns which we use on our pillows, table linen and travel accessories. Our designs are a reflection of our rich Indian heritage, often mixing softness of stems and flower petals with a strong geometric pattern on borders. Our color palette is strong, yet harmonious, giving our range a unique contemporary aesthetic, and the possibility of creating beautiful interiors in urban or countryside settings.
It is this spirit of mutual influences that Jamini has always been keen to promote, of an Indian art of living that meets French elegance.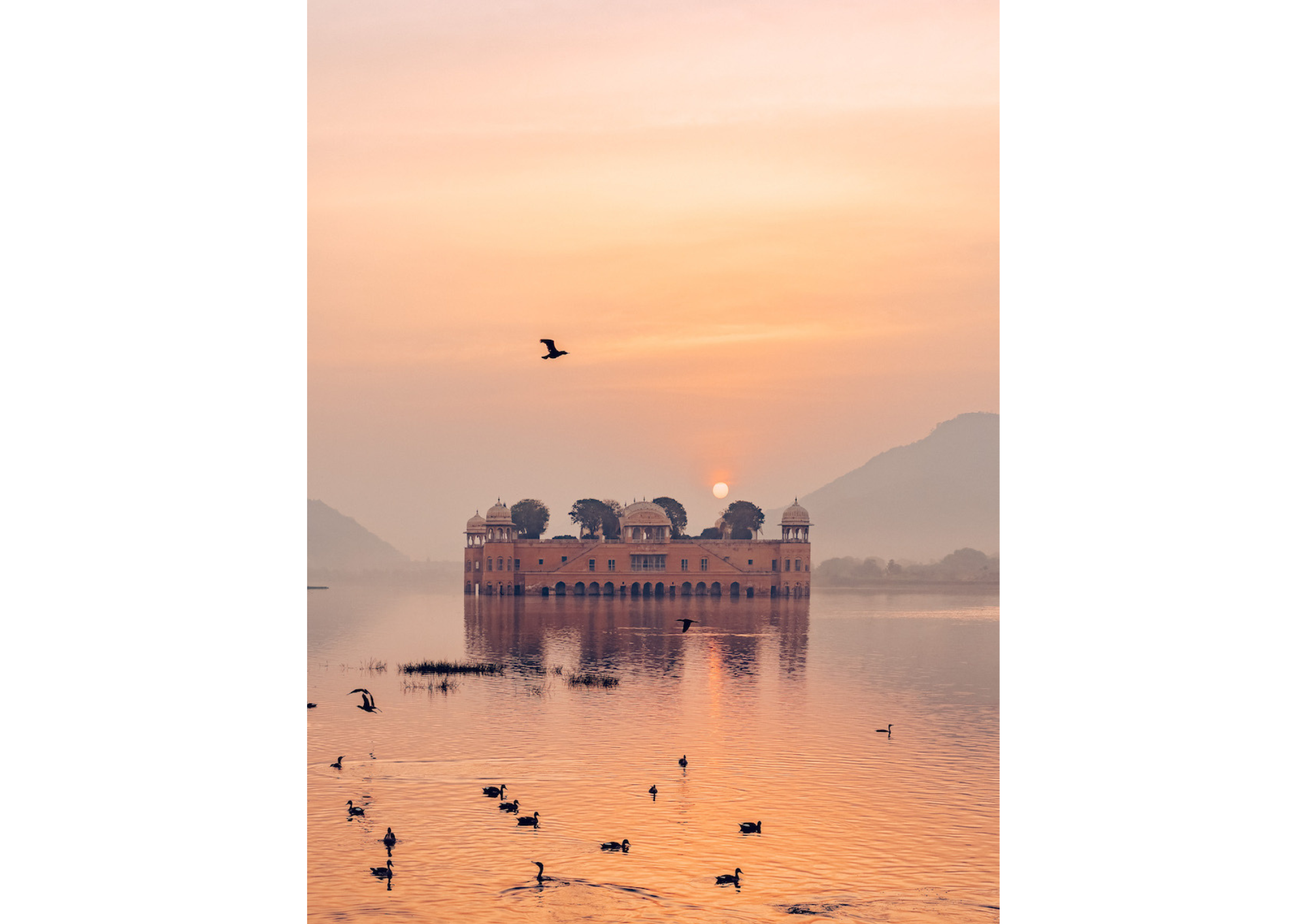 © Jérôme Galland
Sources
http://dp.mariottini.free.fr/carnets/inde/arts-moghols.htm
https://whc.unesco.org/fr/list/231/