Jamini X Fragonard

Jamini X Fragonard
At Jamini, we love to connect with entrepreneurs and artists whose work we love and with whom we share common values. This fall, we are bringing you a beautiful collaboration with the famous perfume brand, Fragonard. Usha tells you the story in her own words.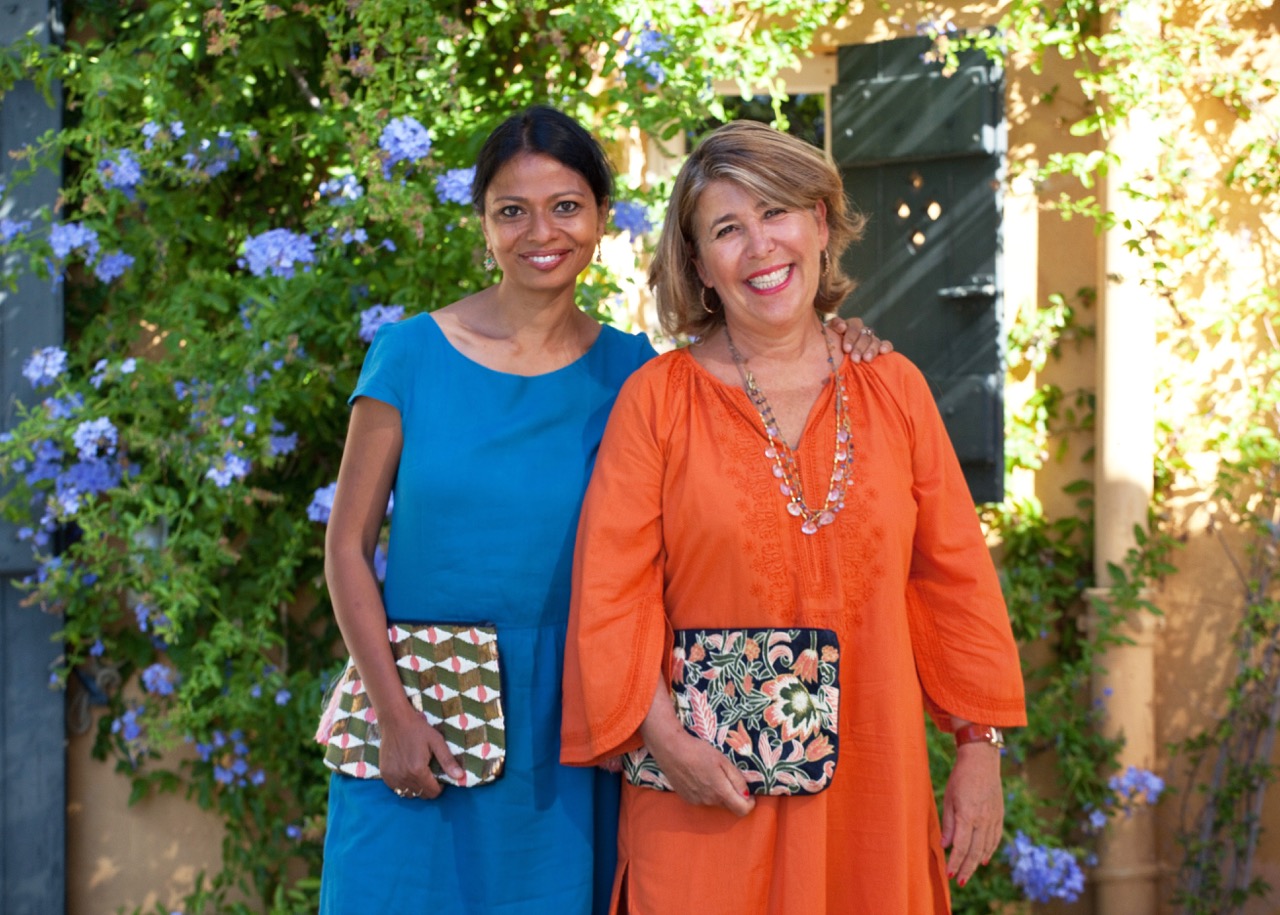 Usha & Agnes proudly carrying pouches from the collection
When I launched Jamini a few years ago, I had a vision of creating beautiful pieces that combined the best of French & Indian savoir faire. My dream was to tell stories of art and craft by bringing together persons from these two great cultures and combine our histories and knowhow. When I meet someone with a fascinating story, I immediately think of ways to include these in the Jamini narrative.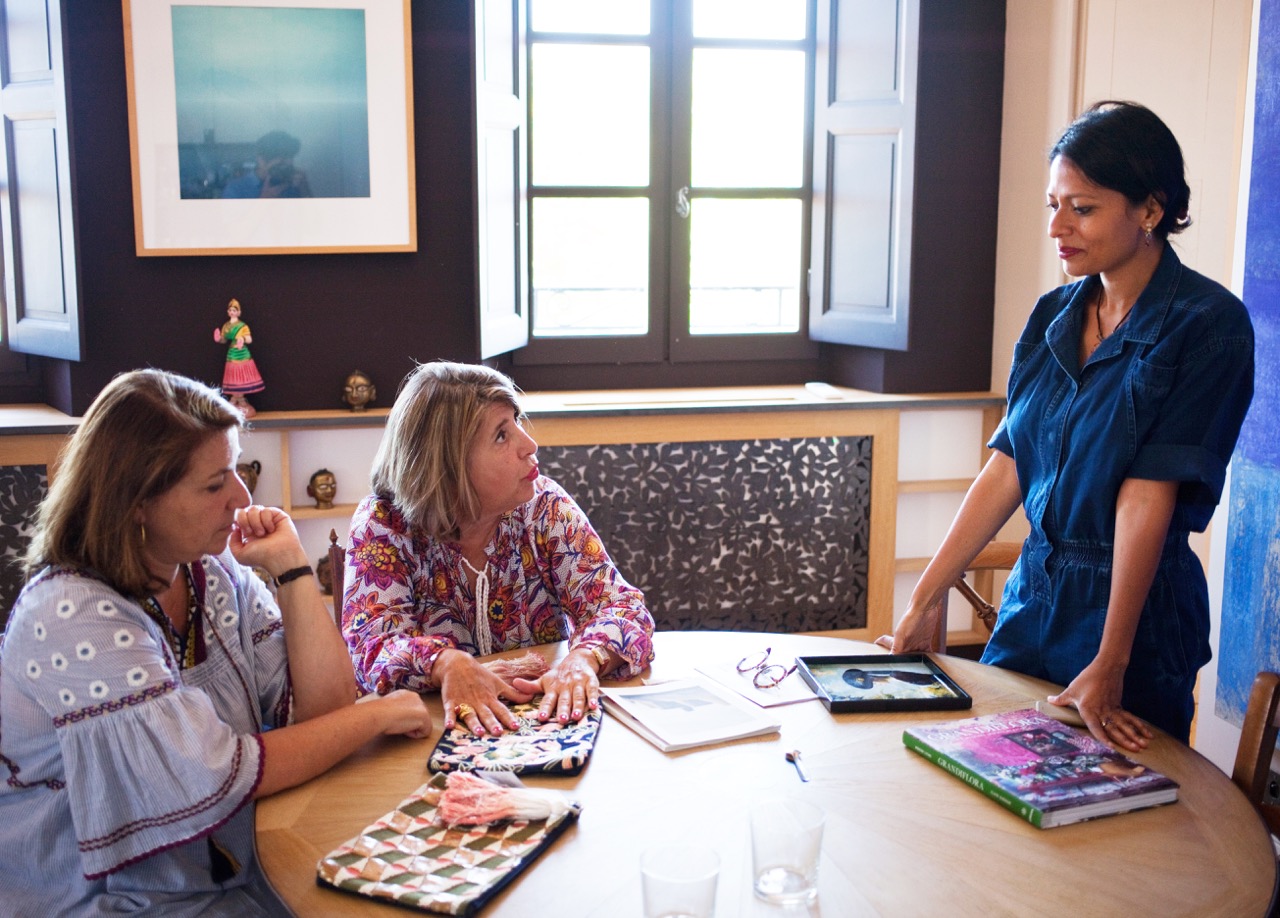 Sisters Agnes & Françoise discuss the launch of the range with Usha in the gorgeous Fragonard office in Grasse
My meeting with Agnès Webster a few months ago, was one of the luckiest encounters of my professional life so far ! I was at Maison & Objet and this elegant lady stepped up and asked me a few questions. There was something about her energy and her personality that made me want to know more. When she mentioned that she was the Director of Fragonard, I hesitated no further and said that I would love doing something with this fabulous French fragrance brand. A few weeks later, we met in the stunning Fragonard office in Paris and talked our artistic visions… and we decided that we were going to do something together ! Things went really quickly from there and Agnes's team and myself chose our beautiful Eri silk yarn to work with, combined with some striking colors from Fragonard range. This is how the JAMINI x FRAGONARD collection was conceived.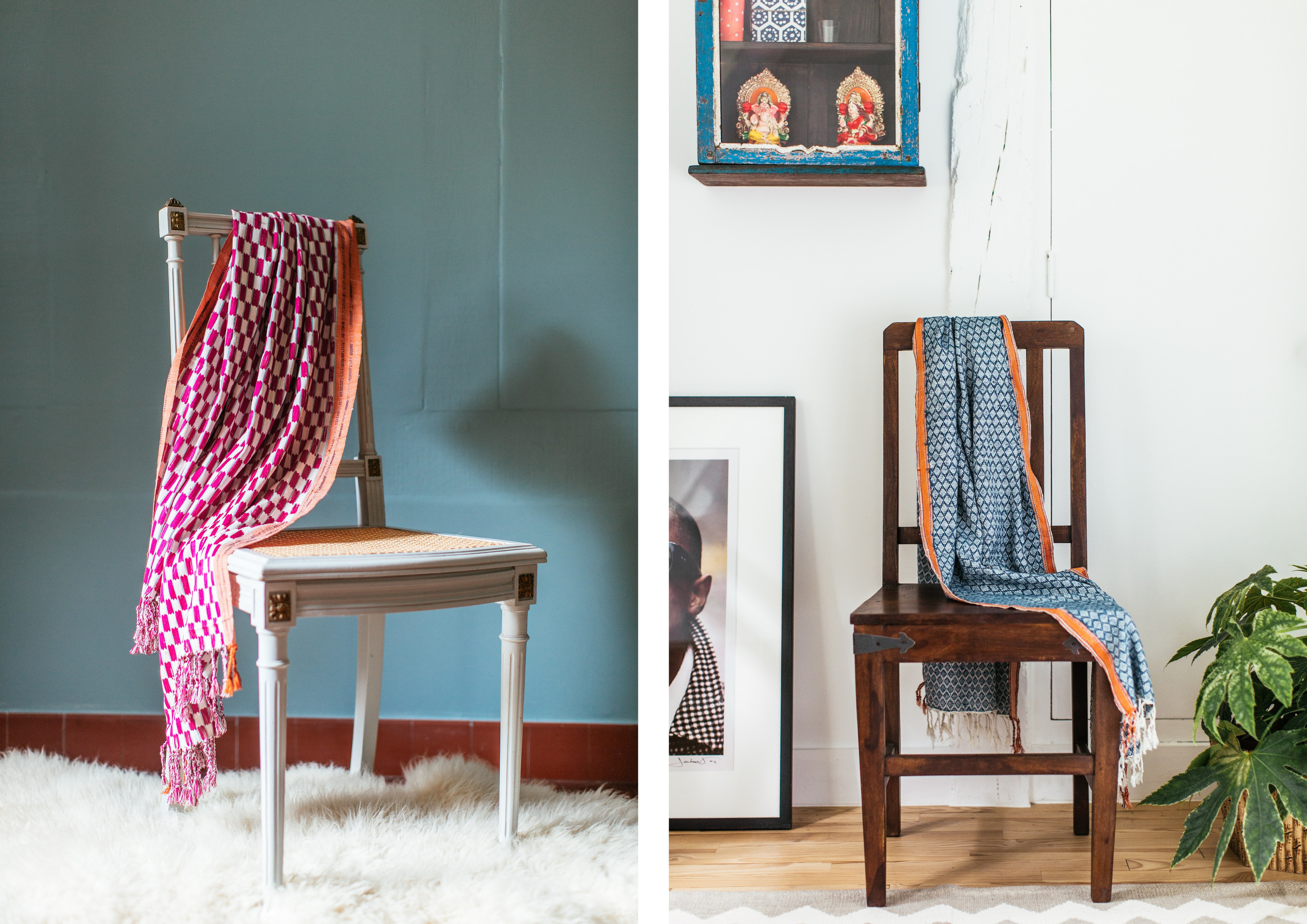 Soft, beautiful and luxurious scarves made from Eri (eco friendly silk or peace silk as it is also known)
Once our collection got underway and I got to know the Fragonard team more intimately, I decided that this was going to be more than just a professional relationship. I was fascinated by Agnes' love for India, her family's extensive textile collection and the spirit of travel and discovery that is such a great part of the Fragonard story. A trip to Grasse seemed inevitable. I had been to various parts of Provence but not to Grasse, where Fragonard, the perfume house was created. I wanted to feel the vibe of this historical city, meander in its alleys, soak in the sunlight and feel the Indian spirit in Provence. I had seen pieces at exhibits at the Victoria & Albert Museum in London and in the Calico museum in Ahmedabad where the famous Indian block printing traditions had inspired fabrics in France and Italy. My own cultural experience of moving to France, of wanting to bring Indian sunshine to sometimes grey Paris, was reflected in these patterns of flowers with hues of peacock blue, terracotta and saffron. Agnes patiently walked us through every room at the Musée Fragonard in Grasse, showing us collections of fabrics and costumes that her mother had gathered. Here was a perfect example of centuries' old Indian textile traditions and motifs inspiring the French fabrics called "Les Indiennes " in the South of France !
My visit to Grasse felt like an embrace into the world of the Fragonard family. I was struck by the energy of the team - at the reception of the usine (factory and office) Fragonard, the musée (museum) or the sales force in the stores. Agnes and her sister Françoise gave us the warmest welcome : just like Indian families do ! These inspiring sisters run more than a great business - they create happiness. Agnes opened her lovely home to us and we spent long hours talking about our families, our children, her memories of vintage hunting travels to Venice, Uzbekistan and Iran. We shared recipes, exchanged business ideas and created beautiful memories.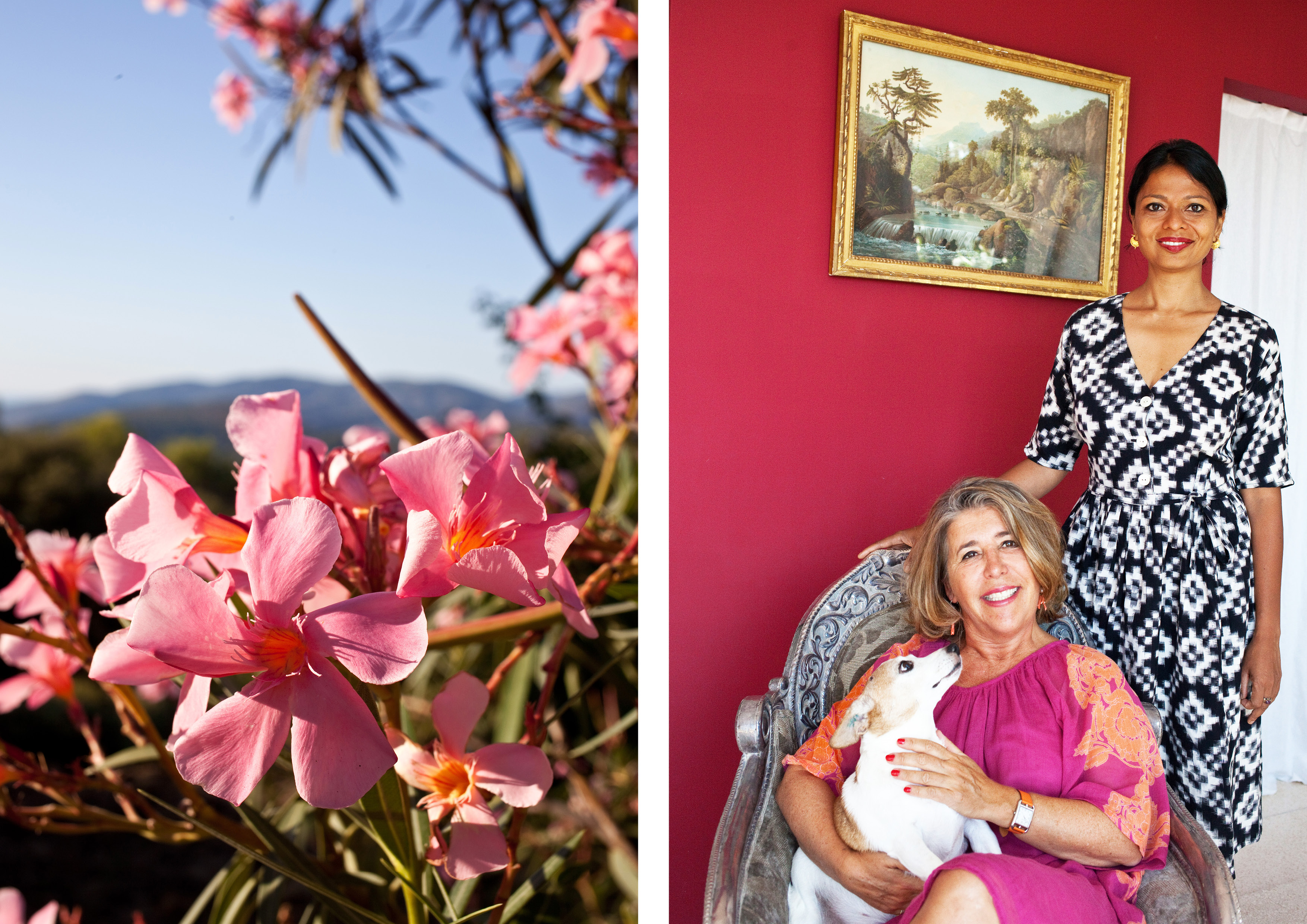 Oleander blossoms in Agnes' garden / Agnes & Usha with Tiger, faithful companion to the Costa family
I am more than delighted to bring you this collection. I hope you feel some of the same energy and passion as I did when you see our pieces and visit our stores. This collaboration is a lovely story of friendship and building bonds. I am sure there will be more to come ! Until then, take a trip with us to Provence !
The emblematic entrance to the Fragonard headquarters in Grasse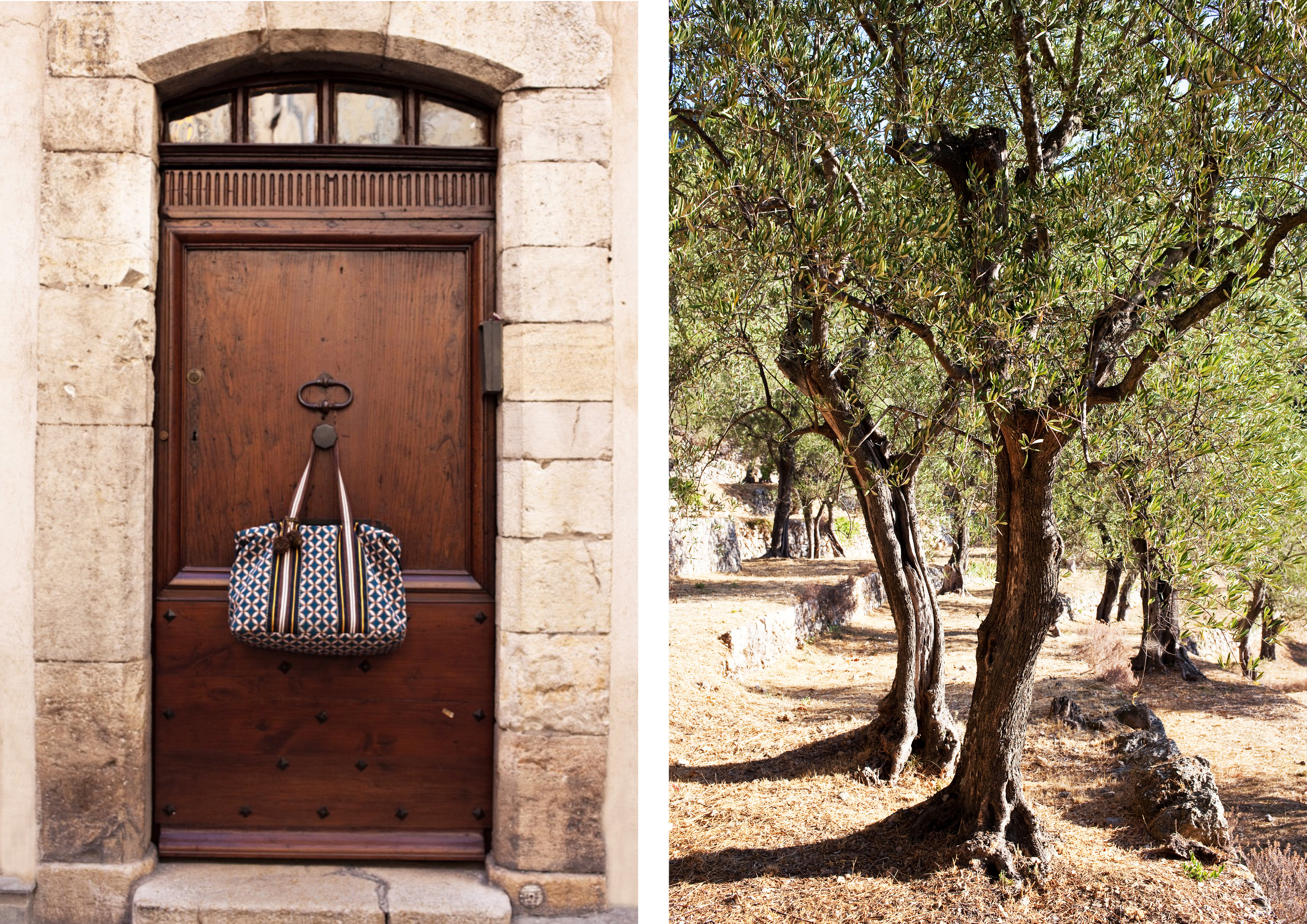 Our bag Sapna looking perfect on that antique door in Grasse / Olive orchard that is part of the beautiful Costa family property on the hills of the French Rivière
Thanks to Claudio Cambon for his beautiful pictures.