Renovating a French farmhouse
Meet Manon, a talented interior decorator, who along with her husband, embarked on a wonderful adventure: renovating an old French farmhouse from scratch. Their dream project? To rethink and create the entire interior design of the structure, while keeping the vintage ambiance and authentic charm of an old wine cellar in the Gard region in the South of France.
The result of their labor of love is a true work of art ! A perfect symbiosis between vintage and contemporary interiors, Manon brilliantly mixed furniture, natural materials and unique decorative pieces to create a Mediterranean atmosphere, ode to a deliciously slow life.
Here is an account of the adventure that transformed an old structure to give it an contemporary, authentic and warm spirit.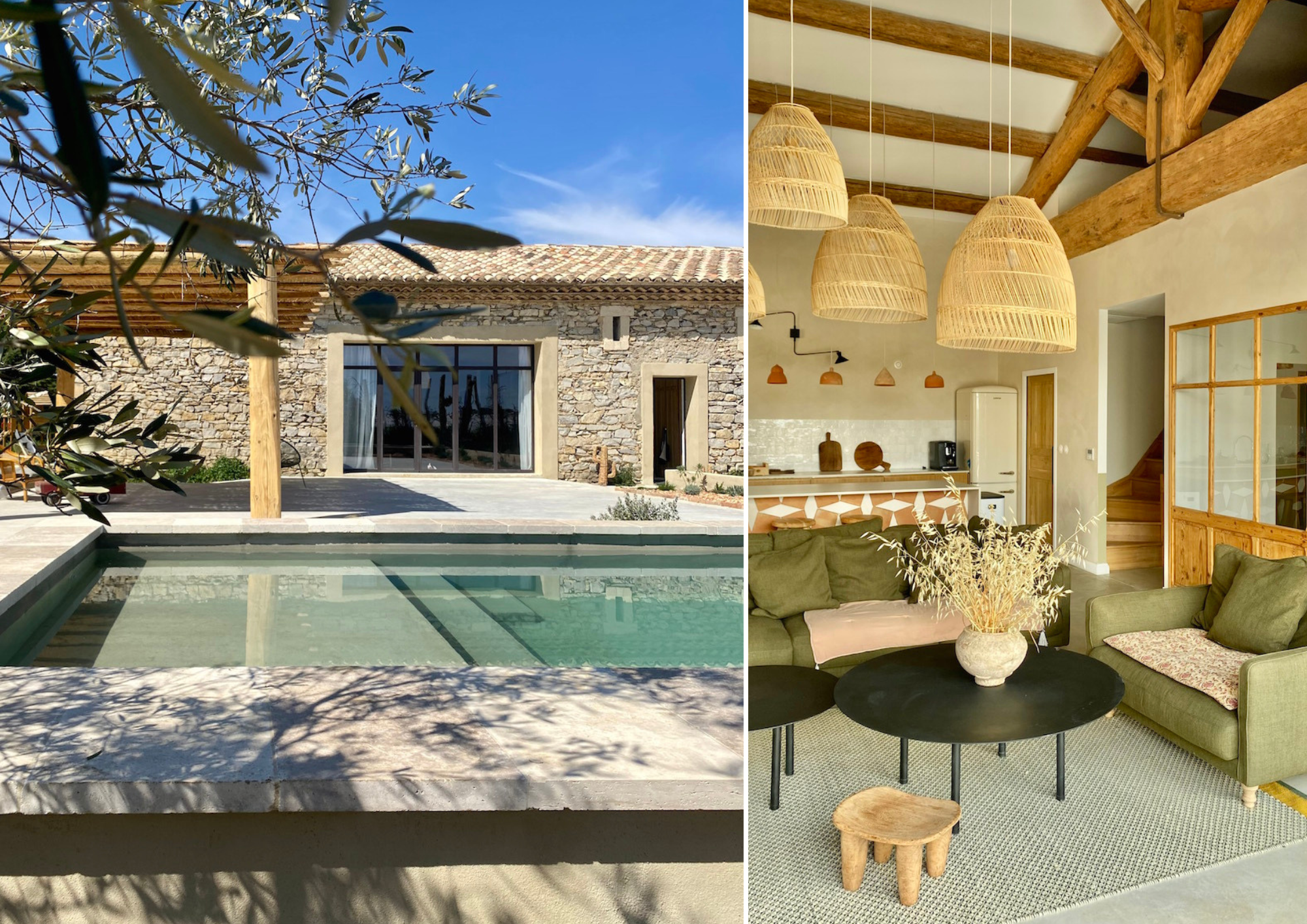 © Lou Bastidon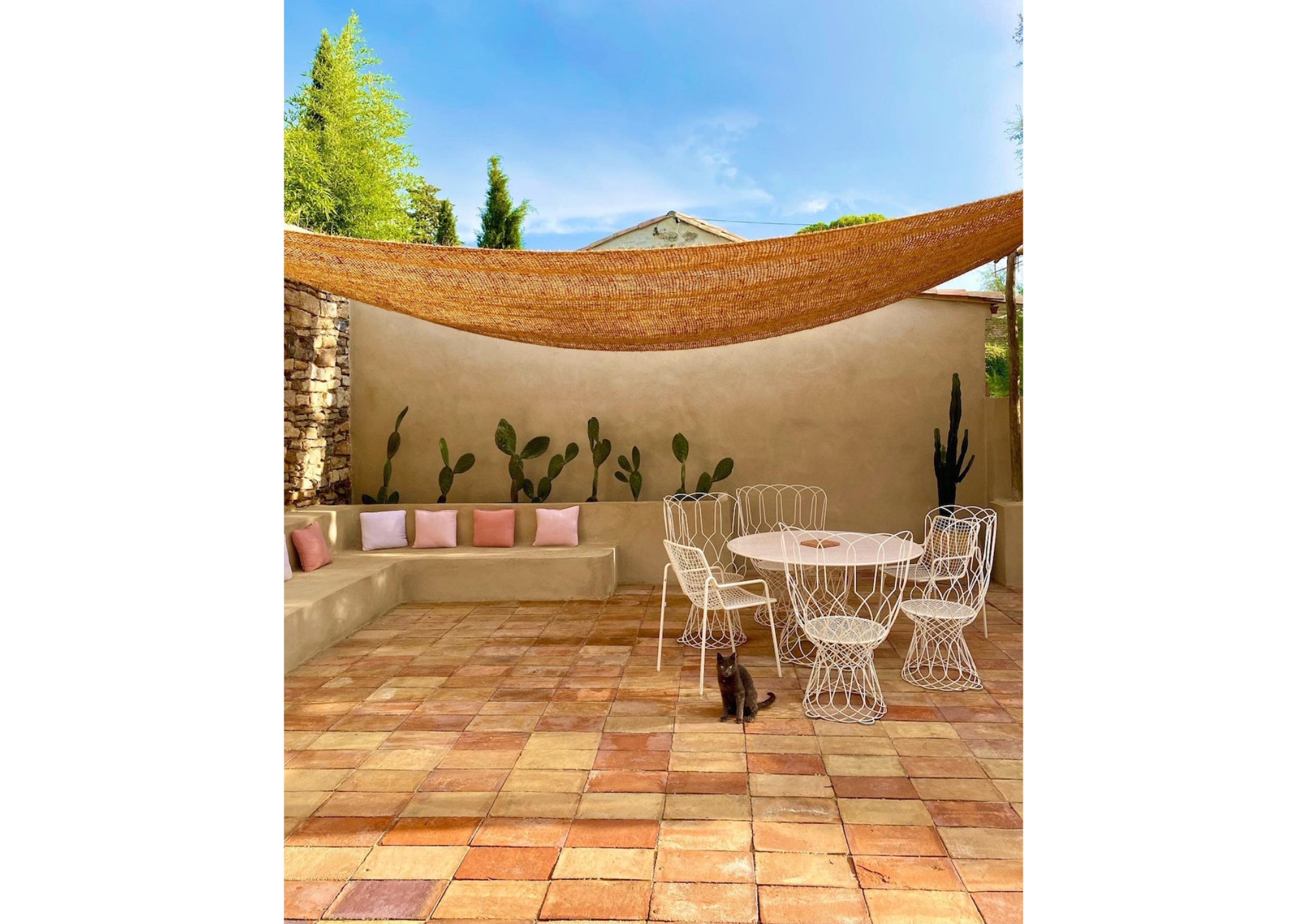 © Lou Bastidon
Manon, tell us about your background: how did you become a decorator?
I have always been attracted to colors and illustrations. I have an artistic background: after 5 years at the Beaux-Arts, I trained as a decorator/merchandiser and set up my own company. It's a job that allows me to exercise my creative side. What I like most is to highlight a space or a decorative piece tby adapting the right scenography : whether it is for a window, a sales floor or for a photo shoot.
How did you decide to live in a farm house?
My husband being a farmer we were looking for a building with a lot of charm but also with cultivable land . After searching for several years, we finally found a space through word of mouth. From the first visit, we were convinced of the fabulous life project we could build here! There were no rooms, only four walls with huge reinforced concrete tanks that took up the entire length of the building. The building project began by destroying these. For the interior design, everything had to be imagined from scratch.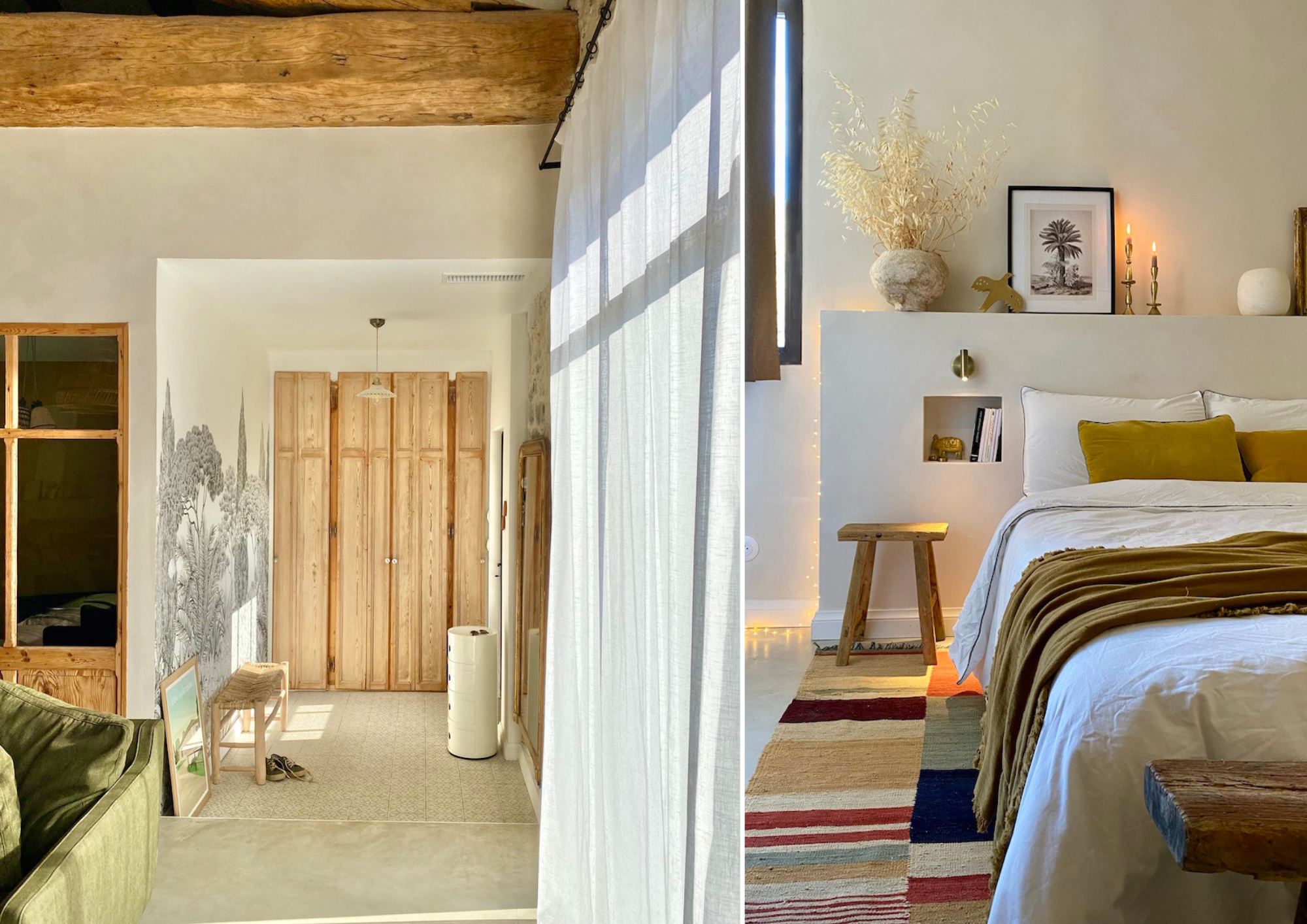 © Lou Bastidon
When you decorate a room in your home, what is your main goal? How do you decide on the colors, proportions and decorative objects you want to place in it?
This cellar is an old outbuilding of a 19th century farmhouse, the frame is beautiful and in good condition. We had to reveal its full potential. The objective was to have a house that was easy to live in, where one feels good while keeping its authentic charm.
To combine aesthetics with practicality. In the context of our renovation, the constraints strongly influenced our plans: the openings were only possible on one side of the building. Everything came together quite naturally with this in mind. We were assisted for the structural work by a mason (complete repair of the roof, insulation, plasterboard). My husband Arnaud took care of the sanding of the beams, the sanitation, the plumbing, the cleaning and grouting of the stone wall and the finishing touches. I chose a limewash for the walls. This paint has many advantages: it lets the walls breathe, is easy to apply and natural... Perfect for the Mediterranean spirit I wanted to give to this house.
I chose to have a neutral base (beige walls, light grey floor) and have more fun with decorative objects or colored furniture like my charpoy. I also like prints and patterns. I placed wallpapers in some rooms (the entrance sets the tone with the panoramic Riviera by Isidore Leroy). Colors and natural materials are also very present in the house: terracotta, wood, rattan, linen ... we feel like living in a vacation home!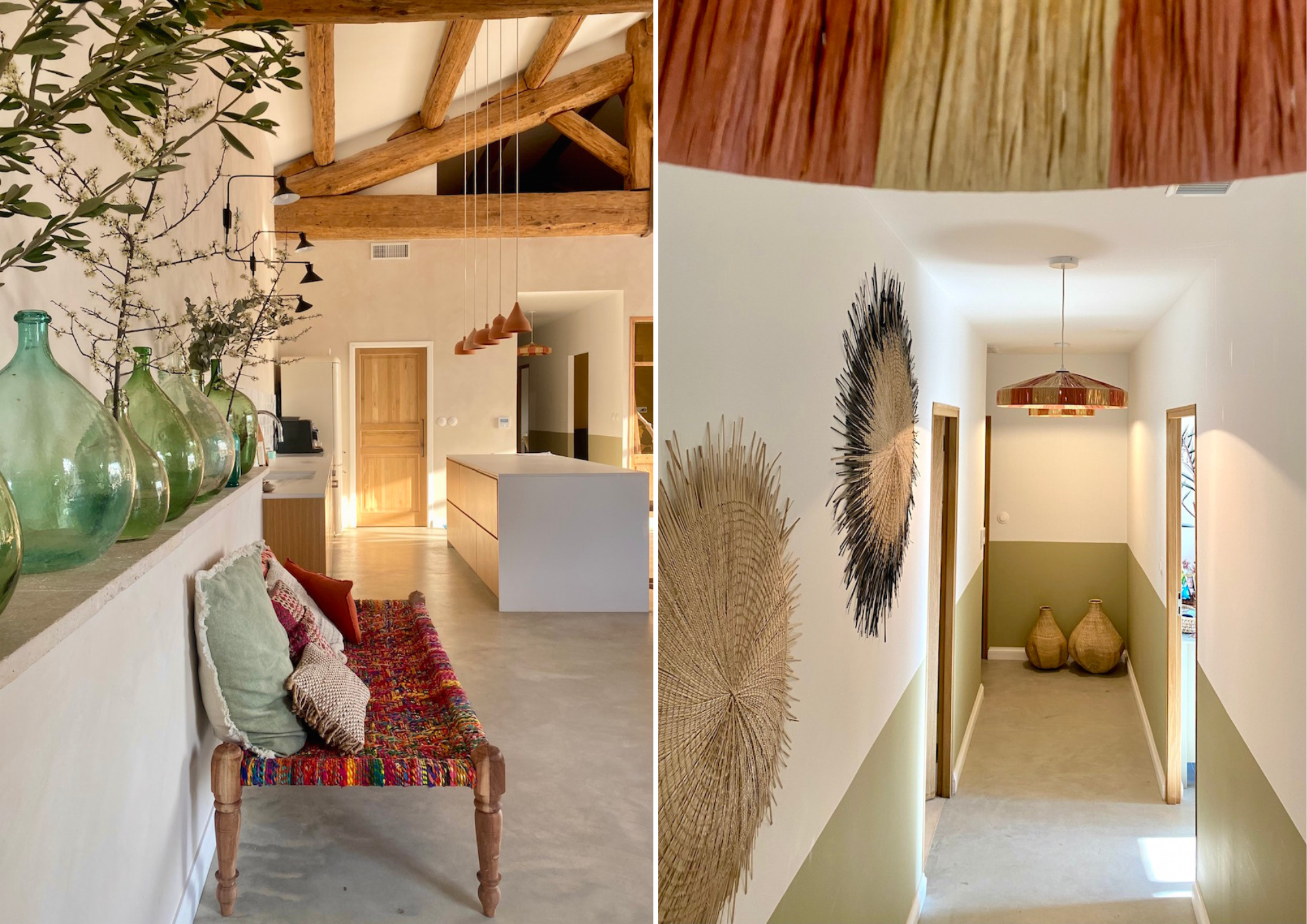 © Lou Bastidon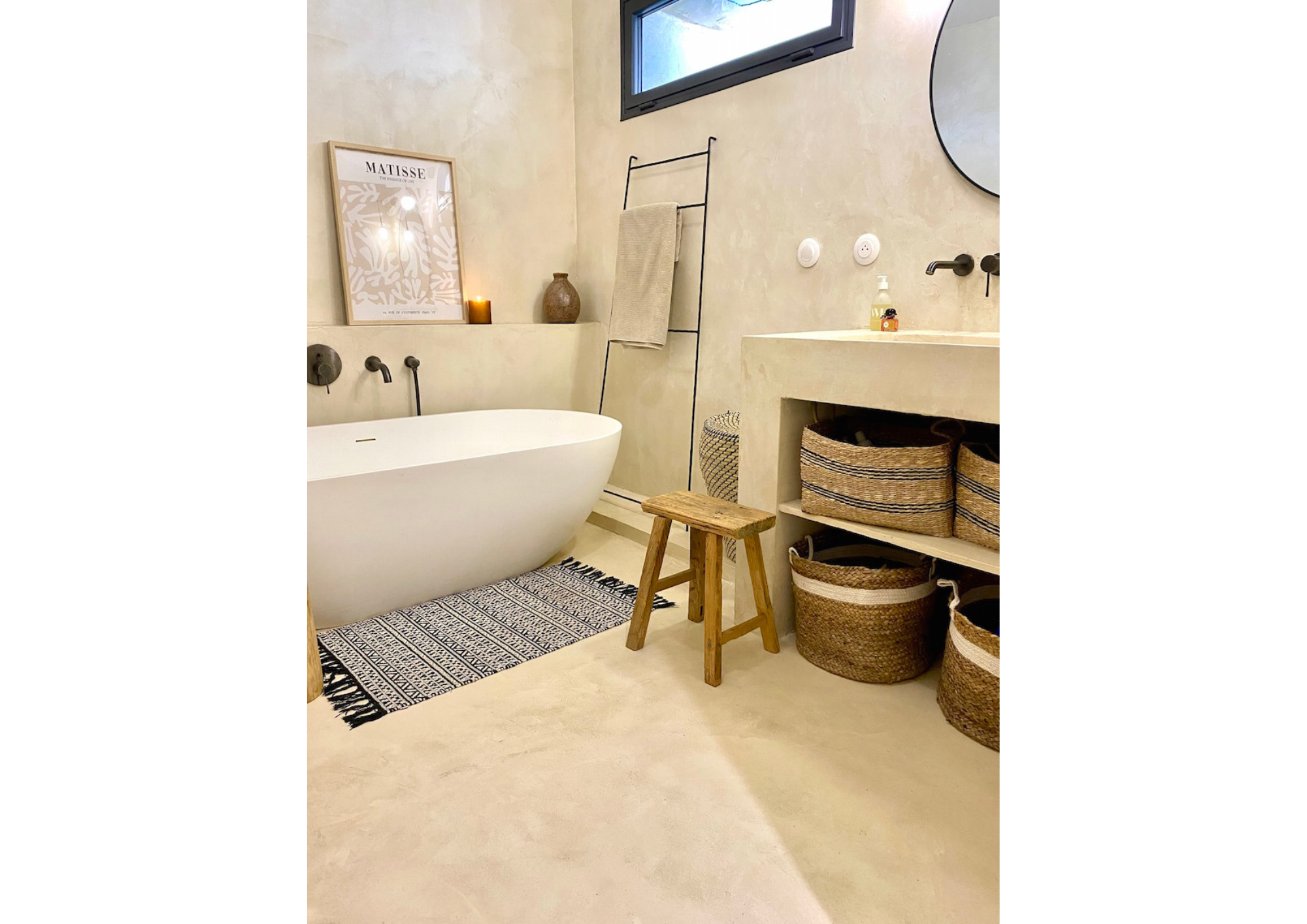 © Lou Bastidon
What are your favorite textile pieces?
I have a soft spot for cushions, I like to accumulate materials and play with colors. Ethnic prints and embroidery fascinate me.
I find that it is a textile piece that allows you to easily bring a new feel to your interior. You just have to change a few things and mix and match them according to seasons to have the impression of having a new interior. Jamini cushions with floral patterns give a bohemian touch and change of scenery that I like.
How do you mix vintage charm into a contemporary interior?
I think it's essential to bring a little soul to a place with vintage furniture or decor. These are unique pieces that give personality to an interior. The important thing is to have fun, not to be afraid to mix styles. An interior is always in motion, nothing is fixed!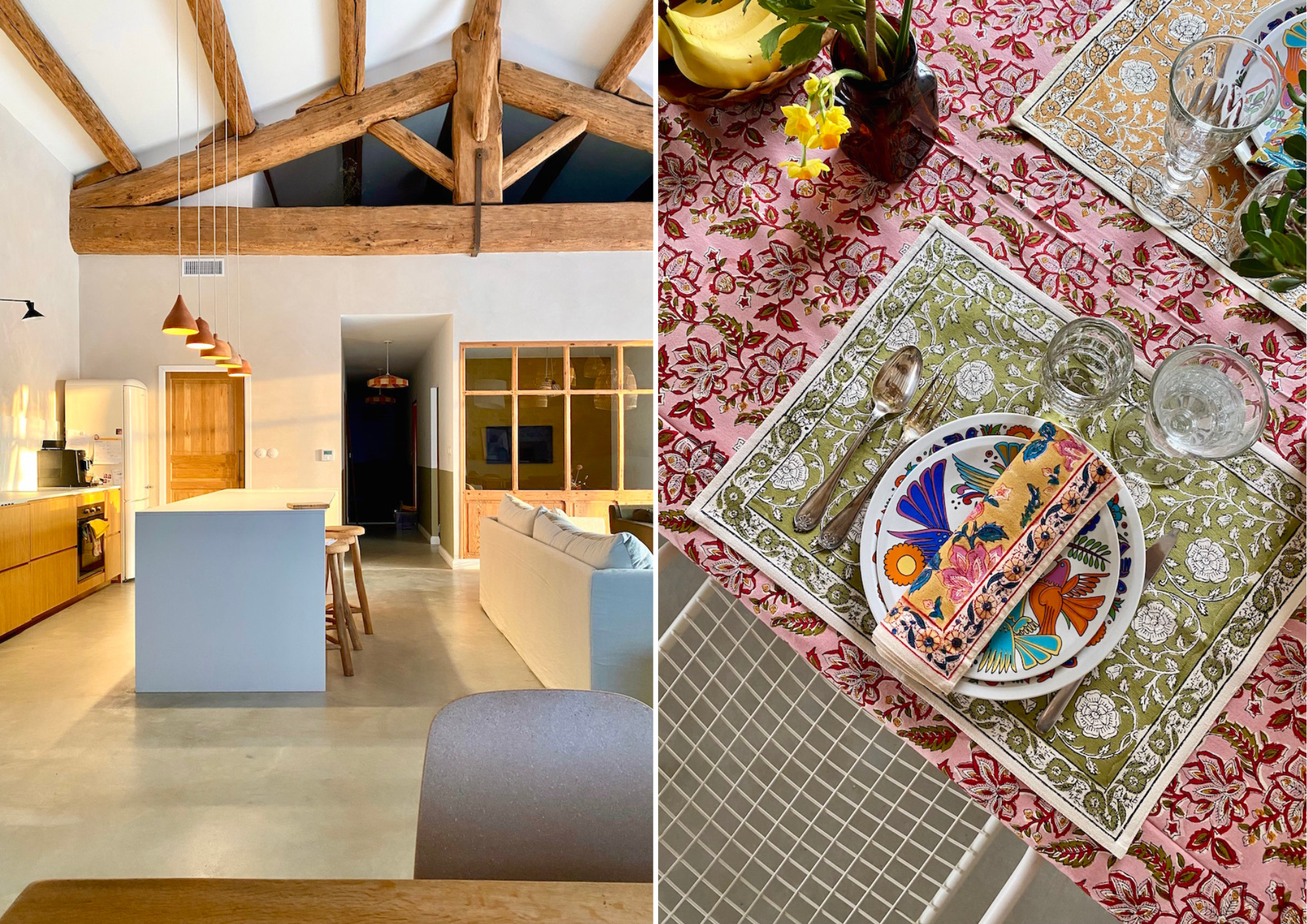 Napkin Rang, table mat Banna © Lou Bastidon
What are your favorite tips for decorating a kitchen or table?
Dare to use an unexpected color, pattern or material to make a difference. For the kitchen, we wanted something quite minimalistic and authentic, but I was looking for an original idea to dress up the back side of the cooking space, which also serves as a separation from the living room area.
I fell in love with the terracotta tiles that are usually placed on floors. I like the idea that it is a unassuming and traditional material but reinterpreted in terms of design. When decorating a table, I would say don't hesitate to mix influences and styles. For example I paired my colorful and floral Jamini table linens with my Villeroy and Bosh Acapulco 70s dinnerware inspired by a Mexican pattern and it works! A few small bunches of flowers or simple foliage are an easy way to have a pretty table.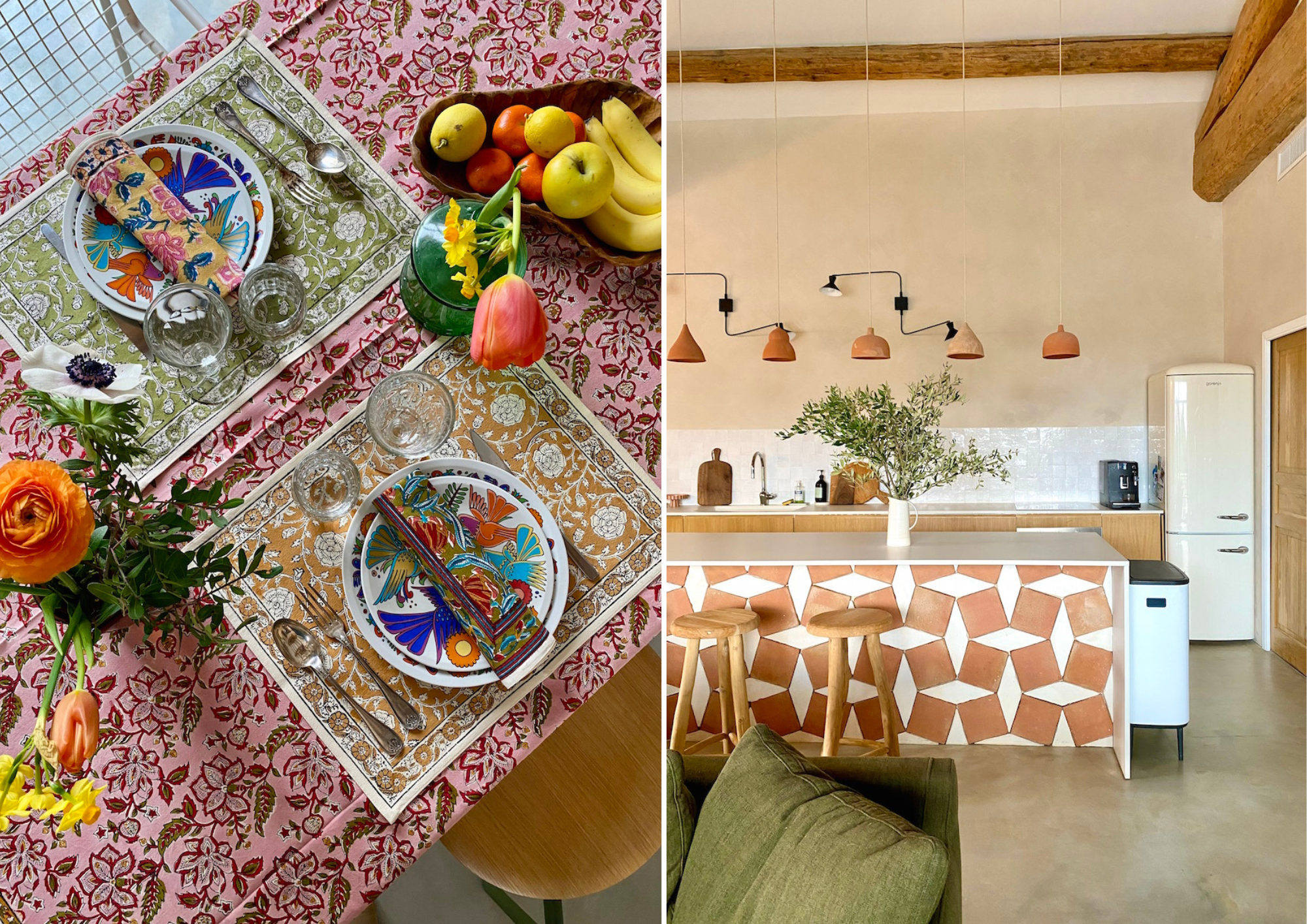 Rectangle tablecloth Rang pale pink © Lou Bastidon
What is your favorite Jamini piece that you will never separate yourself from?
I am a Jamini fan! I love everything but if I had to keep one piece it would be my Rang pale pink tablecloth : the perfect table linen for the soon-to-arrive spring season.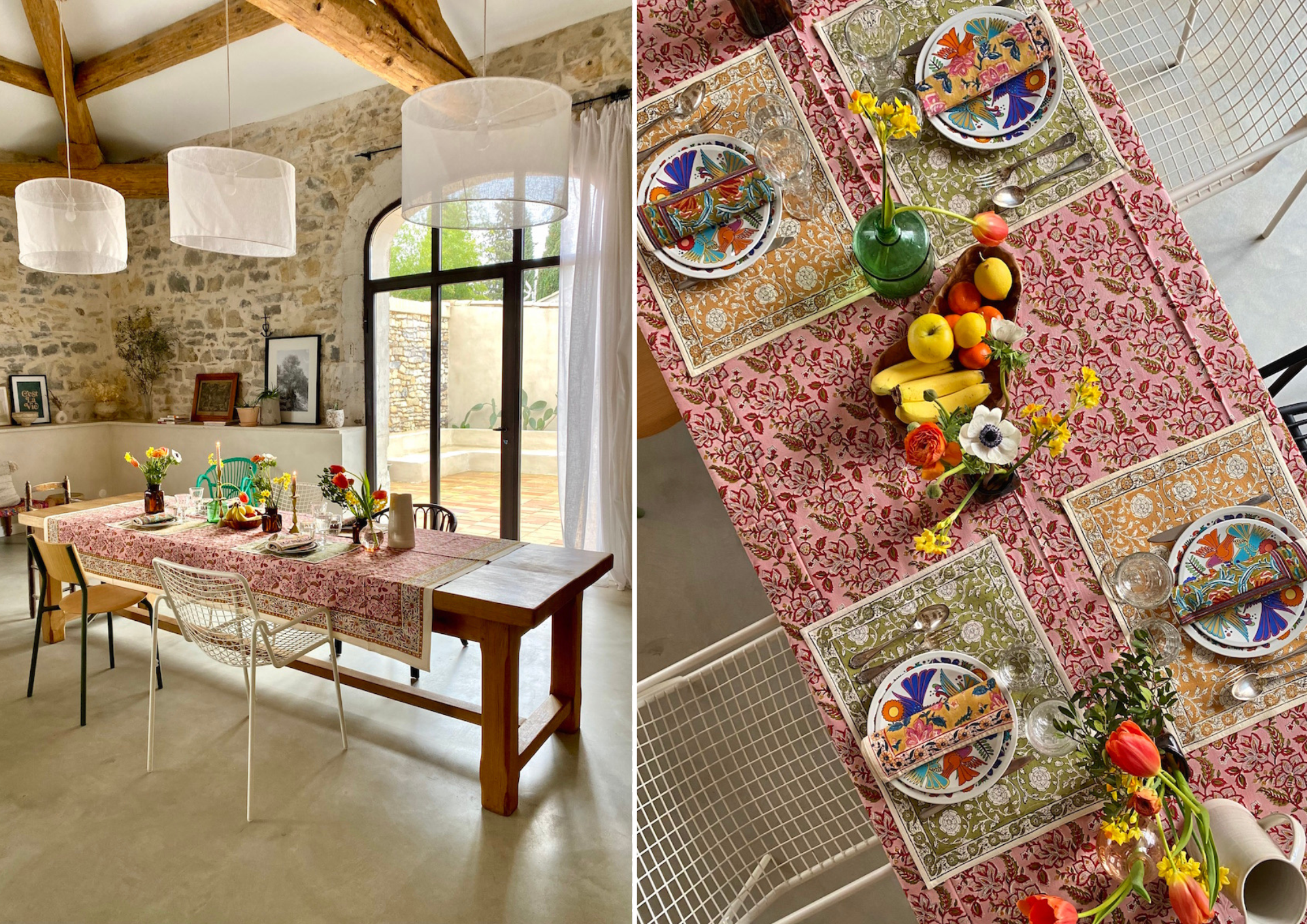 Rectangle tablecover Rang pale pink © Lou Bastidon